Tips for visitors for enjoying Maryland's capital during the U.S. Powerboat Show in Annapolis and beyond.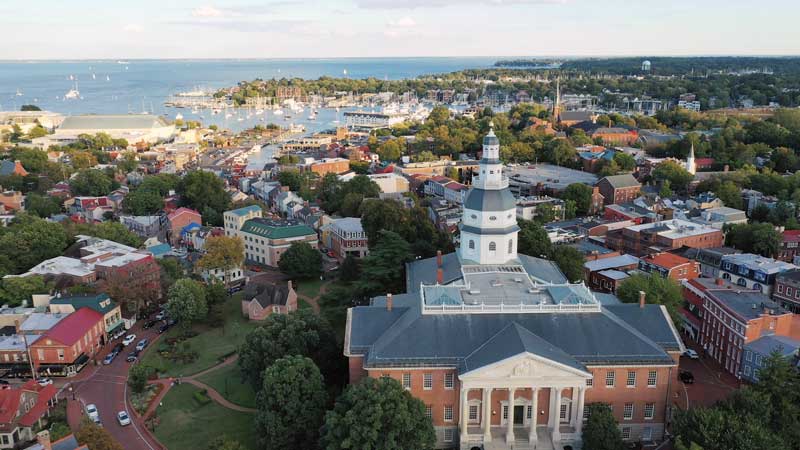 What's New?
The Choptank
Now open on Ego Alley along downtown Annapolis's City Dock, The Choptank is a classic fish and crab house serving Maryland cuisine, including steamed hard-shell blue crabs. Find live local musicians on the indoor stage as well as a spacious waterfront deck and rooftop overlooking the U.S. Powerboat Show (show goers will be able to access the restaurant from inside the show).
Right before opening their doors this summer, The Choptank gave a $10,000 grant directly to the Housing Authority of the City of Annapolis so that their community pool at Harbour House could open and be operational for families. What a nice way to become part of the community!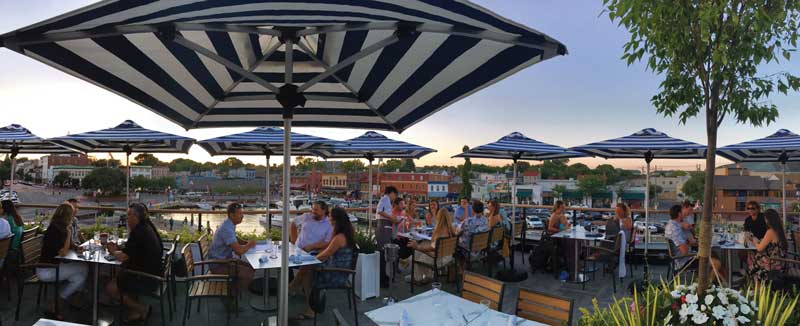 Acqua Al 2
If you go up Main Street Annapolis to the very top and look right where there used to be a bank, you will find the new Italian restaurant Acqua Al 2. Boasting an authentic Tuscan dining experience, the restaurant offers a wide array of vegetarian pasta, hand-carved steaks, and fresh seafood, and an extensive Italian wine list. It's only open for dinner, with reservations on Open Table.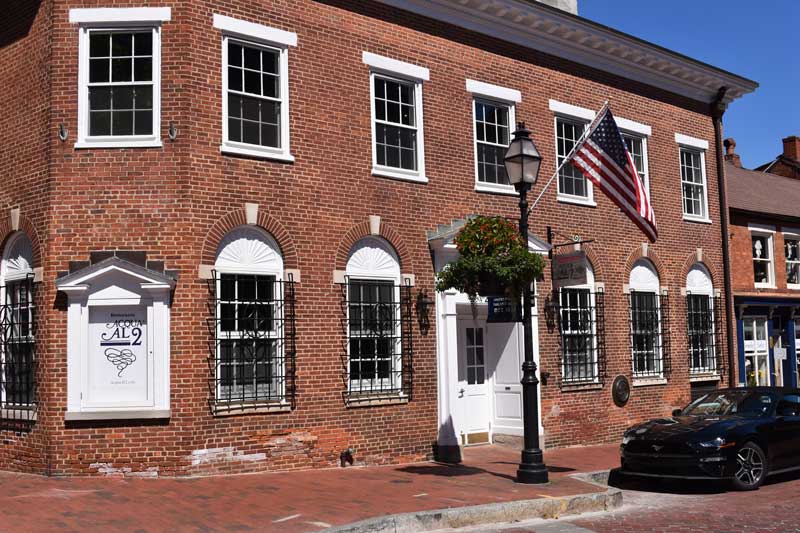 What's Old?
In a city with origins dating back to the 1650s, pretty much everything is old! George Washington definitely slept here. After the signing of the Treaty of Paris—in Annapolis—in 1793 to end the Revolutionary War, our city became the temporary capital of the country. General Washington resigned his commission as commander-in-chief of the Continental Army in this very city later that year.  
Boaters who are also history buffs should start at the Museum of Historic Annapolis at 99 Main Street (only steps away from the Powerboat Show). There you will learn some history and insights about how to see the significant sites in town, including: Annapolis Maritime Museum, Banneker-Douglass Museum, Hammond-Harwood House, Maryland State House, The Mitchell Gallery at St. John's College, U.S. Naval Academy Museum, William Paca House and Garden, Hogshead Waterfront Warehouse, and James Brice House. 
What the Mayor Said
"Annapolis is a city with a long and proud maritime history," said Mayor Gavin Buckley. "We appreciate the industries borne out of our proximity to the Chesapeake Bay, and we have been active and engaged in helping the industry to continue to be as vibrant as possible and to be a real and connected part of our community."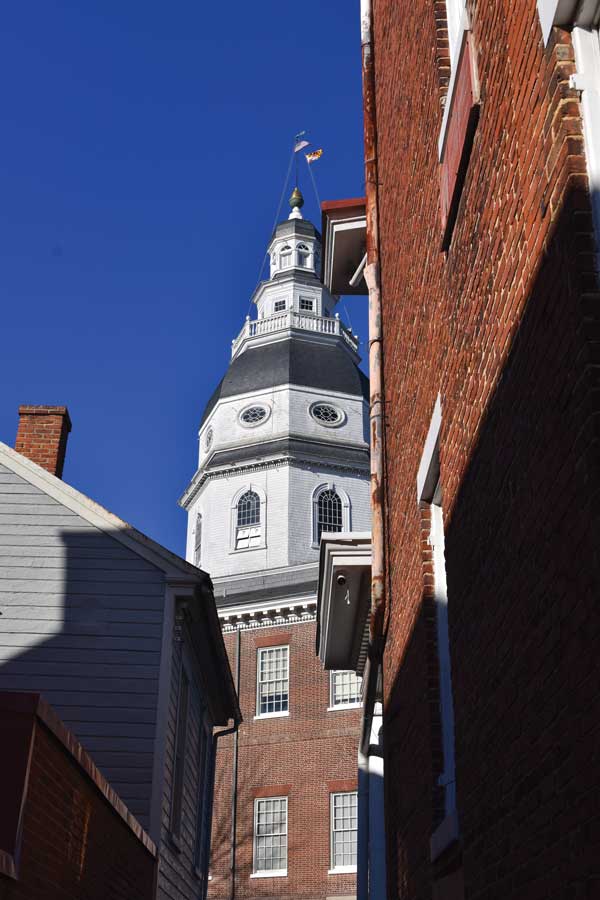 What's That? 
Why, you may ask, is the beautiful State House Dome wrapped up to look like something between a tall, awkward wedding cake and a space station? Paint! It fades and chips. As with boats, old buildings require fresh paint. Work is expected to be complete by the year's end. We'd like to thank the state for putting decorative lights on the wrapping, as it's fun, festive, and photo-worthy!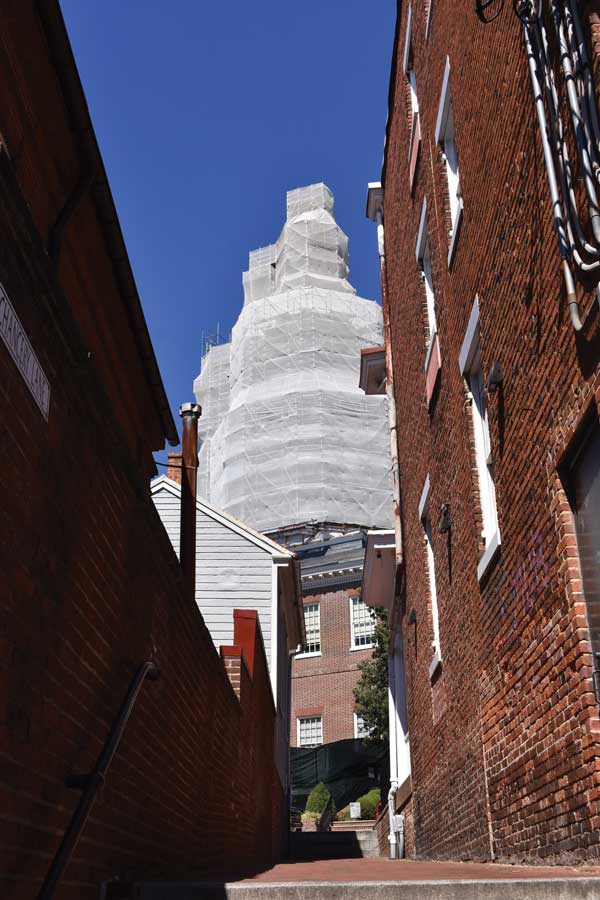 What's This?  
While traveling up Main Street and looking left, you might have noticed a huge hole in what used to be the Hillman Garage. The parking garage rebuild began in April, with an expected completion date of June 2023. 
According to the City, the reimagining of City Dock will begin shortly after the new Hillman reopens and is expected to take up to 24 months. The City's work will be connected to and coordinated with the resilience work being conducted by the Department of Defense at the United States Naval Academy.
What's With the Purple Bus? 
To make sure that locals and visitors have plentiful and easy parking options during the renovation of the Hillman Garage, the City of Annapolis has improved free shuttle access as well as offered "Annapolis Go" bikes and "Bird" scooters. If you have parked at an uptown garage or walked there and want a ride downtown (or vice versa), look for a black and magenta (purplish) sign to mark shuttle stops and a magenta bus. It's free and will take you uptown, downtown, or all around. Find details about routes and stops at accessannapolis.com.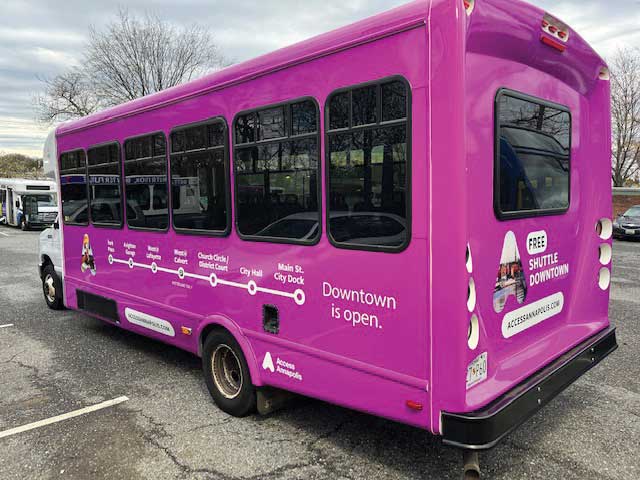 What Should Everyone Do at Least Once in Annapolis?
Visit the U.S. Naval Academy (USNA).
Find the USNA main gate only one block from the main gate of the U.S. Powerboat Show. To walk onto the campus, you will need a photo ID and must pass through a metal detector. Turn right to make your way to the Armel-Leftwich Visitor Center (and gift shop) to learn about tours—or you can keep on walking along on the seawall. It's free to stroll and offers an expansive view of the harbor out into the Bay: usna.edu/visit.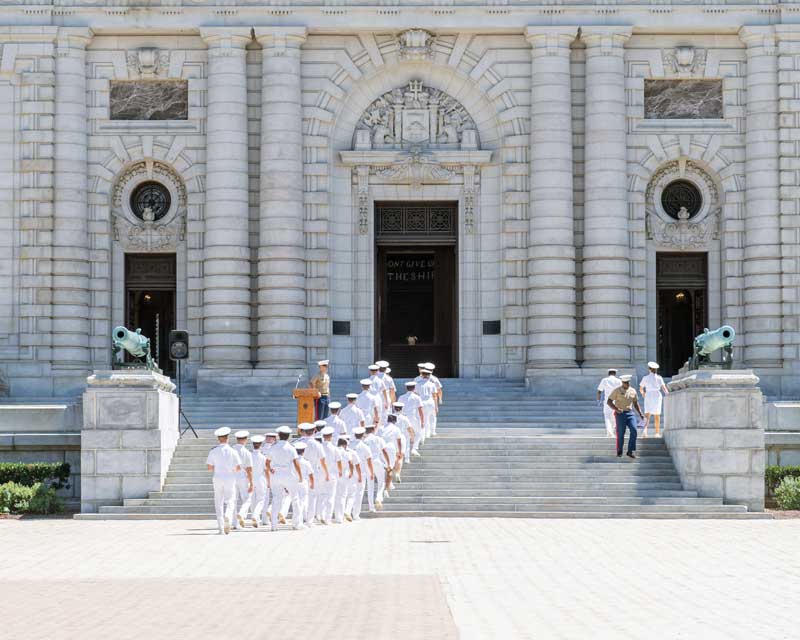 See the Maryland State House.
The State House is open to the public every day from 8:30 a.m. to 5 p.m. Even if you just walk through to look up at the pretty interior dome and glimpse the free exhibits on Maryland history on the first floor, it's worth it. You must pass through a metal detector to enter.
Have an Oyster Shooter.
If you like oysters and beer, walk into the Middleton Tavern at 2 Market Space and ask for an oyster shooter. It's a tradition around here.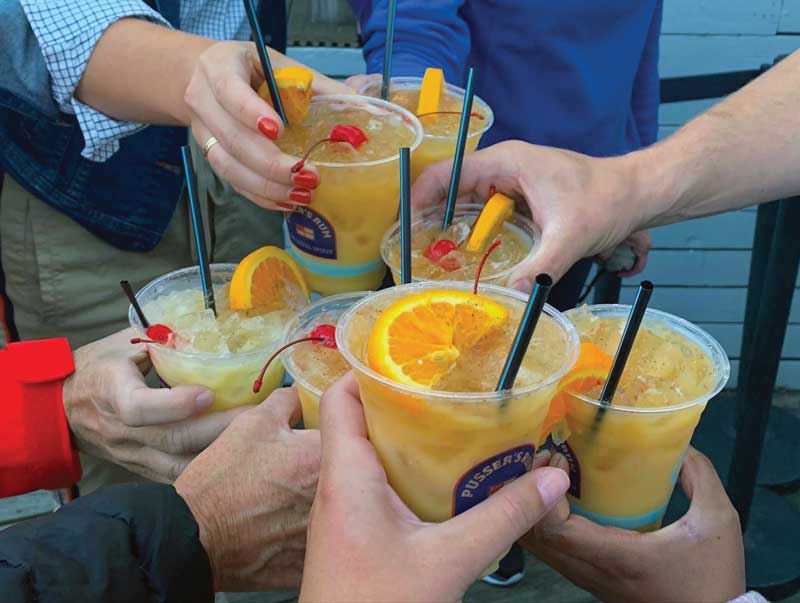 Painkillers at Pussers.
If you've never had a Painkiller before, go over to Pusser's on the deck at the Annapolis Waterfront Hotel and ask for one. When they start asking "what level" of rum you want, start with a low dose or you may end up dancing on tables. Trust us; these things sneak up on you.
Take a Water Taxi.
Even longtime locals enjoy the little adventure of taking a water taxi across the creek or over to Back Creek. Find the water taxi stop at the Yacht Basin next to the Annapolis Waterfront Hotel. Watermark will post signage on run times. Riding the water taxi costs $4 to $9 per person, depending on your destination. Tips are much appreciated.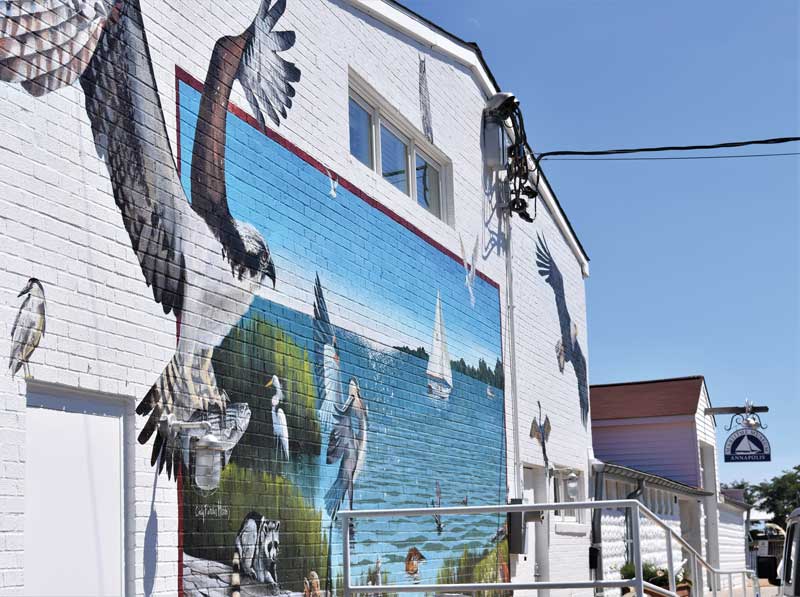 Walk to the Annapolis Maritime Museum (AMM).
If you want to escape the show and stretch your legs, walk over the Eastport Bridge and to the other side of the peninsula to AMM. The museum is open Tuesday through Sunday from 10 a.m. to 3 p.m. Tickets cost $7 for adults, $5 for seniors, military, and children; and free for members and children under three. Also consider taking a heritage or sunset cruise aboard the Skipjack Wilma Lee: amaritime.org.