Here's to celebrating 50 years of the United States Powerboat Show in Annapolis!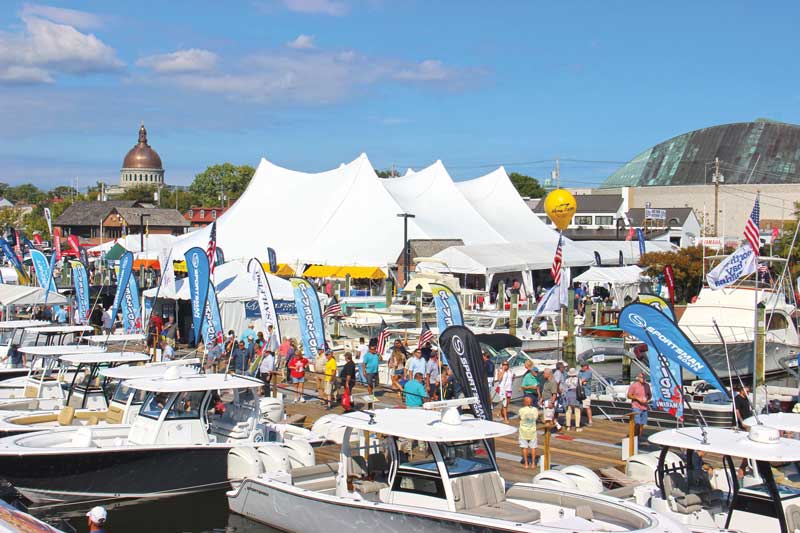 Nothing signals fall has arrived quite like the hundreds of boats and floating docks that take over downtown Annapolis each October. The air feels a little crisper (sometimes, it is Maryland after all), the leaves have begun to change, and there's no containing the buzz of excitement in the air.
As exhibitors, our work has already begun. For the Annapolis Boat Shows and dealers, their job is even harder. It's no easy feat assembling the floating docks, constructing the tents, and ensuring boats will be here and on time, given today's supply chain difficulties. Which makes the show all the more special. It takes a village to put this spectacle together, and we have a feeling this year is going to be better than ever.
Whether you're in the market for a new boat, boating supplies, or simply want to dream about the possibility of owning a boat in the future, this is the show for you. If you want to stroll the docks in a historic city on a beautiful fall day, come on down. How about having an excuse to sip on a Painkiller before 5 p.m.? Welcome. Want to chat with the experts, maybe sit in on a seminar, take an on-water class, or demo a boat before buying? Huzzah! You can do all of this and more.
Here at PropTalk (and FishTalk and SpinSheet), we know our way around the shows. And after years of attending as both exhibitors and guests, we've learned a thing or two. We've put together this guide to help you make the most of your show experience. In it you will find pertinent details on things such as where to park and the cost of tickets, but we also highlight new and premiering boats, insider tips (like where the real bathrooms are), special events and sales, how to get around Annapolis, and much more.
This is one of our favorite events of the year and we hope you enjoy it just as much as we do. Please stop by and see us at Tent F6/F7. We'll be at our usual spot along Ego Alley, and we would love to meet you!
Dates and Times
Thursday, October 6: 10 a.m. to 6:30 p.m.
Friday, October 7: 10 a.m. to 6:30 p.m.
Saturday, October 8: 10 a.m. to 6:30 p.m.
Sunday, October 9: 10 a.m. to 5 p.m.
Tickets
Preview Day: $40
Two-Day Preview Day Combo: $57 ($60 at the gate)
Two-Day Combo: $39 ($45 at the gate)
General Admission Adults: $22 ($25 at the gate)
General Admission Children ages 7 to 12: $10
Children under 6 are free
The Annapolis Boat Shows are encouraging everyone to please purchase their tickets in advance as the onsite box office is limited. 
VIP Experience:
Presented by LaVictoire Finance
With Reserved Parking Pass—$200 ticket includes Boat Show admission, reserved parking at Eastport Elementary (short walk to the boat show entrance or pedicabs are available for hire if you prefer), and exclusive access with unlimited entry into the VIP Lounge, an elegant lounge with comfortable seating, delicious complimentary cuisine, and wine and cocktail tastings throughout the day. The VIP experience will feature cocktail tastings, a continental breakfast, lunch, and hors d'oeuvres.
Without Parking—$175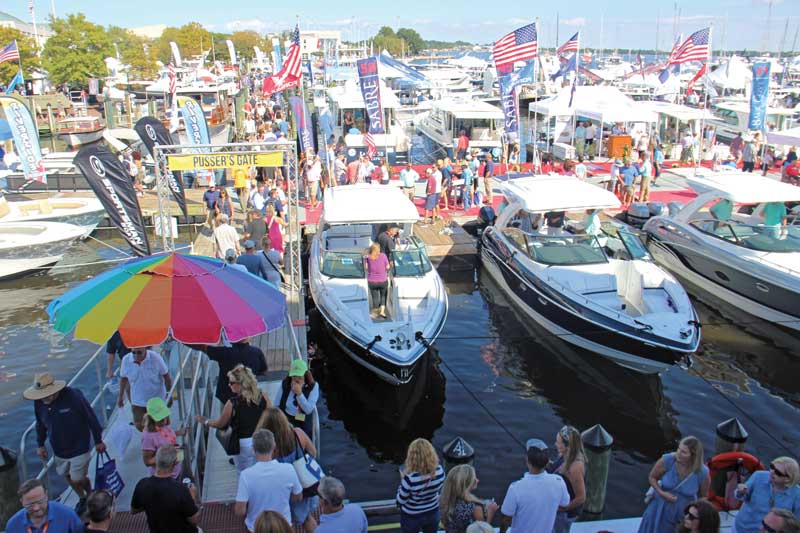 Parking
Boat show visitors are encouraged to park at the Navy-Marine Corps Memorial Stadium and take the free shuttle bus to the show. Buses run continuously from 9 a.m. until one hour after the show closes. Stadium parking costs $20 per car and $40 for bus/ motorhomes.
Stadium GPS Address: 230 Farragut Road, Annapolis MD 21401 – Gate 2
Directions to the Navy-Marine Corps Memorial Stadium: Take Route 50 to Annapolis/Rowe Blvd (exit 24). Follow signs along Rowe Blvd. to the Navy-Marine Corps Memorial Stadium.
PLEASE NOTE: On Saturday, October 8th, parking will not be at the Navy Stadium. Parking: $15 CASH ONLY – Please follow signs off exit 22 to park at 2644 Riva Rd. (Board of Education) or if full, 2662 Heritage Office Complex.
Parking is also available at Eastport Elementary which is a short five-minute walk to the show. GPS Address: 405 6th Street, Annapolis, MD 21403. Gates open at 8 a.m., park all day. Cost: $30 (no reservations, no trailers, no overnight parking, no RVs). Another option is to park in an Annapolis City public garage and take the Annapolis Free Downtown Shuttle. Learn more at accessannapolis.com.
Getting Around
On land, it's easy to hop on the Annapolis Free Downtown Shuttle that has regular stops around the downtown Annapolis area. The shuttle runs Monday through Friday from 6 a.m. to 11 p.m., Saturday from 8 a.m. to 11 p.m., and Sunday from 8 a.m. to 8 p.m. on a 20-minute interval. Wheelchair lifts and bicycle racks are available. Find more "Getting Around" options (from the Free Magenta Shuttle to Bird Scooters) at accessannapolis.com/visiting-downtown.
On the water, we love the water taxis. The taxis run Monday through Thursday from 9:30 a.m. to 11 p.m., Friday from 9:30 a.m. to midnight, Saturday 9 a.m. to midnight, and Sunday from 9 a.m. to 11 p.m. If you're at the show, the easiest place to catch them is at the water taxi stop between the Annapolis Waterfront Hotel and Spa Creek Bridge, or call (410) 263-0033. Or hail "water taxi" on VHF radio channel 68. Prices are $4 to $9 depending on the destination. For cashless water taxi fare payment, download the Where in Annapolis app and click on the water taxi icon in the bottom right. For a route map with rates, visit watermarkjourney.com.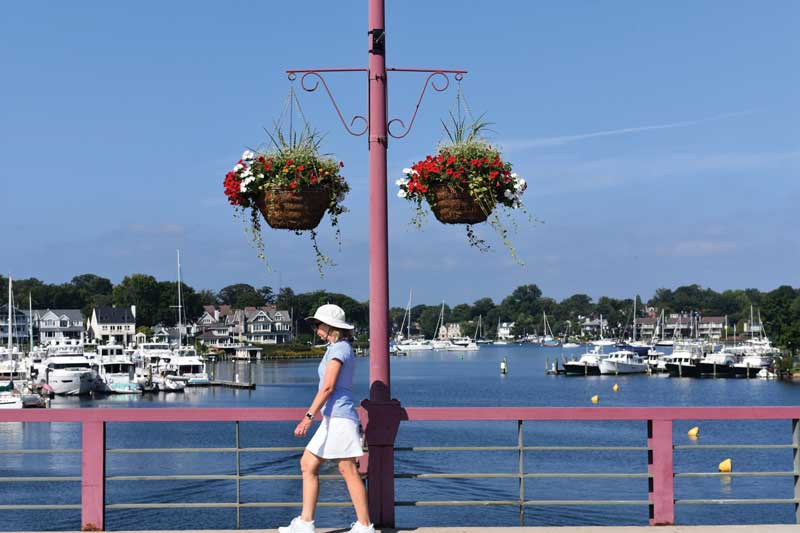 Visiting From Out of Town?
Visit Annapolis will gladly assist with a variety of accommodations. Click to boat show website and click to the 'Directions and Accommodations' page for links to area hotels, inns, B&B's, house rentals, and alternative lodging. All participating Annapolis and Anne Arundel County accommodations offer secure online reservations with instant confirmation. For additional sistance with hotel reservations, visit BoatShowHotels.com or contact Jeff Delmay at [email protected] or by phone at (954) 744-8396 for help with hotel reservations.
Insider Tips for the Boat Show:
Wear the right shoes: Choose a pair that is comfortable and easy to slip off and on (heels don't do so well on the floating docks). Remove shoes when boarding boats. If it's cold or rainy, wear rain boots.
Share and save information: Bring your phone, notepad, pens, boat cards, and business cards to share and save information. Bring photos of your boat projects to show the experts. At the show, snap pictures of favorite boats and cool products. Serious buyers should make appointments with the boat brokers.
Dress in layers: October in Annapolis can be sunny and warm, crisp and cool, or sometimes rainy. Anything is possible. Bring sunglasses, a wide-brimmed hat, a long-sleeved fleece, and a rain repellent top layer. A small backpack or tote can be very helpful for storing extra layers and any goodies you pick up at the show.
Bring cash: Many vendors will accept your credit card, but cash is easiest for small purchases. ATMs are available right outside the show. Think coffee, Painkillers, and the small marine gizmos that will catch your eye.
Bathrooms: Fancy port-a-johns are centrally located within the show. However real toilets are located on the first floor of the Harbor Master's office, just outside the show gates. They're free and open to the public.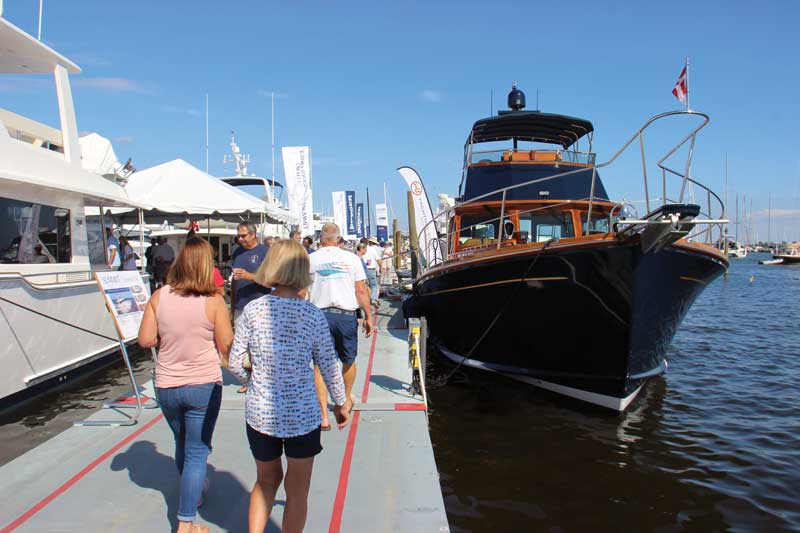 Show Highlights:
Door Prizes
Pre-purchase your tickets online or sign up at the show to win a number of special door prizes, including an unframed Jay Fleming photograph, an inflatable paddleboard from POP Board Co., and a Nettle Net Boat Pool, which creates a jellyfish-free swim area off your boat or dock.
On-Land Exhibitors
On land you'll find the latest in navigational equipment, high-tech electronics, boating accessories, clothing, gear, and related services such as boating clubs, charter companies, insurance firms, and lending institutions. You might just get lucky with special boat show sales and promotions.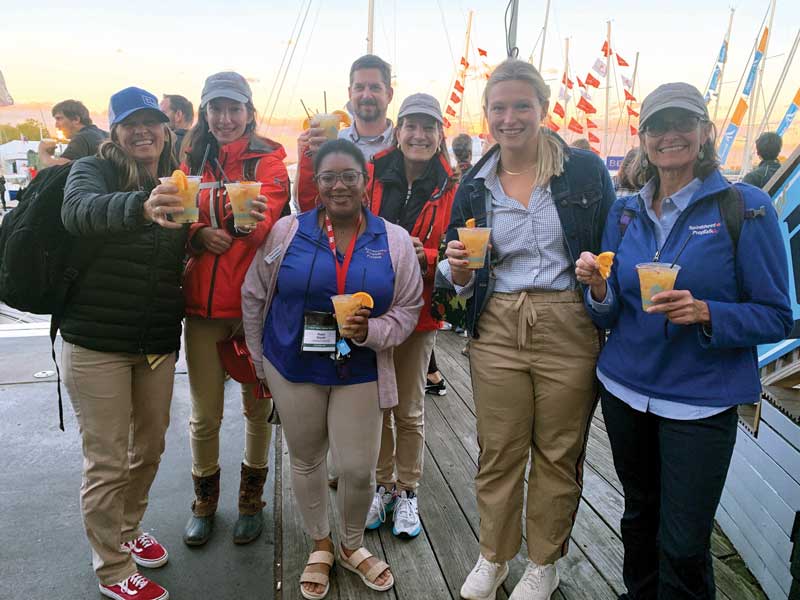 Meet Team PropTalk and FishTalk
We'll be in our usual spot, Booth F6/F7, along Ego Alley. We love to meet our readers and can't wait to welcome you back to the boat shows. Stop by any time during show hours to grab the latest issue of PropTalk, FishTalk, and SpinSheet; and meet our writers, editors, publishers, graphic designers, distribution drivers, photographers, and fellow Chesapeake Bay lovers.
Pusser's Painkillers
I mean, come on, is it really the powerboat show if you haven't stopped by Pusser's for a Painkiller (or three?). Pusser's is located just outside the main show gate.
Breakthru Tasting Tent
Breakthru Beverage Maryland, a family-owned business, is the largest wine and spirits distributor in the state. This year Breakthru will deck out the tent with seating and bars set up to present their beverage offerings. Guests (21+ only) are invited to visit the tent to learn more about the beverages and enjoy complimentary tastings of Gray Whale Gin, Fishers Island Lemonade, Fleurs De Prairie Rose Languedoc, The Crossings Sauvignon Blanc, Josh Cellars, and Reyka Vodka.
Seminars, On-Water Experiences, and Special Events
People come to the boat shows for a myriad of reasons, one of which is the opportunity to get out on the water and also spend time in the classroom learning from the experts. 
Cruiser's University
Classes will be held October 10-16 at The Historic Inns of Annapolis, 58 State Circle, Annapolis, MD. More than 70 classes are available for sailors and powerboaters alike who have an interest in learning the fundamentals of bluewater cruising. All tuition includes educational materials, instruction by renowned cruising experts, evening social activities, admission to all days of the U.S. Powerboat Show and U.S. Sailboat Show, and complimentary one-year basic BoatUS membership ($30 value). Registration is now open at annapolisboatshows.com.
Try before you buy on K dock! Dealers and manufacturers, along with the BoatUS Foundation, will be conducting demonstrations, sea trials, and affordable on-water training within the show including:
Seakeeper
Helm Master EX System
Cox Diesel Outboard Engines
X Shore Eelex 8000
Solar Sal Boats
Invincible 33 Open Fisherman
Invincible 36 Open Fisherman
SipAhoy CycleBoats & TikiBoats
Hinckley SilentJet Technology
Flux Marine Aero-E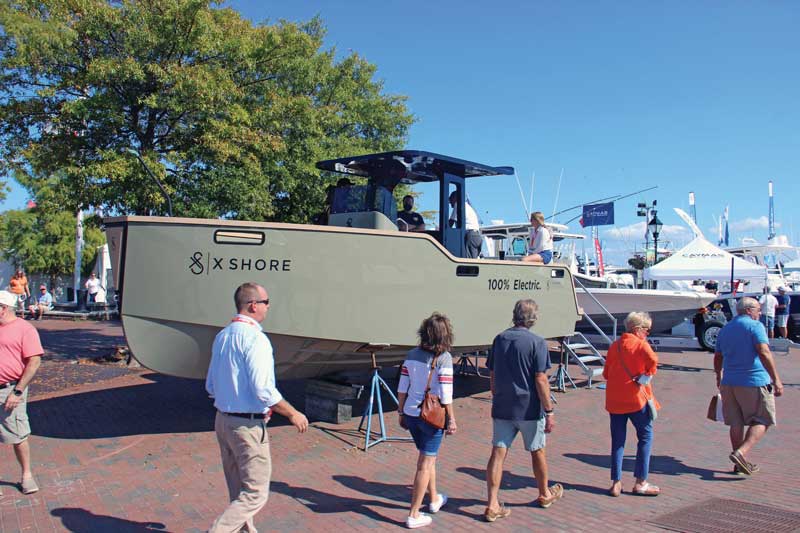 Free Seminars
Free seminars on boating will be presented on Friday and Saturday at the Marriott Hotel. 
October 7 & 8 at 11 AM: What Boat is Right for Me?
October 7 & 8 at 12 pm: Modern Marine Navigation
October 7 & 8 at 1 pm: Get Your Captain's License
October 7 & 8 at 2 pm: Docking Destressed
October 7 & 8 at 3 pm: Anchoring
October 7 & 8 at 4 pm: Weekends on the Chesapeake
On-Water Training by BoatUS Foundation
BoatUS Foundation will be onsite leading on-water training during the show dates. The curriculum includes Intro to Boating, Women's Intro to Boating, and Precision Docking and Boat Handling. Each course is approximately three hours long. Cost: $175 per person, ages 18 and older. Space is limited. Register here.
Special Guest
Captain Sandy Yawn from Bravo TV Below Deck Mediterranean will be a special guest this year. She will be appearing at the Maui Jim/Shades on the Bay booth (Land AB1) each day of the show (stay tuned for her schedule).
50th Anniversary Party
The Annapolis Boat Shows have planned a 50th anniversary party the first day pf the show, Thursday, October 6, tentatively from 5:30 to 9:30 p.m. at Market Space in Downtown Annapolis. Come celebrate as downtown restaurants spill out onto the beautiful brick lined streets to offer food and drinks, and live entertainment fills the air. The party is free and open to the public.
MTAM Young Marine Professionals Fall Happy Hour
Friday, October 7 from 6:30 to 8:30 p.m. at 222 Severn Ave. in Annapolis. Free event open to young marine professionals presented by the Marine Trades Association of Maryland. 
Party on the Patio
On the rooftop patio above Pusser's Caribbean Grille. 
October 6: DJ Ed "Hittman" Hitt
October 7: DJ Ed "Hittman" Hitt, Doug Segree Band 1-5 p.m.
October 8: DJ Mattie Fresh, Zion Reggae Band 1-5 p.m.
October 9- DJ Mattie Fresh, Tim Metz 1-5 p.m.
Weems & Plath Tent Sale
Find huge savings on discounted, overstock, and sample items at Weems & Plath in Eastport (214 Eastern Avenue). Dates and times: October 6-8 from 9:30 a.m. to 6:30 p.m. and October 9 until 5:30 p.m. The sale also runs October 13-17. In year's past, Weems & Plath offered a free shuttle to/from sale to the show (tips appreciated).
New This Year
At the Yacht Basin! Browse the latest in accessories, shop custom lures crafted by local anglers (some craftsmen only onsite Saturday and Sunday,) listen to top fishing experts, and enjoy the opportunity to share fishing stories with other anglers at happy hour (Pusser's will have an outpost in the fishing pavilion). As always, the show will be packed with center consoles and other fishing boats to tour after checking out the fishing pavilion.
A featured exhibitor at the Fishing Spot, Under Armour is making their debut at the Powerboat Show this October. Stop by to check out their performance collection featuring key fishing apparel from hoodies to gaiters. 
Adjacent to the tent will be leading outdoorsman organizations, Fish & Hunt Maryland and Coastal Conservation Association Maryland (CCA), to help expand your knowledge of the many fishing opportunities right here in Maryland and bring awareness to fishing impacts on our waters.
Take Me Fishing will have educational handouts and kid's coloring activities promoting participation in recreational boating and fishing.
Try your fishing skills on land with Harvester's Fishing Simulator. Harvester, a new media platform for fishing, hunting, and shooting will debut at the United States Powerboat Show, and will feature a fun fishing simulator for all attendees to try out while at the Fishing Spot. Harvester is welcoming all anglers to sign up for the platform at the show and any entries will be entered to win one of two Maryland snakehead fishing charter packages. Stop by to learn more. 
Special LIVE with Lenny in-person Thursday, October 6 at 5 p.m. in the Fishing Spot. Details TBD. 
On Friday and Saturday, there will be free seminars in the Fishing Spot. These seminars, taught by industry experts, will provide insight into the industry, fishing in Maryland, and tips and tricks. 
Friday, October 7 at 4 pm: David Sikorski, Coastal Conservation Association Maryland.
Friday, October 7 at 5:15 pm: Lenny Rudow, FishTalk Magazine, on tips for catching fall rockfish in the Chesapeake Bay.
Saturday, October 8 at 4 pm: Eric Packard, FishTalk Magazine contributing writer.
Saturday, October 8 at 5:15 pm: Q&A with Lenny Rudow from FishTalk Magazine.
Tiki Boat Cruises
SipAhoy CycleBoats & TikiBoats will offer 45-minute cruises on their 16 passenger Tiki Boat. Tickets can be booked online in advance at sipahoycycleboats.com. 'Book Now' and then select the drop down for 2022 Annapolis Boat Show. Cruises will run every hour on the hour. Guests will cruise up Spa Creek on comfy bar stools surrounded by a bar in the middle of the boat, while listening to music. There will be great views of Annapolis, Eastport, and the Naval Academy. These cruises are adults only, 21 and over. Tickets cost $25 per person AND you can purchase a discounted $10 boat show ticket when purchasing your cruise ticket.
Junior's Captain Program
Students will learn and practice through hands-on training aboard powerboats under the watchful eye and careful instruction of U.S. Coast Guard licensed captains from the Annapolis School of Seamanship. This 90 minute, on-water program teaches students ages 11-15 powerboat safety, boat handling, docking, knots, basic navigation, and weather awareness. Tickets to the show must be purchased to gain access to this on-water training; pre-registration is required. Cost: $99. Register at annapolisboatshows.com.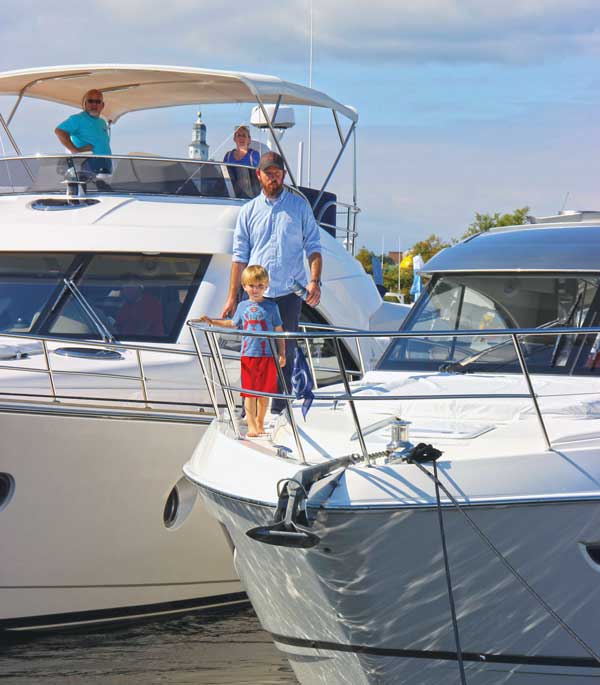 Loaner Life Jackets
The nonprofit BoatU.S. Foundation for Boating Safety and Clean Water will supply loaner life jackets to children attending both the United States Powerboat Show and United States Sailboat Show presented by West Marine October 13 through 17. This joint effort comes from the foundation's strong position on boater safety.
"We are grateful to the BoatU.S. Foundation for providing our boating families peace of mind as they enjoy the hundreds of boats on display and great sea trial experiences for back-to-back show weekends," said Sheila Jones, general manager of the Annapolis Boat Shows.
 "Our Life Jacket Loaner Program helps kids and vessel operators when they need it the most─to ensure there is a right-sized life jacket on every youngster aboard," said Alanna Keating, BoatUS Foundation director of outreach. Life jacket pick up will be available at the BoatU.S. booth on the BoatU.S. Bridge.
---
For a list of new and exciting boats expected to be at the boat show, check out our new boats page!
For suggestions on what to do while in town, check out our See the Bay: Annapolis.