These boats are currently expected to be at the 2022 U.S. Powerboat Show, October 6-9. Please check back for any updates closer to show time on the Annapolis Boat Shows website as continued supply chain issues has made it difficult to nail down exact boats. 
Bayliner Trophy T24CC
The newest addition to the Trophy series innovation expands the center console capabilities with increased fuel capacity, rugged fishability, increased storage, and amplified cruising comfort adding up to incredible value. Built on a deep V-hull foundation, the T24CC accommodates up to 12 people on board, making this the perfect family fishing boat for inshore and coastal angling as well as entertaining. Dock F1 with Riverside Marine.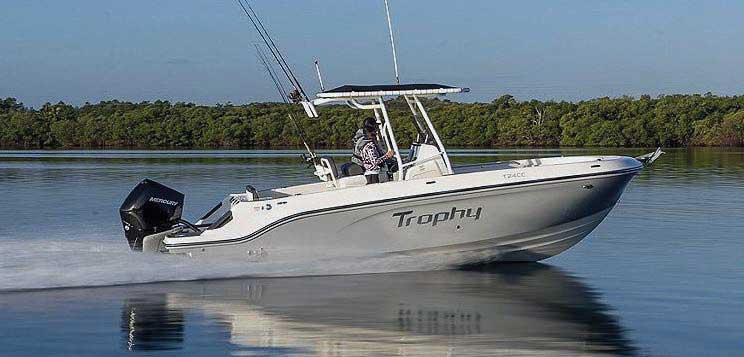 Composite Yachts 55
Designed by the renowned Naval Architect, Lou Codega, the new CY55 is designed to be a high performance hull that offers a pleasing ride quality. The CY55 is a carbon and kevlar build powered by twin MTU M96's and is capable of a top speed of 55 knots. Like most Composite Yacht builds, the deck configuration and interior layout are fully custom to meet our clients specific needs. Dock D with Composite Yacht.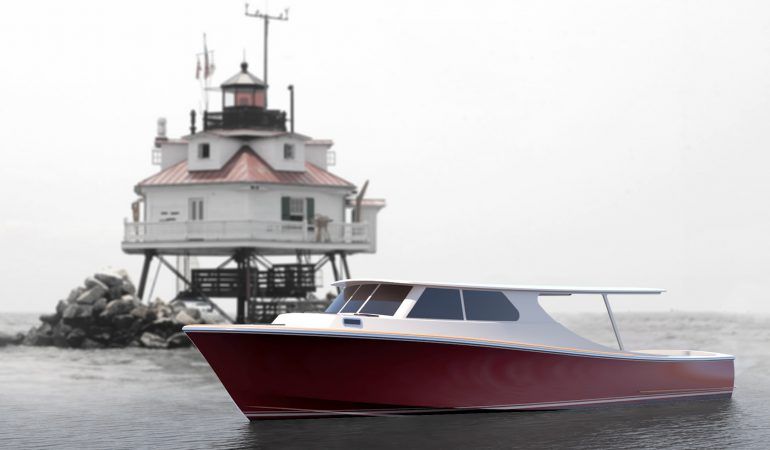 Dyna Yachts 63
The Dyna 63 maximizes the use of both outdoor and indoor spaces, offering generous sunning, social, and shaded areas for dozens of friends. Fully customized to the most discriminating tastes, this vessel's generous interiors combine rich textures, fabrics, and finishes, creating sophisticated and functional spaces tailored to your lifestyle. The upper helm station gives the owner/captain a broad view, comfort, and technology needed to operate from the flybridge. The broad bow sun pad provides breezy sunning in cushioned comfort. Owners have a choice to have the galley placed aft, which puts it and the bar close to the salon entrance or have it midship which expands the indoor seating and social area. Dock C with Chesapeake Yacht Center.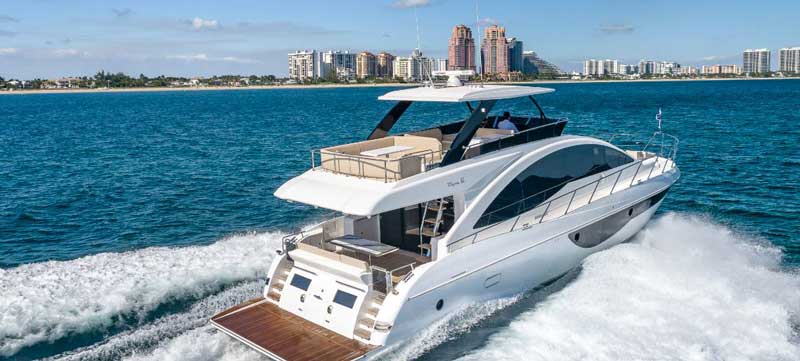 Grady White Adventure 218
The Adventure 218 is a go-anywhere, do-it-all, reimagined version of the original walkaround cabin design. The new 218 is sleek and stylish, built on Grady's heritage of superior performance, exceptional quality, seaworthy-safety, and versatility. Designed for both the devoted angler and families that fish, play, and overnight, the 218's wider beam provides a more spacious walkaround and cabin. The addition of integrated swim platforms and pivoting aft seat backs affords more room for the angler to fight fish while also providing easy access for watersports. The curved windshield and signature sheerline yield an updated profile that adds to this boat's head-turning appeal. Land 15, Land 15A, Dock I with Tri-State Marine.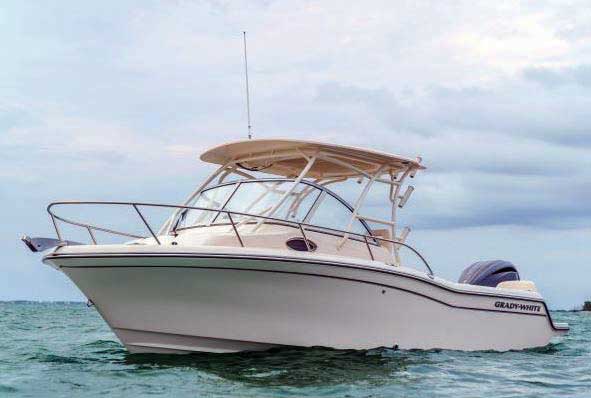 Nauticstar 24 XS and 24 Legacy
The 24 XS and 24 Legacy provide a sturdy, offshore fishing platform for the serious angler, while also having the ability to entertain guests with countless luxurious amenities onboard. This versatile boat can easily anchor up, thanks to the optional integrated power windlass anchor system. The 24 features a large forward lounge seat and plush wraparound bow seating made of luxurious vinyl and includes Nano-Block Stain Protection. With sleek looks, incredible fishing performance, and family-friendly comfort, the 24 is one of the most versatile boats in the NauticStar fleet. Dock F1 with Port Annapolis Marina.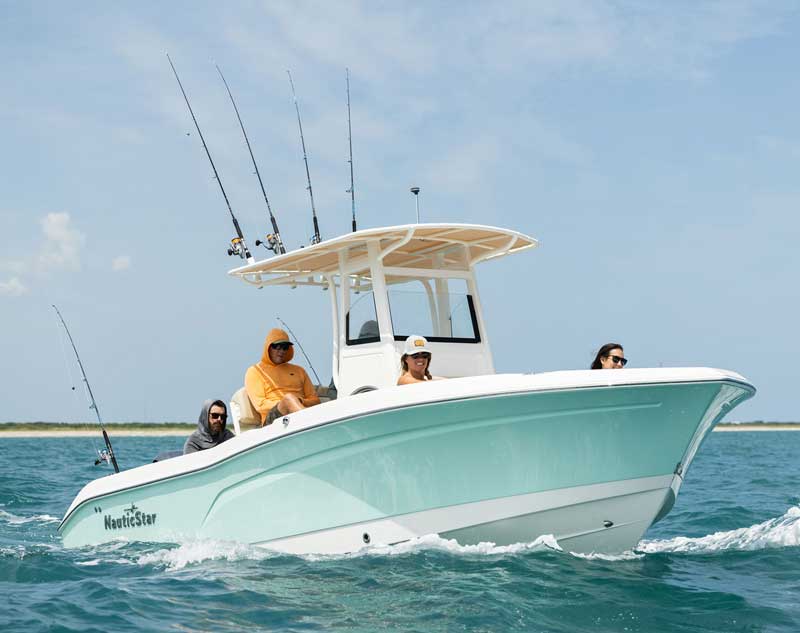 Ocean Craft Marine AMP 300
Combining the performance of an Ocean Craft Marine Rigid Hull Inflatable Boat with the outstanding on-land capabilities of the BAS-100 4WD system, these amphibious craft been designed to travel on both water and land. It can be driven from your house or garage down a boat ramp and directly into the water while you and your guests are onboard. The newest addition to the Amphibious range is the AMP 300. It is the ideal size with the width of a nine meter boat while being shorter in length, giving you enough room to roam around the boat. Land 85 with Ocean Craft Marine.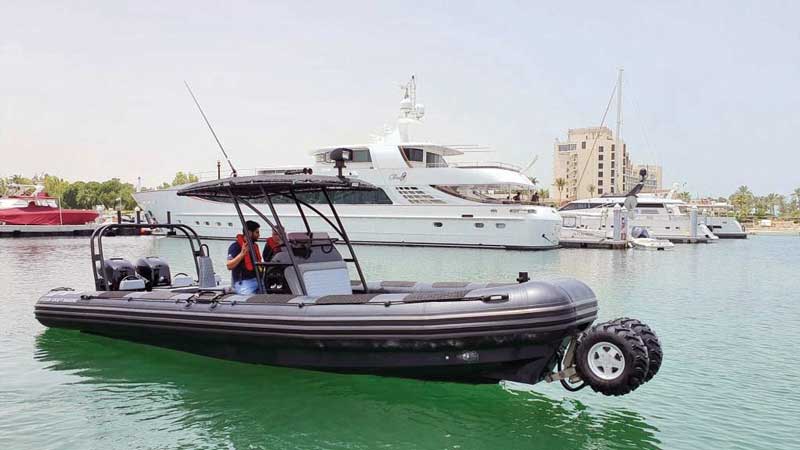 Sea Pro 320 DLX
The largest in Sea Pro's legendary fleet of premium South Carolina hand-crafted boats, the 320 combines modern design with thrilling performance—offering families and serious fisherman alike an incredible experience on the water. Purposely designed for rugged capability in the roughest of conditions, with a feature-rich duality enabling comfortable cruising with family and friends on those easy days, this boat has broad appeal and is certain to impress. Land 15, Land 15A, Dock I with Tri-State Marine. You can also read Lenny Rudow's full review from earlier this year at proptalk.com/boat-review-sea-pro-320-dlx-offshore.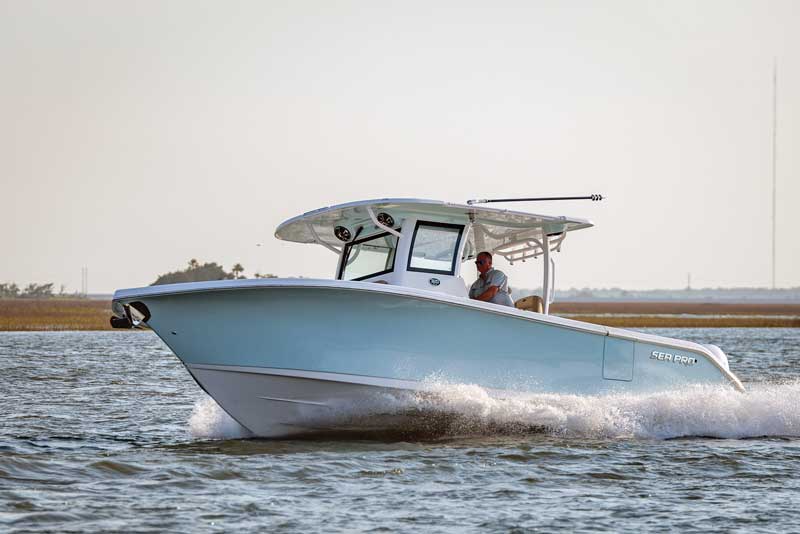 Solar Sal 24
With capacity for 10 adults, and an optional head, the Solar Sal 24 is perfect for family or group day excursions. This unique, patented design is tailored for solar power from the keel up to the solar panels. She is quiet, and with a cruising speed of five knots, the ride is calm, comfortable and pleasant, without any pollution or exhaust fumes. Fuel bill? Zero. Solar Sal Boats requires no shore power—they plug into the sun. Range is infinite in the daylight, and the batteries have an additional 50 miles in them. These seaworthy boats are low maintenance, practical, and fun. Dock K2 with Solar Sal Boats.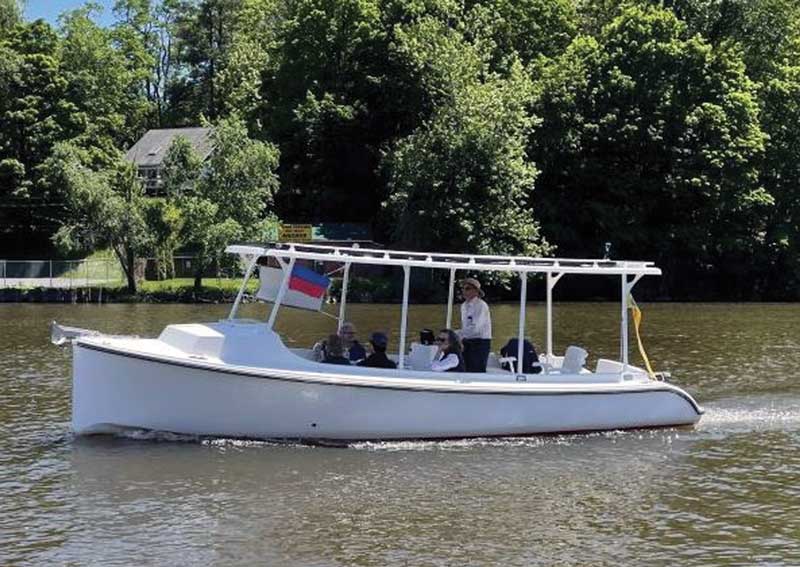 Solara S-310 CW
The S-310 Center Walkaround brings unmatched versatility in an agile and sporty platform. Built to excel at fishing, overnighting, and entertaining guests in style, you'll find features to enhance every experience. Powered by twin Yamaha F250 outboards, the S-310 CW delivers exceptional performance and speed. Quick planing ability and high efficiency are afforded by an advanced double-stepped hull. Its uniquely designed Laminar Flow Interrupters provide outstanding cornering ability. The deep V forward and tapered bow flare allow the S-310 CW to handle rough water with ease. Dock F2 with Pocket Yacht Company.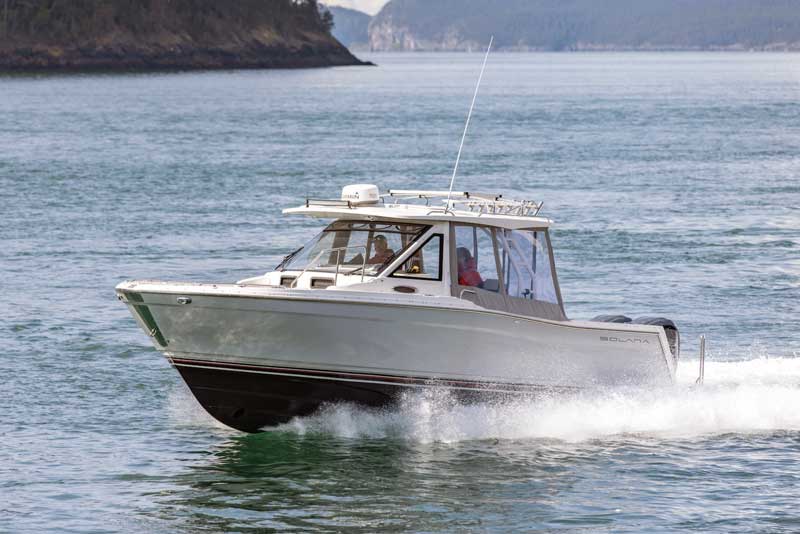 Sportsman Masters 267
The Masters 267 is masterfully crafted to be the ultimate bay boat for family and fishing. It features a traditional large casting deck at the bow, a large transom casting deck, and plenty of open deck space in between. The large dual seats at the transom will accommodate four people comfortably and the bow transforms into the ultimate lounge area. Two comfortable large seats are at the helm, covered by a beautiful fiberglass hard-top packed with amenities. You will find lots of storage on this boat from the lockable rod lockers for 10 rods up front to the large console interior. Flip the captain's chairs around to enter Sandbar Mode, a luxurious experience at the beach. Dock F1 with Riverside Marine.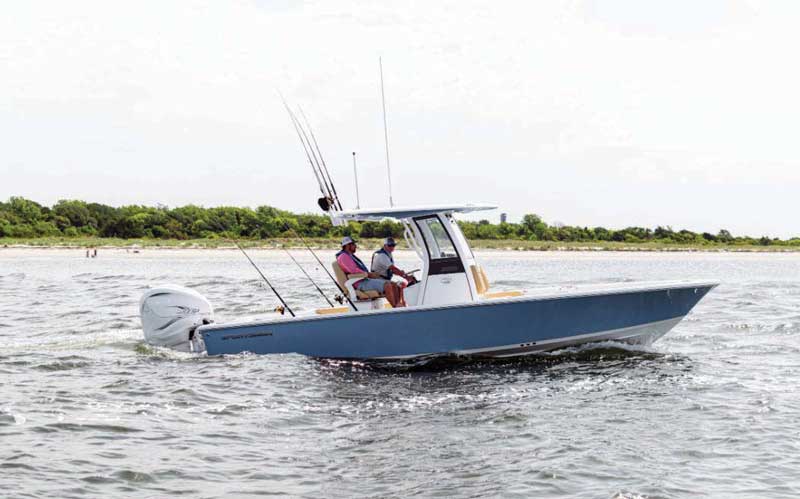 Wellcraft 355
The Wellcraft 355 allows boaters to combine the thrill of piloting at high speed and the ability to discover unexplored places with a lifestyle of relaxation and luxury. The spacious wheelhouse with fully equipped galley provides comfort for five while cruising. Three large sunbathers, with a spacious bench in the bow, create a luxurious place for relaxing. The spacious front cabin comes equipped with a full-size bed and ensuite bathroom with separate shower, and you may sleep up to four people onboard. One of the most extraordinary features of the Wellcraft 355 is the connection between the wheelhouse and the aft cockpit: simply open the top-hinged window and entrance door and feel the outside getting inside. Dock F2 with Clarks Landing Yacht Sales.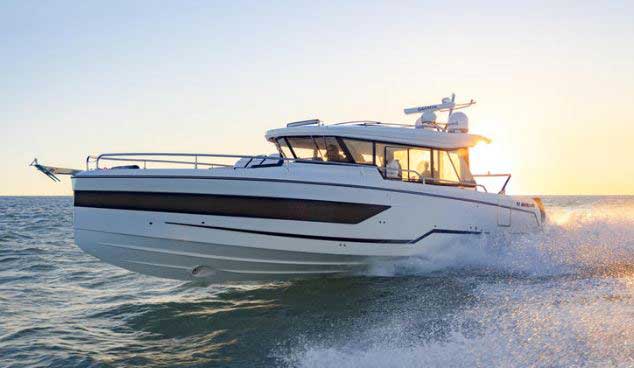 As this list is tentative, be sure to check the Annapolis Boat Shows website for updates closer to show time. For more information on the boat show, check out our Annapolis Powerboat Show Guide.