Reading through the standard features on a new Sea Pro 320 DLX Offshore is like discovering the wishlist you never knew you had already made. GPS tracking and remote monitoring including mechanical support via an app? Yes, please. A pair of 19-inch Simrad MFDs at the helm with a remote control at the helm chair? Yes, again. Cockpit outlets for electric reels and downriggers? Please and thank you.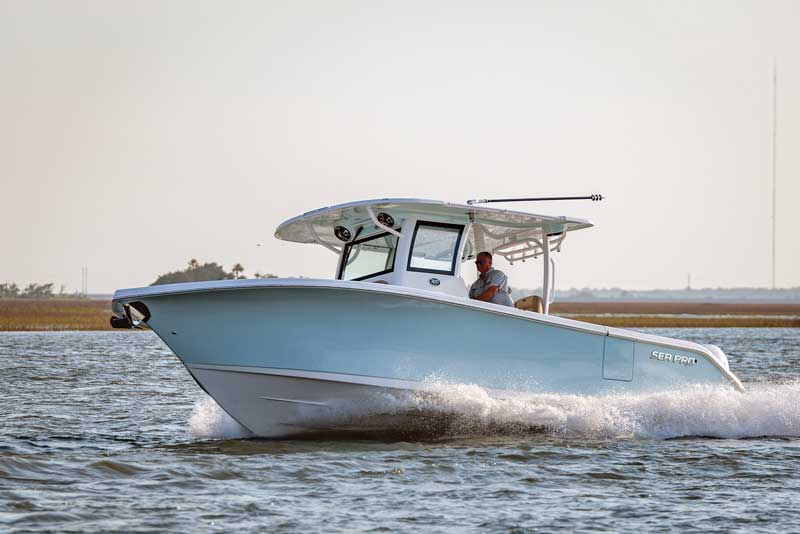 In fact, the standard features list is so dang long that we're not going to even begin to try to cram all the stuff here onto these pages. But if there's a goodie or gadget you've ever wanted on your center console fishing boat, rest assured, it's almost certainly on there. There is, however, one item on the options list that we say is a must-have: the Eskimo refrigerated cupholders. C'mon man, how could you live without 'em?!
The Sea Pro 320 DLX Offshore can handle up to 800 horsepower on the transom, which gives this boat a top end just a hair under 60 mph and a cruising speed in the mid to upper 30s. A pair of 350s doesn't shave much off with a top end still in the mid-50s, and a pair of 300s would knock a couple hundred pounds off the rig and should improve economy without losing more than a few more mph. So, considering these tempting multiple power choices there's at least one option beyond chilled cupholders you'll have to ponder.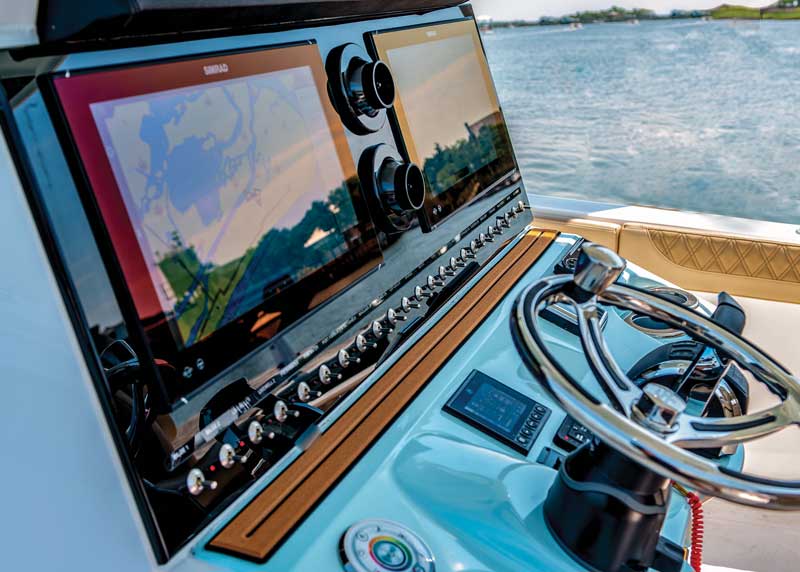 Several traits jumped out as we fantasized about pointing the bow of this boat east and leaving land in our wake for a 14-hour stretch. First off, there's no shortage of rodholders, with five across the transom, three along each gunwale, and five rocket launchers up top. Secondly, the leaning post is well thought-out with tackle stowage in the sides, a substantial rigging station with a sink on top, and a slide-out cooler underneath. Then there are the tuna-sized macerated fishboxes on either side of the console, with hatches that swing up on gas-assist struts. And for you live-baiters, you get a pair of pressurized 30-gallon livewells in the transom which are fed via a polished stainless-steel sea chest with Bait Sentry pumps. We also noted more pass-through room than usual around the console, which will make moving forward with a bent rod easier, and the entire interior of the boat is ringed with coaming bolsters, so it'll be more comfortable, too.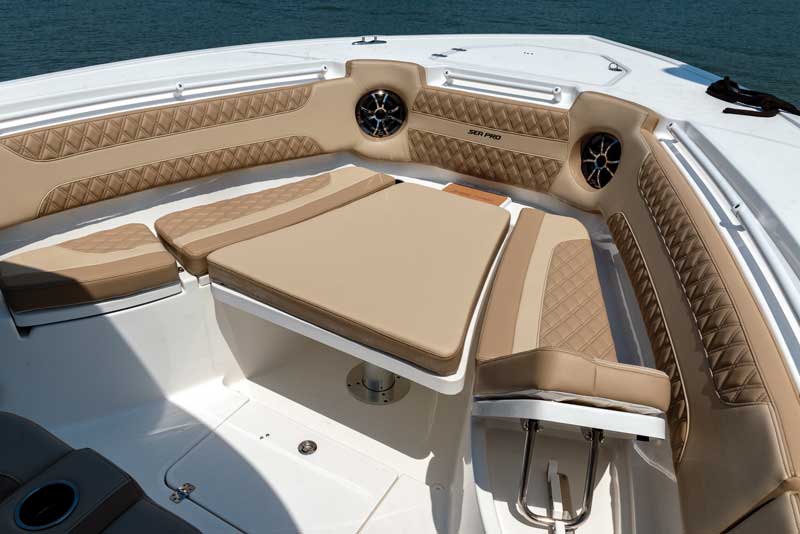 We also note a bow arrangement that's sensible for angling. There are flanking seats and an electric bow table (yet another item that's optional on many competitors but a standard feature on the 320), which can be lowered to the seat's level to create a bow casting deck. That's not an unusual arrangement, but rather than use drop-in backrests for when the seats are in use, the tail end of the seats themselves swing up and lock into place on stainless-steel supports to offer upright and reclining positions. That makes an awful lot of sense to us, since it allows you to ditch the cushions and enjoy the maximum amount of casting deck territory or go into cruising mode in a matter of seconds without having to keep track of and dig out drop-in backrests.
So: what's on your wish-list that we've failed to mention here? Multiple padded dry compartments with USB charging ports for your phones? Remote battery switches controlled via key FOB? Underwater lights? Oops—turns out they're all already on this boat, too. And probably a lot of other goodies and gadgets that you didn't even know you wanted. Yet. 
By Lenny Rudow
Sea Pro 320 DLX Offshore Specifications:
LOA: 32'0"
Beam: 10'4"
Displacement: 8500 lbs.
Transom deadrise: 24.5-degrees
Max HP: 800
Fuel Capacity: 207 gal.
Freshwater Capacity: 22
Price (base MSRP): $310,112
Local Dealer: Tri-State Marine in Deale, MD. (410) 867-1447