Yamaha Outboards has announced its entry into the electric outboard boat market with the Harmo electric outboard, a fully integrated electric boat propulsion and control system.
The Harmo incorporates a tilting aluminum drive unit which can tilt up to 74 degrees to come all the way out of the water, an aluminum four-blade variable pitch impeller, the ability to steer 170 degrees for maximum maneuverability, and Helm Master joystick controls.
Similar in concept to a bow thruster with the impeller completely surrounded by a ring, the Harmo is a rim-drive motor to maximize thrust. It creates 225 pounds of static thrust, or about the equivalent of a 9.9-horsepower outboard motor. The weight of the 3.7-kilowatt motor is about the same as an F25 outboard at 121 pounds, but of course, battery weight and choice will have a lot of bearing on just how much an entire power system weighs on any given boat. Battery choice will also dictate range and running time. Yamaha is saying that single engine applications can effectively control boats up to 21 feet in length, and twin-engine applications will top out at around 32 feet in length.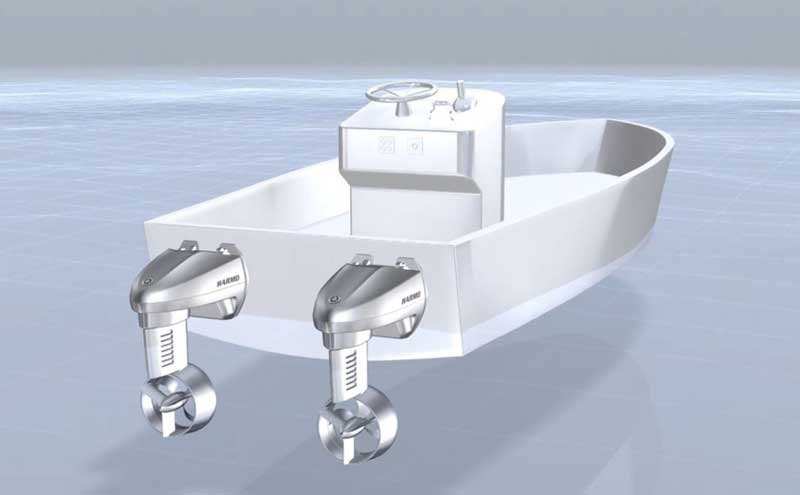 This 48-volt package creates virtually no noise as it generates its power, and boaters are likely to hear more wind and water noise than anything else. Its silent nature, along with the enhanced maneuverability and its environmentally-friendly nature, are expected to make the Harmo a top choice for boaters—especially on waterways where the use of internal combustion engines is limited.
According to Yamaha, the maneuverability is a particularly impressive strong point, with the ability to spin a boat in about its own length or (with twin-engine applications) move sideways.
Since last summer, the Harmo has been undergoing testing and is now available in Europe. When can we expect it in the U.S.? Yamaha says within the next 18 months. Currently, the Harmo electric outboard system doesn't carry MSRP pricing at this time, since the system system is to be installed as a package on new boats as opposed to being sold directly to the consumer.