This is the story of an adventurous family-and-friends fishing trip that turned into an extraordinary experience for the whole bunch, including three generations of the Abell family. Fishing off the Outer Banks of North Carolina these Chesapeake Bay-based anglers landed a huge, 627-pound, 103-inch bluefin tuna.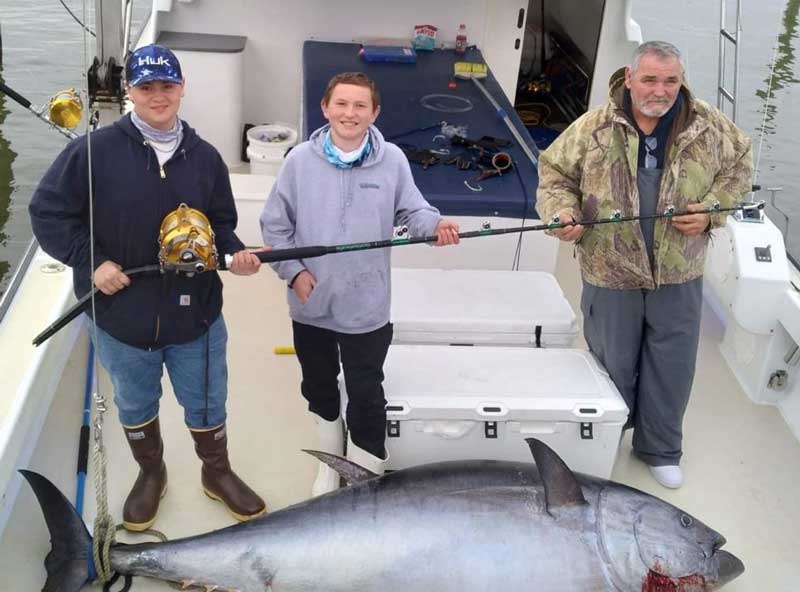 On January 23, two local boats left Solomons Yachting Center (SYC) in Solomons, MD, headed to a prime, but tremendously challenging, fishing location off the Outer Banks of North Carolina. Those onboard knew they were headed for a grand adventure, and undoubtedly everyone involved was thinking of the 96-inch catch made by those who had made the trip last year. 
The Vessels: Miss Ashley, a 46-foot, custom Bay-built Markley. She is a Chesapeake deadrise-style that sat unfinished at Markley's Marina for about 10 years before David Abell brought her home and finished her in 2019. This was Miss Ashley's third time to do this trip. The second boat on the trip was Buddy Lundmark's 46-foot Carman, Miss Carrie II, also a deadrise-style vessel.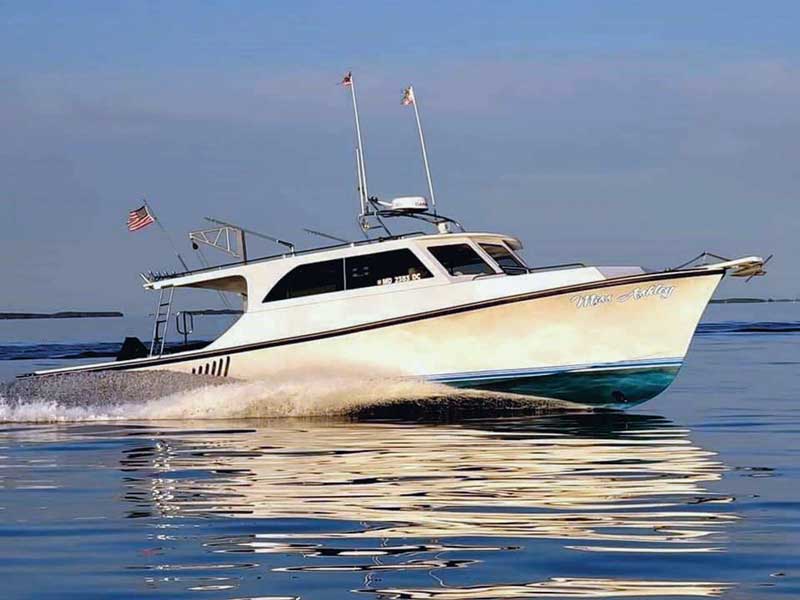 The crew aboard Miss Ashley:
David Abell, longtime waterman and owner of SYC and McCready's Boatyard and Railway, as well as All In Charters in Solomons, MD. David is owner of several Markleys, including the Miss Ashley and All In.
Captain James Abell (David Abell's brother), master captain for All In Charters.
Aiden Abell, James's son, age 14 years. In addition to fishing, crabbing, and boating, Aiden also plays football and has his boater safety certificate.
Junior Abell, David's grandson, age 12 years. Junior fishes, crabs, and boats as much as he can. He has been participating in docking contests in large boats since he was age 10 and was the youngest driver in the biggest boat in the most recent docking competition held in Solomons. Of course, he has his boater safety certificate too. 
Rob Cochran, Abell family friend.
Bruce Chase, Abell family friend.
Jimbo Martinette, a local mate who came aboard in North Carolina.
The trip: snow, celebrities, and big fish
The boats headed down the ICW bound for the Oregon Inlet area of the North Carolina coastline. It was a cold day when they left, and they encountered snow and ice along the ICW.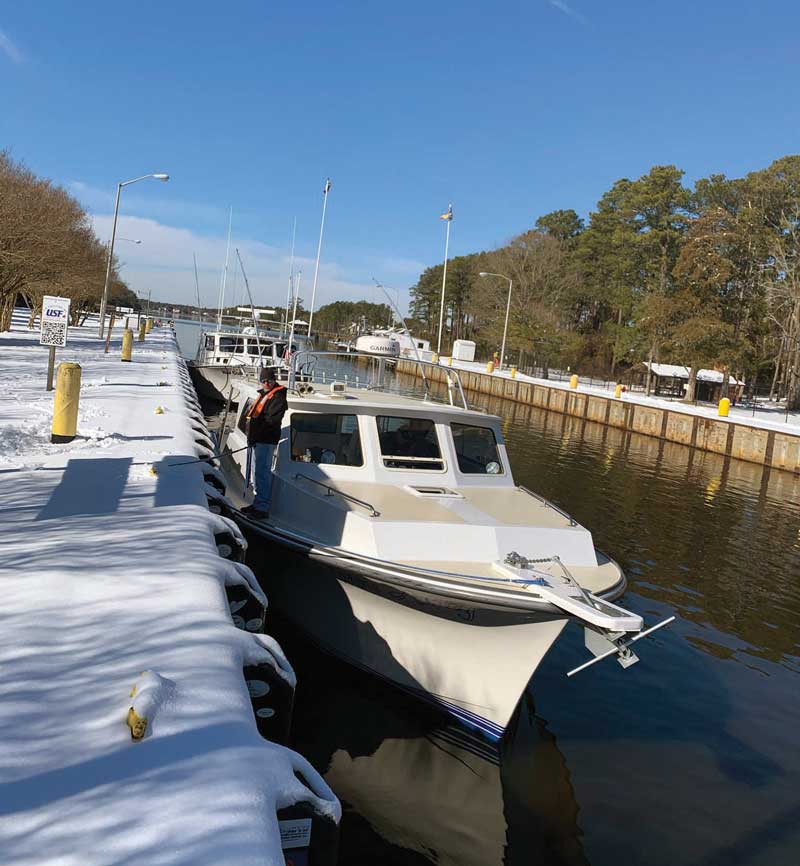 Once in North Carolina, Miss Ashley picked up a local mate, Jimbo, who is a good friend and known to be a very knowledgeable fisherman. For Bay anglers considering this trip, a local charterboat, or a captain or mate with local knowledge, is a good idea. (See below for more information).
David's daughter Ashley says, "Even if you're a skilled boater, the weather and waters down there are tricky, even dangerous. The kids always wear PFDs, and I track their coordinates from home. Any boat going there really must have the proper safety gear, including a life raft and SAT phone."
Since this is bigtime fishing territory, maybe it wasn't too surprising that Monday morning at breakfast, before heading out, the group saw Captain Griff of Reels of Fortune (on the TV show Wicked Tuna). They stopped and got pictures with him before going out. The second highlight of the day was catching a blackfin tuna and catching and releasing a shark.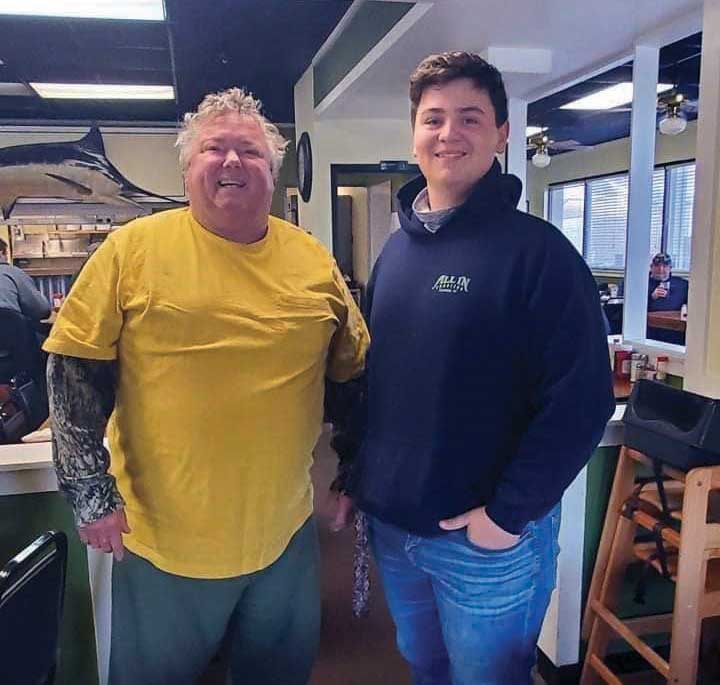 The next day, Tuesday, January 25, the weather called for west winds around 10 knots and seas of two to four feet. As Miss Ashley headed out of Oregon Inlet at Wanchese, NC, it was cloudy and chilly. For most of the day, the anglers saw little action—aside from recognizing multiple boats from the Wicked Tuna show. They did however catch one yellowfin tuna. But generally, nobody was really catching much of anything, and David was thinking about calling it quits for the day.
Fish on:
Then 12-year-old Junior saw something that changed the course of the day. "At the point when we hooked up, I was the only one out back," says Junior. "I looked over and the rod was going off. It almost spooled the reel. I was yelling, 'Fish on!!' and calling for everyone to come out back. After everyone got back there, we had to reel all the rods in. We backed up to the fish, and it did not stop running. It was a hard fight."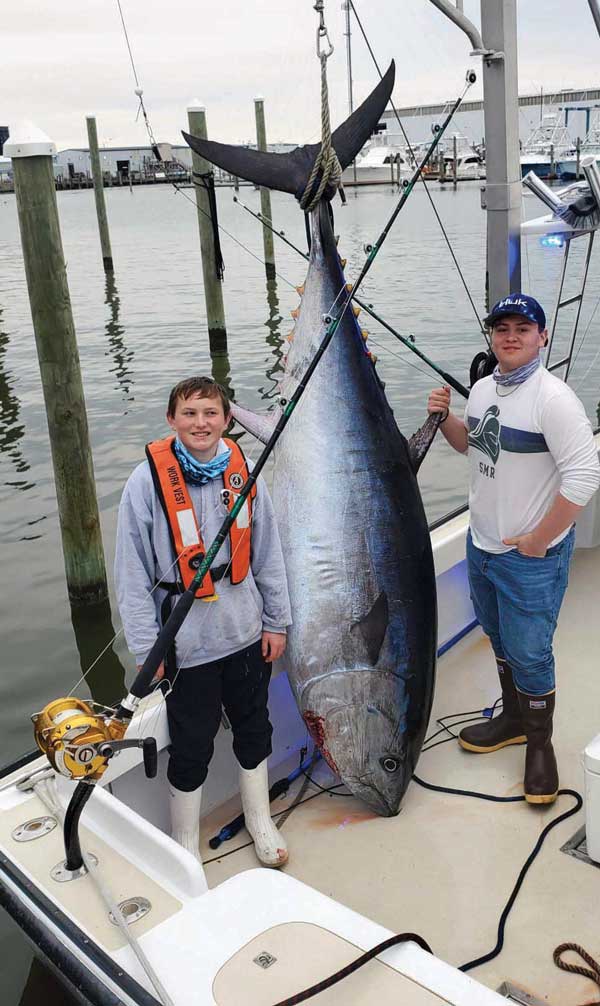 It took the crew about 45 minutes to land the huge fish, with everyone getting a turn on the rod. Complete teamwork from everyone made it all come together. 
Fourteen-year-old Aiden says, "I had the best time ever on this trip!" His uncle David agrees that it was amazing, but says, "Fishing with my family is always amazing. Every time feels like the first time." Ashley summarized the whole thing well saying, "It was a once-in-a-lifetime trip and a once-in-a-lifetime fish. Absolutely priceless!" 
As told to Beth Crabtree
---
If you're considering heading to this stretch of coastline, don't underestimate what you're getting into. Carolina inlets can present a challenge in the best of times. Add cold air and water and likely some good wind, and you better know what you're doing or book a charter. For more information on this trip, read Carolina Dreaming, by Lenny Rudow in the January 2022 issue of FishTalk Magazine, where you'll find information on weather, water, and light or heavy tackle trolling.