As one might expect, there are fewer innovative new products available to the boater due to global slowdowns in industry, travel, supply chain, and just about everything else. This isn't merely my opinion, but more of a general consensus among friends in the marine business. And yet, products continue to improve not only in reliability and sophistication but in functionality as well. More products are wireless-capable, for example. Here is a roundup of some of the leading products in marine electronics for powerboaters this year.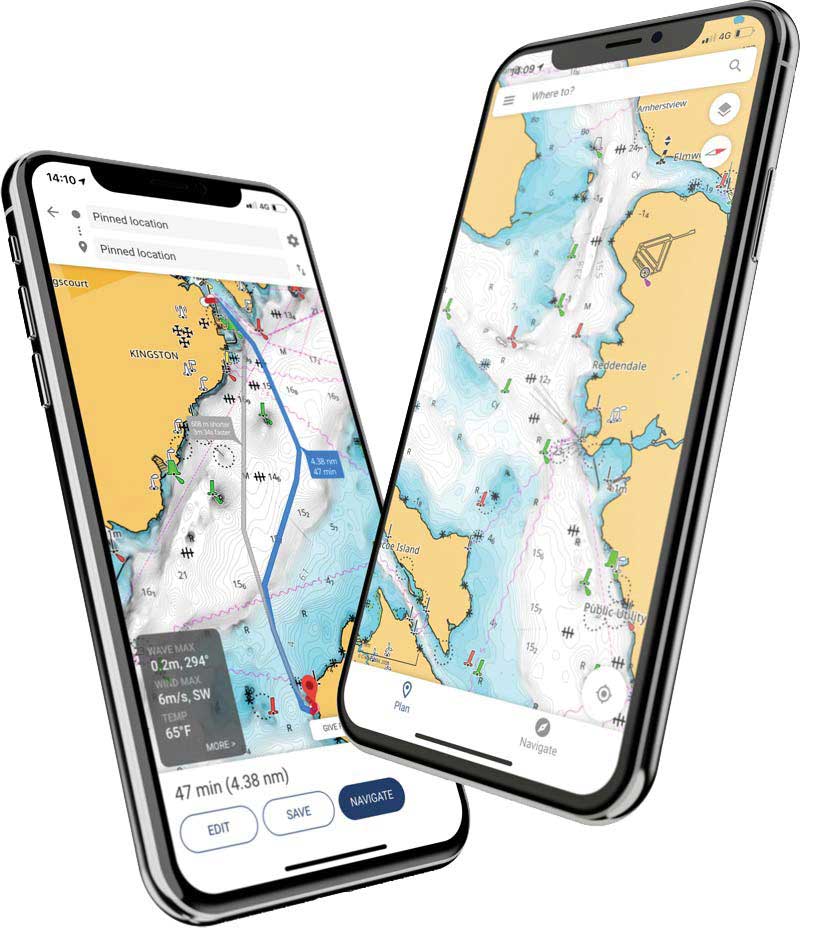 New Simrad/Lowrance App
Lowrance (and sister Navico company Simrad) recently unveiled their new companion app featuring enhanced navigation and device connectivity. The app, which is free to download, includes various maps, weather services, personalization options and the ability to store personal waypoints. It includes a set of "free" features, along with a combination of new premium features with advanced functionality and seamless synchronization with the full range of Lowrance fishfinders and chartplotters. The app offers free up-to-date and detailed nautical charts from C-MAP, creation, and management of personal waypoints, routes and tracks, along with the latest marine weather, essential points of interest, and more. The company will now also offer a premium version of the app which, it says, offers global charts and offline maps, AIS, weather overlays, GPS navigation data and other features. For fishermen, the app includes 'detailed fishing information.' Download it from Apple and Google app stores. Price: free
Raymarine Cyclone Radar
The Raymarine Cyclone radar system is a solid-state, open-array radar that delivers 'superior target separation and long-range resolution.' It utilizes CHIRP pulse compression with Raymarine's 'beam sharpening' technology to produce an image that is so sensitive it can even detect birds. Cyclone is engineered for extremes with a wind rating of over 100 knots. A fast 60-rpm rotational speed delivers 360 degrees of awareness and accurate tracking of up to 100 distinct ARPA targets in real-time, even with the vessel at full speed. Precision radar imaging comes courtesy of CHIRP pulse compression and beam-sharpening technology for superb target separation and long-range resolution.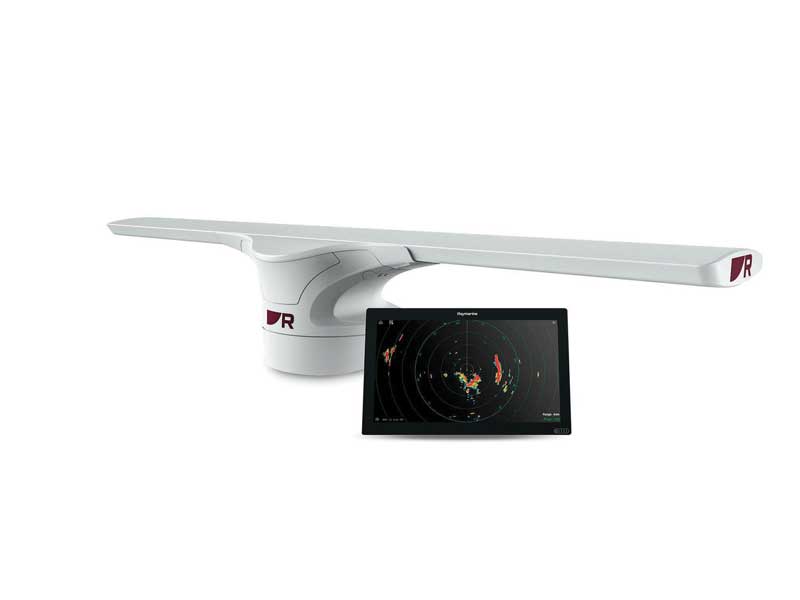 With Cyclone, boaters can simultaneously enjoy maximum visibility of near and distant targets using Raymarine's RangeFusion technology. RangeFusion technology merges short-pulse near-target ranges with long-pulse, distant-target ranges, providing a single radar image that is easier to interpret. The system has an attractive and streamlined profile because its designers intentionally avoided the more angular, boxy shape of traditional radars. The Cyclone is available in three different sizes: three, four, and six foot, and each size is available in either a standard 55 watts power rating or the Cyclone Pro version which offers 110 watts of power. At just 13.2 inches high, Cyclone's lower profile allows greater flexibility of boat architecture and more flexible installation options. Cyclone is the lightest open-array radar available, with the three-foot models weighing just 51 pounds. This smaller, compact profile brings Cyclone's unique open-array performance to nearly any sized vessel. The Cyclone system is designed to integrate seamlessly with all Raymarine Axiom multifunction displays. Price: $7000 to $9750
Fusion Marine Stereo and Speaker Kits
Garmin's marine audio brand, Fusion Entertainment, has introduced two new stereo and speaker kits. The first is the Fusion MS-RA60 marine stereo and EL Series speaker kit, while the second kit is the Fusion MS-RA210 premium marine stereo and XS Series speaker kit. Both kits include speaker wire, an antenna, and a sun cover. The EL and XS speaker sets both feature injection-molded polypropylene speaker cones, but the XS series features aluminum dome tweeters for superior upper-frequency reproduction. Buyers will also have the choice of two different grille styles for their speakers—either 'classic' or 'sport'—to ensure that the speakers look good in whatever style of boat they'll be installed in.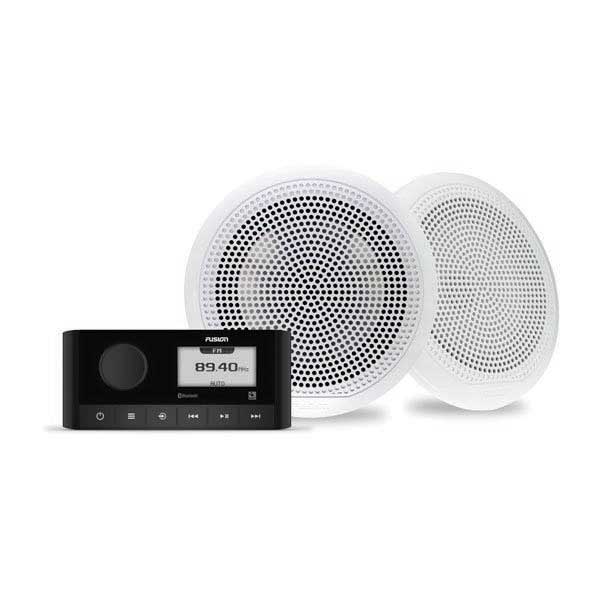 The speakers come with a three-year consumer warranty and are said to be specifically engineered to withstand the perils and harshness of the marine environment, including salt, dust, and UV damage. An especially impressive feature of Fusion head units is that they include a built-in Class D amplifier. This is quite unusual but what it means is that you can listen to your audio at higher volumes, with little or no distortion versus non-amplified systems.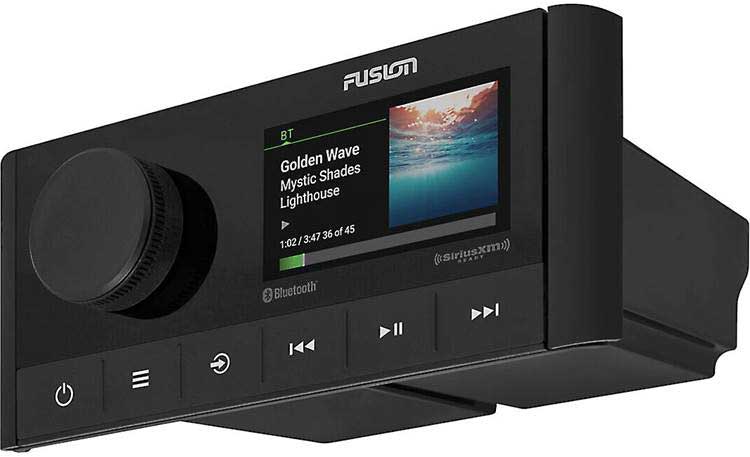 The MS-RA60 head unit is the company's more budget-oriented offering, while the MS-RA210 is one level below the top of the range. Both units have Bluetooth connectivity, which is especially convenient in a marine environment. Both are also IPX rated for water resistance. The MS-RA210 offers additional connectivity in the form of SiriusXM, auxiliary, and USB connections, all displayed via a full-color screen, whereas the MS-RA60 only has a black and white display. The recommended retail prices for these two new kits range up to $550. Price: $370 to $550
Icom IC-M510 VHF With WLAN
ICOM has introduced its new M510 fixed mount VHF. The M510 is nearly half the depth of the M506, allowing installation in more confined spaces. The large color display has a simple user interface allowing casual and serious boaters alike plenty of options to communicate. The M510 includes a full-color 3.5-inch TFT LCD screen with super-wide viewing angles approaching 180 degrees. VHF and mobile-phone technology merge in the Icom IC-M510 fixed-mount radio, offering built-in control using up to three smart devices via Icom's WLAN function. The RS-M500 app lets you turn your mobile phone into a wireless mic or remote controller. Features include an available integrated AIS receiver to show real-time AIS traffic information on the M510 color TFT LCD screen. With built-in GPS, the new Icom guides you to a designated waypoint and allows you to assign up to 100 destinations as waypoints.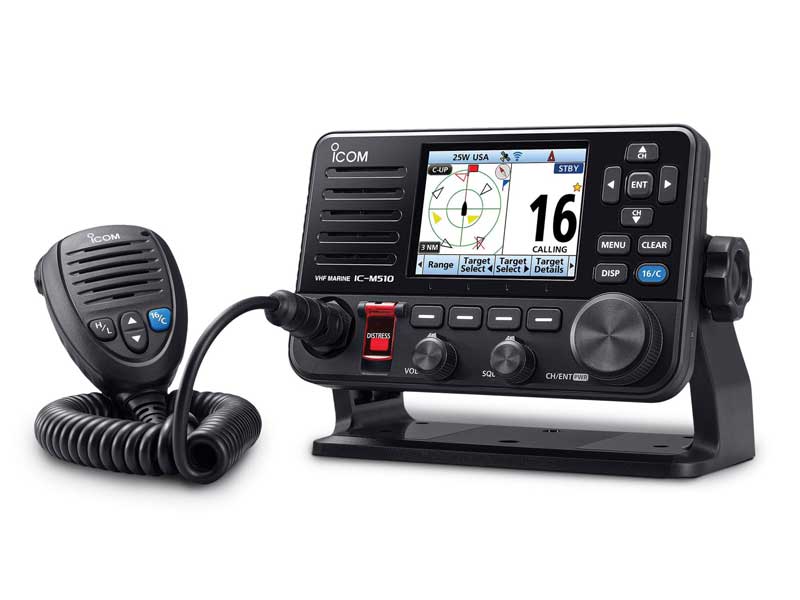 The standard marine user interface is enhanced with animated functions and night mode for optimal viewing in the dark. Boaters can upgrade to the M510 AIS version to access real-time vessel traffic information. Operators can call an AIS target directly when using an individual DSC call, reducing the amount of marine hardware with a combo AIS and VHF two-in-one that share the same VHF antenna.
Other features on the new ICOM M510 include an output power of 25W, an IP68 waterproof rating and a built-in GPS, plus an NMEA 0183 output jack. The RS-M500 app allows owners to connect three iOS or Android smart devices to function as a wireless intra-ship command speaker/microphone. If the NMEA connection is in a different part of the boat, the CT-M500 can wirelessly connect with the M510, providing flexibility for placement. Price: $600
Raymarine Yachtsense
Raymarine's Yachtsense system is effectively a modular digital control system that allows owners to have complete oversight and control of every system onboard, at a glance. The system's building block is the Yachtsense Master Module which offers several core functions. Customers are then able to expand the system's functionality through the addition of one or more extra modules, each of which adds more control options and interfaces. Though sounding like a big-boat product, YachtSense offers a scalable and customizable marine control system that is suitable for boats down to 35 feet length overall. Each system begins with the YachtSense master module and power-supply module and is completed with a combination of additional multichannel signal modules. These interface with specific types of onboard devices and systems such as lighting, pumps, windlass, entertainment systems, air conditioning, and generators.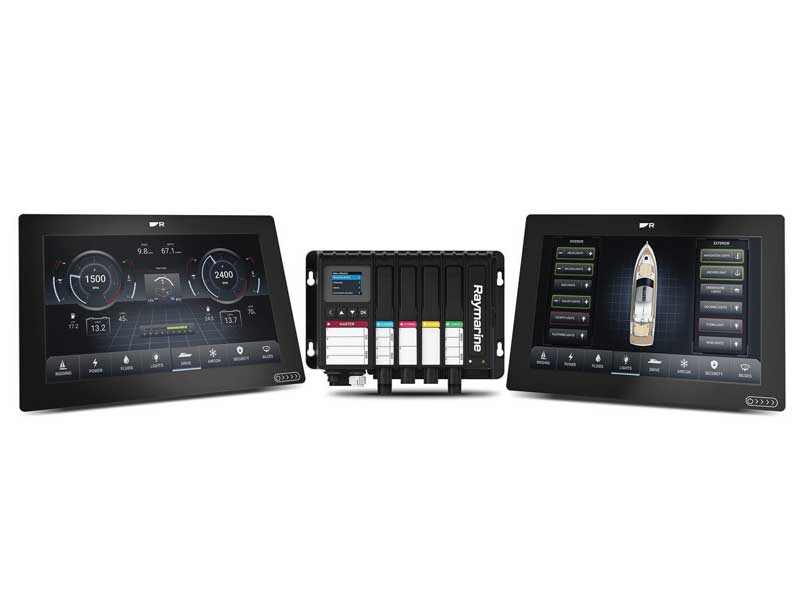 It can be monitored and controlled with a Raymarine Axiom touchscreen multifunction display with user-interface options that empower marine manufacturers and installers to create vessel automation solutions. In addition, YachtSense delivers electrical redundancy. The master module features an integrated keypad for manual override, as well as an LCD screen for system diagnostics. Yachtsense was developed to allow boat and yacht owners the ability to remain constantly connected to their vessel, so even when you're away from the boat, you'll still be able to check on its status via the Raymarine smartphone app, for example. Price: varies by number of modules, each on average $400
JBL Wireless Control
Bluetooth-compatible JBL Click is designed for use in tandem with the JBL R3500 Wake source unit to create a wireless marine audio-control system using a paired mobile device. The adjustable silicone strap allows the device to mount virtually anywhere, including the steering wheel. The user screen on a mobile device lets the user play, pause, advance tracks, and adjust volume. The CR2032 battery, included, lasts up to 10 months. Price: $269.95 for the R3500, $49.95 for the Click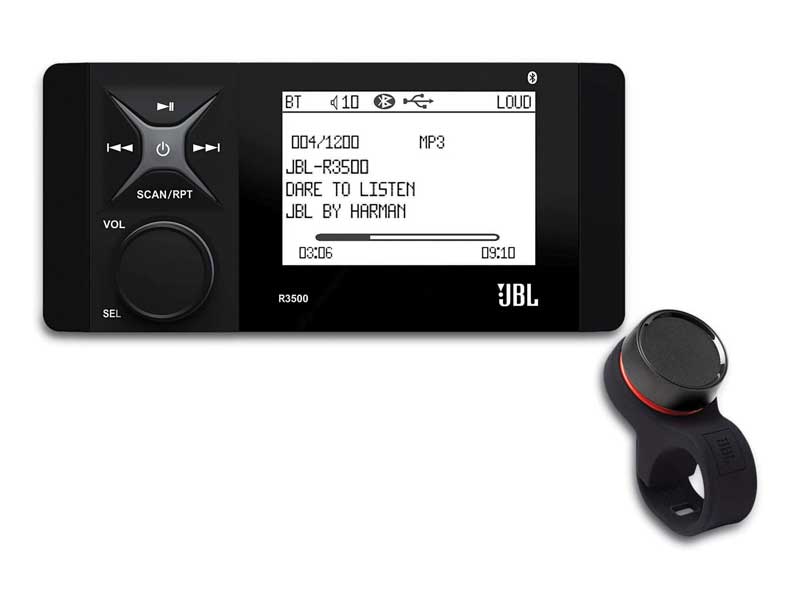 Siren 3 Plus Boat Monitor
Siren Marine's Siren 3 Plus uses the Siren Marine app and a cellular subscription to remotely monitor and track boat location, battery level, bilge-water level, temperature, and other onboard systems, sending instant alerts to the owner in case of a critical event. In addition to hard-wired features, the system is available with optional wireless sensors, including a battery monitor, entry sensor for theft and vandalism protection, and more. Other available features include remote digital-switching control from your phone. Price: $500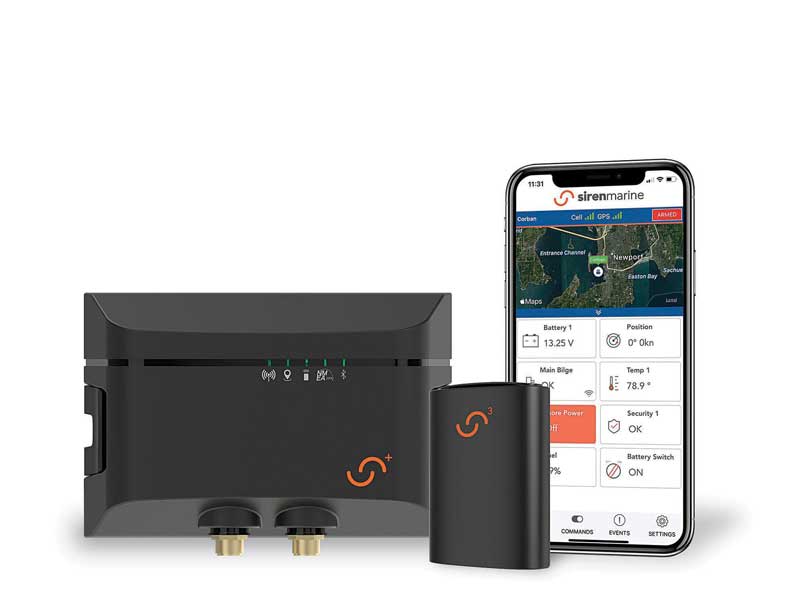 By Capt. Michael L. Martel