Merriam-Webster defines a marina as "a dock or basin providing secure moorings for pleasure boats and often offering supply, repair, and other facilities." Of course, a boat is a major investment so having a secure mooring place is certainly very important. But what other factors should you take into consideration when choosing a marina for your pleasure craft: cost, location, proximity, facilities?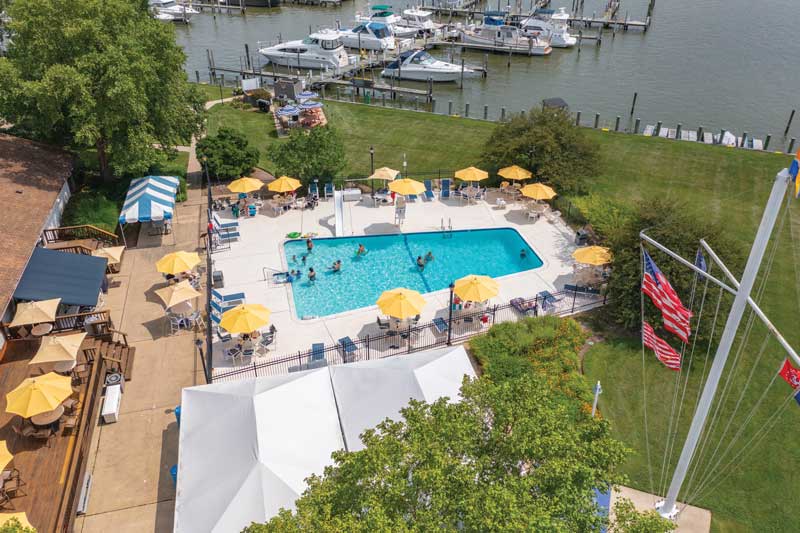 Our previous marina off the Potomac River did not really meet our needs. So, off we went in search of a marina with our list of must-haves: within a two-hour drive (without crossing the Bay Bridge), convenient access to the Chesapeake Bay waters, floating docks, onsite fuel and pump out, and protection from the weather as well as a pool, fine restaurant, and other onshore facilities. And it was important to find a place where we felt connected. A tall order to say the least!
While visiting another marina, a boat broker recommended we try the Chesapeake Yacht Club (CYC) on the West River. We'd never heard of it and were not really considering a yacht club at the time, but we decided to check it out and scheduled a tour. Afterwards, we knew we'd found our new marina and immediately joined. CYC had everything on our list.
Now, almost two years after joining, we couldn't be happier with our decision. CYC's location provides us easy access to a plethora of Chesapeake Bay cruising destinations. While not cruising, our family enjoys the pool, watching the sunsets from the deck of the award-winning restaurant, and sharing stories around the outdoor fireplace on chilly evenings. If you are looking for a place to keep your boat, we'd encourage you to determine what is important before you start your search to make the most of the selection process. 
Learn more about CYC at chesapeakeyachtclub.org.
By Rob McDaniel