Watersports can be exhilarating, especially if you've got a need for speed. And there seems to be an ever-growing number of ways to enjoy the thrill of flying over the water, skimming the surface, or doing aerial tricks.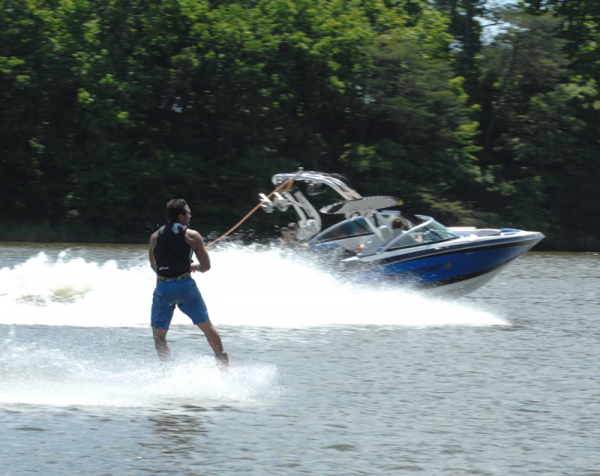 What Kind of Boat Do I Need?
If you think you'll need an expensive, tricked-out specialty boat to join the fun, think again. To zip around the river, occasionally throw in a tube, or casually do a little skiing, all you need is a basic, cross-purpose recreational boat. They start at very reasonable price points, especially if you're open to something pre-owned. (Turn to page XX for listings.) In fact, for most water sports, you don't even need a boat. Personal Water Craft (PWC) can tow most toys. There's no dangerous prop, plus there's the added benefit of being close to the water and the rider. For towing, PWC just need to be built for three people (driver, spotter, and rider) and have enough horsepower to give a good ride. At the other extreme, if you're looking to become a rock star on a wakeboard, wake surfboard, or wake skateboard, and your goal is to improve your skills and learn a bunch of tricks over multiple seasons, there are boats built specifically for those purposes. If precision and proficiency are your goals, your skills may one day exceed what a basic recreational boat or PWC can do. Seek expert advice before purchasing a specialized watersports vessel.
Water Ski, Wakeboard, Wakesurf, and Wakeskate
"Watersports are an aspect of boating that has great potential for family bonding," says Dustin Majewski of Ski Haus in Arnold, MD. "There are so many options in watersports that you can cater to each person's interests and level of ability. It could be a leisurely tube ride, the challenge of doing tricks on a board or skate, or the precision of slalom skiing. If you're not sure about where to start, you can rent or demo equipment. For wake skateboards, wakeboards, or skis, it's $25 per day, but you can put the first two days' rental fee towards the purchase price of the equipment if you decide to buy. "Getting up on a wakeboard is every bit as easy as skis," says Majewski. "It's just a matter of getting the technique down. Once it clicks, it's like going from training wheels to a two-wheel bike. It feels natural, and it's difficult to remember ever not knowing how to do it. But if someone's having trouble learning to get up, a good place to start can be a kneeboard. Kneeboards are the same concept as wakeboarding, but the rider is on his knees."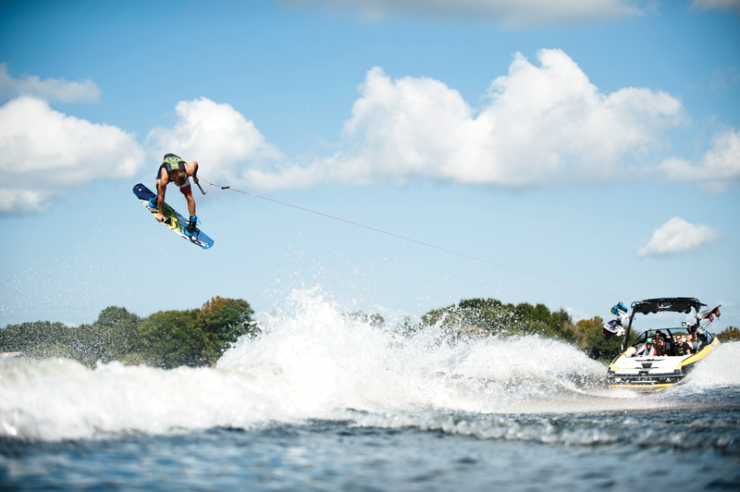 Wakeskating is a hybrid of wakeboarding and skateboarding. The biggest difference between wakeboarding and wakeskating is that you're not attached to the board. "It is becoming very popular because it's a ton of fun, and you can do it on a smaller wake," says Majewski. You can wake skate behind any watercraft so long as it has the horsepower to get your body out of the water. "Since you have the freedom of not being attached to the board, there are more trick opportunities, and therefore it can be more challenging." Wakeskates feature grip tape on the top surface. Wakeskate manufacturers offer shoes made specifically for the sport, but an old pair of skateboarding shoes will work just fine. Some board tops have a grippy foam surface, and shoes aren't necessary.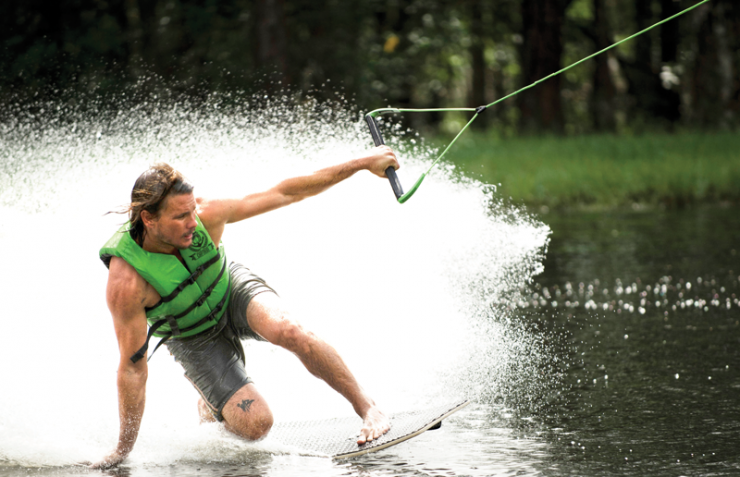 "Wakesurfing is a newer skill and a different animal," says Majewski. "It's like surfing on a perpetual wave." After getting up out of the water, the wake surfer throws the tow rope back into the boat. Since the surfer needs a good sized wave, the tow boat needs to produce a bigger wake than is required for most other watersports. Some even have ballast bags to increase the wake. Because of the large wake, drivers should keep the boat 200 feet from shore and other hazards, instead of the usual 100 feet. For safety reasons, don't try this with an outboard or sterndrive; the surfing is done just a few feet from the boat. If you enjoy surfing at the beach, give this growing sport a try.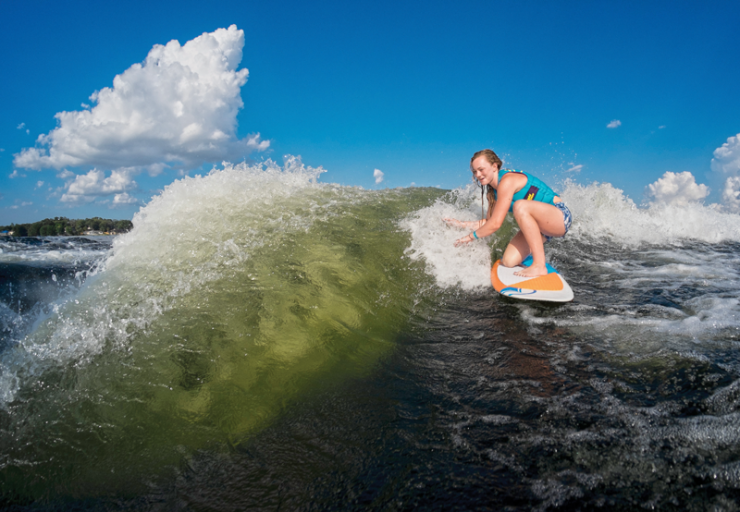 EXTREME THRILLS Foiling SUP
Go Foil was founded in Maui, Hawaii by Alex Aguera, a professional kiteboarder and windsurfer. The company is all about hydro foiling, be it surfing, SUP, windsurfing, or kitesurfing. With his latest SUP foil, Aguera has managed to balance lift, stability, and speed to create an experience almost akin to 'taking flight.' The board lifts from the water between four to eight mph, depending on wave push, positive angle, and rider weight. Less effort is required to maintain and propel speed as the board is now a non-factor in friction and drag. It has been tested in both downwind paddling and wave riding, and performs well in both configurations. The Go Foil must be attached to your board using a Tuttle box, which is a standard box used in both windsurfing boards and kite boards to mount large fins.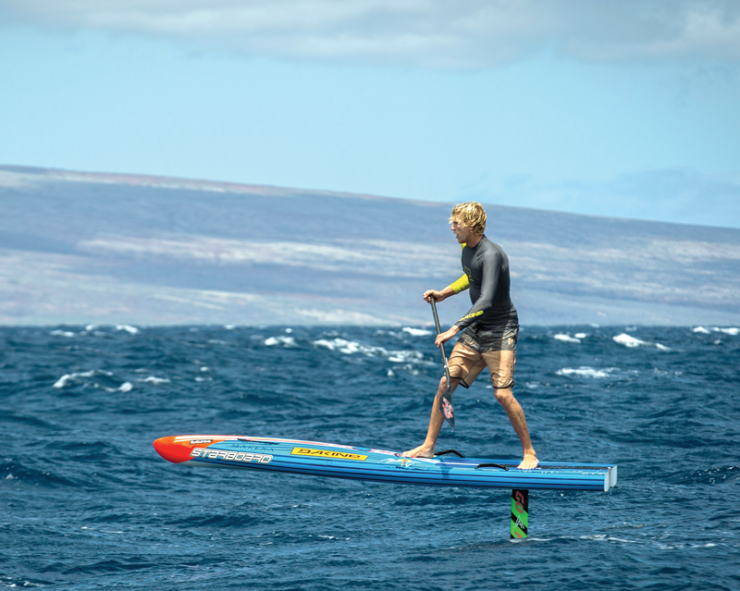 Flybike
Atlantic Extreme Watersports in Poquoson, VA, manufactures exhilarating jet propulsion toys that hook up to the thrust of a personal watercraft and fly through the air. Their most successful product, the flybike, seats one or two people and rides like a motorcycle or bicycle. Turns are made by leaning in the direction rider wishes to go. The flybike's landing gear doubles as a wakeboard, so riders can skim the water's surface if they don't want to go airborne. Owner Sean Hummel says "You don't have to be athletically gifted to do this. I've had riders from age 12 to 87 successfully operate flybikes, and now it is starting to grow into a real sport, and competitions are emerging around the country." Prices start at $600.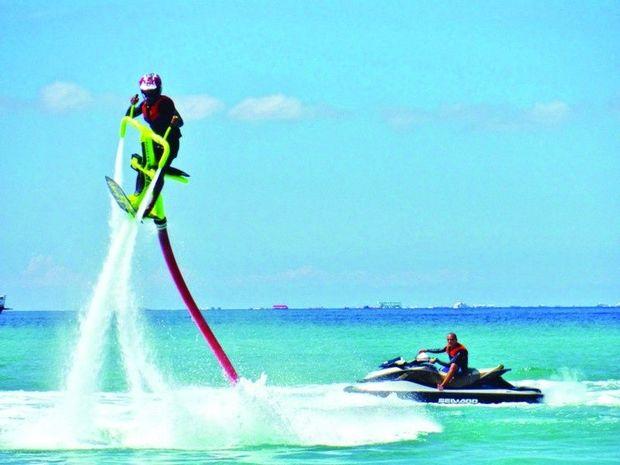 Kiteboarding/Kitesurfing
Kiteboarding is a surface water sport combining aspects of wakeboarding, windsurfing, surfing, and paragliding. The rider harnesses the power of the wind with a large, controllable power kite to be propelled across the water. The only difference between kiteboarding and kitesurfing is the board – kiteboarding uses a wakeboard-style board and kitesurfing utilizes a surfboard. We recently caught up with Mia Capps, owner of Happy Winds Kitesurfing in Virginia Beach, VA. For someone who wants to try kiteboarding, she highly, highly recommends taking a lesson with a reputable company; she cannot stress that enough. In a typical lesson, Capps can get anyone up in about two hours, but she explained how it takes about 15 hours for someone to become a self-sufficient kiter.
In a typical lesson at Happy Winds, riders start on the shore, going over everything from equipment to wind theory. For a beginner, wind should be a minimum of 12 knots, max 22 knots. Riders will start with a trainer kite on-shore so they can learn how to generate power without the pressure of a much larger sail. Then comes the "pre-flight check" before Capps takes riders offshore to teach them how to stay afloat on the board, how to keep power in the kite, and how to get hooked on the sport. If you have taken a lesson and are thinking about purchasing your own gear, Capps stresses speaking with a reputable company. She explained how there are so many used kites on the market, with equipment dating back to the 90s, but those old kites are not up to par with current safety features. So if you see a kite on Ebay for $300, don't buy it. Capps recommends taking a lesson and learning on good, rental gear so you can decide what kind of kiteboarder you're going to be. Are you going to be a wave rider? Then you need a surfboard. Wake style rider, i.e. flips and tricks? Then you need a wakeboard. Maybe you want to get into racing? Then you may want to consider a foiling apparatus. But regardless of the type of rider you want to be, talk to a reputable dealer about finding the right gear for you. If you buy decent gear and take care of it, it will last. Most importantly, it will be safe.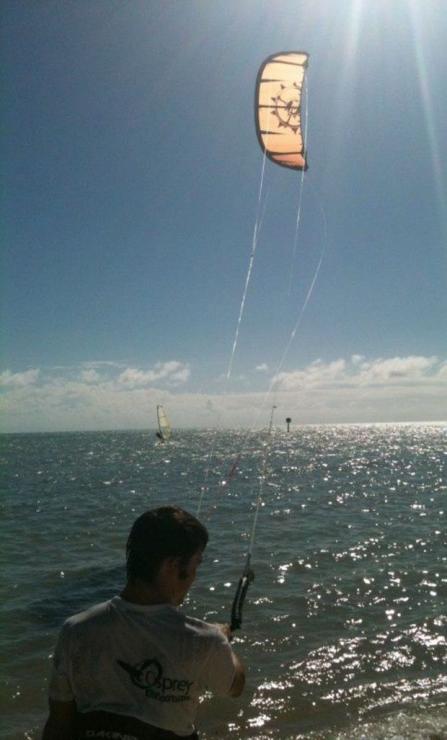 Minicat
Red Beard Sailing, based out of Baltimore County, is the U.S. distributor for Minicat, Tiwal, and Takacat, sailing vessels portable enough to store in a hall closet or transport on top of your car. The Minicat 310 is the smallest boat in the fleet, measuring 10 feet and weighing only 77 pounds. With this beach cat you get performance comparable to a Hobie, but because it is inflatable, you won't need a marina or trailer to store it. These boats can reach speeds of over 18 knots and are incredibly stable in the process. The 310 is great for solo sailors and children, while the 420 can accommodate up to four people. The larger 460 Esprit is the fastest in the Minicat fleet. So if you're a powerboater looking to dip your toe into the sailing scene, this just might be the boat for you. Prices starting at $4400.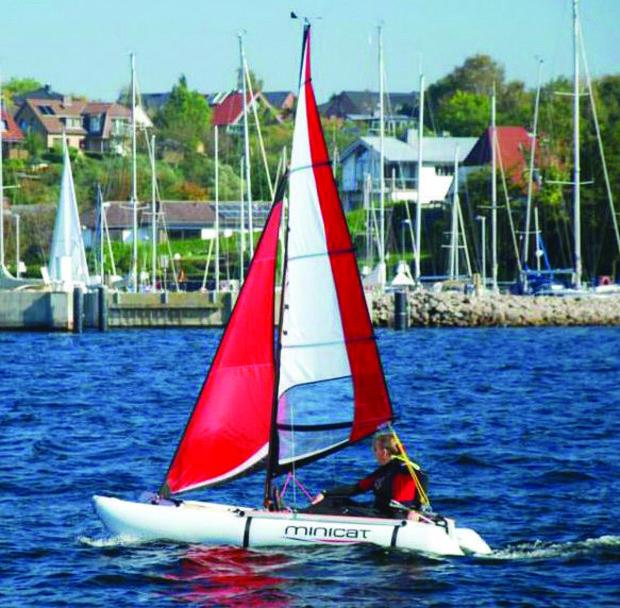 Maryland and Virginia Watersports Laws
No one under 12 years of age may legally operate a vessel towing a person(s) on water-skis, or any other device.
Every vessel towing a person(s) on water-skis, or any other device must have on board, in addition to the operator, an observer at least 12 years of age.
All persons being towed behind a vessel on waterskis or any other device must wear a U.S. Coast Guard approved type I, II, or III life jacket.
A vessel may tow a person(s) on water-skis or any other device only between the hours of sunrise to sunset.
It is illegal to operate any vessel, or manipulate any water-skis or any similar device in a careless, reckless, or negligent manner that endangers the life, limb, or property of any person.
Except for taking off from shore, the towing vessel must stay at least 100 feet from shore, piers, bridges, people in the water, or other vessels.
Ski ropes may not be more than 75 feet in length, except when barefoot skiing, in which case a ski rope of 100 feet in length may be used.
A Personal Water Craft (PWC) may not be used to tow a person on water-skis or any other device unless the PWC has the capacity to carry at least three persons – the operator, a rear-facing observer that is at least 12 years of age, and the skier.
A person(s) being towed on water skis or other device may not operate while under the influence of alcohol or drugs, including prescription narcotics and illegal drugs (It's the law in Virginia, but common sense everywhere).