On Saturday, July 13, the Maryland Chapter of Heroes on the Water (HOW) hosted the Maryland Army National Guard Medical Detachment for a day of kayak fishing at Codorus State Park in Hanover, PA. Thanks to all of the volunteers, over 100 attendees, including National Guard members and their families, had the opportunity to spend a beautiful summer day kayaking and fishing on Lake Marburg.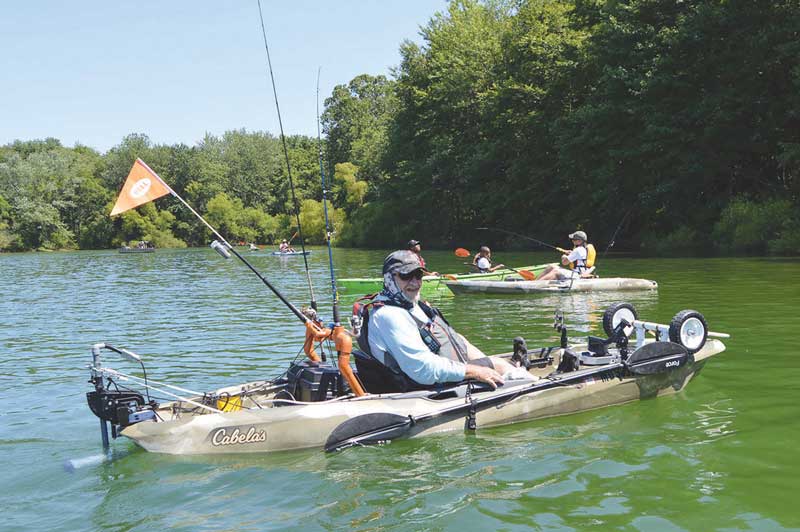 This is just one of many fishing trips put on by director Jim Cooper and the rest of the team at MD HOW throughout the year. All of these events are free to attend and 100 percent volunteer supported. Kayaks, PFDs, fishing gear, and lunch is provided for the participants.
Heroes on the Water is a nationwide non-profit whose objective is to take active-duty military, veterans, and first responders out to a enjoy a fun, relaxing day on the water. Taking these service members kayak fishing is their way of saying thank you for their service while showing them a good time in a stress-free environment. Family members are always welcome to attend, and shore support and fishing guide volunteers are always needed.
The other mission of HOW is to support wounded veterans undergoing treatment at Walter Reed Medical Center and other Veterans Affairs hospitals. By spending time in nature and experiencing the camaraderie of this fishing community, they help these veterans reintegrate into society through an alternative form of mental and physical rehabilitation.
The next MD HOW event will be held Thursday, September 12 in Nanjemoy, MD, supporting Operation Tohidu. After that, there will be an event October 5 at Newland Park Landfill Borrow Point in Salisbury, MD. Volunteers are needed as fishing guides and as land support. You can find more information on MD HOW, upcoming events, and how to become a volunteer on their Facebook page.