Southern Maryland Boat Club hosted the return of the American Power Boat Association's (APBA) Vintage division to the famous Region 4 Outboard Performance Craft (OPC) category venue at Piney Point, MD, also remembered as Swann's Pier. Dozens of historic races occurred here during the 1960s and 70s producing many regional and national high point champions. Two champions were on the water with the same models of restored boats and engines.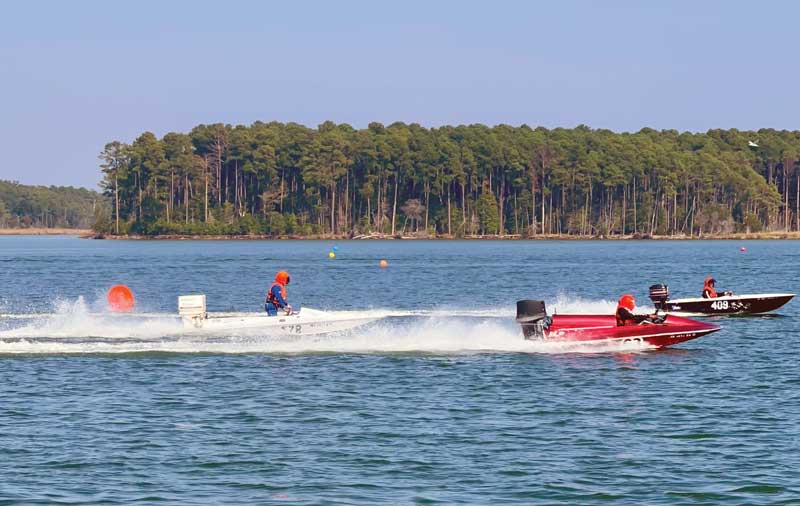 Thanks to Bill Edwards and Rayner Blair, both in E&T tunnel boats. Bill and his former partner, Beale Tilton, built these not 10 miles from the venue. The number 1937 Dennis Point Menace driven by Bill, was S Class National High Points Champion in 1971. He still hangs a Chrysler Stacker on the stern to the delight of old fans and new. And to add to the day, Bill celebrated his 84th birthday. Rayner Blair won Family G High Points and National Champion in 1975 in the number 835 Allison running a Mercury outboard. He also set a National Outboard Association (NOA) record in 1976. 
Beautiful fall weather on October 2-3, 2021 greeted all who had been working with local and county officials since before the pandemic to make this a reality. The event was made possible through the cooperation of St. Mary's County government, the U.S. Coast Guard, Second District VFD, and countless volunteers. 
Seven heats were run on Saturday morning and repeated after a lunch break in the afternoon. Eight heats were run on Sunday in a shorter schedule. Calm seas allowed Family E, G, and J hulls plenty of opportunity to demonstrate the power and agility of the V-bottoms on the seven-eighths-mile course. Sport J, Mod VP and F1 type hulls filled out the roster of heats.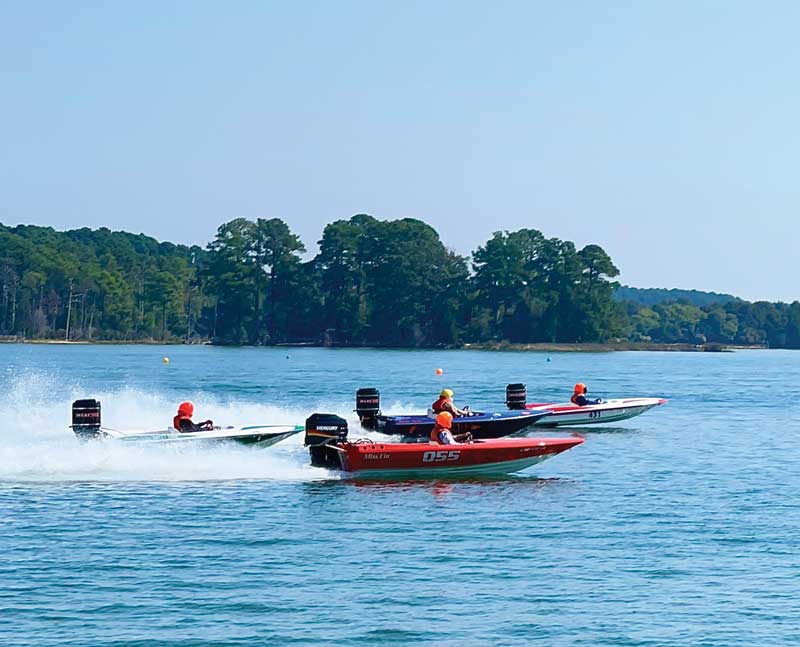 Kids cheered their favorites and cameras snapped the action, making for a thrilling day for all. Boats and drivers came from near and far, including Missouri, Florida, and Ohio. Brothers Chris, Tocky, and Teeny Lawerence (nicknames are a Southern Maryland thang!) together demonstrated that their restoration and mechanical skills are equal to their driving skills. Tocky's very vintage and lovingly restored 1959 Glasspar G-3 christened Man Butter was a crowd favorite. Brittanie Adkins showed the boys she had mastered her driving skills and could hang with the best of them in her Allison. 
Wayne and Doug Goddard in Family J boats represented the classic sound of inline 6 Mercurys and open exhaust OMCs. Jimmy Knott with his Merc 150 powered Checkmate made a good showing. Ken Shaw's OMC powered Allison came with "old school" technology, proving power trim isn't a necessity to run fast and handle turns. Mod VP's exhibited Rich Paradis in a STV and Carl Birch in his Seebold. Carl played to the audience with his rooster tail displays. 
SMBC was pleased to have Tim Schroer with his lovingly restored 1963 Allison, and Jon Edwards with a very early fiberglass flat bottom Allison, Miss Liz. Many other participants filled out the heats. 
This inaugural return to Swann's Pier at Piney Point will become an annual vintage event. Learn more about SMBC at southernmarylandboatclub.com.
By Jim Berry