Two important things to know about a voluntary Vessel Safety Check (VSC) is that they are free and there is no consequence if you don't pass. This isn't like being boarded by the Coast Guard or Natural Resources Police. A VSC will give you peace of mind in two ways. First, you'll know that your boat meets federal safety standards. Second, you'll be assured that in an emergency you will have the necessary equipment to save lives and summon help.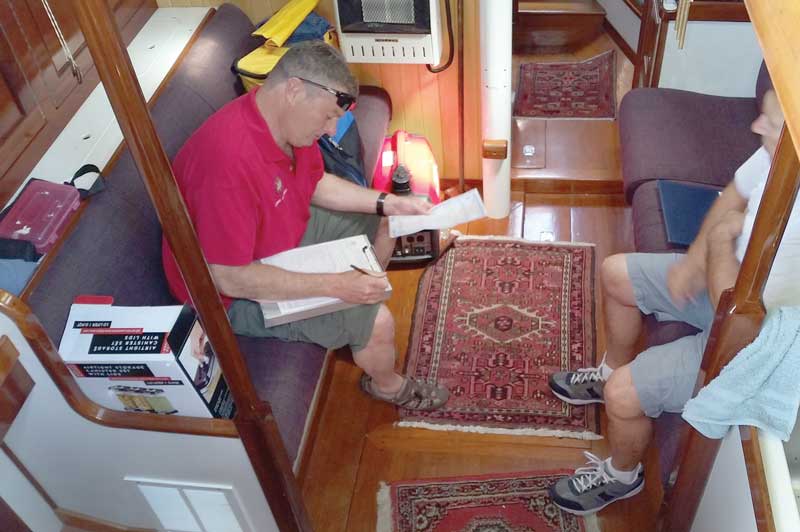 U.S. Coast Guard Auxiliary routinely hosts VSC examination event days at local marinas, boat dealers and sales offices, and yacht and sailing clubs. Examiners will also visit individual boat owners at a mutually agreed location and time. In addition, any dock master can request to schedule an event. To make an appointment visit uscgaux.info.
Depending on the size of the vessel, the average inspection can be conducted less than 20 minutes. A local examiner explains, "I don't want to hold people up too long because I don't want boaters to be opposed to doing it again or to discourage their boating friends from getting a VSC."
The most common issues include not having enough lifejackets on board, insufficient fire extinguishers or first aid kits, outdated flares, no noise producing devices, and dead batteries in the electric torches. 
There is no penalty for not passing an exam, and the examiner will tell you exactly what you need to do to bring your vessel into safety compliance. The most common missing items can usually be acquired with a quick run to the local boat store. In most cases, once those items are inspected you can be approved and receive your VSC decal the same day.
The Coast Guard Auxiliary Central Chesapeake Division will offer VSCs to the public Saturday, June 25 from 8:30 a.m. to 2 p.m. at Sandy Point State Park in Annapolis. For more information and advanced registration email [email protected]. You many also schedule a VSC with America's Boating Club-Wilmington's vessel examiners John Bailey or JT Walton by emailing John at [email protected].