There are so many different types of powerboats on the market, and finding the right boat for you and the type of boating you plan to do, is crucial. While this is not an exhaustive list, these are some of the main types you'll often see (courtesy of BoatUS), whether boating on the Chesapeake Bay or elsewhere.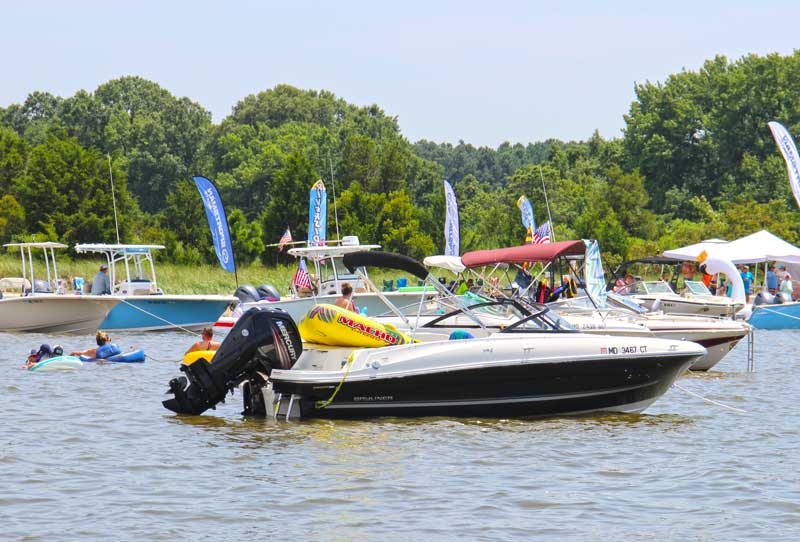 Bass Boat: generally 14 to 23 feet long and typically used for freshwater fishing. 
Bay Boat: generally 18 to 24 feet in length, and designed for use in shallow bays, estuaries, or near shore.
Bowrider: designed with an open bow area designed for extra seats forward of the helm. Great family boat; good for watersports. Usually around 17 to 30 feet in length.
Center Console: so-named because their helm is on a console in the center of the boat. Most are powered by outboard engines, and the open hull allows anglers to walk unimpeded from bow to stern. Could be anywhere from 13 to 45 feet in length.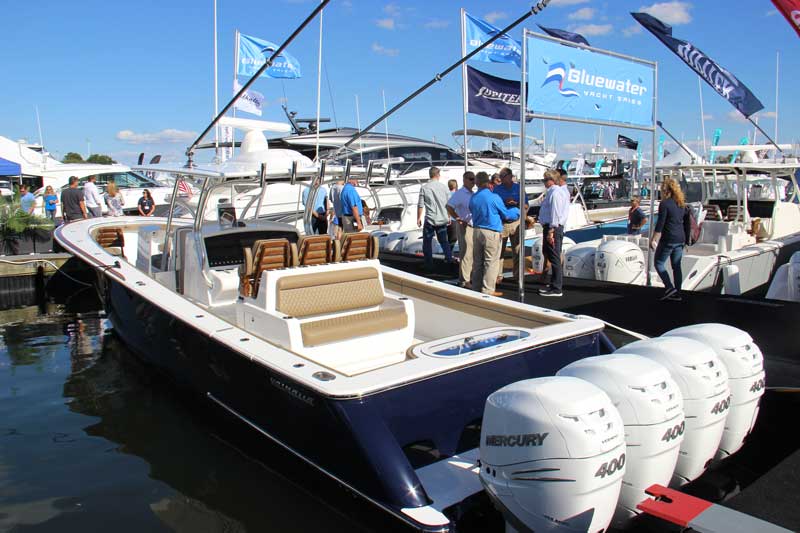 Convertible Fishing Boat: generally 35 feet or larger; suited for offshore fishing and cruising, with large cabins, galleys, and berths, and a large aft fishing deck.
Cruiser: have a cabin in the bow; designed for short, overnight stays onboard. Generally 21-45 feet in length. 
Cuddy Cabin: have a small cabin for storage; may accommodate a berth and/or a head (22-30 feet long).
Deck Boat: features an open deck with plenty of seating, a wide beam, and V-shaped hull which offers more performance than a pontoon boat (25-35 feet long).
Dinghy: a small boat generally carried or towed by a larger boat for going ashore. Powered by oars or a small outboard, often 7-12 feet in length. 
Downeast Cruiser: also called lobster boats, they are native to coastal New England and are built for offshore cruising and fishing. 
Dual Console: has two dashboards and windshields with space to walk between them for access to the bow area (16-30 feet in length).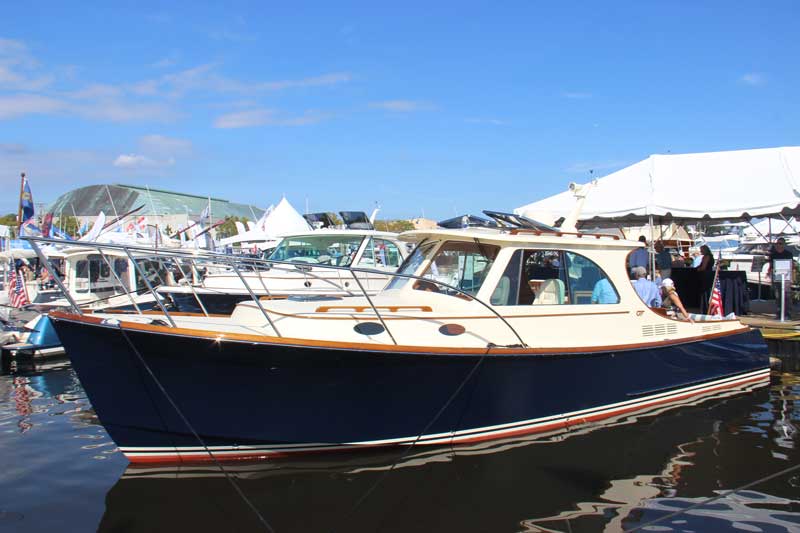 Flats Boat: smaller boats with shallow drafts designed to navigate shallow waters (often 14-18 feet). 
High Performance Boat: built for speed, powered by high performance engines. They have spartan cabins, cockpits seat two to six passengers, and they have a narrow beam, steep deadrise, and higher power to weight ratios. 
Houseboat: floating houses with a kitchen, bedroom(s), and living and dining areas. Range anywhere from 25-150 feet in length. Generally found on quieter bodies of water; built on a barge-like hull. 
Jet Boat: have single or multiple jet drives instead of a propeller for propulsion. Very maneuverable; generally used for watersports. Smaller boats, 14-24 feet. 
Jon Boat: small, utility craft often made of aluminum or fiberglass. Inexpensive; used for boating or fishing in shallow water. Generally 10-18 feet.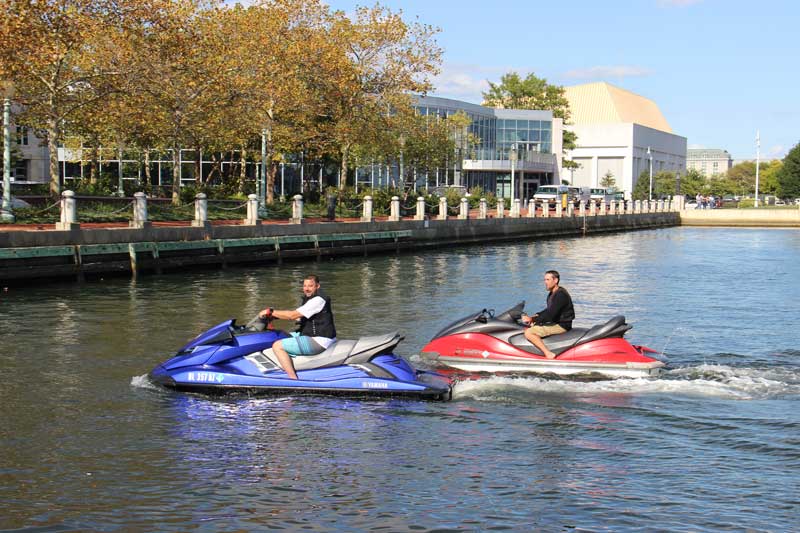 Pilothouse Boat: features a fully enclosed pilot house; built to endure rougher seas while keeping the helmsman dry. Usually have a berth and a head; popular for cruising and fishing.
Pontoon Boat: have two or three aluminum tubes that support a broad open platform. They have shallow drafts and are very stable; used for fishing, cruising, and watersports. 
Power Catamaran: dual-hull boat; provide a more stable ride than monohulls.
PWC (Personal Watercraft/Jetski): powered by a jet drive; depending on the model can fit from one to four people.
Rigid Inflatable: or RIB. A fiberglass or aluminum hull is attached to inflatable outer tubes. Usually faster, larger, and can carry more weight than flexible floored inflatables. 
Runabout: generally defined as a small powerboat in the 14-24 foot range; suitable for watersports, cruising, or fishing.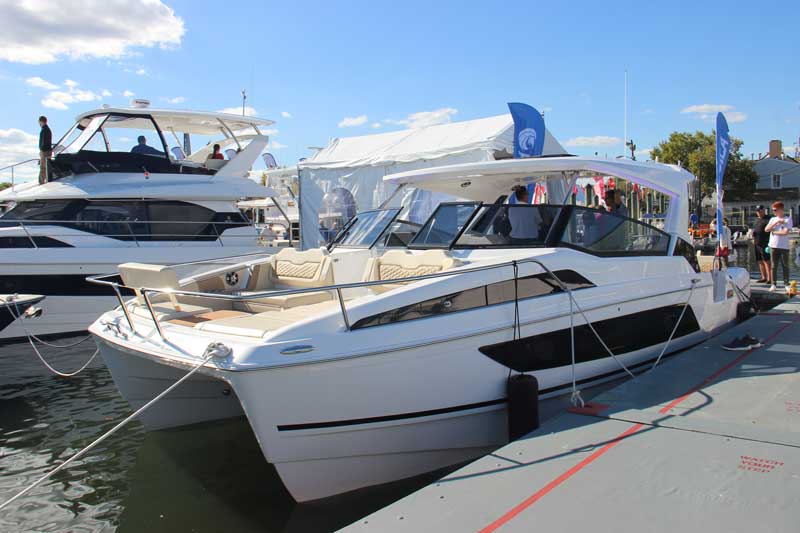 Sedan Bridge Boat: intended for extended cruising with accommodations below; ranging from 35-65 feet. The bridge allows for greater visibility. 
Ski and Wakeboard Boat: designed specifically for watersports; can be ballasted to produce a higher wake.
Skiff: similar to a Jon Boat; great for boating in shallow water. Many have a center console to steer from.
Utility Boat: made for tough use; relatively lower cost. Generally made of aluminum with outboard power.
Walkarounds: allow an angler to walk around the cabin; generally 20-30 feet in length.
---