As the summer winds down, the rockfish population is getting hammered and perhaps you are getting tired of jigging, trolling, or live-lining every weekend. Not only that, but those pre-dawn wake-up calls begin to lose their luster while everyone else in the house is still sleeping. Perhaps it is time for a change of pace and a type of fishing that can begin at a reasonable hour, include the entire family, and provide lots of fun and some good eating.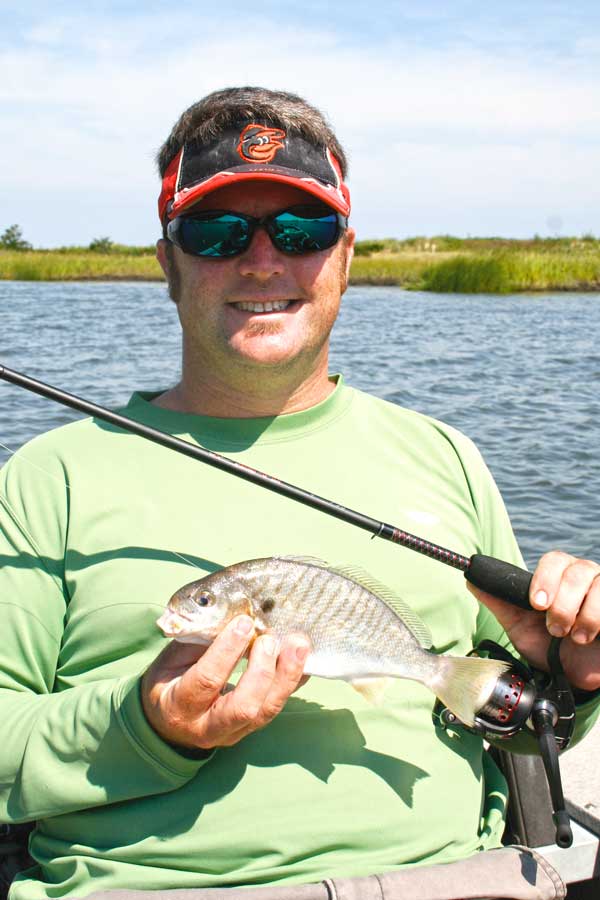 Bottom fishing is easy, and there are a few things you can do to make it successful. First, make sure you have tackle matched to the fish and the fishermen. For the adults and older children, a six- or seven-foot spinning outfit with a reel that will hold 10- or 12-pound test line is ideal. Younger children will do well with their favorite movie, TV, or cartoon personality fishing outfit. Most of them will fish for about 10 seconds and then be off on another adventure.  
Rigs are about as simple as you can get. The always popular top-bottom rig available at any tackle shop with size 10 hooks should get the job done. Sinkers from one to three ounces will hold bottom in most situations.
Nothing works better on bottom fish than bloodworms. The FishBite bloodworms have been gaining acceptance in many areas and should be in your tackle arsenal. At times you can catch croaker on small jigs with or without bait. They will slam a 1/2- to 3/4-ounce metal lure, as well as white perch. Some people fish with soft crab. I will not do that. There is no fish that swims that tastes as good as a soft crab, so when I have a soft crab, I eat it; I do not feed it to a fish.
In the Middle and Lower Bay there is always the possibility of catching a summer flounder. These fish like a live bait or a jig that looks alive. If you have the ability to catch and keep alive small menhaden, they will draw in strikes from any flounder in the neighborhood. Small spot will do the same. A jig with a Gulp! Shad, shrimp, or crawfish worked along the bottom will also draw flounder strikes.
One of the best bottom fishing locations in the bay is Tangier Sound. Back in the day I used to catch big trout on peeler crab or bucktails fishing the afternoon tides along the drop from four to 76 feet near the Puppy Hole. The boats would anchor and you could hear when the trout passed by each one as shouts of 'Get the net!' rang out across the water. 
After the trout departed, we caught big croaker and decent-sized flounder on Terrapin Sand and the Janes Island Reef. Speckled trout and rockfish will take peeler crab or jigs in the marsh between Tangier Sound and the Pocomoke Sound.
You can find boat ramps in several locations in this area, but the town of Crisfield has the best facilities. Somers Cove Marina has four launch ramps with a paved parking area. It is right in town, so you can get there and be close to food, ice, bait, and tackle.
On the Western Shore I have found good bottom fishing out of Point Lookout State Park, which has a large boat ramp with plenty of parking and easy access to Cornfield Harbor. You can usually find croaker and spot close to the ramp, or you may have to move to the Bay side of the Point. Several years ago, we were fishing for bait-sized spot before going after rockfish. The captain was upset because the spot we were catching were too big for bait, but I found them just right for the cooler.
There is some hard bottom out of Point Lookout that the Scheibel head boats used to fish at night. Big croaker would feed there on worms and other critters that came out after dark around the mussel beds. I went on one of those trips and we did catch some very nice croaker, but not a lot of them. Of course, those head boats are long gone, but I suspect the croaker, worms, and mussel beds are still there.
Bottom fishing is a great way to have a lot of fun with good friends and family without a lot of work. Those bottom fish also taste really good when fried up and served fresh.
By Eric Burnley