Passagemaker's TrawlerFest will return in person to Baltimore's Inner Harbor this fall and will be held in conjunction with the all-new Baltimore Inner Harbor Boat Show. Guests can expect an impressive in-water selection of new and pre-owned trawlers, long-range cruisers and coastal cruisers, and first-class education and demonstrations.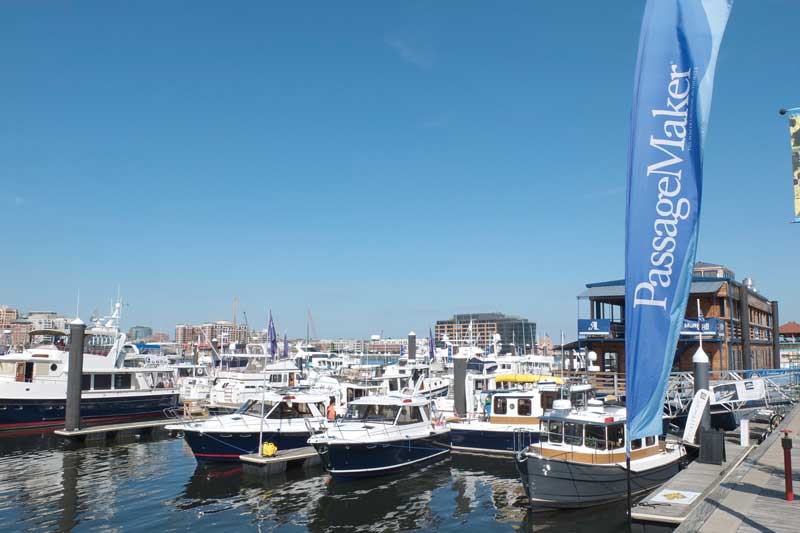 Baltimore Inner Harbor Boat Show 
Powered by TrawlerFest, this is the premiere event for boat owners and prospective buyers to hone their boating skills or to find their next boat. Powerboaters and sailors alike will have unparalleled access to a wealth of industry experts, from manufacturers to experienced cruisers.
Guests can expect more than 25 hands-on seminars, cocktail parties, an in-water boat show featuring a variety of vessels—both power and sail—from 25 to 70 feet, new electronics, and more. For more details, visit baltimoreinnerharborboatshow.com.
Dates:
September 29-October 3
Times:
Thursday, September 30: 10 a.m. to 5 p.m.
Friday, October 1: 10 a.m. to 5 p.m.
Sunday, October 2: 10 a.m. to 5 p.m.
Sunday, October 3: 10 a.m. to 4 p.m.
Location:
Harbor East Marina, Baltimore, MD
Tickets:
General admission adults: $15 online, $18 at the door
General admission children (ages 7 to 12): $10
Children 6 and under: Free
5 Day VIP Package: $549
3 Day VIP Package: $449
Seminar Locations: 
The Courtyard Baltimore Downtown/Inner Harbor and Hilton Garden Inn & Homewood Suites Baltimore Inner Harbor (located next door to each other).
Seminar Topics: 
Find dates and times for seminars, as well as descriptions of each topic and speaker, at baltimoreinnerharborboatshow.com/seminar-schedule.
Boat Handling Illustrated 
Offshore Cruising Preparations
Nautical Know How
Cruising the ICW
Weather Tips
Boat Buyers Survival Guide
Great Loop
Anchoring
Informal Ladies Tea
Solar Design
Electronics for Navigation
Diesel Engines
Rock the Boat
What To Look for Before you Hire a Surveyor
Waves/Sea
Corrosion Prevention and Shore Power
Battery Technology
Electrical Systems and Troubleshooting
How To Buy a Used Boat
Cruising Safety
Panama
Bahama Top 10
Ask the Experts: A Town Hall Meeting
Central America
Boat Monitoring
Dialing in Your Boat
Cruising Florida