Did you know there are many great job options in the Chesapeake Bay marine industry and options for training, such as at Chesapeake College? If you'd like a career along the waterfront working on boats, yet lack experience, or if you already work in marine services and aim to gain more skills, Chesapeake College in Wye Mills, MD, offers courses that can help you achieve your goals. Jason Mullen, director of the skilled trades programs, says, "Our Marine Service Technician Program is an exciting and growing one."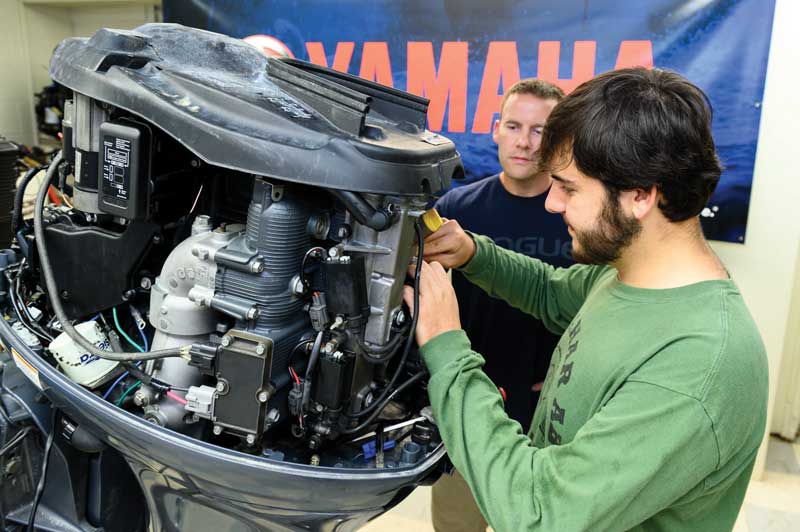 Mullen, who runs other programs including welding, fabrication, HVAC, and electrical, among others, is grateful for the partnerships the college has forged with Yamaha, Volvo Penta, and Cummins that have enabled them to have the engines and equipment for students to work on.
Currently, Chesapeake College offers two courses—Marine Auxiliary Systems and Introduction to Marine Engine Systems—with a third to launch this fall called Inline Outboard Engine Service. These courses offer an introduction to the marine industry as well as components of systems and engines, differentiation between outboard gasoline and diesel engines, and the materials and tools common to marine service. Students have the opportunity to earn industry-recognized certifications from the National Marine Electronics Association (NMEA), or Yamaha and Volvo Penta, depending on the coursework. 
Regional marine wizard Erik Lostrom has been teaching at Chesapeake College for a year and a half. He teaches basic marine systems, electrical, plumbing, electronics, material basics repair, and propulsion.
Lostrom says, "The students are from different walks of life but have a common interest in learning about boats either for a career or to work on their own boats."
Passing along his skills to others suits Lostrom. He says, "The interesting part is you always learn something new with a different prospective. I enjoy being with people interested in learning and learning about them. I would like to see more young people developing an interest in the trade and find that it can be a good living, challenging, and never the same thing."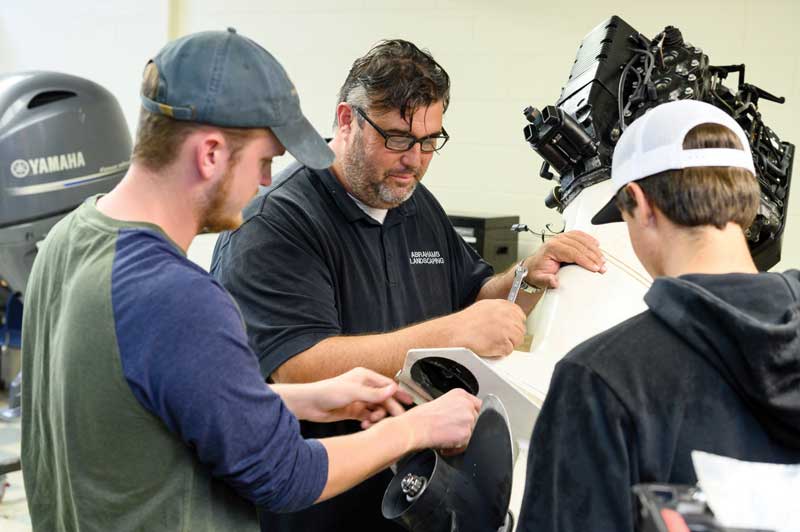 Lostrom continues, "These trades are very important to the future of this industry. These are good paying jobs for people. It would be nice to see more diversity as well." 
Mullen is enthused about the future of Chesapeake College's Marine Service Technician Program, including expanding the program to five course options and partnering with local career and tech education high schools.
To learn more, reach out to Jason Mullen at [email protected] or visit the Chesapeake College website.
Partners of this program include Yamaha, Volvo Penta, Cummins, NMEA, American Boat and Yacht Council, and the Marine Trades Association of Maryland (to learn about MTAM's On-the-Job Training Program, visit mtam.org/careers).