On Friday, July 3, 1903, the assistant keeper of the Thomas Point Shoal Lighthouse, Henry Addicks, made a scheduled trip into Annapolis aboard one of the station's tenders. The trip was routine. Reports were filed, groceries procured, and mail received. Addicks traveled to Annapolis alone, leaving Head Keeper Daniel White alone aboard the station. The two men had served together at Thomas Point for more than a year, and by midsummer of 1903, Henry Addicks had become unhappy with life aboard the lighthouse. While no evidence exists of friction between Addicks and White, Addicks is said to have declared during his visit to Annapolis that he was desperate for a change. He was later described as "lonely" and "naturally melancholy."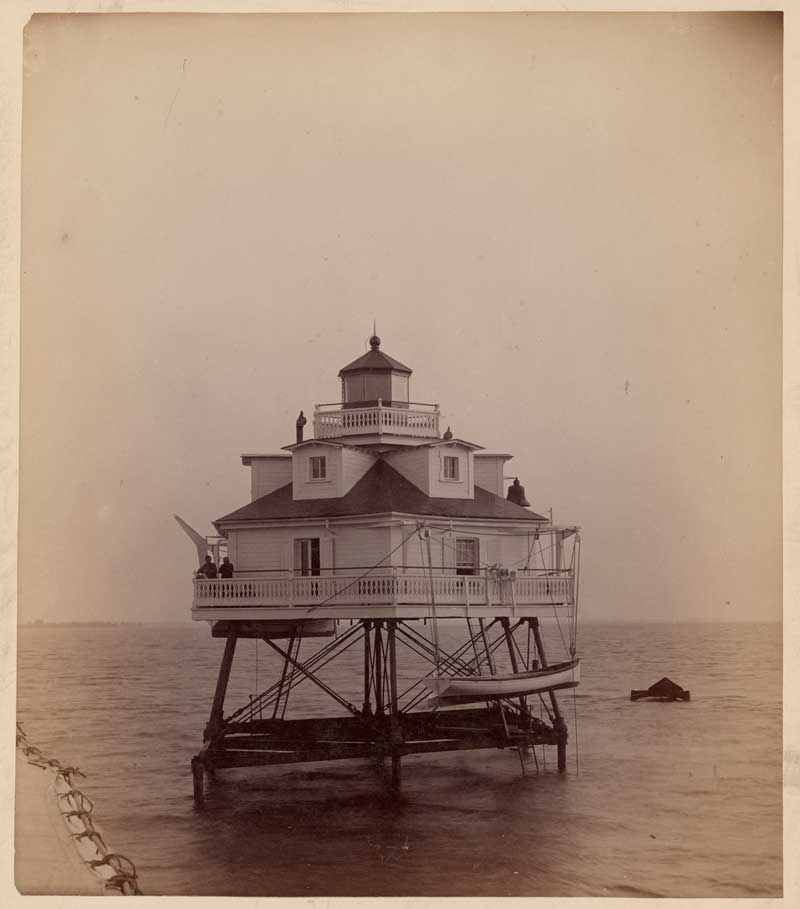 Henry Addicks had immigrated to the Baltimore waterfront from Germany. He had arrived at Thomas Point in 1901 after a stint as the assistant keeper at the remote Holland Island Bar screwpile in southern Maryland. However, little is known of Addicks's life before his role on the Chesapeake Bay lighthouses. While stationed at Thomas Point, Addicks kept a room and a bank account in Baltimore, and regularly corresponded with his relatives who remained in Germany, sending money back to them as frequently as possible. He also told his German relatives about his dissatisfaction in America and appears to have inquired about the current situation in Germany and the possibility of returning. 
Shortly after Henry Addicks's trip into Annapolis, Head Keeper Daniel White traveled into town for a scheduled break, leaving Addicks alone on the station. On Friday morning, July 10, around 11 a.m., White, still ashore, noticed that the light was still burning at the lighthouse. He studied the lighthouse with a pair of field glasses and attempted to signal the station. Growing more concerned about the situation, White and his 12-year-old niece rowed out to the lighthouse. Aside from the light burning in the midmorning daylight, they found all in order aboard the station. However, there was no sign of Henry Addicks. His clothes and effects were in place, as were the station's two tenders, both hung in their davits with canvas covers in place.
Alarmed, the head keeper and his niece rowed to intercept the nearby steamer Emma Giles. The Emma Giles transported the girl to Annapolis, where she made a report of the situation. White later reported that Addicks had been despondent for some time and on several occasions had threatened suicide.
Word soon made its way to Baltimore, and Commander John Hawley, inspector of the Lighthouse Board's Fifth District, traveled to Thomas Point aboard the 164-foot lighthouse tender Maple. After investigating the situation, discovering the letters from Germany and receipts for the remittances back to Germany, Hawley declared that he believed Addicks had committed suicide by drowning and added that the missing man had made frequent remarks "that death was preferable to living."
The mysterious disappearance and the gruesome theory made headlines in Maryland. The Baltimore Sun led with Hawley's theory: "Thinks Keeper Committed Suicide." The Cumberland (MD) Evening Times chose the pulpier headline "Loneliness Drove Him Mad." Annapolis's Evening Capital noted, "If the man jumped overboard his death would have been instantaneous as the water about the lighthouse abounds in rocks."
A few days later, Albert Groth, a longtime friend and roommate of Addicks's, traveled to the lighthouse, searching for clues and information. Groth looked through Addicks's effects and informed the lighthouse service that he would notify the relatives in Germany. He added that, in his opinion, the death was an accident, not a suicide. Henry Addicks, Groth attested, was generally a happy man and was satisfied with his position at the lighthouse. In the days after Addicks's disappearance, men dragged the shoal and the area around the lighthouse with oystering gear, searching for a body or a clue.
More than a century later, it is accepted as fact that while alone on the Thomas Point screwpile, Assistant Keeper Henry Addicks stripped to his underwear and then disappeared. His final moments were likely on the rocks or the railing of the lighthouse, and it remains unknown if he spent them intent on suicide or a simple cooling-off swim on a warm midsummer day. His body was never found. 
---
Excerpt from "Thomas Point Shoal Lighthouse: A Chesapeake Bay Icon"
By PropTalk Magazine co-founder David Gendell
Published October 2020, This History Press
For purchase at spinsheet.com/thomas-point-lighthouse-book.