The first day of charter is usually hectic. The boats are rarely ready to go, charter personnel are running hard, and your crew is probably bored and needing things to do. In the middle of all this, you as the captain need to get through a lot of paperwork and you need to learn the ins and outs of the boat that will be your home for the week.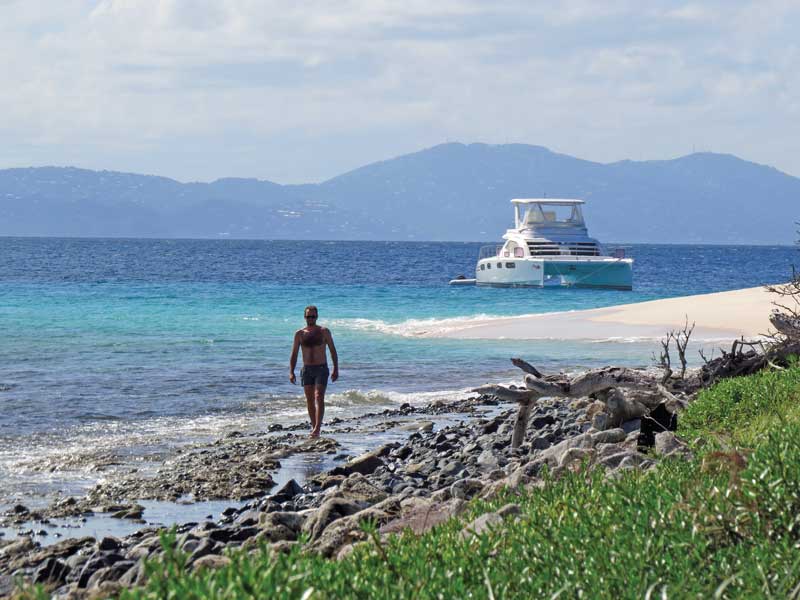 Few things are more important than the technical briefing where you run through the boat's systems. The base personnel will usually send someone to walk you through the systems, but it's up to you to ask all the right questions, take notes, and learn as much as possible in the short time you're allotted. The tech people know their boats inside/out so listen to what they say… and what they don't say outright. They won't necessarily tell you that the batteries are shot or that the plumbing is sketchy, but they know about everything.
The first pro tip is to bring a friend because a lot of information will be thrown at you in a short time and it's hard to remember everything. Second, take copious notes so when it's time to find the tools or the tank manifold, you'll either have notes or another brain to refer to. Third, record the session on either video or audio on your phone. If the next day you don't remember how to get the watermaker to work, you'll have a reference.
Create a template beforehand with all the highlights and don't let the charter tech person off the boat until you're sure all systems work, and you know how to use them. Here's a sample of what to focus on. 
Electronics
Chartplotters and instruments are standard, but they work slightly differently based on the brand. Make sure the information is displayed in English and in units of measure you're comfortable with—like feet. If needed, ask the tech rep to change it for you or show you how. Ask about the depth offset so you know if the reading is from the waterline or the bottom of the keel.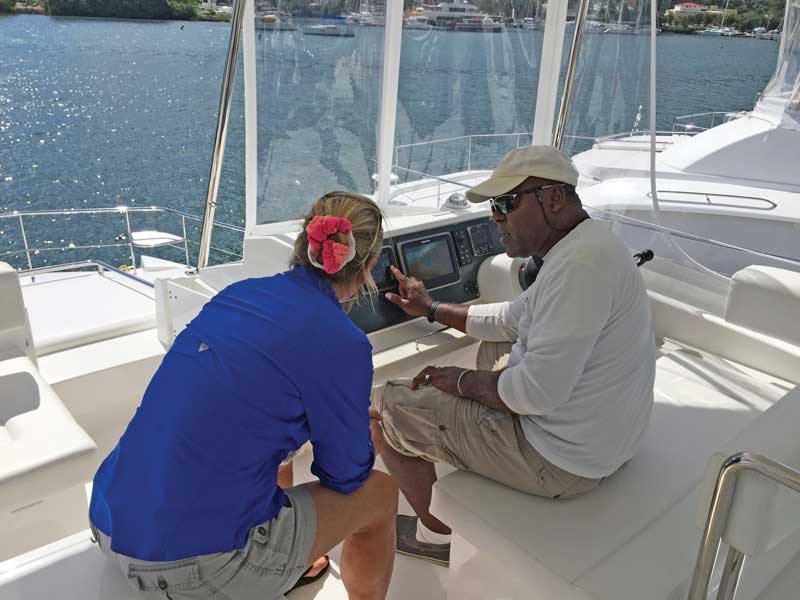 Radio
Test the VHF radio. Make a call to another boat nearby and have them call you back. Bring along your own handheld VHF as a backup.
Dinghy
Take a good look at the dinghy. Is it inflated, is the plug in, and do you have the kill switch cord? Locate the inflation foot pump, dinghy anchor, extra fuel, and paddles. If the dinghy is on davits, as on most catamarans, learn to raise and lower it. 
Outboard
Ask if there is a lock and key for the outboard and if it's customary/necessary to use locks in that particular cruising area. If possible, start the outboard to make sure it works. 
Engine(s)
Charter boat engines work hard because they're often used for both propulsion and battery charging. They're rarely in bad shape, but you should check on them at least once during the trip. Learn the location of the tool kit and extra engine oil. Open up the engine compartment(s), check the bilge, locate the oil dipstick, and inspect the coolant before you depart. On a catamaran, do this with both engines.
Electrics
Electrical systems are the leading cause of headaches on charter. The house batteries are often run well beyond their prime condition because they're expensive to replace. Ask the number of amp hours in the house battery so you know roughly what you have to work with under the best conditions. Engine batteries are often separated but don't assume that, so you're not stuck without engine power if you run the house bank down. Check the battery monitor, ask if there is an inverter, and learn the starting procedure for the genset if there is one. If you plan to dock and plug in along your route, ask about how to check for reverse polarity and locate the AC cord aboard.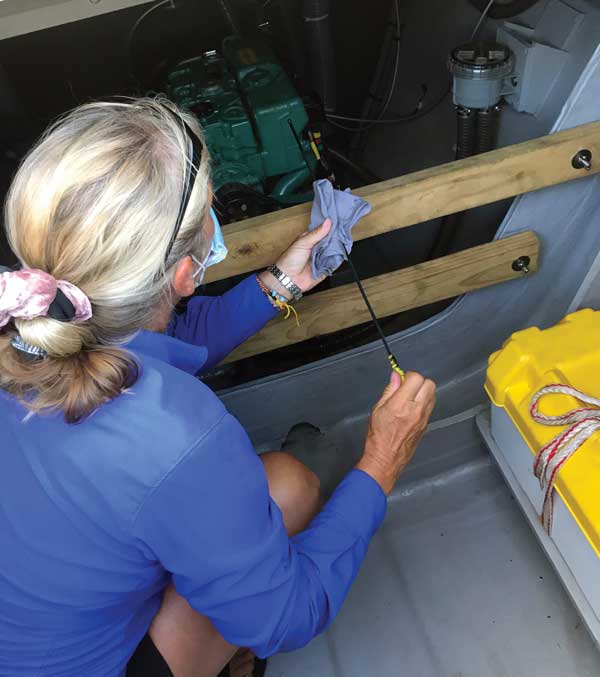 Plumbing (fuel and water)
Ask about the size of your fuel and water tanks and know how many of each you have. Check the fuel tank monitor and make sure it's full. Ask where and how many diesel deck fills there are. Know where the water fill is and if you have a key for the fitting. Locate the spare water hose and learn how to switch water tank manifolds if there are more than one.
Galley
Walk through the steps of starting the stove and oven. Ask if there is a separate breaker and solenoid switch. Lift your propane tank(s) to see how full they are, and make sure you have the tools needed to switch propane bottles if you run out. If there is a foot pump at the sink, see if it's fresh or saltwater. Locate all the refrigeration units aboard—these will be your power hogs so load and manage them carefully. It's best to leave one as a dedicated drinks fridge so that people aren't rummaging around the food while looking for a beer. If you plan to barbecue, check on the grill to determine if it's charcoal or propane. 
Heads
Check each head, especially if they're electric. Smell each compartment, and if something is amiss, ask the tech rep to deal with it. While you're at it, test the sump pumps in each shower. Some are automatic while others are manual so teach your crew how to use them.
Watermaker
Many powercats come with watermakers these days, and they're a lifesaver—if they work. Be sure to walk through the detailed starting procedures. It's usually best if you or one other person are the only ones to work this equipment so untrained crew don't mess with the system. 
Don't Be Rushed
Charter personnel want to get on and off your boat quickly, but don't let them rush you. Make sure each system works before you toss the dock lines because a peaceful charter starts with a boat that works and a captain who knows how to work it. 
By Zuzana Prochazka
---
For more on charter destinations and tips, visit our Chartering page.