UPDATE MAY 17: Due to the rain, all spectator parking has been moved to Sandy Hill Elementary School. See details below.
The 108th Cambridge Classic Powerboat Regatta roars into town May 19-20, sponsored by the nonprofit Cambridge Power Boat Regatta Association (CPBRA). The Classic has been an integral part of the city of Cambridge, MD, as well as Dorchester County, and the CPBRA takes great pride in its contribution to this continuing tradition. The Association membership's resolution of a free admission policy is a means of advocating tradition and free community entertainment to county citizens and visitors alike.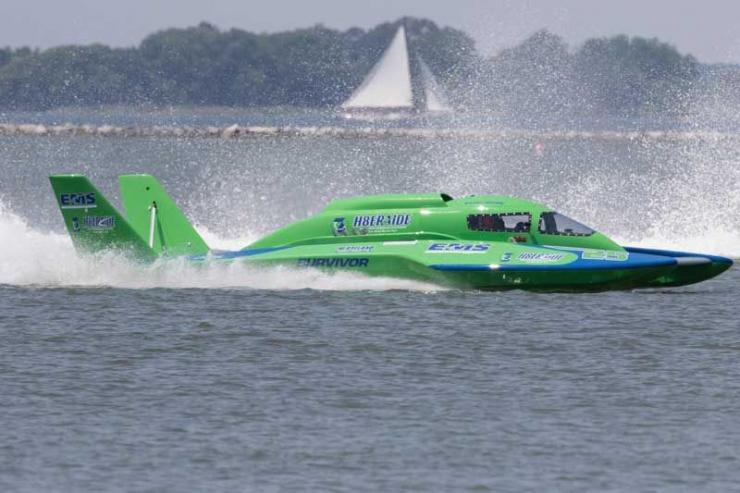 We recently spoke with CPBRA commodore Tom Thompson to get the scoop on the race; upwards of 70 boats are expected, with four classes racing each day. To check out a past racing interview with Tom Thompson, click to Cambridge Classic Racer Profile. Here are some things to keep in mind to prepare for an awesome weekend of racing in one of our favorite Eastern Shore towns.
Details:
Time: Racing will begin around 10 a.m. each day and start wrapping up between 4 and 5 p.m.
Location: Great Marsh Park (1 Somerset Ave.). The race course will be in Hambrooks Bay, just off Great Marsh Park.
Admission: Free!
PARKING UPDATE: All spectator parking will be at Sandy Hill Elementary School (1503 Glasgow Street, Cambridge, MD). Shuttle service will begin at 9 a.m. If you need to drop off chairs or a group of people, you may do so and I encourage you to do that so that you don't have to take chairs, etc. on the busses.
Seating: While there is some bleacher seating, we recommend bringing folding or lawn chairs, which are more comfortable than a metal bleacher. Some people also bring umbrellas and/or pop-up tents.
There is often a large boat spectator fleet each year, but make sure to follow the no wake zone signs and stay out of the out-of-bounds area. One of the biggest dangers to racers is outside boat wake. Safety boats will be enforcing the no wake zone from Howell Point to the Choptank River Bridge.
Bring cash for food and drinks from local eateries, as well as souvenir T-shirts. No outside coolers are allowed. The hot pit area is closed to spectators, but visitors can tour the cold pit area on the grass where they can take photos and chat with drivers.
Docking Deals:
The Hyatt River Marsh Marina in Cambridge is offering a special deal for PropTalk readers. Dock two nights and get the third night free! You must present the below ad at check-in (can be found on page 21 in the June issue of PropTalk Magazine).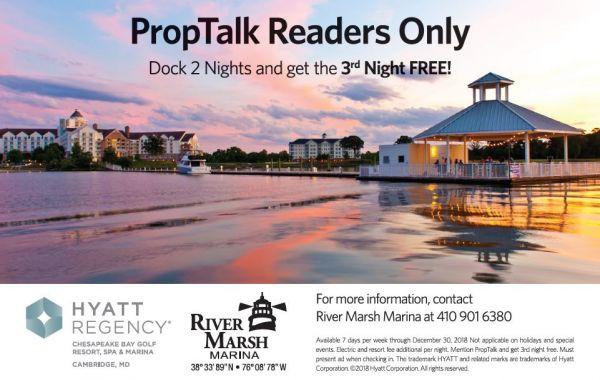 Explore Cambridge:
After a day of spectating, head into town to experience some Eastern-shore charm. Find many more ideas at visitdorchester.org/cambridge-md.
1. Long Wharf Park – Home to the Choptank River Lighthouse, open daily 9 a.m. to 6 p.m., for free self-guided tours (donations greatly appreciated).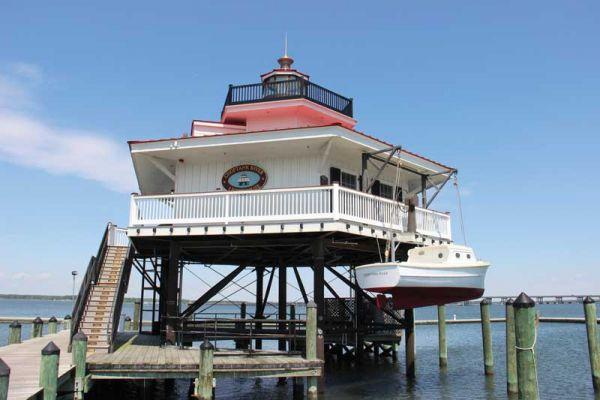 2. Eats – There several dining optiosn available in downtown Cambridge; some of our favorites include The High Spot and Jimmie & Sook's Raw Bar & Grill.
3. RAR Brewing – This craft brewery in downtown Cambridge is definitely worth a visit, with its upscale pub fare (try the RARbeque chicken mac & cheese wrap) and hearty beer list (we like the Nanticoke Nectar).
4. Harriet Tubman Underground Railroad National Historical Park – Opened in March 2017, the park gives visitors the opportunity to understand Tubman's early years spent in the Choptank River region of Maryland.
5. Bill Burton Fishing Pier State Park – Open 365 days a year, 24 hours a day. Anglers often catch perch, striped bass, croakers, sea trout, and catfish here (depending on the season).
For details on more upcoming powerboat races, like Thunder on the Choptank July 28-29 in Cambridge, MD, click to 2018 Powerboat Races.