I love oysters. Big ones. Small ones. Baked. Raw. Salty. Stewed. Fried. My pursuit of oyster perfection has seen me soaked to the skin as I accompanied Topping, Virginia's White Stone Oyster farmer Tony Valliant as he led me on a wet and wild tour of the company's oyster leases one blustery day last March.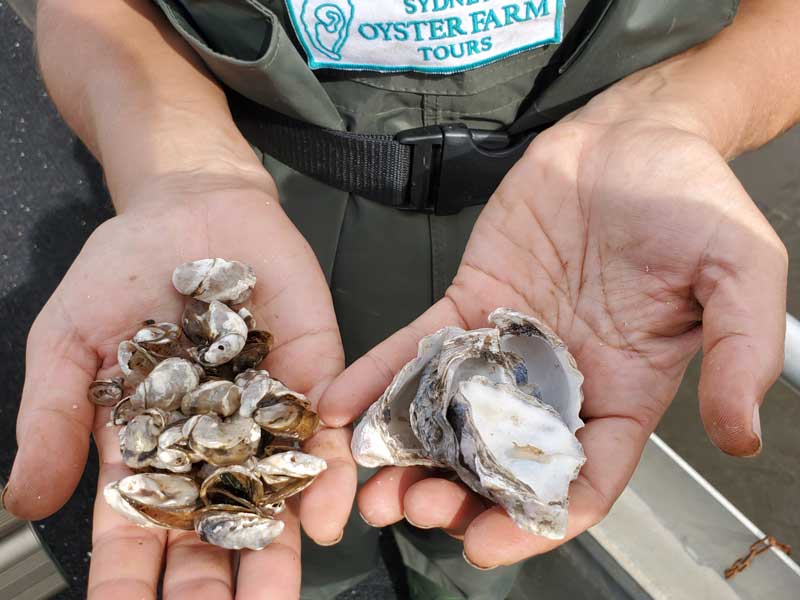 It's taken me to the Rappahannock Oyster Company's tony Washington, DC, restaurant, the Rappahannock Oyster Bar, for a decadent dinner featuring some of the company's famous Olde Salts and Rochambeaus.
And then there was oyster nirvana at St. Michaels's Eastern Shore Brewery as oyster divers Derek Wilson and Nick Hargrove served up a plateful of fist-sized behemoths that brew master and restauranteur Ace Moritz paired with some of his award-winning brews.
My oyster education has also included countless sweaty hours as I helped move bags of slimy oyster shells from their winter homes in Whitehall Bay to skiffs where they would be transported to the Choptank River for "planting" on one of the many artificial oyster reefs under the watchful tutelage of the Chesapeake Bay Foundation oyster recovery program.
But nothing in my oyster-loving life prepared me for my most recent oyster encounter: putting on hip waders and slurping Sydney Rock Oysters in the knee-deep tea-colored waters of New South Wales's Hawkesbury River, an area that once was the oyster-growing capital of the area, but which now boasts more oyster tourism businesses than oyster farms.
No doubt about it: there's something decadent about swilling Moët & Chandon champagne while being literally knee-deep in murky river water with your oyster and king prawn feast laid out on a white tablecloth covering a café table sitting on the riverbed a hundred yards or so from shore.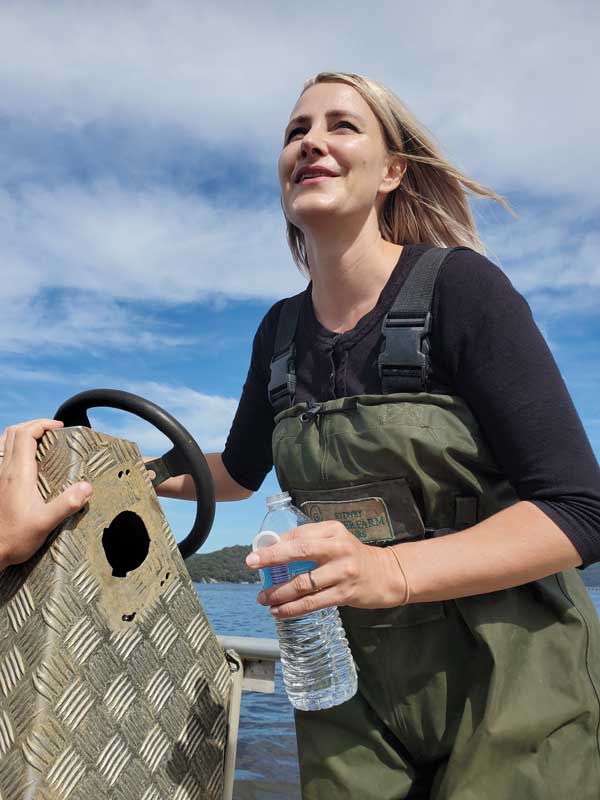 Thirty-six-year-old Mooney Mooney (a suburb of the Central Coast region of New South Wales) oyster farmer turned tourism pioneer, Sheridan Beaumont, puts it this way: "We've had a tough go of it the past couple of years. I started the oyster farming business 15 years ago in partnership with my parents and brother, Jason Barry-Cotter. From the outset, we struggled with the QX virus and Pacific Oyster Mortality Syndrome. I started the tourism business as a hedge against the variables of farming. Right after we had our first tour, Covid hit, and that was the end of the tour business until things opened up with more favorable social distancing limits. Just when we got that going, the area was hit with massive freshwater runoff. In a matter of days, we lost a half million baby oysters because the water was too 'fresh' to sustain growth. So here I am giving tours and hoping the water will turn saltier in time to produce a crop in the next several months."
Sheridan's signature Sydney Rock oyster product looks very different from the Bay's Eastern oyster. Rocks are harvested smaller. Farming techniques keep the product more uniform. They feature a deep cup with firm, buttery meat. 
Australia Oyster Farming
Oyster farming has been a part of Australia aquaculture since the 1870s. As recently as 2019, more than 5.8 million dozen oysters of two varieties (Sydney Rock and Pacific) were produced for local consumption. At last count, around 300 oyster farmers made their living cultivating and selling "Rocks or Pacifics" in New South Wales. Retail prices for Sydney Rocks vary from $20-30 per dozen. You can expect to pay upwards of $4 each at seaside pubs and upwards of $6-7 each in upscale Sydney-side eateries. 
By comparison, production of the Chesapeake Bay's Eastern oyster reached all-time highs this past year with about 500,000 bushels of wild-caught and 90,000 bushels of "farmed" oysters produced in 2021. Recent prices for "locals" at the (now defunct) Annapolis Seafood Company were $9/doz.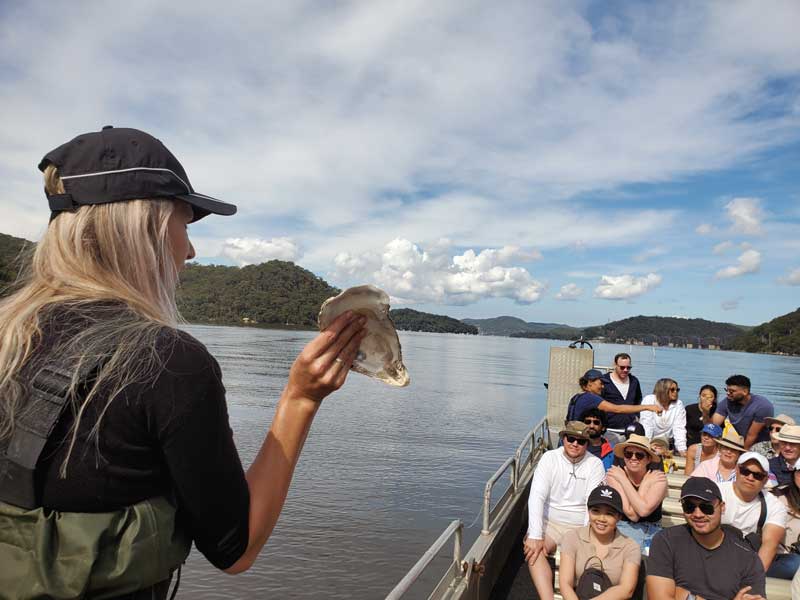 Oyster farming practices in Australia are similar but not identical to those followed by watermen in the Bay. On the Hawkesbury, some oyster farmers still rely on what is called the "stick method" of oyster propagation in which tar-coated sticks (or plastic slats) are submerged in contact with oyster larvae which attach themselves to the sticks, there to develop under the surface of the water. Baby oysters are stripped from the sticks afterwards when they are an eighth to a fourth inch in size and then placed in wire cages where they will reside until they reach market size of two to three inches in length and/or one and a half ounces in weight. 
Sheridan elaborates: "With the wild caught we can keep them on sticks until you harvest them, but growers prefer knocking them off earlier and putting them either in baskets or trays so that the shape is more uniform and prettier. You still can do either option. I just bought 250 dozen wild rocks that were grown for their entire life on sticks (they just don't look as nice—taste great though!)."
To reduce the amount of tarred timber used in the construction of oyster racks, high-density polyethylene (HDPE) plastic systems are being developed and used. One example is the intertidal longline system, with horizontally suspended plastic tubes developed by South Australian oyster farmers.
Other oyster farmers rely on more traditional methods of introducing oyster larvae to a sediment-rich environment with the utilization of upwellers where the baby oysters can develop stress-free in fine-mesh floating cages. As the babies mature, they are separated by size and placed in bigger and bigger cages which bob happily in the nutrient rich waters of the rivers in well-defined oyster farms that populate many of the river's coves.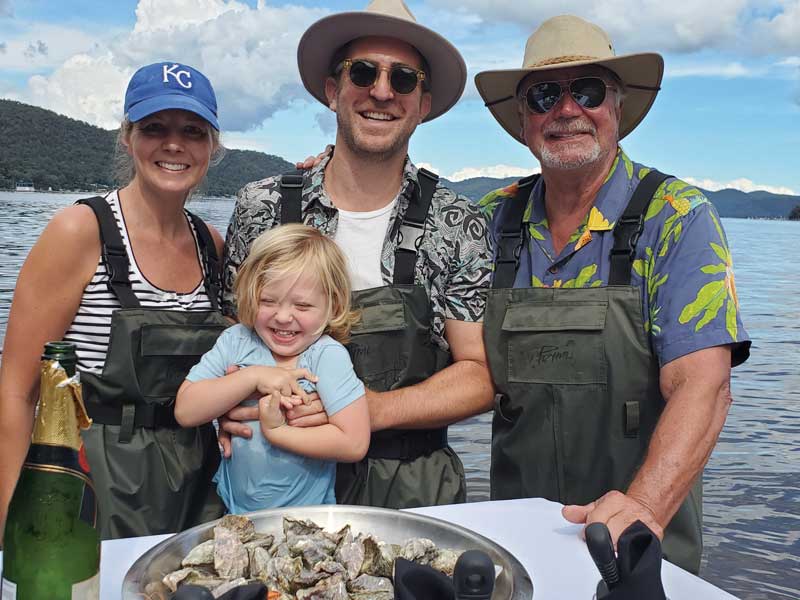 Sheridan goes on to explain: "Having oysters in baskets definitely makes the oysters deeper and more cupped so that you will end up with more meat for that oyster's size (oysters are sized by lid length, so it will be far more meat for that size if it's deeper. But not sure if that means it will be creamier, because that's more to do with if they are about to spawn)."
There is no dredging, tonging, or oyster diving. Sydney Rocks spend as much as 70 percent of their lives above the waterline in an intertidal farming system that has been developed to protect the oysters from the ravages of the damaging mud worm.
"It's a ton of work to keep the babies sorted. We handle each batch about 10-15 times," says Sheridan. "It's that gentle rocking of the oysters in our floating cages that produces that deep cup and creamy meat that Sydney Rocks are famous for."
Sydney Rock oysters (Saccostrea glomerata) need a water salinity content of around 30 ppt. Anything below that and the oyster cannot survive.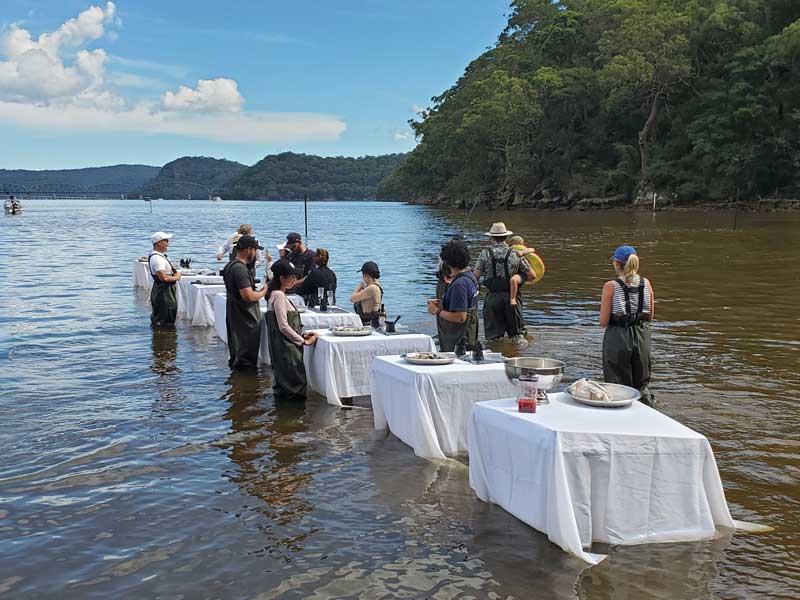 At 25-30 ppt, this is a much saltier environment for oyster production than that found in the Chesapeake Bay. Here, ideal salinity ranges from 10 to 22 ppt. Some producers prefer slightly saltier environments. Rappahannock Oyster Company's Olde Salts, for example, do best in water with salinity at the higher end of the scale. The resulting product is significantly saltier than those grown where the salt levels are less. Recent rains have driven Hawkesbury River salinity to near zero.
A Unique Experience
Sheridan's oysters touring business, Sydney Oyster Farm Tours, offers several unique in-water dining experiences. Prices range from $65 to $200 US dollars. She picks up wannabe oyster aficionados at a floating dock adjacent to her company's oyster processing facility. After a half-hour tour of Sheridan's oyster beds with a comprehensive tutorial about oyster production conducted by the loquacious oyster entrepreneur, the skiff pulls up to a fixed dock about 100 yards offshore in a sheltered cove. Here, the 20-30 guests are greeted by the sight of eight to 10 white tablecloth feasts set out an appropriate distance apart. Tables are heaped with oysters and jumbo prawns. Sheridan passes among the guests pouring champagne and instructing on the proper method of oyster shucking. 
Our experience was a family affair. My daughter, Betsy, lives in Sydney with her Aussie-husband and growing family. Charlie, 3, came along for the ride. He wasn't into eating oysters… but enjoyed the experience of having a snack while standing up to his chest in murky river water.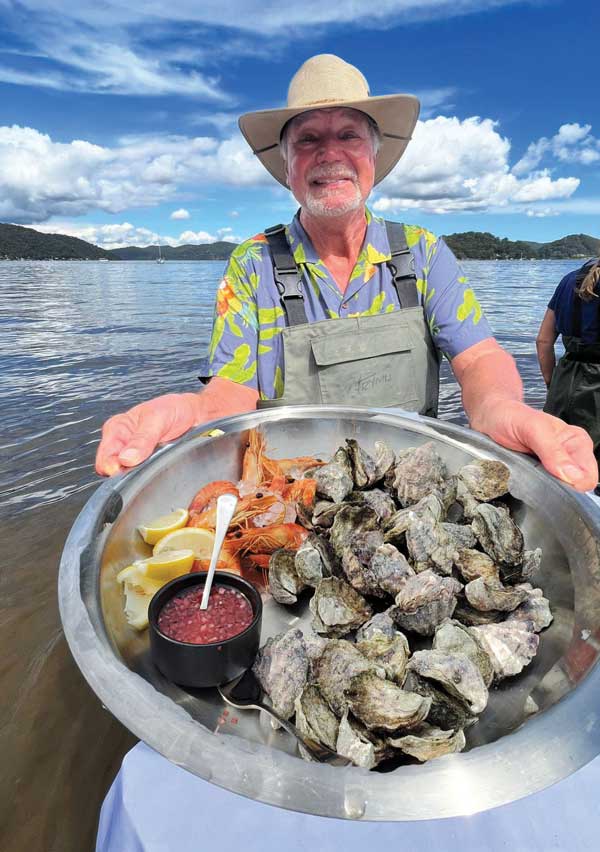 On the oyster farming side of her business, Sheridan is hopeful that she will be able to harvest a crop within the next several years. Traditionally, she has around 800,000 oysters under cultivation, but this year's floods have decimated that number. As I write this, she is anticipating the arrival of 500,000 baby Pacifics due to arrive shortly.
The busy mother of four (four kids under the age of three and a half) never stops. As another hedge against the vicissitudes of oyster farming, she is in her final year of med school. "I've put that on pause for a while," she says with a laugh. "My goal is to strengthen my oyster tour operation and get back into the full swing of oyster production. But you never know. It would be nice to have a medical degree to fall back on."
No doubt about it. Sheridan Beaumont is an Australian oyster entrepreneur with a mission. "I don't know where this will all sort out," she tells me just as she is loading another 20 oyster tourists onto her work boat, "but I do know that the best strategy is to keep your options open until Mother Nature gives us a break and lets us produce Rocks and Pacifics to meet the tremendous demand we see developing all over Australia."
I know. I know. Twelve thousand miles is a long way to go for an oyster dinner.
But if you're in the area, catch up with Sheridan through her company's email: [email protected]. She'll show you a good time, feed you some great oysters, and who knows, you might just learn something about how to grow oysters in Australia! 
By Craig Ligibel