Ok, it is officially the dead of winter. At this point on the calendar there are two kinds of boaters, those who have made their peace with the purple and pink stuff (winterized) and those who managed to get their boat south down the ICW for the cold season on the Bay (no winterization needed).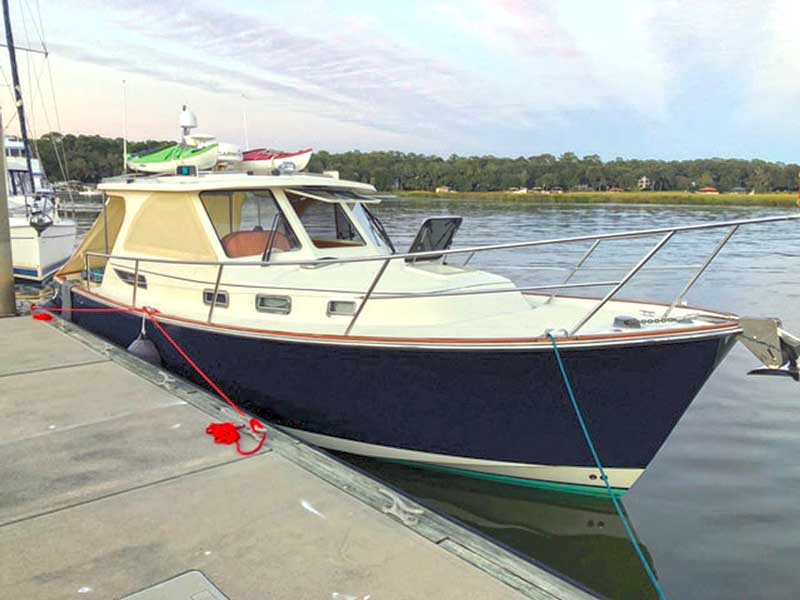 Hundreds, maybe thousands of Bay cruisers annually move their boats south as cold weather invades the mid-Atlantic. This year is no exception. For most, the effort requires lots of planning and a significant commitment of time, while offering some interesting diversions along the way. Let us follow a few snowbirds on their Intracoastal Waterway (ICW) adventures.  
A Welcome Change of Scenery and Temperatures
The experiences of seasoned Bay cruisers Steve and Audrey Sharkey aboard their Grand Banks Eastbay 49, Cygnus, give us a glimpse of the typical transit. Rather than put the boat away for the winter, they will keep her in Charleston for the season and use her as a second home. "A welcome change of scenery and temperatures," says Steve. They made the ICW trip during the last week in November.
Let us hear from Steve on their nine-day passage to Charleston.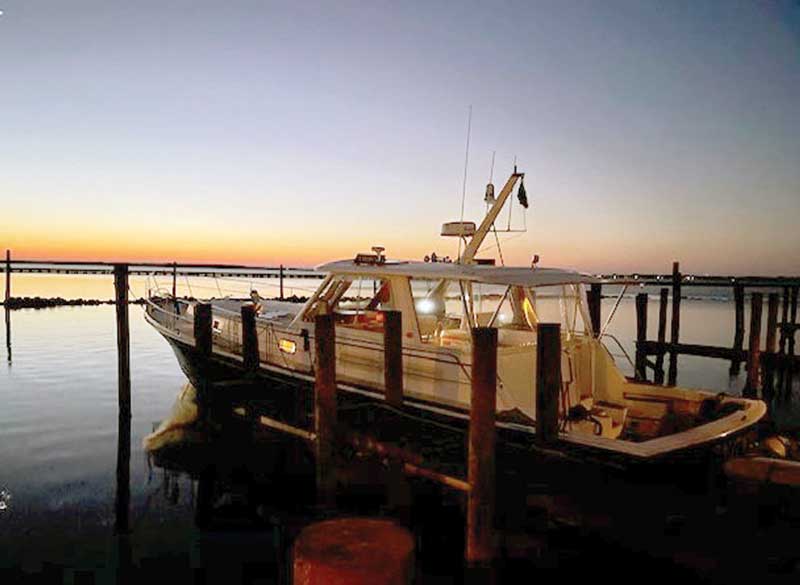 "We started with a picture perfect and easy day down the Bay to Portsmouth, VA. On day two, we took the Great Dismal Swamp route rather than the primary ICW route. I've always wanted to do the Dismal Swamp and was very excited about it. It is beautiful but turned out to be shallower than anticipated with a lot of submerged logs and debris from the surrounding woods. With no keel to protect our running gear, we basically chewed up sticks and logs through the entire 27 miles. But we got through and it was very memorable. 
"We enjoyed a pleasant night in Elizabeth City, NC, and we were off to Belhaven the following day. After a cloudy start, the sky cleared nicely, and we made good progress along this relatively easy stretch of the ICW, until I strayed just a couple of feet off in the Alligator River-Pungo River Canal and the water went from about nine feet to two and a half feet almost instantly. At 17 knots that is a hard grounding! 
"Luckily a passing Nordhavn (which many may know is a trawler built like a tank) bravely nudged her bow almost to our boat, took a line, and was able to pull us off. Amazingly, the grounding did not seem to do damage (except to my pride), and we were back on our way in no time. At the marina in Belhaven, we quickly made friends with boaters that we saw on the ICW that day and even had a chance to visit with the couple that recently bought a friend's boat—it is a small world!  
"The trip continued from there with much less drama. The next night we were in Beaufort, NC, a wonderful town with plenty of restaurants, shops, and beautiful old homes. From there it was a short hop out to the ocean to run down to Masonboro Inlet and Wrightsville Beach, NC, where the beach is an easy walk from the marina, and we spent some time watching the surfers.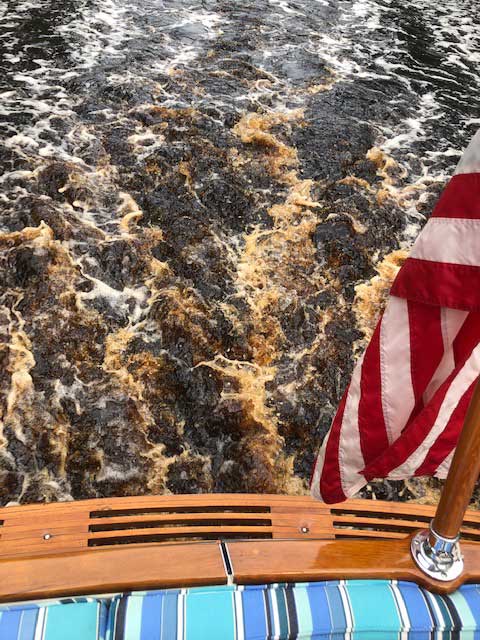 "The following day we made our way to Bald Head Island, a resort island where we spent the afternoon biking along the road down to the beach at Cape Fear and watched the confused seas breaking over Frying Pan Shoals. It certainly makes you respect the power of the ocean. We biked back along the beach side of the island to a wonderful sunset and Thanksgiving dinner on the boat.  
"The next day we were back in the ocean, running from Cape Fear to Little River Inlet and on to Barefoot Marina in North Myrtle Beach. We left early the following day and cruised the flooded waterways along the most beautiful part of the trip through the Waccamaw River. The Waccamaw is a step back in time to an unspoiled swamp and jungle—and fortunately, a jungle with a wide, deep river!  
"This leg took us to Georgetown, SC, and undoubtedly our favorite stop. While it is not apparent as you enter the harbor past the fishing fleet, Georgetown is a wonderful town with an old-fashioned main street filled with great local restaurants, a mix of shops, and several museums, including a free maritime museum. The best parts of Georgetown, however, are the historic homes that date back to the 1700s. You can spend hours wandering through the streets admiring them.  
"From Georgetown, we made another quick jump back to the ocean, out through Winyah Bay and a bit of a sleigh ride with following seas, down to Charleston Inlet and the Charleston City Marina. This will be home for Cygnus until April when we make our way back north.  
"Despite the inevitable challenges, it was a great trip providing us the chance to visit interesting places, meet friendly and helpful people all along the way, and enjoy more adventures and time spent on our boat. We were pleasantly surprised by the number of boats and people that we saw from the Annapolis area throughout the journey. At times it seemed as if every boat on the ICW came from within a few miles of our home! We also enjoyed becoming part of the larger boating community that forms from the snowbird fleet heading south down the ICW in the fall."
~Steve Sharkey
Tips for First Timers
Keith Misner and his ICW crewmates, Jon Peery and Bobby Coogan, made a quick dash from Annapolis to Charleston, Keith's intended winter spot, in October. For Keith and crew, this was more of a "delivery" than a cruise. It was a first ICW trip for Keith and he has some suggestions for other first timers: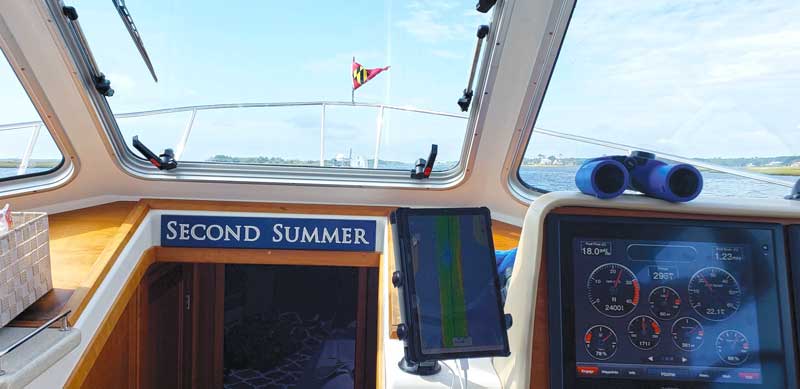 "We made it to Charleston after a wonderful and short five-day run from Annapolis in our Back Cove 37, Second Summer. This trip was basically a boat delivery effort. We had two nice days, two rainy days, and one stellar day, our last, when we ran offshore from Southport to Charleston. 
"After mastering this part of the ICW I can say that the 'Easy Button' for ICW travel is to:
Have a tablet (Apple is better than Android as some features work better on Apple right now. Android works fine though, too, and that is what I used)
Download an app called Aqua Map. This is similar to the Navionics app but a) accepts Bob 423s tracks easily and b) shows the Army Corps of Engineer's surveys right on the map (this is the game changer). These Army Corps surveys are updated regularly (and after storms), so you have unbelievably timely and accurate depth info at the critical points/locations—all color coded.
Download Bob 423s track into it (he has very detailed instructions on how to do that) at bobicw.blogspot.com. The Aqua Map app also shows Active Captain and Water Way Guide information, including alerts, right on the map.
Mount your tablet (via suction car mount) at the helm and it becomes the third screen—usually one screen for engine monitoring or depth or radar, one screen for navigation, and the tablet for Aqua Map (secondary navigation)."
~Keith Misner
More Than One Way to Skin a Cat
Not everybody who wants to skip winterization and get their boat south for the winter has the time for the weeks of planning, provisioning, and travel the ICW transit usually takes. Bay cruiser Ann Connelly shares that there is "more than one way to skin a cat" when it comes to getting your boat down to the warm waters of Florida:
"Hearing the stories and updates from several Bay cruisers headed south made my husband, Jim, and me believe that having our boat, an MJM 35 named Tupelo Honey, trucked south would be easier than delivery on her own bottom. The effort to find a transporter made me rethink our strategy.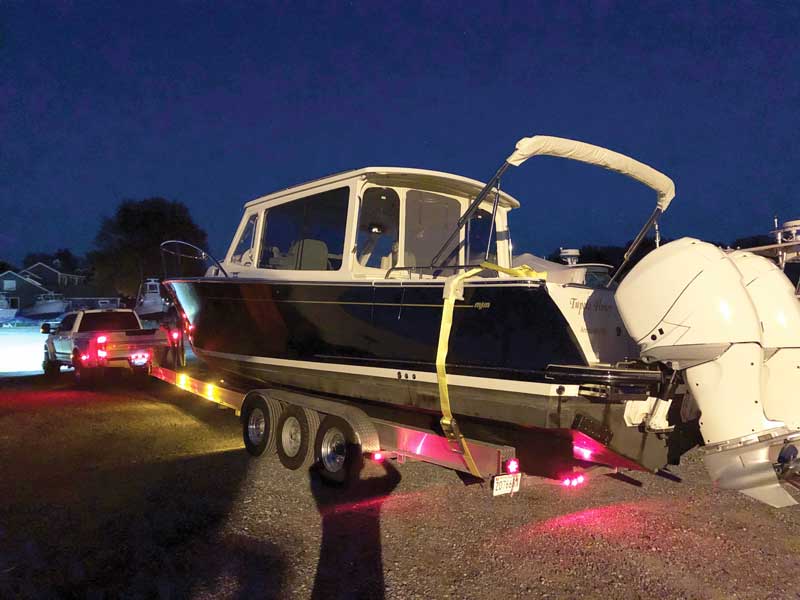 "Our yacht broker warned that it would take time to reach the transport companies and confirm arrangements. I had a gentleman lined up by mid-September to bring the boat to Florida by early November. Two weeks prior to the trip he cancelled as his equipment was not up to making the trip. 
"I scrambled and soon had no fewer than four transport companies I was working with (including one who referred me back to my original driver). One company, on Long Island, promised it would be shipped in "two weeks" but has not contacted me yet to do so. 
"Serendipitously, Jim went to get a haircut. His barber apparently knows everyone! By the end of the haircut the transporter was arranged. We delivered Tupelo Honey to his marina on Kent Island. He loaded her and quickly completed the delivery to the Lauderdale Marina. Jim then delivered her to her slip at the Las Olas Marina in downtown Ft. Lauderdale. 
"The Las Olas Marina is owned by the city and managed by a gentleman who used to work in the Thomas Point Lighthouse. Continuing the Annapolis connections, we are docked next to a boat from Annapolis. Small world indeed!" 
~Ann Connelly 
As this article goes to press, our intrepid ICW snowbirds are enjoying their boats in decidedly warmer weather than we are experiencing on the Bay. They are also likely planning their spring return to their Bay area "nest" much like the osprey we know and love. To anybody reading these stories and longing for your own ICW adventure, it is never too early to start planning! 
Parts of this article were first published in the Annapolis Yacht Club newsletter, Seaport. They are included here with permission.   
By Mike Pitchford