As we gradually grow accustomed to the "new normal" one of the more surprising aspects of that "normalcy" is the apparent rediscovery of boating as a safe, responsible, and fun way to enjoy the outdoors while observing virus-related restrictions. Reports from all over the region describe an explosion of demand for repairs, upgrades, and all manner of boating services. While this is good news, there is a downside to it. Disruptions in manufacturing and transportation caused by virus-related shutdowns and cutbacks have created shortages of parts, materials, and even new boats. The increase in boating has even depleted the stocks of used boats on the market.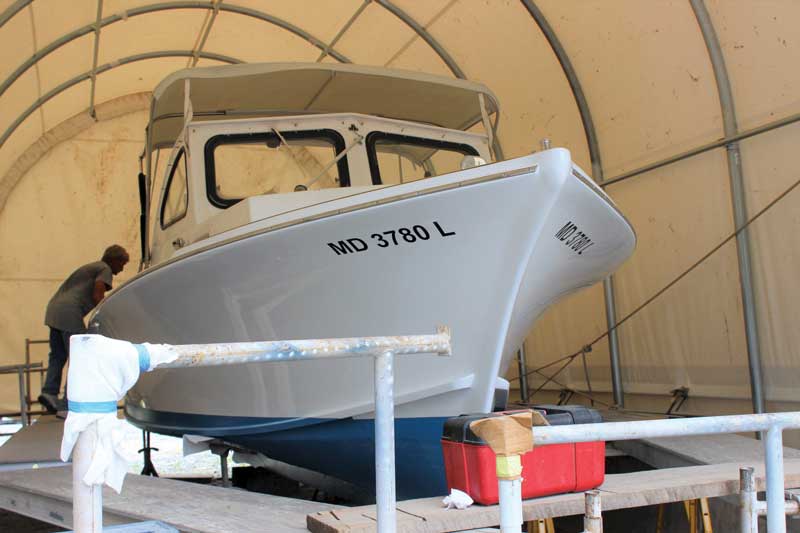 David Evans of Evans Boat Repair in Crisfield, MD, sends us this report of the effects of the boating boom on his shop. "2020 has been a year that will go down in history. In spite of Covid-19, business has never been better! For a few weeks, we experienced a period of silence in the office and in the yard. Customers and salesmen were all laying low, under the radar, in an effort to stay safe from the virus. After the 'hype' was over, the numbers began to peak, and people got sick of being home, business was booming, and it hasn't stopped. Thankfully, during the few weeks of silence, we stayed busy building two boats that were under contract, a 38-foot Evans that is nearing completion heading to New York City, and a 43 foot crew boat, the fourth vessel we have built for Disney Cruise Lines. During the pandemic, we sealed a contract on a Custom 50-foot Evans for a return customer who bought one of our 50's a few years ago. Although our intention was to cease marketing new boat construction, return customers and customers who have shown interest for years before our decision have been in contact for new builds. 
"We had these jobs to work on while the repair side of our business slowed up for a few weeks. That didn't last long, though. Now, we are slammed with repair jobs, unique in every way. We just completed building our first ever custom cooler for a truck body, built for a customer who had us do a significant amount of work on his crabbing boat this spring. We are continuing our average deck replacements and repairs, cabin constructions and refits, engine refits, fuel tank replacements, and so much more. Our used boats inventory has also been depleted during this time. One challenge that we face is receiving parts and materials to complete the work. "Fiberglass materials are taking longer than normal to be imported, as well as safety equipment for our employees. We are noticing the safety equipment slowly coming back to market. We are thankful to God and our customers for the continued influx of business and support."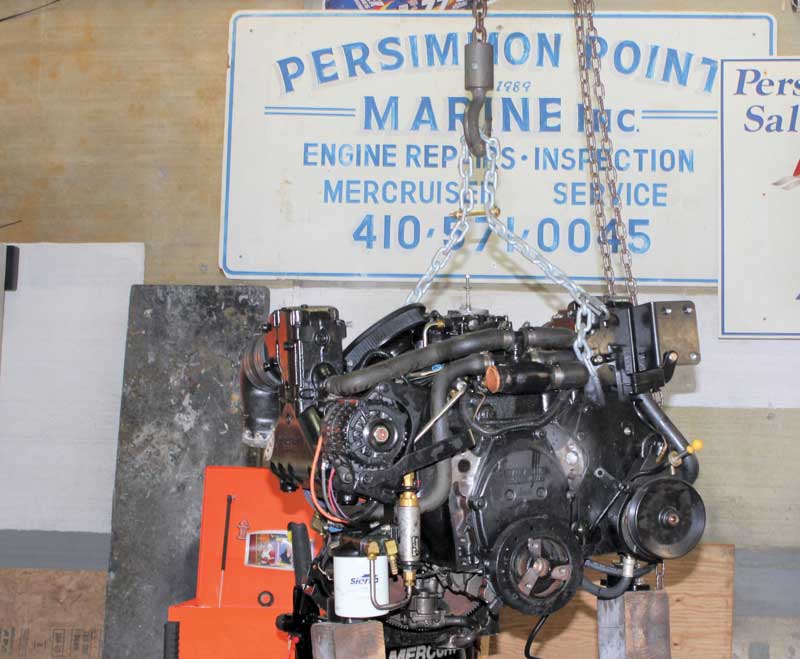 Rob Sola of Diversified Marine, easily the largest mobile marine service provider in our region, with three locations in Annapolis, MD, and 16 fully equipped vans, tells a similar story. "Our experience has been quite a whirlwind, because once boating came back my concern was that things would be slow, and some people would be cancelling, but when it came back it was like drinking from a fire hose! We went back to a full springtime demand, and it hasn't slowed down. We are still seeing more demand than we've ever seen, across every division. We are doing the best we can for people and using the best wait times we can forecast. 
"Getting supplies and parts has definitely been a challenge because of delays and misquotes on delivery timing and stocks being out in many cases. We are ordering from multiple suppliers and returning what we can't use, but that adds to the delays and the costs of return and restocking fees. Typically we see a little slowdown in July and August, but I don't see that happening this year. My initial concern was that people would be concentrating on getting boats operational and neglecting the cosmetic, discretionary stuff such as varnishing and refinishing, but that has not happened; the increase has been across the board. There is no end in sight at this point to this rush. At the end of the summer all these boats are going to need to be put away and winterized, so we are expecting a busy fall season as well." 
Joe Reid of Mast and Mallet at Holiday Point Marina in Mayo, MD, shares the following report with us: "Last year I started compiling a list of the boats Mast and Mallet has built over the years. The plan is to eventually have directory of the owners. Most of the boats were built 10 - 20 years ago. This summer one that I built in 1998 popped on the market. She was built 26 feet in length to fit in a boathouse just that size. She is powered by a V6 Crusader inboard. Down below is fitted with V-berth, fridge, and sink. Up on the teak deck is a mahogany engine box and a horseshoe-shaped transom bench, also mahogany. All around dash area, again, brightly finished mahogany. She now is at my shop at Holiday Point Marina for TLC. And to boot it all, it's in the family, because she was purchased by my brother Paul and Tonya Reid. So, one more found for the directory.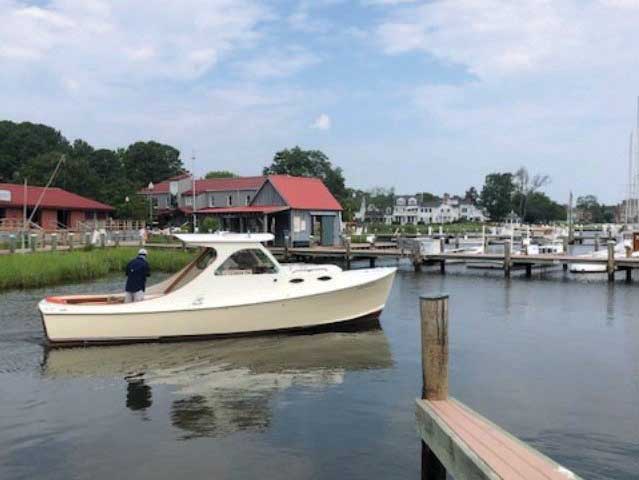 "I also have three antique speed boats in the shop. A 1958 Century Coronado is having a mahogany swim platform built. A 1960s 16-foot Chris-Craft is gutted and being prepped for reconditioning. A 20-foot Bertram Sportsman interior is moving along."
At Pocohontas Marina in Edgewater, MD, manager Hank Rieser is having a busy summer as well. Hank was in the process of doing a short haul on a Phoenix 34. "Her owner brought her in to get her bottom cleaned," he explained. "He had the bottom done on the boat three and a half weeks ago, and suddenly his cruising speed dropped from 20 knots to 16. We hung her in the slings of the Travelift and pressure-washed the bottom. This hot weather and warm, salty water are really accelerating underwater growth and bottom fouling."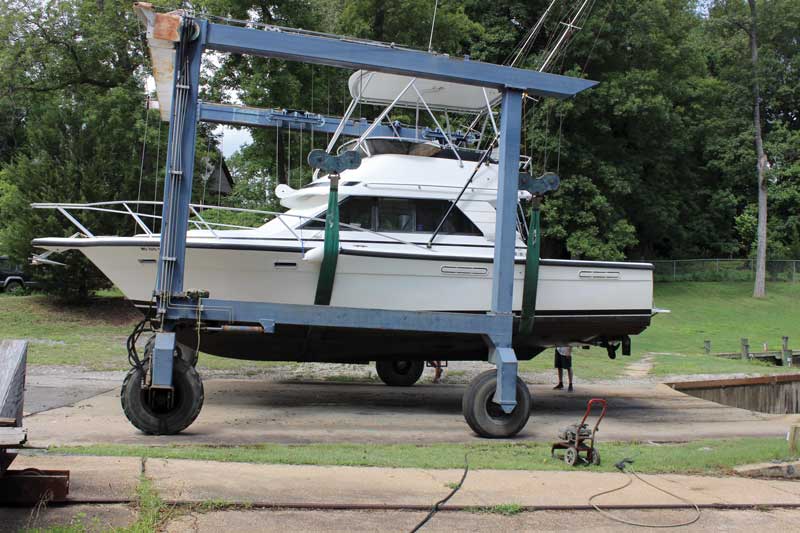 In other projects Hank has made a lot of progress in restoring his 1960 Lyman 23. The engine, a rebuilt 1992 Mercruiser V-6, has been installed with all of the controls and linkage as well as the steering system. The decks and dash have received multiple coats of varnish. The Mercruiser is rated at 185-hp, and according to Hank, "That ought to move her along real good." The much-delayed replacement engines for the 1950 Chris-Craft Commander have finally arrived. Hank hopes to have that installation complete and the boat in the water by mid-August.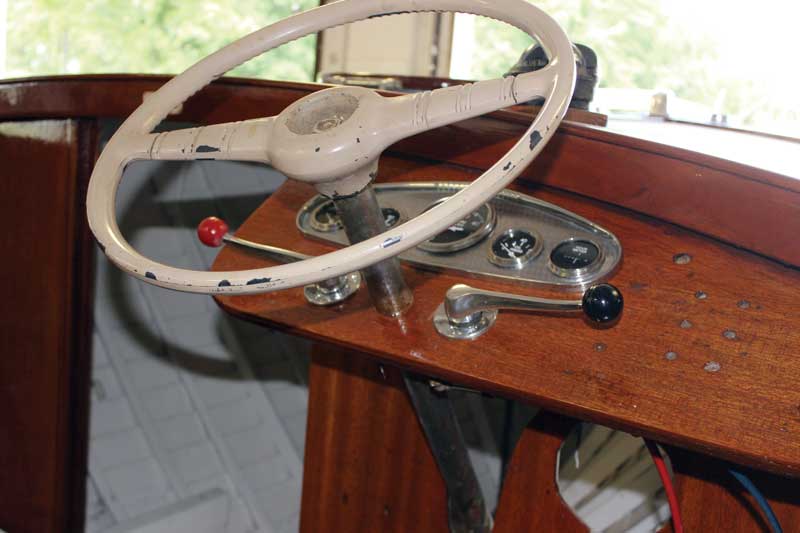 Construction Manager Joe Connor, Chesapeake Bay Maritime Museum's lead shipwright, reports from St Michaels, MD, that his team of 10 shipwrights has now lofted, fabricated, and installed the entirety of the Maryland Dove's backbone, which consists of Cortez and live oak with an 18,000-pound lead external ballast bolted up through to the top of the keelson. The frames are double-sawn live oak and fastened with black locust trunnels. All bolts and drifts are bronze in place of the original wrought iron fastenings for longevity. Currently, the build activities are transitioning out of the framing stage and into planking as the ceiling planks or stringers/clamps are currently being fabricated for installation. 
Simultaneously, the deck beams have been roughed out of Douglas Fir and will be installed through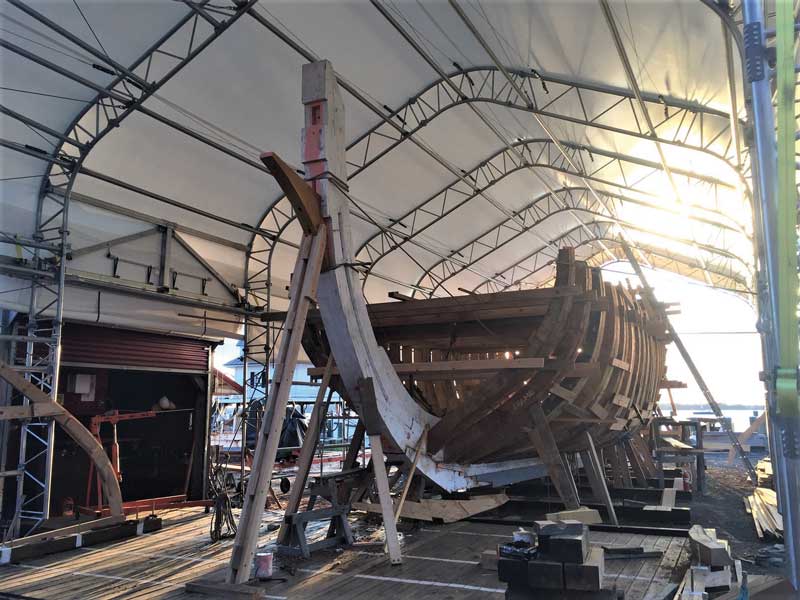 out the fall as the hull is being planked below. Planking will consist of Angelique below the waterline and White oak above, with butt ends bolted through blocks, as opposed to landing on frames. Additional rigging activities are set to begin in the fall with the addition of a second rigger, with spars beginning to take shape and the standing rigging fabricated. CBMM's working Shipyard will be exceptionally busy through the fall and winter as shipwrights aim to have the new ship floating dockside by next summer. To learn more about Maryland Dove, a reproduction of the vessel that accompanied the first European settlers to Maryland in 1634, visit marylanddove.org. 
During this unusual time, CBMM's Shipyard can be viewed from designated areas on campus while it remains closed to the public. Shipwrights are carefully preforming essential tasks to assure the future and high standard of craftsmanship for all the vessels in CBMM's care. CBMM itself is now reopen to the public seven days a week. Find information on CBMM's enhanced health and comfort measures and operational changes at welcome.cbmm.org.
So, while our boatshops keep humming away, let's enjoy the rest of the summer and appreciate the freedom and fun boating can bring to the "new normal." 
By Captain Rick Franke