Onancock is an undiscovered gem on Virginia's Eastern Shore.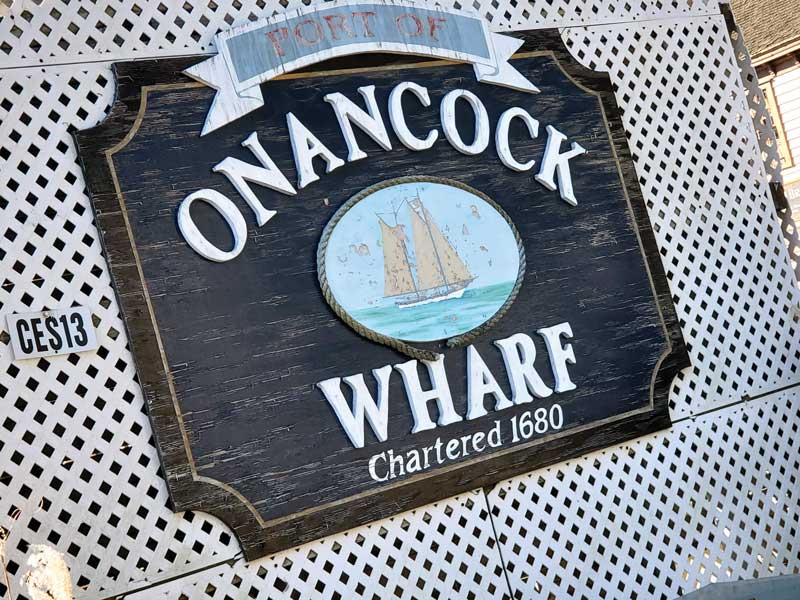 Onancock's Wharf and Marina dockmaster Craig Tanner points with pride to the white board on his office wall.
"Sold out." "No vacancy." "Full. Full. Full." The words fly off the page as testimony to the popularity of the town marina's docking space.
"We only have 12 floating slips and two bulkhead and wide beam non-floating slips," says Tanner. "They've all been refurbished with new 30- and 50-amp service. Boat clubs book the slips pretty much every weekend during the season. If your readers want to pick up a slip, I would advise them to inquire at their first opportunity."
Mooring within the harbor is permitted. The marina offers a discounted rate for use of its facilities. There is also a dinghy dock for transients to utilize. Rates are $2/foot and reservations can be made at: onancock.com/wharf.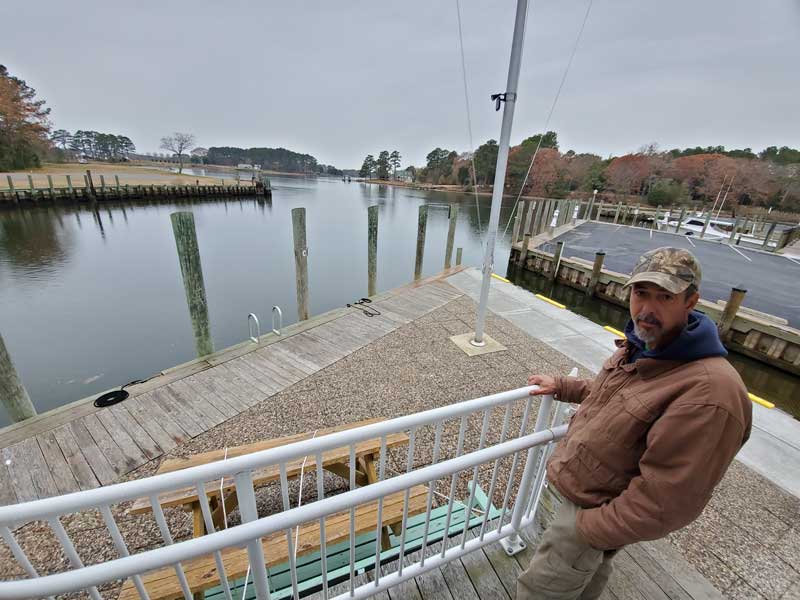 The facility also has a car that transients can use free of charge as well as a small fleet of golf carts for in-town transport. Bicycles can be rented next door.
Onancock's town manager Matt Spuck provides context:
"Our little town of 1500 people sits at the mouth of Onancock Creek which is just a short four-mile trip from Tangier Sound. We have a deep-water approach and a welcoming waterfront. Plenty of restaurants, transportation options, a friendly, helpful marina staff… and a community that thrives on showing off its architecture, history, and cuisine."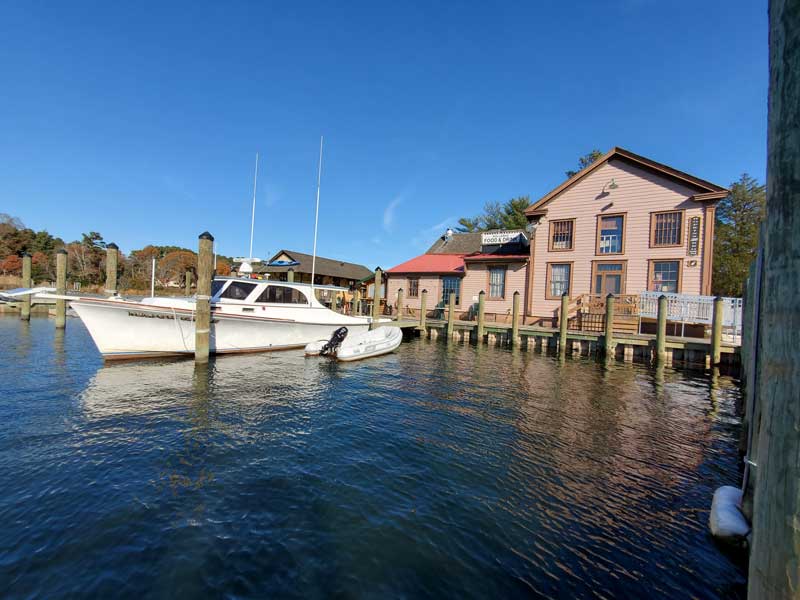 The town is located 10 NM southeast of Tangier Island at  37°42°38°N 75°44°47°W.
Spuck moved to Onancock five years ago with his wife Kim. They operate the Inn at Onancock, a short stroll up the hill from the marina.
"We get some transients as guests at the Inn," says Spuck. "Some are Loopers coming or going… others are boaters who want to get off the water for a day or two, be pampered by our amenities, and relax without having to worry about their anchor dragging." Rooms rates range from $160-200 per night, breakfast included.
Your faithful reporter can attest to the softness of the Inn's beds and the mouthwatering feast Kim and Matt lay before you at breakfast. The couple, transplants from the Boston area, bought the Inn as a turnkey business. 
They are assisted in their Innkeeping by their 82-pound purebred German Shepherd Dante.
The Innkeepers even offer an afternoon "wine down" with complimentary libations and munchies served up with Onancock hospitality either in the confines of their establishment or onboard their 25-foot Chaparral Sun Coast which is available for sunset cruises for the modest sum of $45.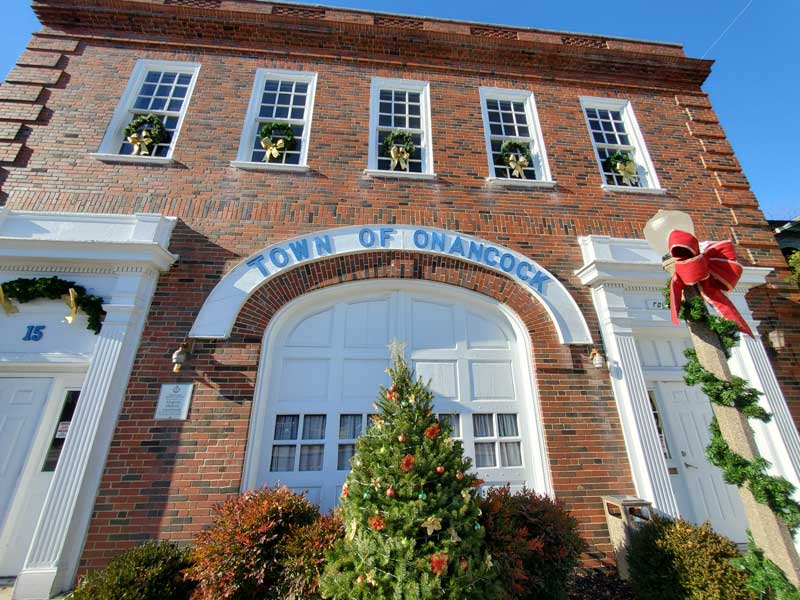 The Gem of the Eastern Shore
Captain John Smith called the area of Onancock "the Gem of the Eastern Shore" in the 1600s. Budget Travel called it "The Coolest Town in the South." The name Onancock means "foggy place." Natives often drop the "O" calling the town 'nancock.
Founded in 1680 as Port Scarborough, Onancock is one of the largest towns on Virginia's remote Eastern Shore. Onancock's history lies in its past as a port town. The town's harbor was once a regular stop for steamboats that carried passengers and goods to and from the large ports of Baltimore, MD, and Norfolk, VA.
The town of Onancock is wrapped to the north and south by branches of Onancock Creek. The creek wanders past many old and beautiful waterfront homes for about four miles to the Chesapeake Bay.
The channel, kept clear by the weekly transit of gravel barges that dock in the basin, carries in excess of eight feet in many places. Dockmaster Tanner cautions the approaching mariner, however, to stay within the markers. "It gets pretty skinny if you wander from the channel. There is a little bump around Marker 7, so favor the starboard side as you come in. When in doubt, give us a call on VHF channel 16."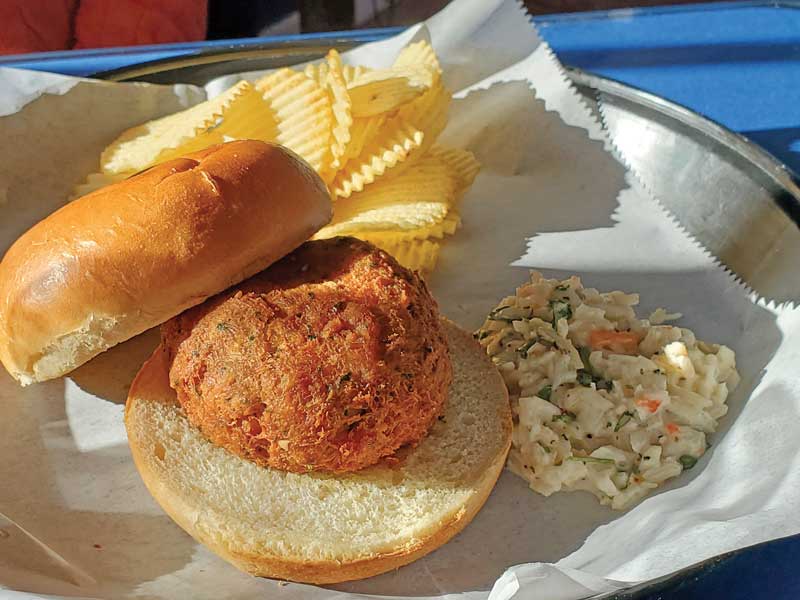 Things To Do (and Eat)
My wife and I visited Onancock in early December. Our arrival day was perfect for sightseeing, both on land and via the water. After a late lunch at Mallards, we strolled the compact business district, pausing now and then to venture into the shops and peruse the many art galleries.
Mallards at the Wharf, the town's only waterfront restaurant, is situated in the historic Hopkins and Brothers Store (circa 1842) building, reputed to be one of the oldest structures on the Eastern Shore. The entrance to the old-time store is a mini-museum that tells the 180-year history of the location.
Captain Stephen Hopkins was the patriarch of the family that operated the successful mercantile firm first known as Stephen Hopkins & Sons, later Hopkins & Bro., for more than a century. From 1842 until 1966, Hopkins & Bro. Store enjoyed continuous operation under four generations of the Hopkins family. From 1842 to the late 1870s, the firm operated sailing vessels to Baltimore and other cities on the Chesapeake Bay, as well as New York, Charleston, and the West Indies.
Mallards's Chef/owner Johnny Mo is enthusiastic about his choice of venue.
"Onancock is one of the hottest dining destinations on the Eastern Shore. Where else could you find a half dozen quality restaurants in a little town with no stop lights and no fast-food joints?"
Known as the Singing Chef, Johnny Mo will trade his chef's knife for his acoustic guitar to strum a tune or two for his guests and even perform with his band in other venues during the season. "Music has always been part of my life. I figured if I could cook and sing, I could get a girl."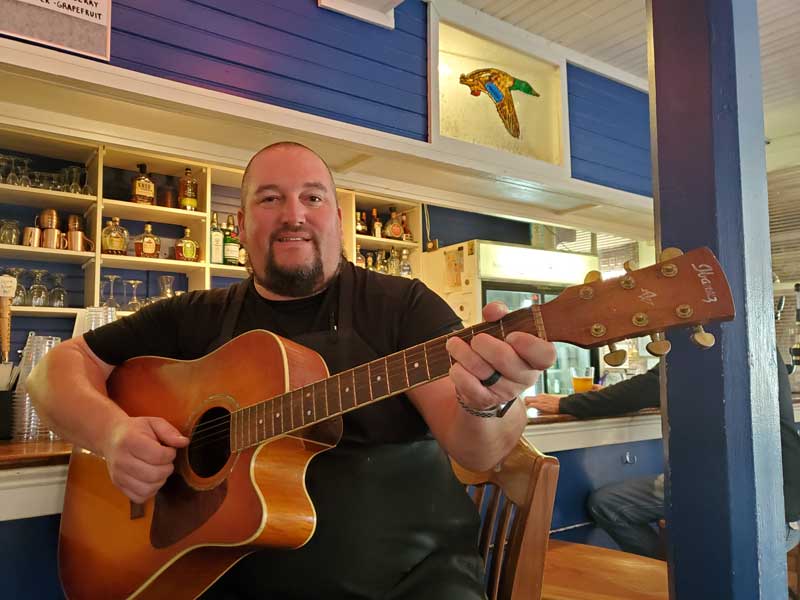 Mo is a relative newcomer to the area. "In Onancock, there are three kinds of people: From heres, people whose families have lived here three generations; come heres, newbies like me who have moved here; and born heres, people who have grown up here but whose families don't have a history."
The 45-year-old Maryland transplant and father of two has a keen palate. He enjoys pairing local seafood with unusual accompaniments. His clams steamed in jalapeno and butter broth are a hands-down winner. "All I use to keep my crab cakes together is love," he jokes. As a crab cake aficionado, I can attest to the quality of that house specialty. Pair those cakes with a crisp chardonnay and one might be tempted not to move from your dockside table for the rest of the day.
There are a myriad of dining options a short stroll or quick car ride from the waterfront. The town is imminently walkable.
The Blarney Stone Pub serves an award-winning dish called Sea Scallops of the Emerald Isle.
Bizzotto's is a good choice for local seafood served up with an Italian flair.
The Market Street Grill offers an eclectic menu that blends the best of the Eastern Shore with delicacies inspired by Italy, Turkey, and Greece.
Janet's General Store and Café is the place for breakfast.
And for your sweet tooth, there's Scoop's Ice Cream Café on Market Street. An Onancock institution.
While a little up the road, Maurice's is a good bet for fresh sushi and other Asian fusion dishes. My waistline can attest to the quality of Chef Sean Thomas's oyster stew. Five plump oysters swimming in a buttery broth with a jumbo fried oyster holding center court in the bowl. My wife and I finished off our meal with a decadent slice of homemade cheesecake. Just what we needed after indulging ourselves all day with nibbles here and there as we explored the town.
For the visiting mariner, be sure to check out the delicacies at the North Street Market, a well-stocked market for wine, cheese, and to-go meals. 
And don't leave town without making a stop at the Corner Bakery. The folks there start baking well before the sun is up, and their racks upon racks of fresh pastries, donuts, and other delicacies are worth the wait as locals and visitors alike queue up for their daily sugar fix.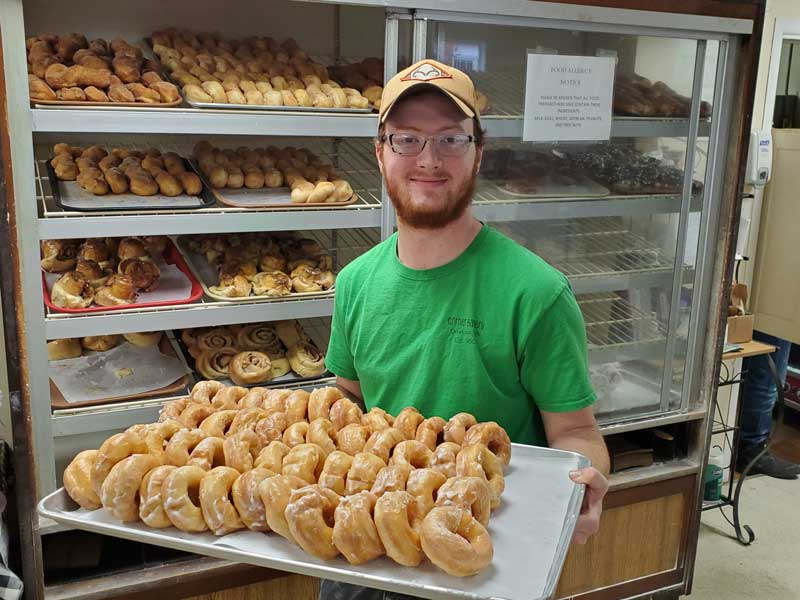 There's plenty to engage the art lover in your crew as well. Four galleries exhibit local works by a number of acclaimed artists, including the Red Queen Gallery, the Richardson Gallery, and the Crockett Gallery. All are within walking distance of the compact downtown area. 
We stopped by the intriguing gallery of visionary folk artist Danny Doughty. A self-taught dynamo, Doughty paints bold renditions "of the African American women who have been a saving influence in my life." His works are big, colorful, and filled with emotion. "I went through some rough times as a child. The women of the community put their arms around me and kept me going." The 62-year-old artist is known for his prodigious output. "I'll start a project and sometimes work 72 hours straight until I get it right. It's my way of giving back."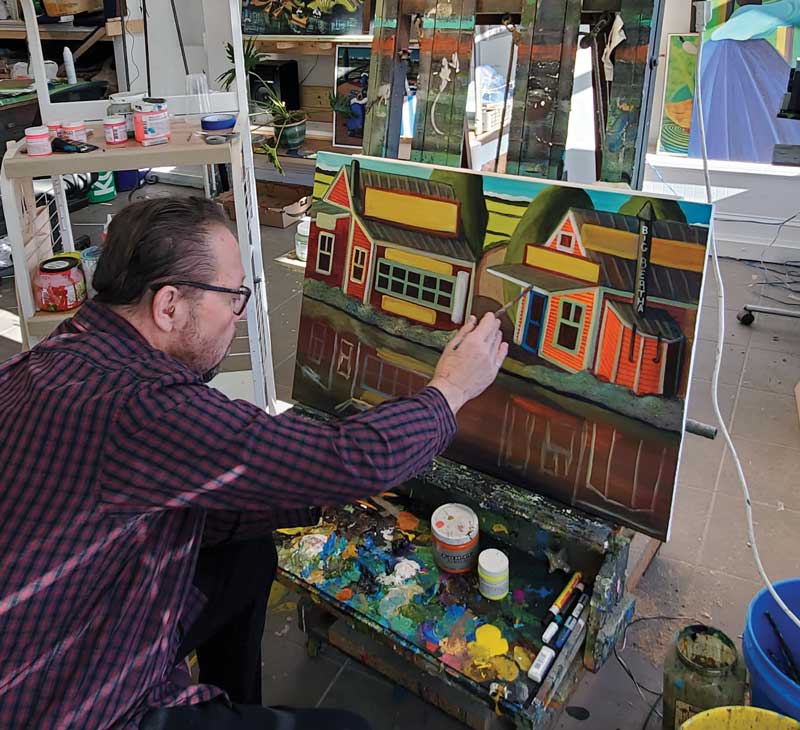 If you want an insight into the mind of Doherty, just head up the stairs to his studio. You'll no doubt find him at his easel. Danny is quietly unassuming. You can feel the pain he has suffered in his soft-spoken tones. But give yourself plenty of time. Doherty's life story can take quite some time to tell. 
One of our good friends from our life on Florida's Useppa Island used to grow tomatoes in the Onancock area. We hooked up with his former farm manager, Lynn Gayle, for a chat, and a run down the creek in Gayle's classic 1985 Robbins deadrise.
Gayle keeps busy farming 2500 acres of row crops and vegetables. He bought the 40-foot boat "after lusting after it for years" and today has a modest charter business taking locals and tourists alike on leisurely cruises up and down the Creek.
"I do it for fun, and to keep in touch with a sense of history." You can get in touch with Gayle by calling (757) 894-0700 or emailing him at: [email protected].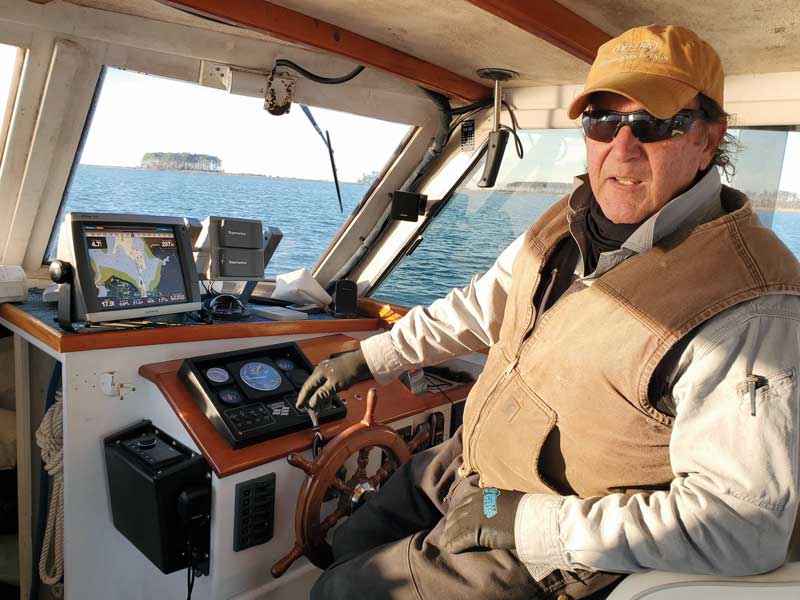 Gayle's boat is named the Major Gayle in honor of his grandmother, Martha Gayle, who was a major in the U.S. Army's Nurse Corp during World War II. "She was one of the first nurses to enter the German concentration camp of Dachau," Gayle says. "The suffering she saw made a lasting impression on her." If ever we did anything for humanity," she wrote later, "it was our work with those poor people in Dachau."
As we cruised into the setting sun westward out towards the Bay, Lynn kept up a running commentary on the well-kept estates and farms we slowly passed by. The creek has a number of smaller tributaries that feed it. Perfect for exploration via kayak or RIB. There is even a sandy beach at the entrance to the Creek. "Lots of people head out there in the summer. The water quality is good in the Creek and folks take a lot of pride in picking up litter and keeping the tidewaters pristine."
For a deep dive into the history of the town, Gayle recommends a stop at Ker Place, a magnificent Federal period Georgian style house built in 1799 for prosperous merchant farmer John Shepherd Ker and his wife Agnes Corbin Ker and their family. It is described by the Virginia Historical Landmarks Commission as "the finest and most elaborate Federal mansion on Virginia's Eastern Shore," and "one of the Shore's major architectural landmarks." The house operates as a museum that is open for visitors with trained volunteer docents giving guided tours of the interpretive interior as well as various exhibits, laboratories, and research space.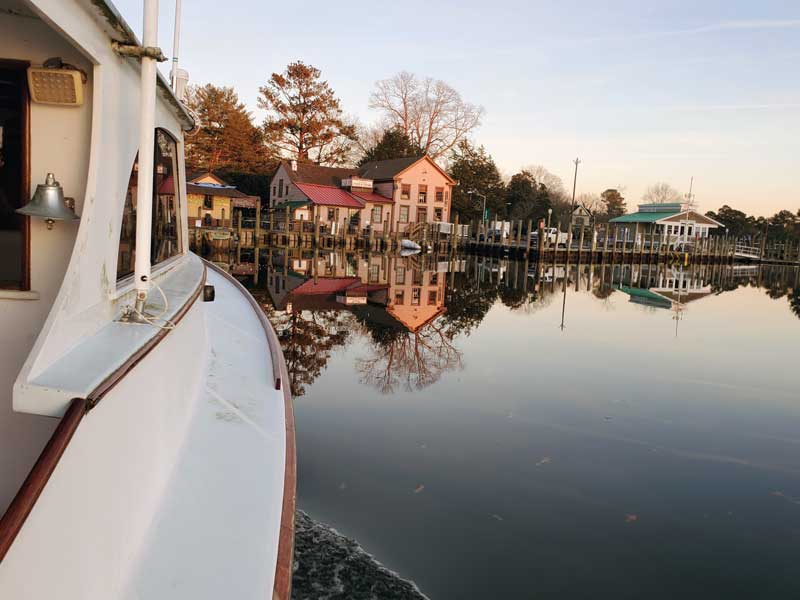 If you want to explore the area by small craft, you can rent a kayak at Burnham Guides, located next to Mallards Restaurant at the Wharf. 
We visited two other downtown places of interest: Tim Smith's Antiques on Market Street and the venerable Charlotte Hotel (with a killer dinner menu and a cozy bar worthy of a secluded rendezvous) run by Charlotte and Gary Cochran. Both proprietors were more than happy to welcome us to their town and to suggest even more places to visit and more people to chat with. Smith's antiques feature European and local antiques plus an extensive collection of recycled lumber products including chopping blocks and Charcuterie boards. The Charlotte Hotel is a slice from a bygone era, albeit with modern amenities. A board behind the reception desk displays the skeleton keys for the Hotel's eight rooms.
A trip to Tangier aboard the Tangier Ferry, operating daily out of the Town Dock, is also a nice summertime diversion. The Ferry leaves Onancock at 10 a.m. and returns around 4:30 p.m. Cost for the roundtrip ticket is $25 for adults. The trip takes about an hour each way. Cash or check payment only.
Lynn says people can take their own boats to the island, "but with the tides and shoaling, that can get pretty tricky if you run into some weather." He recommends the ferry, although he has been known to take visitors to Tangier in the Major Gayle if conditions are right.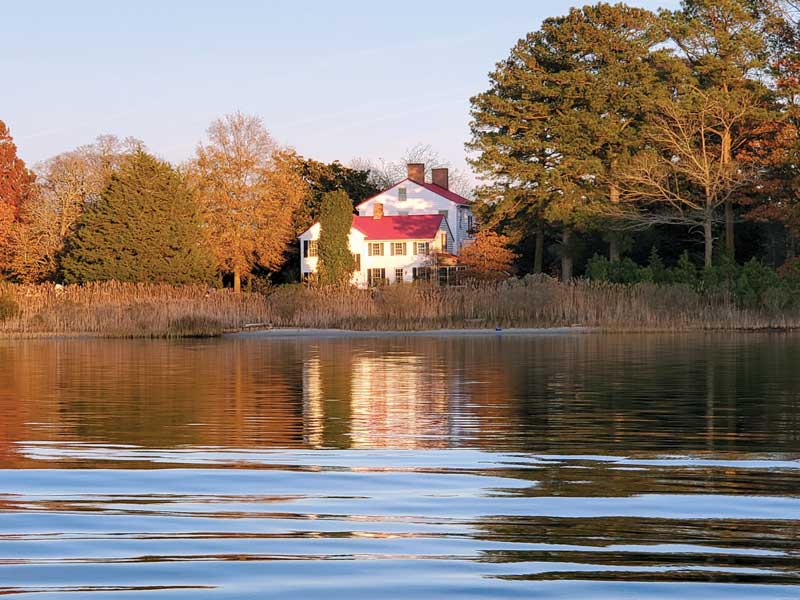 The mouth of Onancock Creek is roughly 85 nautical miles from Annapolis. Many visitors plan their trip to the area with a stopover either north or south. "You can cut inside Tangier," says Gayle. "But you'd better keep an eye on your depth gauge and watch your charts. The old timers used to navigate by heading, time, and distance. Modern technology makes it easier… but be careful heading into the Sound at low tide or when the wind is whipping."
No matter how, or when, you visit this charming little town, one thing is for certain: Once you head down the creek or pass the "Welcome to Onancock" sign on the highway, you'll be transported to a magical place where time stands still and where everybody you meet wants to show you a good time. 
By Craig Ligibel