After completing our inaugural journey from Portsmouth, RI, earlier this year to our home port of North East, MD, we wanted to spend as much time as we could getting to know our new Jeanneau NC895 by completing our own Chesapeake Bay loop.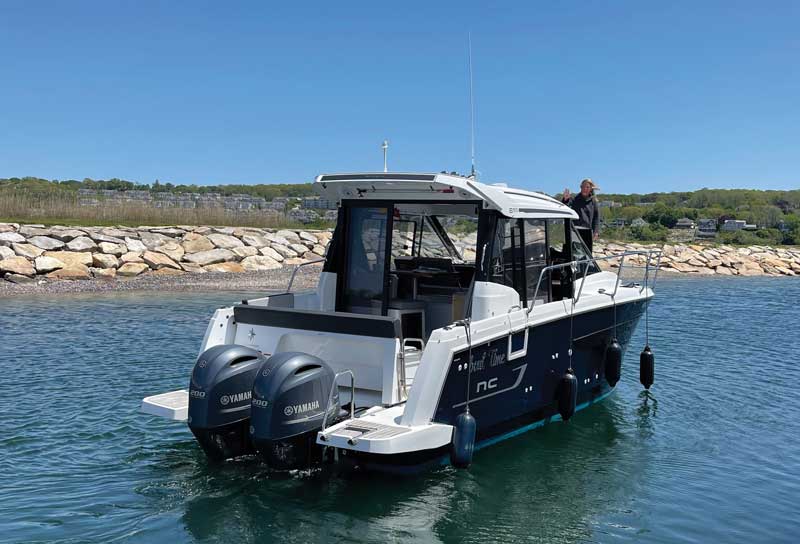 To achieve that, our plan was to list our home on Airbnb for the summer. If someone expressed interest in our rental, we would then move to the boat. Little did we know how much interest it would bring. We ended up renting our home pretty much June to September, prime boating season. This not only gave us time on the boat but helped to cover fuel costs and slip fees. We enjoyed marina life at Bay Boat Works, but really wanted to get out and explore. Using Dockwa, we were able to secure slips relatively close by to our home port in places such as Annapolis, St. Michaels, and Rock Hall. Utilizing the marina's WiFi, I was able to work remotely from the boat. My teams' calls were always the envy of my co-workers (and for some, even made them a little seasick from my swaying on camera).
When I had some time off from work, we decided to head south on a longer journey exploring some smaller southern Chesapeake Bay ports we hadn't been able to visit in our older, smaller boat (a 24-foot Four Winns). Our first adventure took us to Oxford, Solomons Island, Smith Island, and Deale, MD.
Oxford—One of our Favorite Ports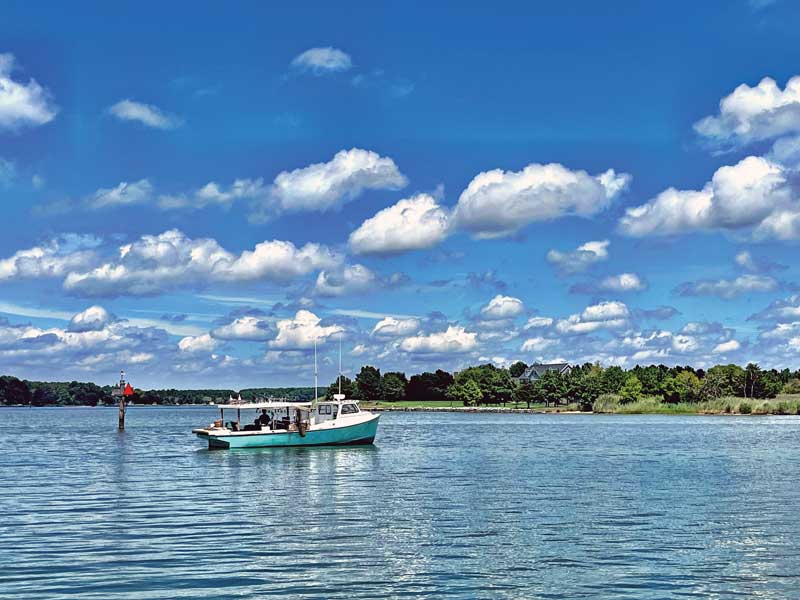 First stop was Oxford, which quickly became one of our favorite stopovers. It's a great town for walking and biking, with a few great restaurants nearby. We stayed at the Safe Harbor Oxford Marina—complete with floating docks, pool, bike rentals, and newly renovated laundry and shower facilities, all in close proximity to the town center. 
Arriving on a Monday limited our restaurant options. We settled on Pope's Tavern and couldn't have been happier; one of the best meals of our trip. Located at the head of Town Creek, it is a little Italian restaurant within the Oxford Inn which offers nine quaint rooms. The menu features homemade pasta and other specialties from the owner's grandmother's recipes. A favorite of the locals, it should not be missed. For dessert, don't miss the Scottish Highland Creamery, a short walk from our marina.
The small town of Oxford has a quaint, treelined, unspoiled feel to it. The end of many of the streets offers endless public accessible water views. South Morris Street, one of the main thoroughfares, is one of the oldest streets in America.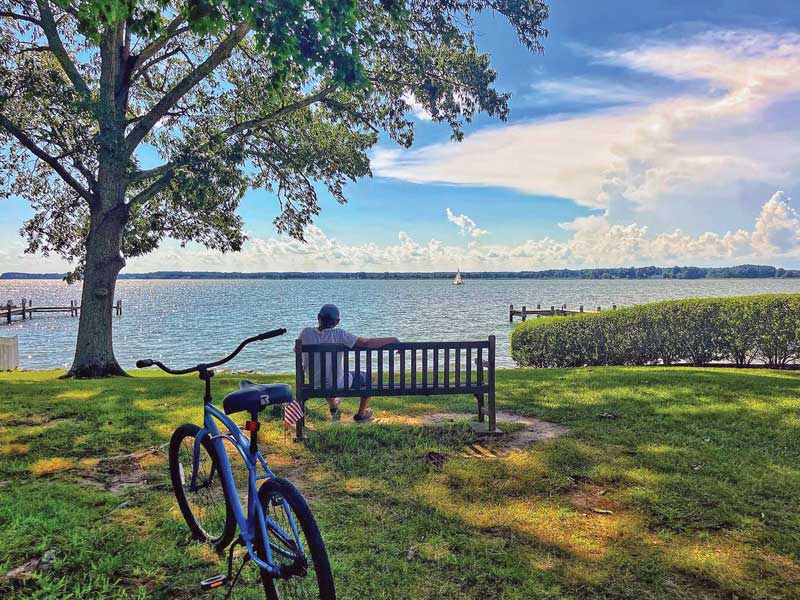 Boating is a part of life in Oxford—it's a paradise for vessels big and small. We took a walk through the shipyard of Cutts and Case where beautiful classic wooden boat restorations were being undertaken. Oxford also has many historic homes, picket fences, cute shops, and inns as well as the Oxford-Bellevue ferry which has been carrying passengers since 1683. 
We spent one night in town before heading further south but did return for one additional night. It will remain one of our favorite ports.
Solomons Island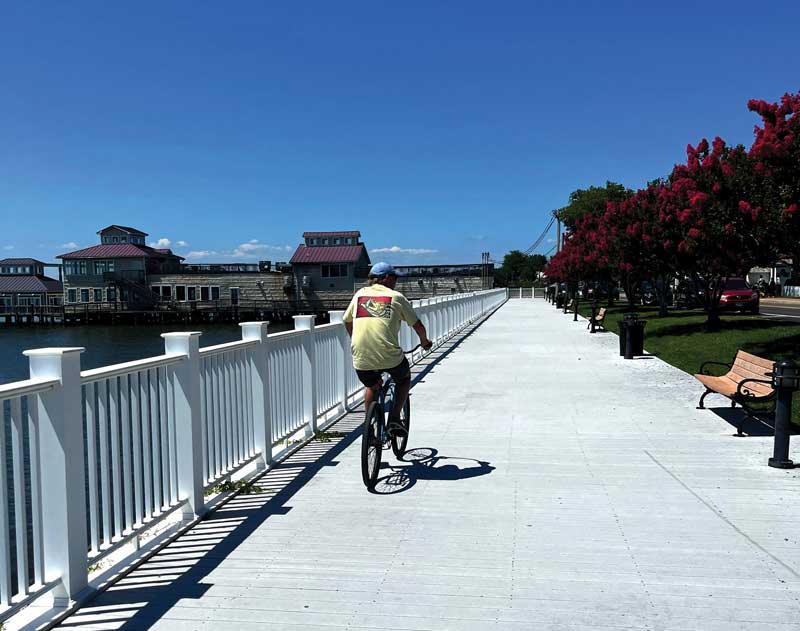 Our next port, Solomons Island, took us across the Bay from Oxford. We tried out another Safe Harbor Marina, Zahnisers, located on Back Creek. This is a good size marina going through some upgrades. Complimentary bikes made exploring the town fun and easy to conquer in a day. We enjoyed the pool, a great dinner at CD Café, and happy hour cocktails at the Tiki Bar. 
Solomons is home to the Chesapeake Biological Laboratory which works on keeping the Chesapeake healthy. The town was a bit spread out, quiet mid-week, and very warm during our two-night stay. There is still so much more to explore in Solomons, so we'll look forward to returning. On our list are the Calvert Marine Museum, a lot of great restaurants, the Annmarie Sculpture Garden, and more great biking opportunities.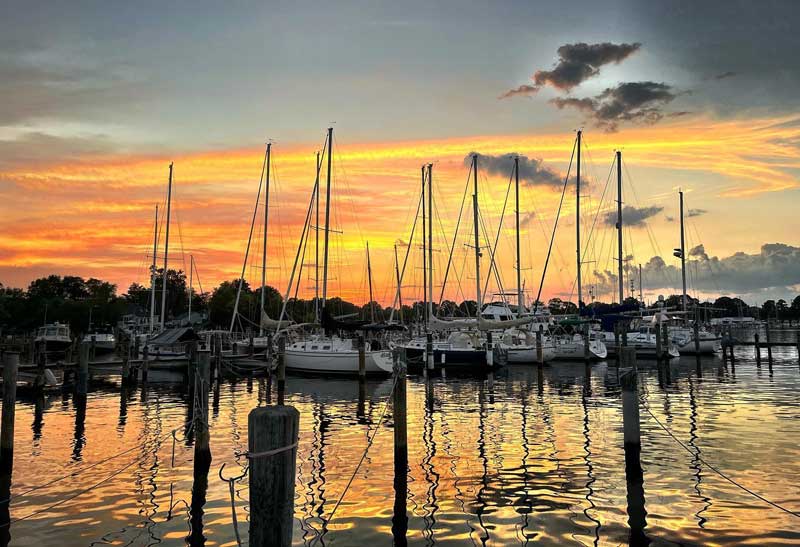 A Tornado in Smith Island
The next leg of our journey took us south down the Bay to the tiny town of Ewell on Smith Island. Our first stop was Smith Island Oil, one of the only gas docks available in Ewell. We were met by one of the locals who not only worked at the gas dock but also moonlighted with her husband at one of a few restaurants in town, the Bayside Inn located at the ferry dock. She let us know all about the offerings on the island, including golf cart rentals, a museum, the bakery, and other food options and hours available. 
We tied up our boat on a pier at Three Knots Marine, which was undergoing extensive renovations. Since our marina did not have electricity, we chose to stay at the quaint air-conditioned B&B, The Smith Island Inn. To gain access to our room, you were instructed to pick up the keys from the local Smith Island Bakery which is home to the famous Smith Island Cake.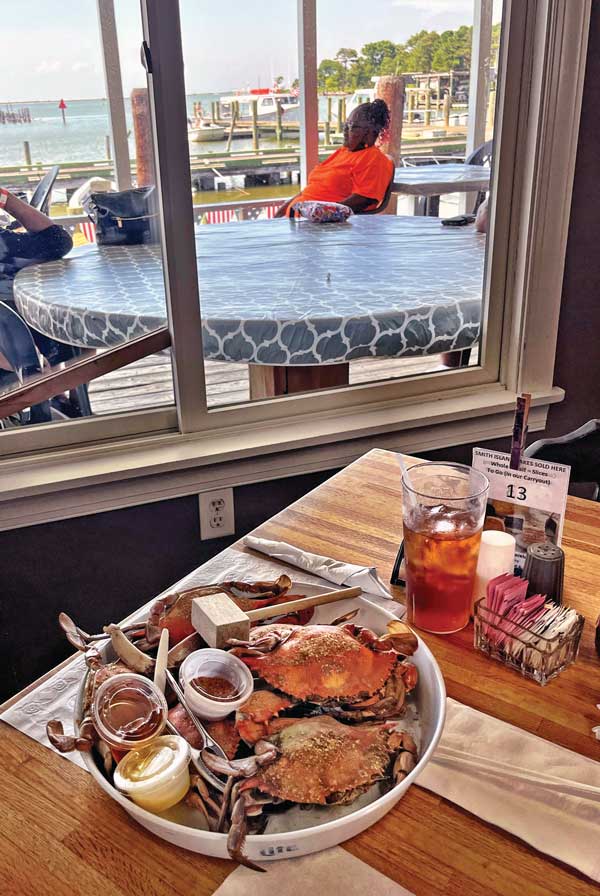 Before settling into our room at the Smith Island Inn, we jumped on a golf cart to explore the island. The Smith Island Cultural Center, a must stop if you're visiting the island, gave us a glimpse into the history of the village and its locals. Smith Island has two other towns to explore so we look forward to going back for another visit.
We had all our meals at the Bayside Inn; the best steamed crabs I've had in years along with other Maryland seafood specialties and the famous delicious eight-layered Smith Island Cake. So good! A must have… I have vowed to order one for my birthday every year from now on.
We headed to the bakery to get our key to settle into our room at the inn. I took the opportunity to take a luxurious bath and enjoy the air-conditioning and other room amenities. With a storm approaching, my husband Mark decided to return to the marina to check on the boat.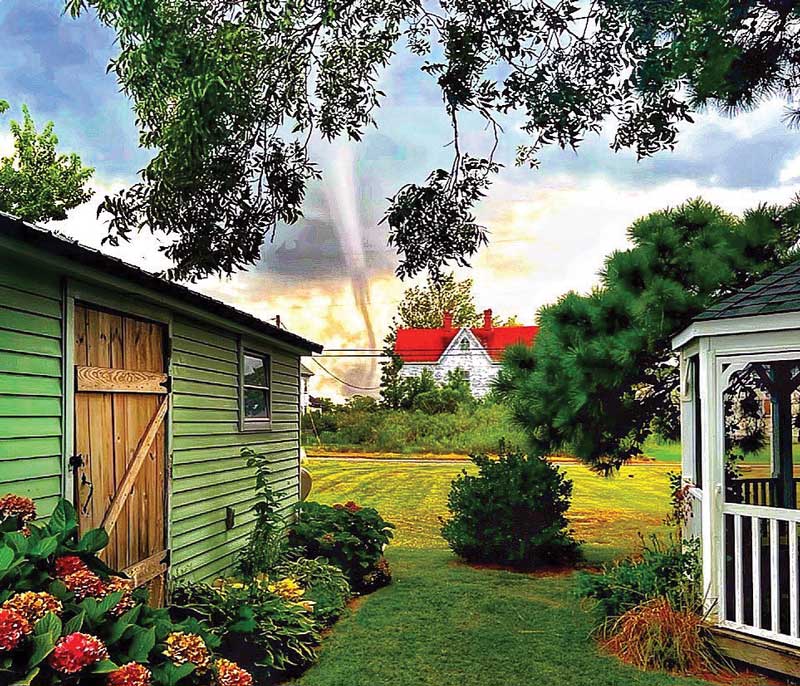 While on the boat adjusting our lines, the winds began to kick up and the sky continued to get darker. As he was about to head back to the inn, he looked up and to his surprise was face to face with an approaching funnel cloud. Having never experienced anything like that before, he quickly contemplated all his options. At that time of day, after the last ferry leaves, the entire island and businesses shut down which left him with few options for cover. My husband then decided the best thing to do was make his way back to the inn to check on me, who was totally unaware that a tornado was approaching. His walk quickly turned into a panicked run, which was a feat for someone that hasn't run in more than 20 years, losing his hat and flip flops along the way. 
The funnel intercepted his path with swirling shingles, branches, and debris. Unable to outrun the tornado's wrath, he took cover behind a small cottage. After the tornado had passed, he was finally able to make his way back to safety at the inn, sharing his harrowing tale with me, who was totally unaware of what had just happened. The tornado had cut a path between the inn and the marina only feet from the Smith Island Bakery, damaging homes and outbuildings.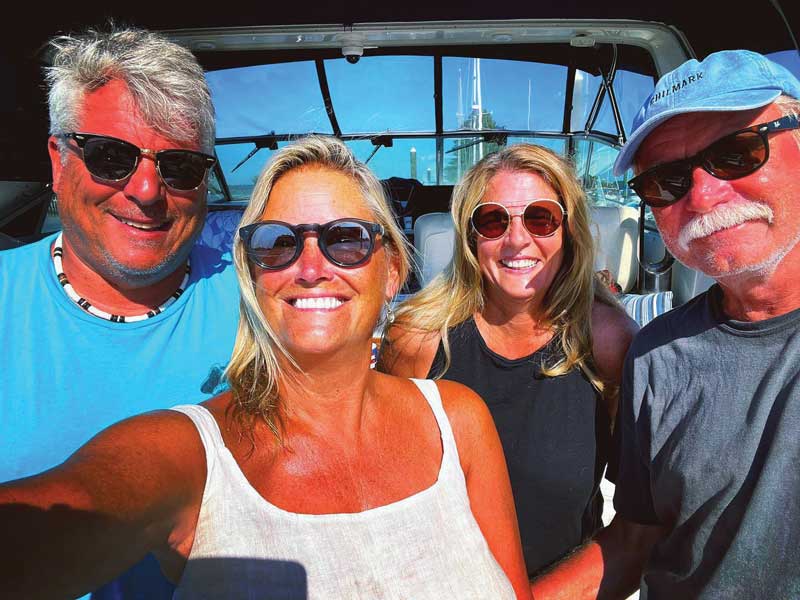 After the weather settled, my husband made his way through the debris to check on our boat, not knowing what to expect. Surprisingly our boat was untouched, but overturned boats were found only a few hundred feet away. The marina, with stacks of building supplies, luckily escaped the tornado's path preventing further damage. We lost power until after midnight. All the residents, including the owners of our marina and inn, worked together through the night clearing debris and restoring power. Fortunately, there were no serious injuries.
The next morning, we were treated to breakfast by a local elder who arrived by bicycle at the inn to prepare our meal. She was a descendant of one of the founding families on the island. In her 87 years of growing up and living there, she had never experienced anything like that storm. My husband is still reeling from this experience and hopes to never encounter anything like it again… A crazy adventure for sure followed by a great breakfast and local conversation at the inn.
Deale
Saying goodbye to Smith Island, we headed northwest across the Bay to Deale to stay at the expansive Herrington Harbour Marina, a beautiful marina with many amenities and services but lacking a fuel dock (fuel is available at their nearby southern location). We spent a lot of our time at the pool just relaxing and getting over our Smith Island experience while making new friends and sampling many of their great local specialty cocktails (fresh squeezed fruit crushes, cold beer, and amazing bloody Mary's to name a few) and pool-side hotdogs that quickly became our go-to lunch favorite.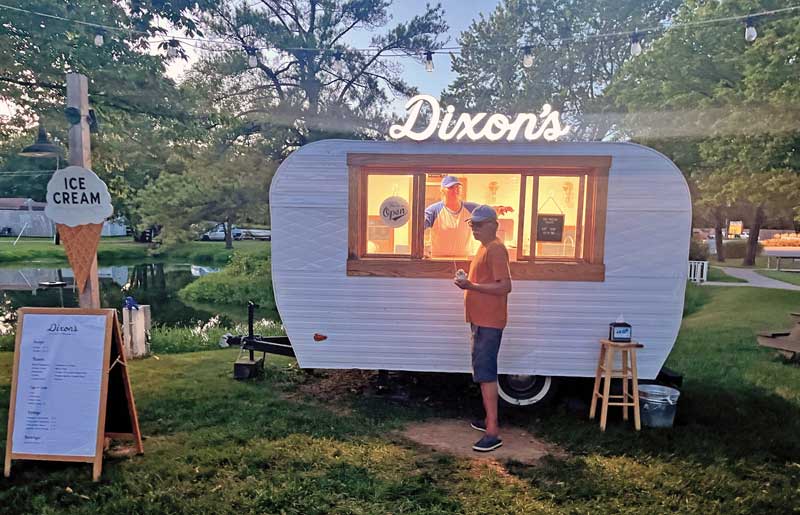 Deale does not have much of a main town, so the local restaurants and shopping amenities are limited and not easily accessible by foot. Onsite at the marina, we spent most of our time at The Dockside Restaurant, pool, café, and bar. They also have a cute little ice cream shop in a vintage travel trailer that we enjoyed each night.
Back to Oxford
With the cruising buddies we met at Herrington Harbour, we headed back to Oxford for another night since we had had such a great initial visit. We had lunch at Capsize Restaurant located dockside next to the Scottish Highland Creamery and returned to Pope's Tavern for another delicious dinner with new friends. Restaurant options are limited, particularly early in the week, so make sure to check on hours. Another great visit to Oxford—we'll be back again for sure. 
Our first season on the new boat has been a total success; fun filled adventures with a lifetime of memories and some challenging yet memorable moments. From Rhode Island to Smith Island and many ports in between, we feel we chose the perfect boat to continue our adventures in 2023. It's compact enough to be affordable to explore but large enough to be comfortable with all the needed amenities for any length of trip. Sadly, our boat came out for the season on November 1. We plan to make a few upgrades to get ready for next season, including a custom-made mattress for the main state room, roof rack to carry my SUP and kayak, custom shelves in the closets for more storage, additional USB and electrical outlets, and perhaps another air conditioning vent in the pilot house.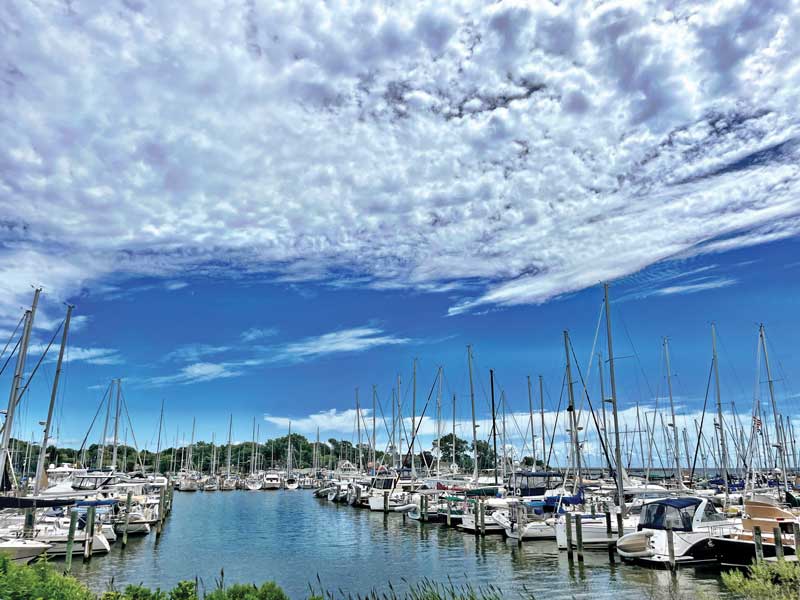 Our goal for next season is to explore smaller ports of call in the Bay that are generally less visited, and plan longer trips outside of the Bay, perhaps heading north again to ports we didn't have time to visit. We feel this loop was just the beginning of many more adventures to come.
We've already listed our home on Airbnb for next summer to help make some of these goals possible.
By Sue Redmond
---
To read about another Chesapeake Bay loop, check out Paul "Bo" Bollinger's three-part Inside the Bay Loop series.