Labor Day may come and go but summer fun lives on. The second annual Portsmouth Paddle Battle will splash into the Elizabeth River in Olde Towne, Portsmouth, VA, on September 10.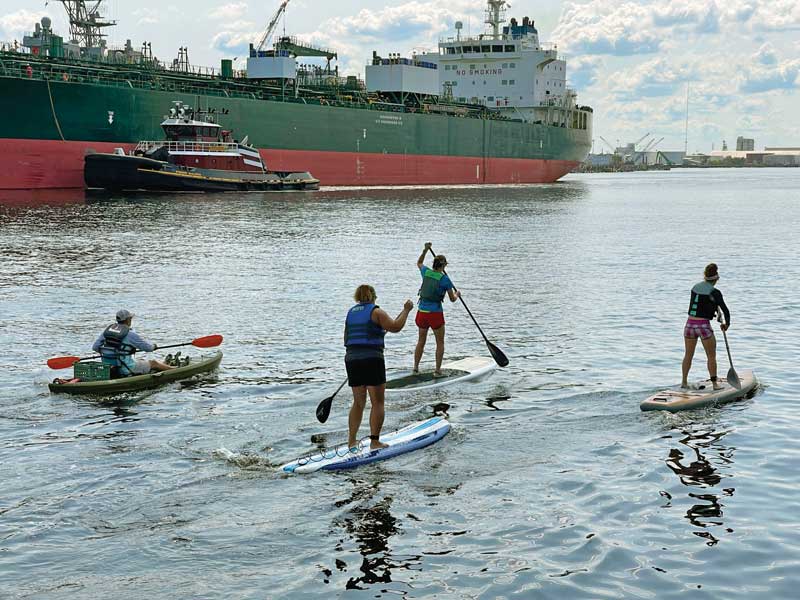 The Paddle Battle will feature Kayak and SUP racing from 10 a.m. to 3:30p.m., children's activities from 10 a.m. to 1 p.m., including historic maritime re-enactors, free Lightship Portsmouth coloring books and crayons (while they last), and face-painting, live music from 11 a.m. to 4:30 p.m., food, beverages (including beer, wine, and the famous Paddle Battle Punch), raffles, free admission to the Portsmouth Naval Shipyard Museum, and other fun activities for all. Oh, and great prizes! Live music will include Hampton Roads' own favorite Soul Intent in the afternoon (free admission). 
The Paddle Battle will run at High Street Basin located at the foot of High Street in Olde Towne, Portsmouth. The racecourse will run from High Street Basin to the Naval Shipyard Hammerhead Crane and back. Racers of all levels and all ages (from ages 16 and up) are welcome to enter. 
This is the only kayak and SUP race we know about where you can race among aircraft carriers and against tanker ships. The Portsmouth Paddle Battle offers a truly unique experience.
The event is organized by The Friends of the Portsmouth Naval Shipyard Museum, an independent 501(c)(3) which provides support to the Portsmouth Naval Shipyard Museum and the Lightship Portsmouth Museum. 
Gary Bahena, president of The Friends, said that "the Portsmouth Paddle Battle will offer a day of fun and excitement for racers and non-racers alike. We are hoping to have as many as 100 racers and to see the riverwalk from High Street to City Hall lined with spectators cheering the racers on. And how can you not have a party with Soul Intent?" Portsmouth City Mayor Shannon Glover, who raced in last year's Paddle Battle, added that "We are very excited to see the revival of large water events on our historic waterfront. We hope that this will become a major annual event for Portsmouth and for all of Hampton Roads."
For more information, visit portsmouthpaddlebattle.org.
By Gary Bahena