The Chesapeake Bay Boat Show returns for a second year to the Maryland State Fairgrounds in Timonium, MD, January 20-22. Presented by the Marine Trades Association of Baltimore County (MTABC), the show will feature over 30 Maryland boat dealers showcasing new boats and marine equipment, including sport fishing boats, performance boats, ski boats, cruisers, and more. Boats of every size and for every budget will be on display. The show will also feature over 100 vendors, live music, free educational seminars, a food court (including fresh/local oysters), and plenty of free parking. Don't know about you, but the only thing that can make winter more bearable is to head inside and ogle pretty boats and dream about the summer season with fellow Bay lovers. We hope to see you there!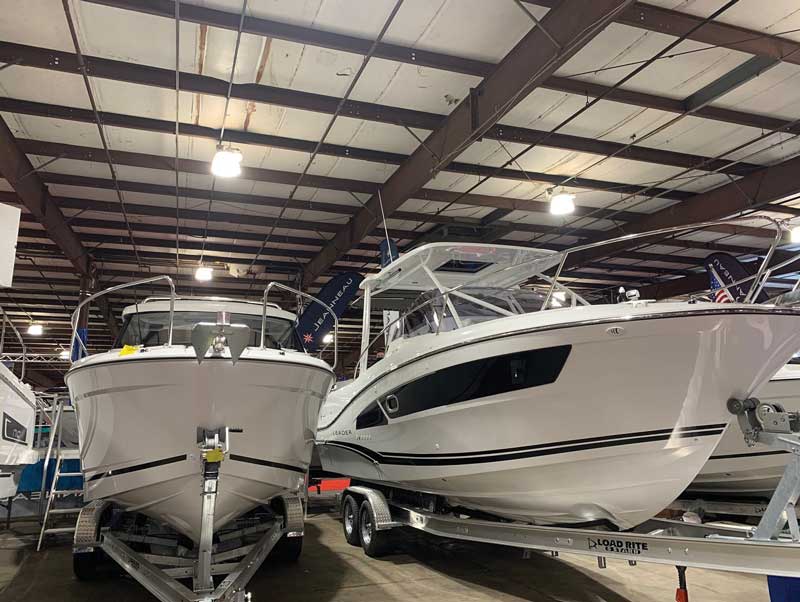 Chesapeake Bay Boat Show
Details:
Dates: January 20-22
Times: Friday 10 a.m. to 7 p.m., Saturday 9 a.m. to 8 p.m., and Sunday 9 a.m. to 5 p.m.
Location: Maryland State Fairgrounds in Timonium, MD
Directions: From I-83 north, take exit 17, Padonia Road, east to York Road, continue south on York Road to the Fairgrounds entrance on the right. Or take exit 16A, Timonium Road, east toward Fairgrounds. Cross over the light rail tracks to the fairgrounds entrance on the left.
Tickets: General admission - $10 (ages 13 and up), Military - $7 at door with ID, Ages 12 and under are free. Tickets can be purchased online at thechesapeakebayboatshow.com or at the door. Your ticket is good for any one day of the show.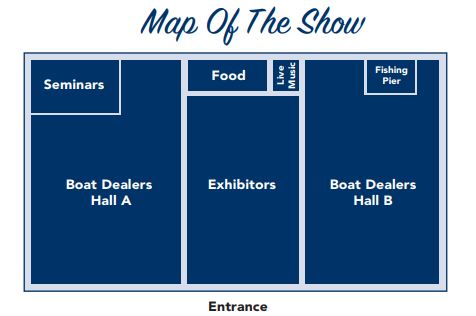 Show Highlights:
Fishing and Boating Seminars
On Friday through Sunday of the show, seminars will be held at the Fishing Seminar Pavilion (sponsored by FishTalk and PropTalk), organized by FishTalk Angler in Chief Lenny Rudow. The pavilion is located in the far back left of Exhibit Hall A, next to the North Point Yacht Sales booth. From the entrance, head to the left hall or walk straight back to the food court and then turn left.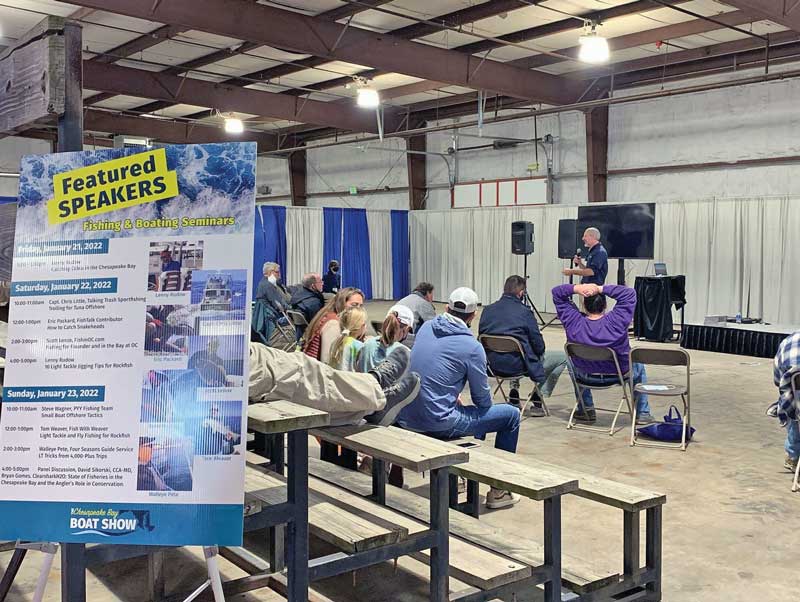 Friday, January 20
4-5 p.m.    Lenny Rudow, Fishing for Rockfish in the Shallows
Saturday, January 21
10-11 a.m.    Scott Lennox, Fishing the OC Inlet, Jetties, and Bridges
12-1 p.m.    David Sikorski, Chesapeake Bay Fisheries in 2023: The Outlook for Stripers, Invasives, and Others
2-3 p.m.    Wayne Young, Finding and Fishing Artificial Reefs in the Chesapeake 
4-5 p.m.    Lenny Rudow, How to Catch Speckled Trout in the Chesapeake 
Sunday, January 22
10-11 a.m.    Capt. Tom Weaver, Spin and Fly Fishing for Winter Pickerel
12-1 p.m.    Eric Packard, Fishing for Snakeheads in Chesapeake Tributaries
2-3 p.m.    Capt. Chris Dollar, Fishing the Lower Western Shore Tribs
4-5 p.m.    Lenny Simmons, Trolling for Rockfish on the Chesapeake Bay 
Live Music 
Friday from 4 to 7 p.m.—Rob Fahey
Saturday from 4 to 8 p.m.—John Luskey
Sunday from 1 to 5 p.m.—New South Band
Fishing Pier
Located in the back right corner of Exhibit Hall B (the hall to the right of the entrance or walk straight back to the food court and then turn right), the Fishing Pier offers the best selection of fishing gear and fishing supplies including fishing rods, reels, lures, and other fishing equipment, along with a fun, interactive fishing simulator. At print time, exhibitors included: Capt. John Spoonbrellas, Edgemere Bait & Tackle, Imperium Outfitters, Fish with Weaver, Ro Sham Bo Sportfishing (also the Fishing Pier sponsor), Fish In OC, Groundhog Bait & Tackle, Shore Tackle & Custom Rods, Jawbreaker, and Tackle Cove.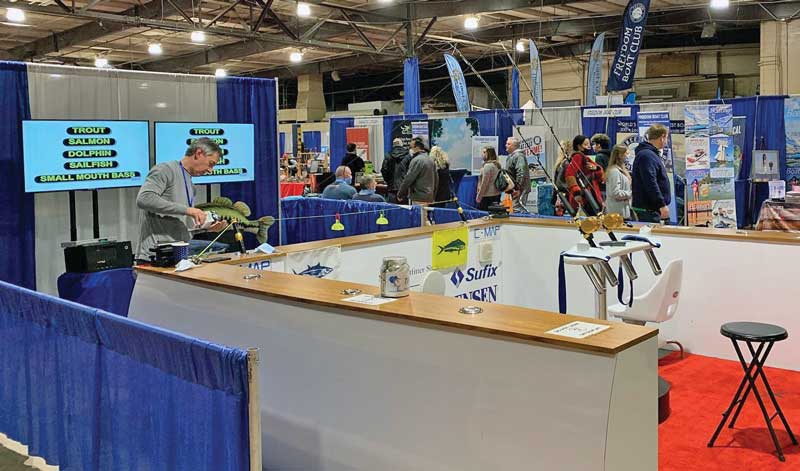 Team PropTalk/FishTalk
Come see us! We will be located at C22, just inside the main entrance, behind the MTABC door prizes table. Be sure to stop by and say hello, and grab the latest copies of PropTalk, FishTalk, SpinSheet, and Portbook. We love meeting our readers!
Boat Dealers
All Star Marine: Stingray, Clearwater, Power Play, Bentley Pontoons
AM/PM Marine: Regal
Annapolis Boat Sales: Everglades, Key West, Blackfin, Steiger Craft, Monterey
Beacon Light Marina: Yamaha, May-Craft, Defiance, TAKACAT
Bosun's Marine: Chris-Craft, Cobalt, Edgewater, Pursuit, Sōlace, World Cat, Cobia
Chesapeake Whalertowne: Boston Whaler
Chessie Marine: Axis, Malibu, Cobalt, Starcraft, Carolina Skiff
Clarks Landing Yacht Sales: Wellcraft, Beneteau Powerboats, Roughneck Ribs, Sea Ray
DiMillos Yacht Sales: Sabre Yachts, Back Cove Yachts, Limestone
East Coast Yacht Sales: Axopar
Fawcett Boat Supplies
Galahad Marine Sales: Sailfish, Sylvan Pontoons, Starcraft, Suzuki, Yamaha
Jim's Marine: Tidewater, Chaparral
Honda Powersports of Crofton: Sea Born, Starcraft, Sundance, Sylvan Pontoons, Nucanoe, Sundance Boats, Suzuki Outboards
Pasadena Boat Works: Bulls Bay, Suzuki, Pioneer Boats, Tidewater
Maryland Boat Sales: Finseeker, Release
North Point Yacht Sales: Caymas Boats, MJM Yachts, Tiara Yachts, Pursuit Boats
Pete's Cycle: Seadoo, Kawasaki, Yamaha
Pocket Yacht Company: Solara, Cutwater, Ranger Tug
Port Annapolis Marina: NauticStar, Carolina Skiff
PYY Marine: Cape Horn, Jupiter, Yellowfin
Rhode River Boat Sales: Seafox, Crownline
Riverside Marine: Bayliner, Sportsman, Mercury Marine
Rudy Marine: Jeanneau Boats, Bentley Pontoons, SunChaser Pontoons, War Eagle, Misty Harbor
Seattle Yachts: Ocean Sport, Nimbus
Taylor Marine Center: Grady-White, Boston Whaler
Total Marine: Donzi, Fountain, TwinVee
Tradewinds Marina: Aquasport, Crevalle
Tri-State Marine: Grady-White, Parker Offshore, Sea Pro
Waterfront Marine: Bennington Pontoons, Chaparral, Robalo, Contender, May-Craft
For more information, a full exhibitor list, and to purchase tickets, visit thechesapeakebayboatshow.com.