Many Chesapeake Bay boaters have spent their boating lives waterskiing around the creek, fishing, buzzing across the Bay to go to a tiki bar, or doing short weekend cruises and raftups with family and friends rather than long-range cruising. Now, you're ready for a bigger adventure: cruising south on the Intracoastal Waterway or perhaps cruising the Great Loop. You may have already upgraded to a bigger boat to do so.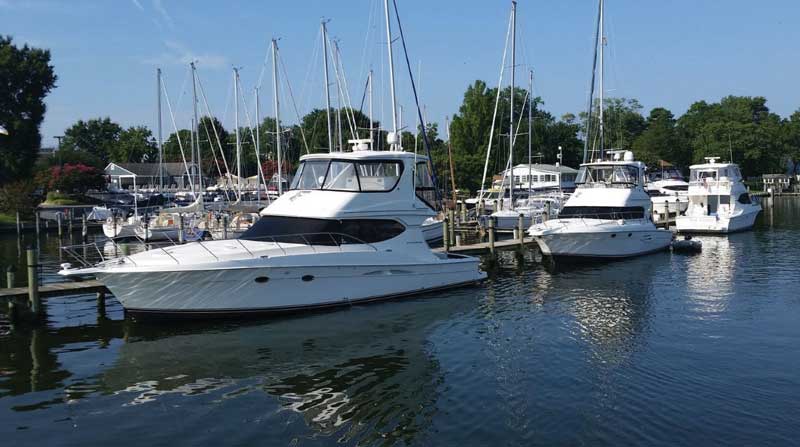 Preparing for such an adventure may be a long journey in itself. Smart mariners read cruising guides, such as "Coastal Cruising Under Power: How To Buy, Equip, Operate, and Maintain Your Boat" by Gene and Katie Hamilton, or take courses, such as Cruisers University around Annapolis Boat Show time or at TrawlerFest. Many boaters join cruising groups, such as America's Great Loop Cruisers' Association, to find experienced long-range cruisers who will share their challenges and recommendations.
For some tips on preparing your cruising boat for a long journey, we reached out to longtime boating editor Tom Neale, who is currently the technical editor for BoatUS Magazine and since the 1980s has written for a handful of high-profile boating publications. He wrote "All in the Same Boat" published by International Marine-McGraw Hill and a northern Chesapeake Bay guide published by Wescott Cove. Neale has owned numerous powerboats and sailboats ranging from 18 to 53 feet and currently has a Camano 41. Aboard a 47-foot and then a 53-foot motorsailer he raised his daughters, cruised the East Coast and other areas, lived for 30 years, and spent 19 winters in the Bahamas. 
Neale and his wife, Mel, have presented many seminars on living aboard, provisioning, anchoring, and other aspects of the cruising life. He says that much of your preparation "depends upon size of boat and the type of boat." When we asked about equipping your boat for inshore cruising, he said, "When we're talking about inshore, you need to consider the possibility of going offshore, because there may be a situation, such as a bridge going out or needing to make a weather window, for which you will need to go offshore at least for a short while." 
When it comes to safety preparation, he says, "The first thing that I would suggest is get a survey of your boat, for this specific purpose, by someone certified through SAMS (Society of Accredited Marine Surveyors) or NAMS (National Association of Marine Surveyors). It's worth the money. There are so many things, even in new boats, to look for. A well-qualified surveyor should be able to tell you what to look for and fix." 
In addition to the safety gear listed below, Neale says, "Good anchoring equipment is important; learning to anchor is important. It's often overlooked. Sometimes anchoring is the only option, while waiting for a weather window, for example." 
Neale recommends perhaps adding tankage. "Have enough water for days. Going around the Chesapeake, you can usually tie up at a marina to fill up your tank, but going down the East Coast, you may be very glad you have extra water."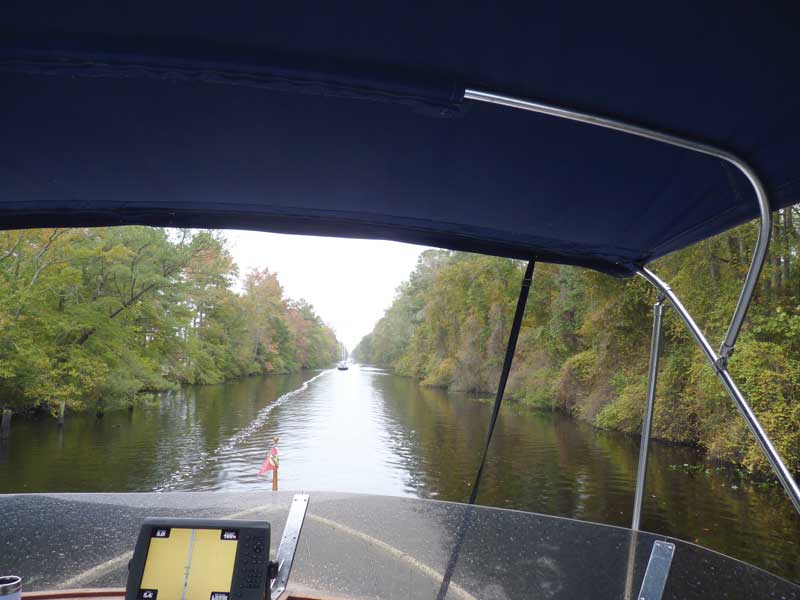 A sampling of equipment to upgrade
When equipping your boat for safety on a longer journey, there are many considerations to keep in mind. The following list is by no means complete, but rather intended as a guide to help you begin your safety preparation:
Personal safety gear—When boating on ordinary sunny, fair-weather Saturdays on the Chesapeake, you may not often wear your lifejacket, although you should. As Neale noted, you should prepare for your longer journey as if you will go offshore. You will want your own offshore lifejacket that fits well and is equipped with a harness and tether in case you should encounter rough weather or nighttime travel. Your personal safety gear should be equipped with items such as a whistle, strobe light, waterproof flashlight, and a personal locator beacon. 
Throwables—It's important to have throwable rescue devices designed to offer flotation for crew overboard and a means to bring them back to the boat and up onboard.
Communication—A reliable VHF radio and a handheld VHF (or two) are essential for a long journey. Know the working signal strength of your cell phone and be prepared for lapses on occasion, but these shouldn't be your primary means of communication. Signals are important, too. Equipment can include a small whistle attached to your harness or lifejacket, an airhorn on deck, and a good spotlight. In addition, you should be familiar with the Rules of the Road and the boat should be equipped to be fully compliant with the rules as to signaling, lights, and all other matters.
Medical kit—At a chandlery such as Fawcett Boat Supplies or West Marine, you will find onboard medical kits with smaller bags for each common type of emergency, such as "wound care," "burns," "bleeding," and the like. Also make sure the kit is equipped with scissors, tweezers, and common pain relievers. If you're going on an extended journey, you will want to fill up on your prescriptions in advance and have a plan for refilling them. You may need personalized medical kits with much more in them. Consulting your personal doctor is a great idea.
Fire extinguishers and alarms—Portable fire extinguishers should be mounted in every cabin. Many boaters choose to mount another one or larger automatic extinguishers in the engine room. Neale notes that you need to have smoke and CO2 alarms, too, and keep them upgraded.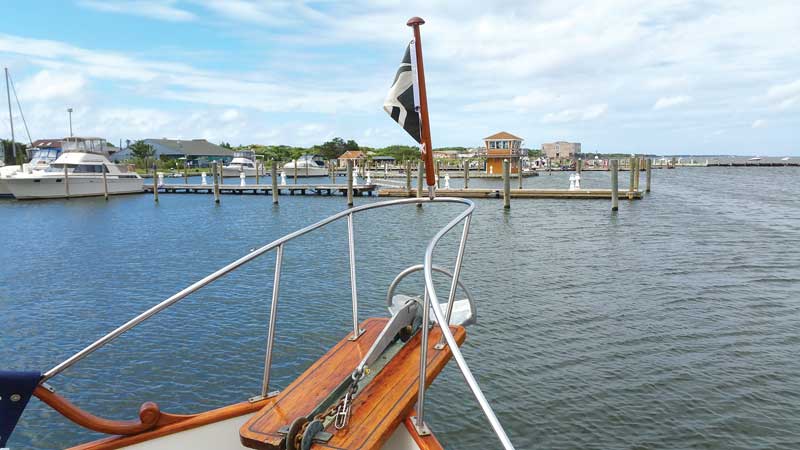 Bilge pumps—Some cruisers recommend having two large electric pumps with float switches and alarms. Neale says, "Bilge pumps are not designed to stop cataclysmic flooding. They're for a non-cataclysmic event. It's a common misconception that a bilge pump will keep you afloat, but it's not necessarily able to handle a lot of water coming in. The best thing you can do there is to have high-water alarms, audible and visual. Timing is critical. Having an early warning system gives you a chance to stop the water, make a MAYDAY call, or whatever is necessary."
Patching materials—Patching materials to have on hand in case you're taking on water include tapered foam plugs and a collision mat. Neale says, "It depends on what the damage is, what the hole is. There are various materials out there that may help you patch it up and allow the bilge pump to catch up. I carry a light thin sheet of plywood, plenty of heavy towels, and plenty of Life Caulk which is designed to set up and cure underwater."
Life raft—Neale says, "Get a substantial life raft, not a toy. You may need to use it in a hurry. You need to anticipate using it as rescue for yourself and have a survival package available (see next item)."  
Abandon ship bag—Also referred to as a "grab bag" or "ditch kit," this waterproof or water-resistant container is where you keep what you'd need if you must hop into a life raft in extreme cases of sinking or fire. The contents of the bag depend upon where you're cruising and other factors, but as a minimum, you will want an EPIRB (emergency position-indicating radio beacon), a waterproof handheld VHF radio, flares, signal flag and mirror, water, spare food, necessary medicines, and other items addressed in good cruising schools and resource material. 
Updated electronics—Neale says, "Electronics change continuously and are getting better. The more updated your electronics are, the better off you are." If you're refitting an older boat, this is particularly noteworthy. Your various onboard devices need to "talk to one another." If this is not your strong suit, seek expert advice from experienced long-range cruisers and marine industry experts specializing in electronics and navigation. Reliance on cell phone apps or the internet for navigation can be a problem in long-distance cruising unless you have the necessary equipment. A Wi-Fi signal booster is always a help when you're within range.