In the debate of RVs vs. boats, this Chesapeake couple realizes how many similarities the two hobbies have in common.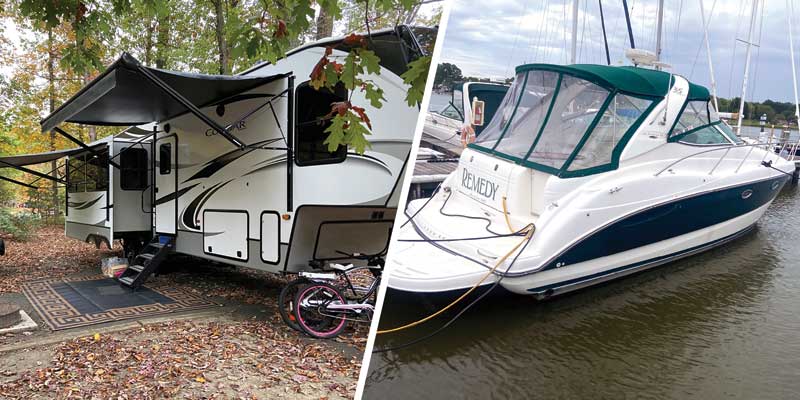 Toilet paper wasn't the only purchase that increased during Covid… Boat and RV purchases also went through the roof. My parents just happen to be both boaters and RV'ers so I thought I would ask them to compare the two. Here's what they had to say:
RV: Keystone Cougar fifth wheel, 36 feet
Boat: 35 Maxum
Campgrounds vs. Marinas 
At marinas, you're only renting a slip. At the campground you have more personal space to spread out, like a small yard with your own picnic table. And you can't have a campfire on the boat! But at marinas you also often get nice amenities like bikes, a pool… There are also a lot of similarities such as water and electric hook ups and showers.
The big difference is when you're backing a 36-foot fifth wheel into a space, you're just backing up. The only thing you have to worry about is how fast you're going and your maneuvering skills. But when you're backing in a 35-foot boat, you have the wind, current, other boats... (But in both instances, you don't mess with the driver when they're backing in!)
A major difference is that when you're camping, you have your own vehicle so you can explore greater distances. When you're at a marina, it's often how far you can bike and you're pretty much confined to that area.
In one instance, we rented a slip at a marina and were told it was an easy bike ride to a nearby yacht club (for a cocktail class race). "Not far at all," we were told. A 40-minute bike ride later on a 95-degree day...
But whether you're at a campground or a marina, you're usually lucky enough to be surrounded by friendly people who share the same interests and are always willing to lend a helping hand.
To Sleep or Not to Sleep
The nice thing about an RV is wherever you go you take your bed with you. You're basically rolling down the road with your home. And the same could be said for some boats, depending on the size and layout.
Also, you don't have to worry about the RV sinking (or the anchor dragging). When you wake up in the RV, chances are it's going to be exactly where you left it (barring a natural disaster). When you go to bed on the boat, no matter how experienced you are, there's a part of your brain that is always aware of issues that could arise.
What it Takes to Prepare
It's about the same—we try to keep necessities stocked on both the RV and the boat so there's less to prepare before each trip.
The journeying aspect, whether traveling to a campground or marina, is about the same. Gas is expensive for both hobbies, and for both you also must prepare for stress and/or delays. With driving you might hit traffic, but with the boat you might have storms or rough seas. You have to prepare for all possibilities.
Favorite Places
The main thing I like when you compare the two is that in an RV, you have the ability to explore places you can't get to in a boat (at least the type of boating we currently do). We use the RV as a basecamp where we travel greater distances to explore whereas with the boat, we use it more locally.
By Boat: Worton Creek, Rock Hall, Annapolis, St. Michaels
By RV: Florida Keys, Watkins Glen in New York, New England states, and Lewes and Bethany Beach, DE. Our favorite local spot is Delaware Seashore State Park; we visit several times each season. There are many natural wonders here in the U.S. and we love visiting these treasures.
While talking this over with my parents, they realized that there is something in common for both hobbies. Almost all of the places they have stayed in the RV are on the ocean or a local body of water, and they always have inflatable kayaks and paddleboards ready for use.
Does one hobby stand out over another in their mind? Not really; they feel very lucky to be able to do both and have come to realize even more how many similarities the two share. And for this Chesapeake couple, the main similarity is water.