If you seek a new city experience on a classic powerboat, Sea Suite Cruises on Market Pier at the DC Wharf has just the boat ride for you: Retro boat rentals. These well-maintained and freshly renovated, classic fiberglass runabouts boast eco-friendly electric motors, so don't expect to go fast! Do expect to turn heads as you and your friends or date motor along the Washington Channel checking out the sites.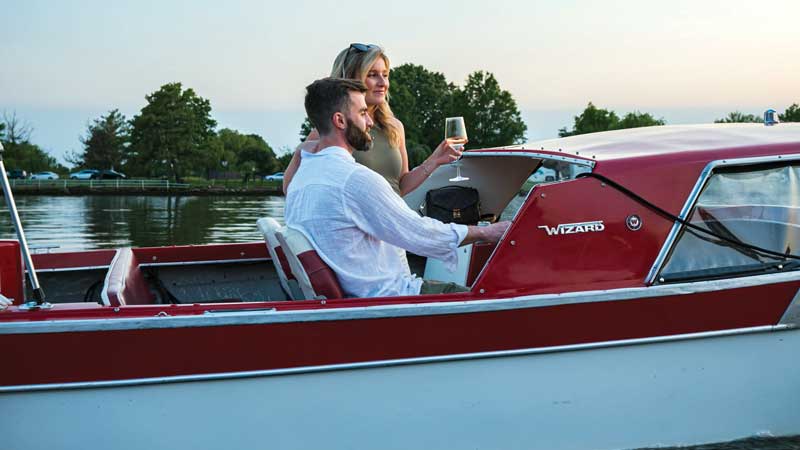 Among the boats you may rent are Gladys, a red 1950s Wizard Boats runabout with chrome details, fanciful fins, and headlights, and Violet, a blue, jet-age-era Bell Boy runabout. These boats are retrofitted with Torqeedo electric motors, making for a quiet ride and allowing for conversation and enjoyment of the DC waterfront. 
No prior boating experience is required, but you must show a valid ID to prove that you're 21 years of age. Children are welcome with their parents; those under 13 years of age must wear lifejackets. (No dogs). The boating experience will be comparable to driving a golf cart with a forward and reverse throttle; these boats max out at 4.5 miles per hour of boat speed. Boaters will find lifejackets, an anchor, paddles, and a blow horn onboard.
Boaters may bring food and their own beverages, including beer, wine, seltzers, and champagne (no hard liquor), as long as they are consumed responsibly and the driver of the vessel is not drinking at any time. Bring sunscreen, water, or other gear for the outdoor elements. Cruising down the Washington Channel within a boundaried area provides opportunities for amazing pictures of the Wharf and adjacent scenery such as the Washington Monument, 14th Street Bridge, War College, and East Potomac Park.
The following activities are prohibited on all Retro Boat Rentals: swimming, fishing, docking anywhere other than the dock from which you disembark, and smoking. DC Harbor Patrol headquarters are located on the Washington Channel, so they monitor and strictly enforce the rules, as do Sea Suite's other charter boat captains and crews operating along this route. 
Rentals cost $175 Monday through Thursday and $225 Friday through Sunday for 90 minutes on the water. Learn more at seasuitecruises.com/washington-dc/retro-boat-rentals.