Despite the fact that the Depression was still stifling demand for Chesapeake Bay fishing charters, a waterman known as Capt. "Cowboy" Collins ordered a new deadrise 41-foot boat in 1938 for half- or full-day charters on the Bay.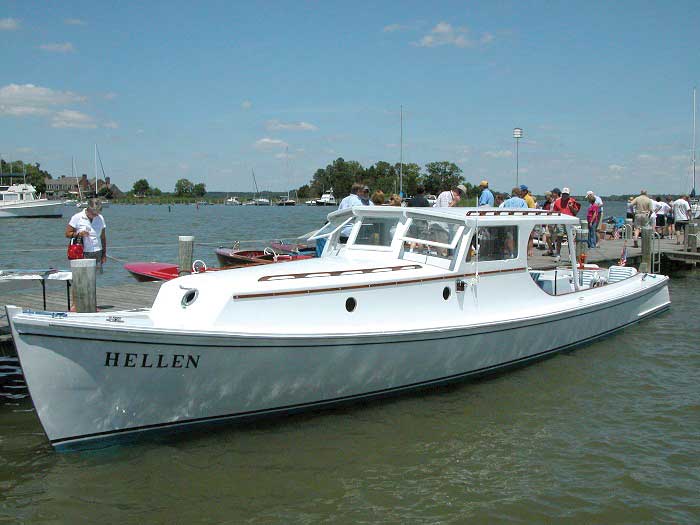 Capt. Collins had very specific requirements for his new charter boat. She was to have a single inboard engine mounted amidships, plus a straight shaft with a separate rudder. A gas engine with a gearbox was selected.
And his list continued: a sharp forefoot at the bow that flowed into a full keel along the hull, and then back to the large rudder at the stern. She was to be narrow beamed for an easy set of lines to glide through the water. Hellen, as she was to be named, was specked with solid wood framing as was the planking since she would be a displacement boat and, finally, an overall paint finish for easy maintenance. 
An extended open cockpit aft with a three-sided wheelhouse amidships and forward for the helm station was picked. Forward of that and below was to be a small cabin area with a small gear bow cabin and space to sleep inside.
Capt. Collins took delivery of his new deadrise in 1939 and worked the waterways as a waterman in the charter boat business. They were a team on the Bay until 1953.
Fast forward to another century, when I had the privilege of being aboard Hellen. Brian Clark, the great grandson of Capt. Collins, jumped at the opportunity to return the boat to his family, where he is a fourth-generation waterman. By the time Brian acquired Hellen it was several owners later. Although her name hadn't been changed and she was still in sound condition, the old girl was definitely in need of a complete update.
Brian's vision was to repower and recast this Jimmy Rogers bay-built as a Bay cruiser that he and his wife, Cristina, could use to host friends on rides around the Bay. He undertook the entire restoration at his uncle's boat yard, Collins Marine Railway, in Deale, MD. 
Although her wood hull needed caulking and painting everywhere, no plank replacement was required. The condition of her trim, though, was a different story. Replaced and refreshed, Hellen now has far more varnished trim than a single-purpose workboat would. The varnish accents that Brian added really set off this boat in any crowded docking area. Padded chairs and a table for cocktail cruising are mounted yet easy to remove and are just the thing for relaxation aboard.
Brian also replaced her steering system, which tightened up her hard-over-port to hard-over-starboard wheel turns, bringing her handling up to modern standards. The new system also lightened the wheel resistance. Then Brian dropped in a 454 Chevy replacement engine with a new Morse throttle and shift controls and made the necessary changes to her running gear to get top-notch performance on the waters of the Chesapeake Bay. Hellen is an inboard, shaft-drive boat with a displacement-style hull shape, so even at wide-open throttle (WOT) she does not plane.
Hellen has a small cabin. Down below are two V-berths and a portable head. Cushions and pillows allow for a nap or a very basic overnight sleep-off. Water and other liquid refreshments are carried aboard each cocktail cruise in an ice chest. 
Hellen is not a self-contained weekender by herself, as there is no shore power hookup. Instead, getting a shore-side hotel room for sleeping, showering, and getting ready at the beginning of each day is a great way to use her as a cruiser to visit a multitude of stops around the Bay. I personally cruised in an open boat all the way from North Miami, FL, to Annapolis, MD, without sleeping aboard one night.
With Brian at the controls, an afternoon cruise appeared easy. He's very skilled at the helm, as most watermen are. Quick yet relaxed, Brian adjusted the boat to get her snugged to a pier. Nothing was out of sequence; nothing was done at a different speed or pause. Brian instinctively knows what he needs to do with the wheel, throttle, and shift and makes it look simple every time.
By Chris "Seabuddy" Brown
---
For more Classic Boat features, visit our Boatshop Reports.