You're out on the water, enjoying the sun and the breeze, when you stumble across a pod of sailboats. A regatta, how wonderful! Time to go watch the bright colorful sails and exciting action. But while you may have no problem getting up close and personal with the sailboats, they may not appreciate getting up close and personal with you, especially as championship season approaches in the fall. If you want to spectate a sailing regatta, make sure you know how to be a spectator, not an obstacle.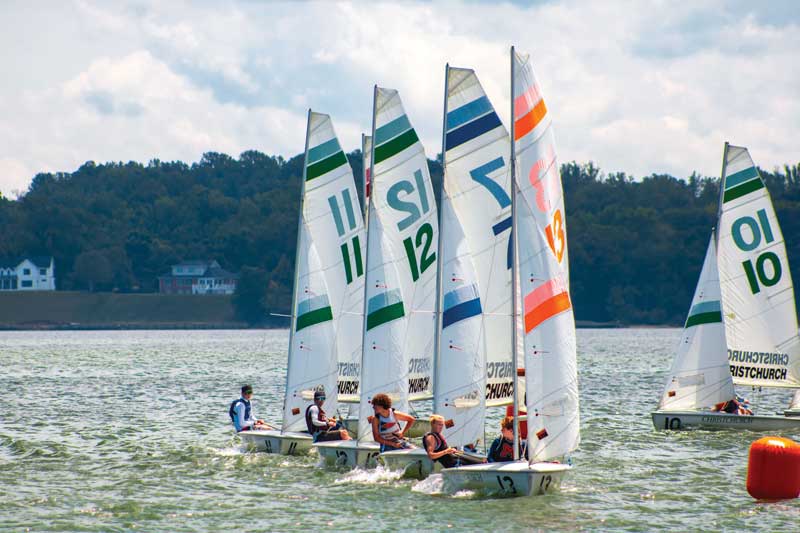 Most regattas will have a racecourse that runs parallel with the wind, with the start line downwind. If you see an anchored powerboat with a bunch of flags, that's probably the committee boat, and it marks one end of the start line. There should be a floating mark, usually a very bright color, at the other end of the start line. You'll want to steer clear of the whole starting area, not just the line itself, so don't hover right next to the committee boat thinking you're safe.
Upwind of the start line, there will probably be one or two more marks. These are the other end of the course. You'll also want to steer plenty clear of these marks, as well as all of the water in between them and the start line. And, because sailboats can't sail straight upwind, they'll be tacking back and forth (which will look like big zigzags) between the start line and those upwind marks, making the race area wider than it may appear. The best place to watch without disturbing the racers is likely upwind of the upwind marks, plus you'll get a great view of them all rounding the marks and potentially raising colorful spinnakers.
As you approach a course or go past it, be conscious of your wake. In highly competitive regattas, one wake at the wrong moment could be the difference between first place and fifth. Remember that the sailors have the right of way over powerboaters, no matter how big your boat is and how small theirs are. And when in doubt, give the racers more space than you think they need. With these things in mind, sailors can race without interference, and spectators can watch safely and respectfully.
 By Kelsey Bonham