With more new boaters on the water than possibly ever before, that "secret" raftup spot or anchorage of yours might not be so secret anymore. But if we can share anchorages safely with fellow boaters, we'll all be the better for it. When you're out on the water, keep these tips in mind. It's going to be a great summer.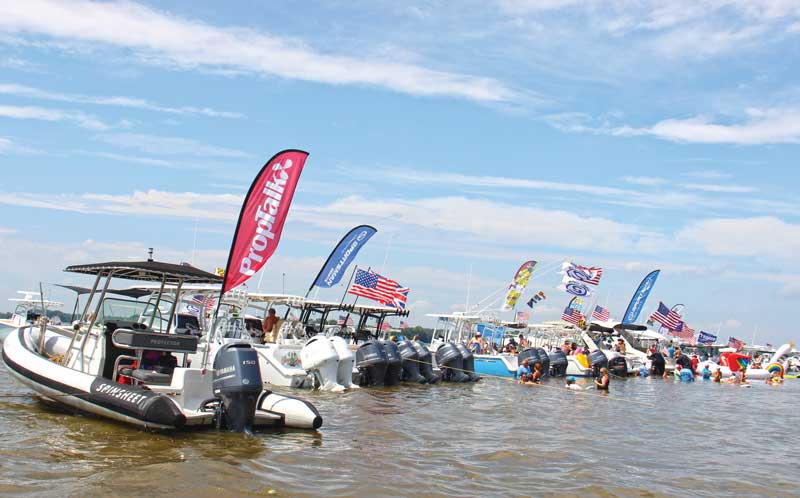 Anchorage Etiquette
Courtesy of BoatU.S.
Come in slowly. If boats are already anchored, come into the anchorage slowly so as not to throw a big wake, and pass behind anchored boats to avoid snagging anyone's anchor line. If you come in at night, try not to blind your fellow boaters with a million-watt spotlight. Keep the light aimed low, have all your deck lights on, and keep your voices low and clear.
Respect the space of other boats. Anchoring is on a first-come, first-served basis, especially at popular spots. Boats that come in later need to respect the space needs and the 360-degree swinging room (with rode stretched out) of all the other boats there. If there's simply no room, do not try to squeeze in. Find another anchorage.
Make sure your anchor is set. Do not go ashore in the dinghy or to cocktails on another boat before making sure your anchor is properly set. Otherwise, after you leave, your boat could pull free, knocking into other anchored boats and causing a horrible chain reaction.
Sound carries. Sound tends to carry longer distances over the water, especially after dark. Sounds that might be muffled onshore, such as dogs barking, music playing, or even normal conversations, tend to seem amplified out on the water.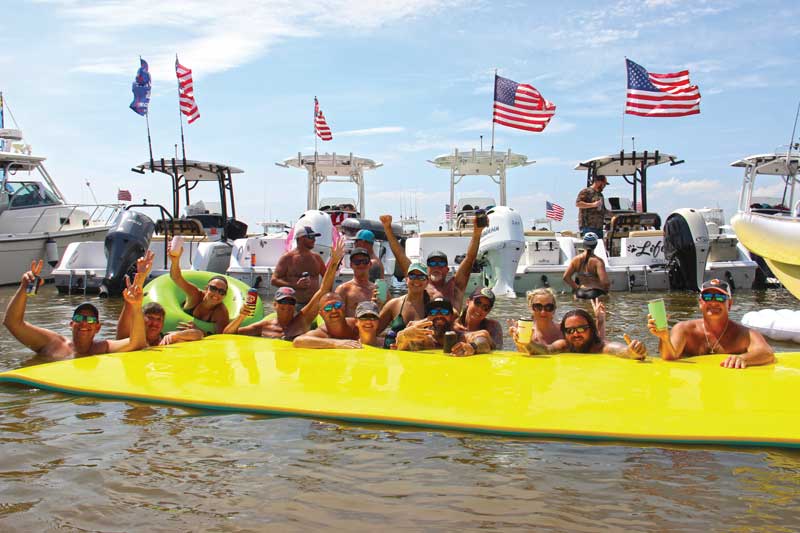 How To Raft Up to Other Boats
Courtesy of MarineMax. You can also find helpful YouTube videos on rafting up if you would like a visual.
Scout the raft up location ahead of time and make a plan. Know the depth, where the boats will specifically be rafted up, and how many boats plan to attend. The heaviest boat should be the host boat and set the anchor. The remaining boats should arrive in order of next heaviest to least.
Set the anchor. The host boat should position the anchor at the center of the raft-up location, allowing for swing.
Fenders and lines. As boats arrive, they should have their fenders out (lots of fenders) and lines in place. Boats of similar freeboard should be tied next to each other.
Bring the boats into position. Slowly ease in the next boat alongside the host boat and heave the bow and stern lines to the host boat to bring it into position. The next boat will approach the host boat from the opposite side, leaving the host boat in the center. As more boats arrive, they should line up on every other side.
Align each boats stern to the one next to it (when possible). This way, people can move from boat to boat via the swim platforms. This is safer and easier than climbing from boat to boat over gunwales and handrails. Use spring lines to adjust the boat's positions in relation to the host boat's stern.
Time to leave. The last boat in will be the first boat off and the rest of the boats, one at a time, release and ease off the raft-up. It is best to back down from the raft-up to avoid crossing the host boat's rode.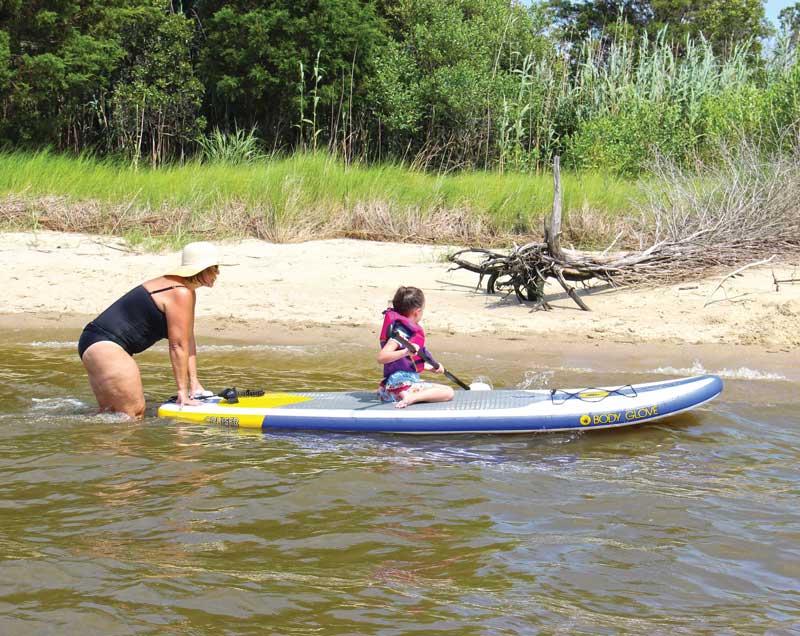 What to Pack:
Extra towels
Plenty of sunscreen
A good book
Toys for the kids
Sunglasses (and maybe an extra pair in case one goes swimming)
Snacks
Tunes
PFDs for everyone onboard
Binoculars
Don't forget the boat dogs!
Turn off the phones (Several boaters have told us, especially those with young kids, that they have a 'no devices onboard' rule, and for good reason.)
Don't Forget Water Toys!
We polled our readers and here are a few of their "gotta have" toys on the boat
Pool noodles
Floating loungers
Floating ping pong or other water games
Towables (tubes, waterskiis, wakeboards)
Nettle Net—provides a jellyfish-free swim area off your boat or pier.
Sand toys
Popular Anchorages:
These are just a few popular Upper and Middle Bay options; find more at proptalk.com.
Still Pond (Check out the See the Bay on Still Pond in the June PropTalk)
Fishing Battery Island
Cabin John's Cove, Elk River
Lloyd's Creek, Sassafras River
The "Left Bank" and the "Ski Beach" in the Bohemia River
Fairlee Creek
Conquest Beach, Chester River
Shaw Bay, Wye River
Find more details on some of the above locations in our Upper Bay Anchorages article.