The 2021 Fish For a Cure (F4AC) charity fishing tournament takes place November 6. This is a very special event, celebrating its 15th anniversary, which has donated more than $3.4 million to cancer survivorship programs at Luminis Health Anne Arundel Medical Center's Geaton and JoAnn DeCesaris Cancer Institute since 2010.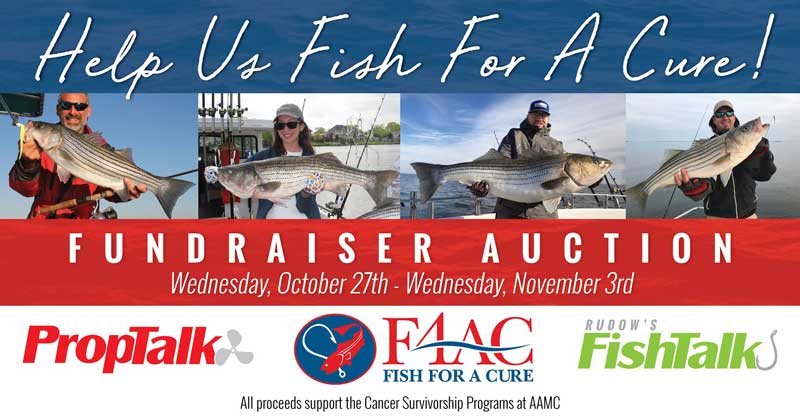 Here are a few ways you can get involved:
Fish the Tournament
The entry fee is $500 per boat (for the captain and up to three anglers) and $150 per additional angler. There is also a kayak division—a four-man kayak team may register as one boat and will be afforded the same privileges and be required to abide by the same rules as any individual registered boat. But the tournament is about more than catching the biggest fish; each entry is expected to raise at least $1500 in the Paul C. Dettor Captain's Challenge. It is a charity tournament, after all.
The weigh-in event and the Captain's Challenge announcement will take place in-person at the South Annapolis Yacht Centre from 4 to 7 p.m. November 6. After fishing, you and your crew can celebrate after a great day on the Bay with the F4AC Portable Party Pack, which provides each boat with a spirited and delicious box of catered cuisine and some amazing swag from local businesses.
Help a Boat
Fishing not really your thing? You can still get involved by donating to a team and helping them win the Captain's Challenge. You can also just make a general donation to the Fish For a Cure cause. If you want to help Team FishTalk/PropTalk, make a donation under our team's name, OR you can also make a donation by participating in our online auction fundraiser, October 27 through November 3, 2021 at 5 p.m. Click here to view items up for bid, including a fishing trip with FishTalk angler in chief Lenny Rudow, a guided goose hunt for four, original artwork by Eric Packard, fishing tackle, and more!
Marina Challenge
If you participate in the tournament, make sure to designate your preferred marina when you register. If you're a marina and want to participate, download the F4AC Marina Challenge Packet (available at fishforacure.org) and submit your registration form to [email protected]. Once your information has been received, your marina will be added to the Fish For A Cure boat registration page. The Marina Challenge runs now through October 30. The winner of the Marina Challenge will be announced at the F4AC Captain's Meeting on Wednesday, November 3.
Visit fishforacure.org to register your boat, make a donation, check out the fundraising leaderboard, and learn more about the amazing cause this tournament supports. And when you're out on the water, don't forget to tag @fishforacure on social media and use the hashtag #f15h to celebrate the tournament's 15th anniversary. This event should be on everyone's radar.
Weigh-In event and the Captain's Challenge announcement will take place in-person at the South Annapolis Yacht Centre from 4-7 p.m. on November 6.