Chris O'Dell did not begin professionally powerboat racing until age 38, but he's been hooked ever since.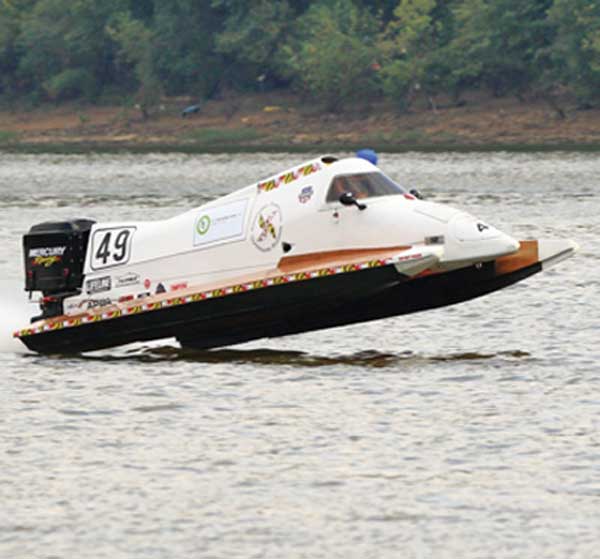 Chris is based out of Southern Maryland and has always had a passion for boats and the water, ever since he was a kid. "I've been driving boats since my early teens," says Chris. "I grew up in California, MD, catching crabs on the Patuxent River and still catch them to this day.
"I just love the water and I love going fast. I remember watching tunnel boats race in West Virginia, and I said, 'I want to race that boat.' Up until then I knew I wanted to race but I wasn't sure in what class until I saw the tunnel boats.
"I kept putting it off and finally decided I was going to fulfill my dreams of becoming a race boat driver."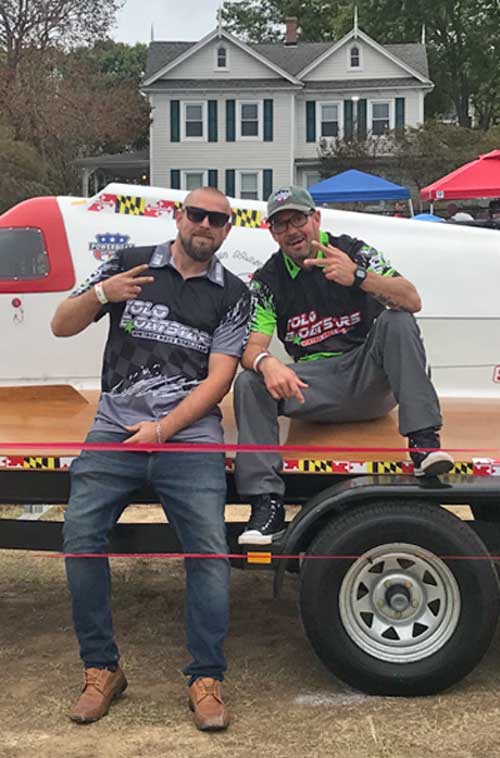 Today Chris owns two race boats and is in the process of looking for a third, fun boat that's still competitive but can fit more people. He competes in vintage events and professionally in Outboard Performance Craft (OPC) classes in VP 75 and the Formula 1 Large Tunnel Hull class. According to the American Power Boat Association (APBA), OPC boats are capable of speeds of more than 140 mph.
This class features some of the biggest, most powerful outboard engines in powerboat racing. Today's most high tech OPC race boats can start from a dead engine start, go from zero to 100 mph in six seconds, and turn 180 degrees with forces of up to five Gs. These tunnel boats are the fastest turning vehicles in the world.
While Chris loves tunnel boat racing, he says it's "very competitive and very stressful; there's a lot of money involved." He also competes in the VP 75 class because he wanted a fun boat in which he could "pretty much do everything himself," as far as prep and upkeep, because there's a lot more to racing than simply driving the boat.
"There's a lot to it," says Chris. "There's training, costs for the APBA… and I can't do it all myself. I would like to be able to afford to travel to more venues; a lot of them are in the middle of the country, and I'm a one-man team."
Locally, Chris started his own small group, the Southern Maryland Outboard Racing (SMOR) club, to get together with other like-minded folks who share the same passions for powerboat racing. Currently they have five members. He also participates in strictly exhibition-style events with the Southern Maryland Boat Club. These are not racing events; there are no ribbons, trophies, or points for who finishes the heat first or last. Participants do it because they enjoy the thrill of running these old boats and having fun on the water. The goal of Southern Maryland Boat Club is to promote a love of vintage race boats and bring a small piece of history back to the waterways of Southern Maryland.
"When you get involved in racing, it's a big family. Everyone's there to help each other get out on the water and be successful. It's all about making sure the boat and driver get back in one piece." Chris added with a chuckle, "because I have to go to work on Monday."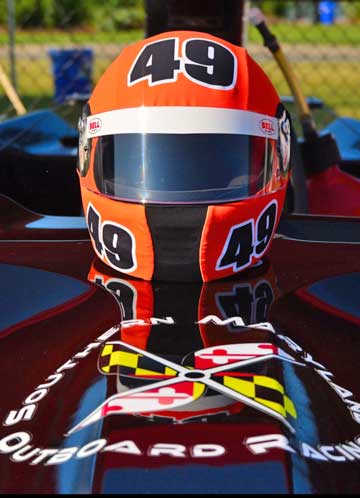 Being a one-man team does occasionally take a toll on Chris, but he's not giving up his passion anytime soon. He's able to make it work because he works for himself and luckily has a flexible schedule.
Chris has been racing for three years now. His goal moving forward is to get a sponsor(s), which would allow him to race more often by traveling to more venues around the country.
"Currently, it's all coming out of my pocket. You must pay for race fuel, food, hotels, pay for crew… But if I had a sponsor, more money would mean better equipment.
"Things have to get done, and they won't get done on their own. Whereas other people are having fun on weekends, I'm working on my boats. But I've researched, I've talked to people, I've raced with the best of the best, and I've come a long way. I'm ready to grow. I get more involved as the years progress.
"In the end you gotta be last to be first. You gotta work your way up." And that's exactly what Chris is doing. Look for him out on the water, #49 SMOR Racing.
---
For more racer profiles, race results, and photos from recent events, visit our Powerboat Racing page.