Charlie Miller, known as "Papa" and sometimes even "Boat Brain" to his family, was born in 1926 in Elizabeth City, NC. Now living in Annapolis, MD, Charlie sat down with us (virtually) to discuss his many successful years of powerboat racing, having been a member of the American Power Boat Association (APBA) for over 70 years.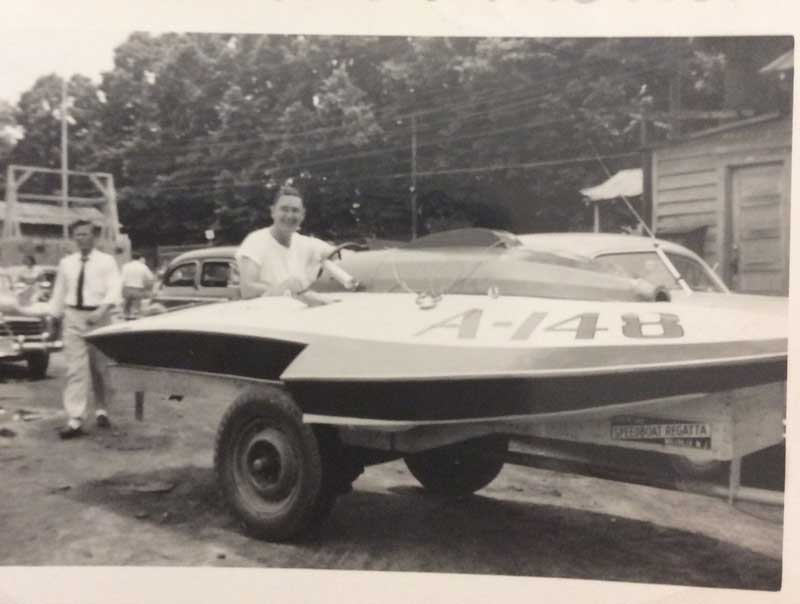 "I've always been on the water," he says. "I started racing Moth sailboats at age eight." In his teenage years Charlie would travel to Atlantic City to race Moth boats, and that is where he fell in love with hydroplane racing, purchasing his first boat at age 23.
Joining us on the call was Charlie's daughter, Mimi Miller, and her niece Missy. Mimi shared how her father went on a blind date with her mother when he was first getting into powerboat racing. "He had a boat and she had a car with a trailer hitch (he didn't), so he married her," says Mimi.
The first boat that Charlie purchased was a Ventnor, but after not doing so well in his races, he decided to try his hand at building a boat of his own. 
"I had some previous experience with Moth boats, but I was really learning as I went. (Luckily) It went well building boats," says Charlie.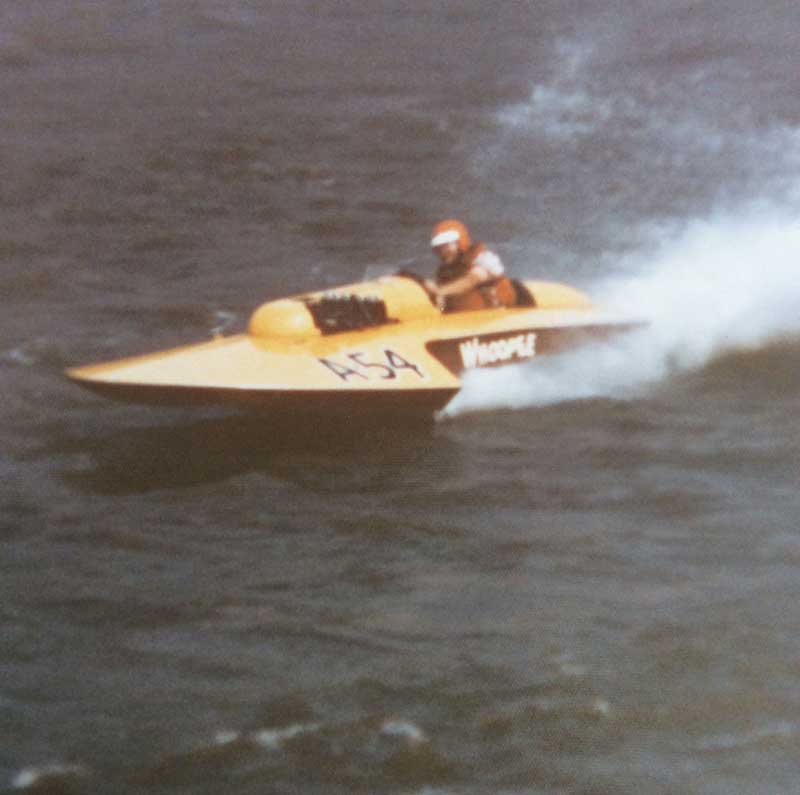 That first boat led to many others, and Charlie went on to lead a very successful racing career. He competed until he was 53 years old, "when my heart gave out," says Charlie, and won every championship there was to win in the U.S. Then he got his son, Chuck Miller, in on the action.
"I trained my son in my boat," says Charlie. "He was 14 when he started, and I put him in my boat when he was 17. When he got the bigger boat, he was a killer!"
All total, Charlie built seven boats, all named Whoopee. He says, "I couldn't afford to buy one, so I built my own. I built my own engines, too." The last Whoopee, A-54, was the fastest, and he still owns it to this day. Charlie's license plate on his car also reads "Whoopee."
I asked Charlie if he ever felt nervous going into a race, because when he first started out, he had experience in sailboat racing but not powerboat racing. "I went from two mph to 100 mph, so I was a little nervous," he remarked, chuckling. But he adds, "I had so many people there to help me out. I had a few flips but nothing serious."
Over the years he always raced in the same class but with slightly different boat designs and engines. Charlie raced in APBA Region 4 and traveled to about 46 different sites in the region to compete. And at each race the whole family would come along.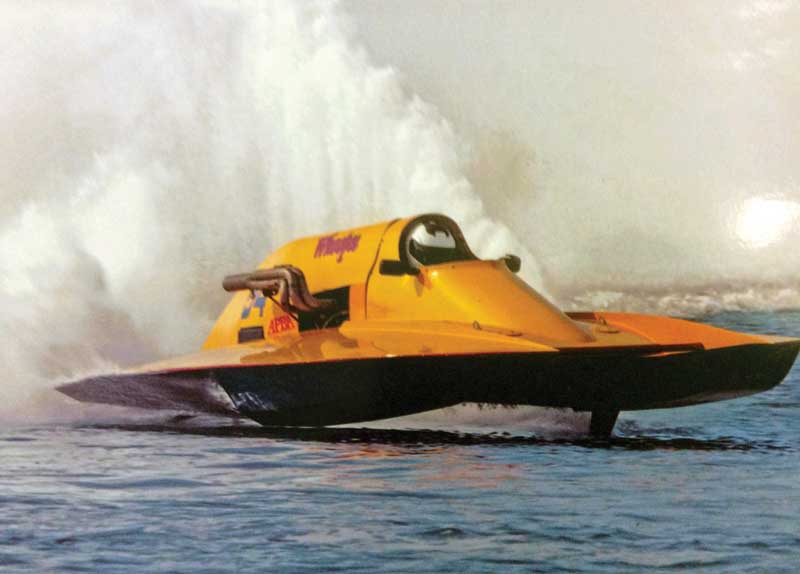 Of that time, Mimi remembers how they started going every weekend to the races. "It was the greatest place for kids," she says. "If you ever needed help, someone would help, and it was just a great place for fun and friendship.
"Growing up, my siblings and I lived above the garage, and the night before a race Papa would be out there until 1 a.m. revving the engine, and the neighbors would be flashing their lights…" Mimi chuckles as she says this, while her father just laughs, explaining how he had to make sure everything was just right before a race. 
Listening to their stories, you can really get a feel for how much racing means to this family.
"We have so many good memories," says Mimi.
She went on to tell us how at one race on the Schuylkill River in Pennsylvania, racers would have to drive through a cornfield to get there. And everyone would have their trailers and camp out and tell stories. "It was really fun," says Mimi.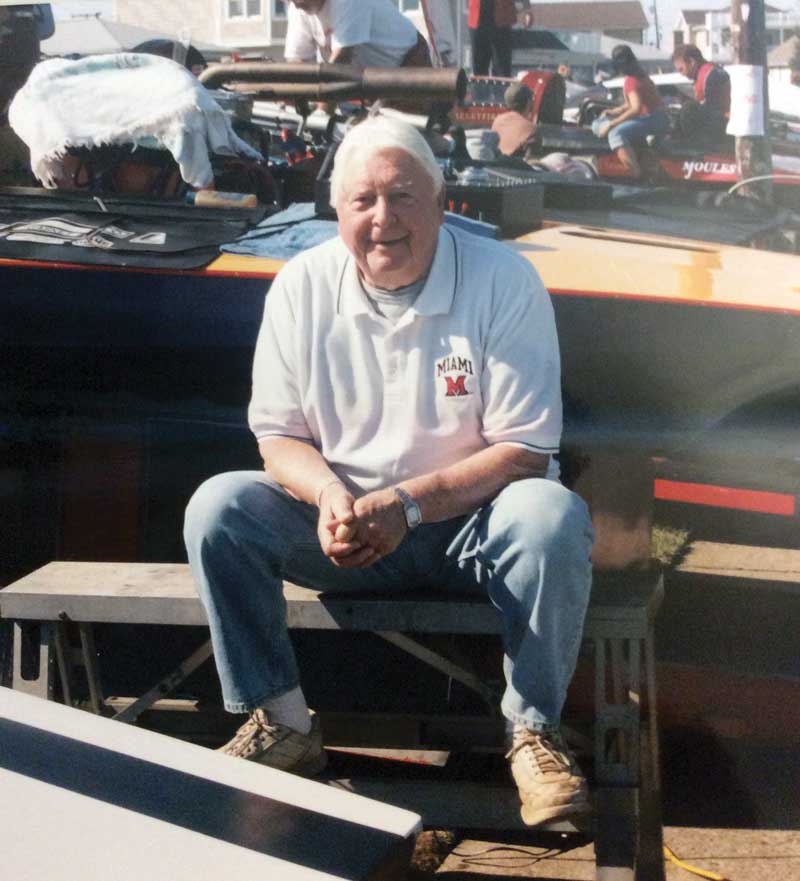 Mimi's niece even met her husband at a race. His grandfather was a racer who competed against Charlie. This man, Bill Moore, passed away last year. He became an announcer after his racing career ended but could not seem to give up the sport like many older racers. He could really get the spectators going during a race. Once hydroplane racing is in your blood, it is there to stay.
Sadly, there are far fewer racers and far fewer venues for racing these days. Charlie explained how they used to travel to 46 race sites in their region, but now that number has shrunk to just three.
One reason for this is the cost. "It has gotten so expensive," says Charlie. "You need young people, but it's so expensive. It used to be that people would build their own boats and engines. Now there are so many safety features which drive up the cost."
But the sport has come a long way, explains Charlie. "When I started out, powerboat racing had the highest fatality rate of any motorsport. It's changed a lot, gotten a lot safer."
Charlie and Mimi shared one race memory that they still almost can't believe. It was at a race in St. Michaels in the early 1950s or '60s. Mimi explains how the race was rained out in the morning, so all of the racers pulled out their coolers and started drinking. Well… the rain cleared by the afternoon and it was time to go racing.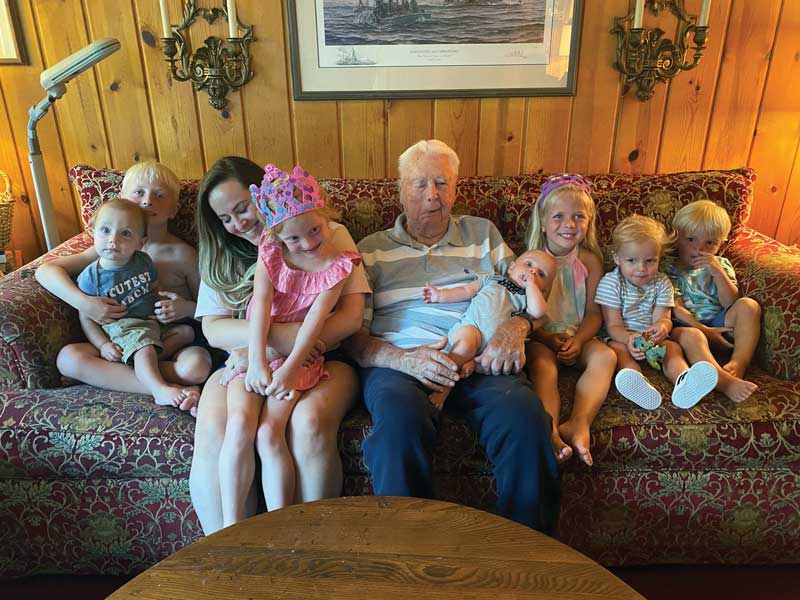 Charlie says, "Let's just say there were some close calls. It's changed a lot these days, it's gotten much safer."
I asked Charlie if he had any recommendations for someone who was looking to break into powerboat racing. His biggest piece of advice was to start small and to reach out to other racers. "Larry Lauterbach's father was one of the first people I met when I got into racing," says Charlie. "He was a very nice guy and always willing to help out and share information. These days Larry Lauterbach and Wheeler Baker are probably the most knowledgeable. Wheeler will talk to you for hours about racing."
Mimi adds, "Just be around racing. See what others are doing. The Miller family worked the gate at the Kent Narrows powerboat race for 35 years. It's the greatest group of people in the world."