I know this is a boating magazine, but sometimes you may want to spend a few hours pier fishing without getting the boat off the trailer or the dry storage rack. Just grab a few rods and some bait, a comfortable folding chair, some cold drinks, and snacks for a few hours of relaxing fishing.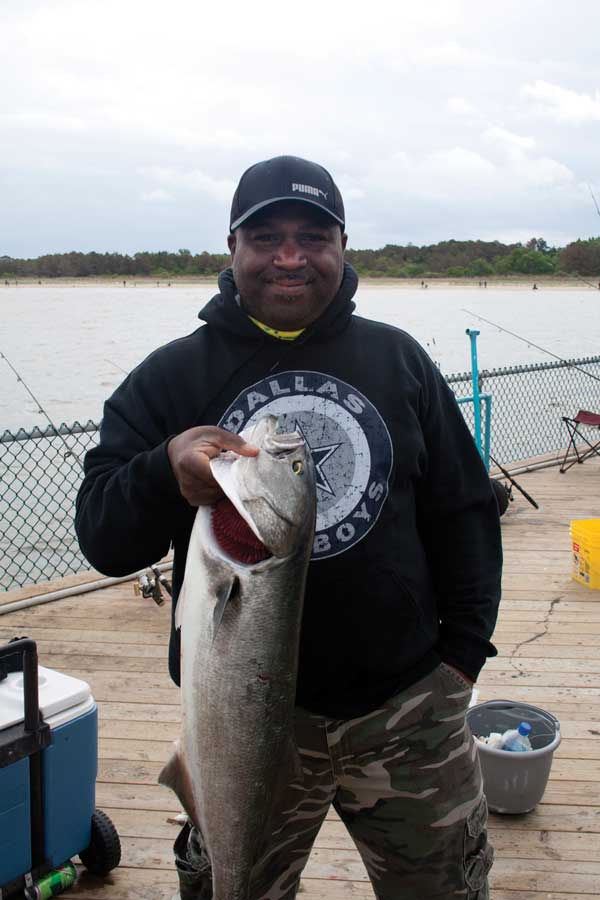 Piers are also great for getting the kids out fishing. They can fish or run around as they are wont to do when the fishing is less than exciting. Most of the fish they will catch from a pier will be small, just right for a kid with a cartoon rod and reel. 
And then there is crabbing. Some piers allow crabbing so you can go home with a few blueclaws even if the fish aren't biting.
You want to pack light when fishing on a pier. One or two spinning outfits that will work well with 12- to 15-pound mono line, a few top-bottom rigs, and a few sinkers in the one to three-ounce range. I also carry a few metal lures in case a school of blues show up in casting range. I have a small cooler that will hold a couple of cans of soda and a sandwich or two along with my bait. I seldom bring fish home from the pier. I give them to my fellow anglers, so I don't need a fish cooler.
Two items that you will need are sunscreen and insect repellent. There is no shade on the pier, so the sun gets pretty intense. Any wind off the land will bring hordes of flies that will try to suck all the blood from your body.
Serious pier fishermen have custom built caddies that hold everything they need to survive a nuclear attack. I can get all my stuff in a five-gallon bucket that fits inside the box on a very inexpensive hand cart that I can easily roll from my truck to the pier.
Most of the time I will fish from the pier with one or two lines in the water while I relax in my chair and watch the waves, the birds, and my fellow anglers. The latter are often times more entertaining than the wildlife.
Bloodworms are a favored bait for pier fishing, but over the past few years I have used more Fish Bites than the natural bait. Fish Bites are less expensive than bloodworms and if you have some left over after a day of fishing, just seal the package and they will be ready for the next trip.
The old standby top-bottom rig tied with two small circle hooks will work just fine for the croakers, perch, and spot that are the mainstays of pier fishing in the Chesapeake Bay. Even the ocean piers, like the ones in Ocean City, are going to see mostly panfish.
If you go on the fishing piers in North Carolina, you will encounter an entirely different type of pier fishermen. These guys and girls live on the end of the pier where they use a trolly rig to fish with live bait for king mackerel, tarpon, and big red drum.
A trolly rig uses a long-distance casting outfit to send a heavy sinker as far out as possible. Then a second rig is used to drop a live bait, usually a small bluefish, on a release clip down the line from the first rod. After setting up the trolly rig, the angler will fish for bait that he or she will keep in a live well tied to the pier.
Back to the more relaxing fishing in Maryland. I will fish one rod with a bit more action by reeling the rig slowly back in after making a long cast. This covers more of the bottom, may attract a fish by the sound and movement, and just might keep the crabs from robbing me blind.
Another technique that could improve the catch rate is fishing the bait close to the pier pilings.  Some fish, like sheepshead and flounder, will feed close to the pilings and by dropping a bait right in their laps, you just might catch one. You do have to pick the pilings where no one else is fishing.
Some piers, like the one at Cape Henlopen State Park in Delaware, fish best on high tide. The bottom has shoaled up under the pier so only the very end of the pier is over water on low tide. 
By Eric Burnley