As the waters begin to warm in March, yellow and white perch will become more active, and this is the time to have some fun with light tackle. It is possible that the yellow perch run could be well underway if we have a mild winter, but white perch are available all year in the tidal creeks and rivers as well as the open waters of the Chesapeake and Delaware bays.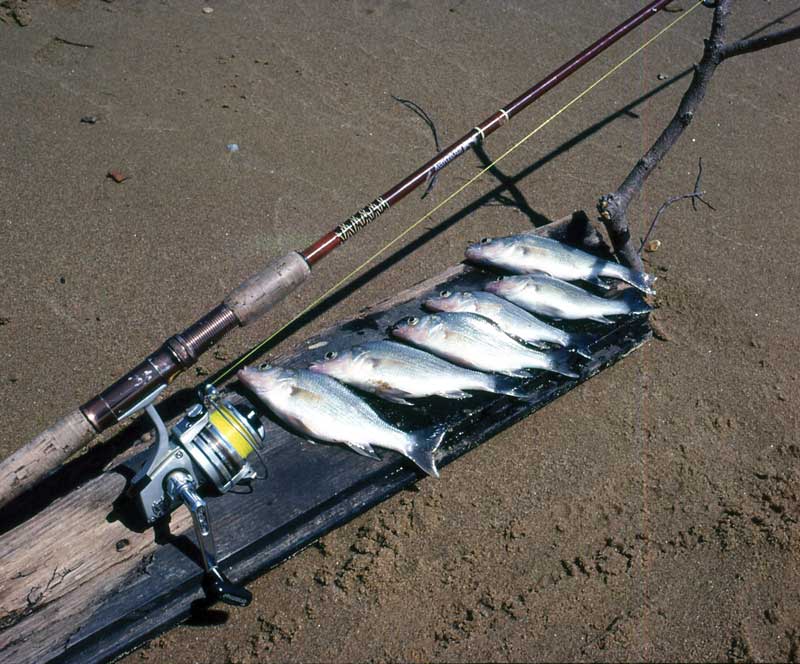 I must assume that most of the folks that read this publication own boats and have the ability to fish pretty much anywhere they wish, but fortunately for those who either don't have boats or who are fortunate to have boats so big they won't be comfortable in some of the skinny water where perch are caught, these fish may be taken from numerous shore points. Perch fishing is also a good way to scratch the angling itch before de-winterizing your boat.
Tackle for catching perch is pretty basic. A six- or seven-foot spinning outfit with a reel full of 10- to 12-pound mono line should hold any perch you are likely to encounter. Younger children can have lots of fun using closed face reels matched to rods that carry the logos of popular cartoon characters.
Small circle hooks on mono rigs with one- to two-ounce sinkers should work in most perch-fishing situations. The best bait will be bloodworms or earthworms when bloodworms are not available. Live minnows are also good but require a method to keep them alive while fishing.
Both species of perch travel in schools. If you catch one, there should be more in the same location. As a general rule, perch hang around hard bottom over mussel beds or similar structure where the food they like is found. This includes worms, grass shrimp, minnows, and anything else small enough to get in their mouth.
When fishing from a boat, look for a strong return on your SONAR that indicates a hard bottom. Since perch have a swim bladder, they also show up well on the screen so a school will make strong marks.
Most of the perch fishermen I know will anchor up-current from the school of perch and let their baits drift down to the fish. Use a sinker that is light enough to move down-current and bounce it along the bottom. If the water is shallow, you can fish the bait below a bobber with a split shot or two to make sure the presentation is getting down to the fish. This is a great way to get kids interested because they can see the bobber go under and know when to reel in the fish.    
I have had good luck using a bobber like a popping cork. I cast it out with a baited hook about three- to four-feet down, and if I don't get a bite right away, I will retrieve some line while working the rod tip to make the bobber splash across the surface. I have found this technique to be much more effective than just letting the bobber sit there undisturbed.
In the Chesapeake, the Upper Bay from Havre De Grace to Turkey Point is usually where the first reports of the perch run come from. The spillway below Noxontown Pond is a good location in Delaware for the early run of yellow perch. 
It looks like there may not be a catch and release rockfish season in 2021, so how they will handle perch fishing is anybody's guess. My guess is non-offset circle hooks will be required when fishing with any type of bait.
Bait is not the only way to catch perch. They will hit jigs, Beetle Spins, and Stingsilvers. These lures work best with spinning gear because they are small and light so they can be difficult to cast with conventional reels. The exception is the Stingsilver that I use when perch are holding in deep water. On one rockfish trip in the fall, I caught as many white perch as rock over a deep-water mussel bed while jigging a Stingsilver.
All of the tidal rivers and creeks in Delaware and Maryland hold white and yellow perch. This makes them available within a short distance from any marina or boat ramp you may use. No need to plan for the whole day or bring along an entire tackle shop. Just a dozen bloodworms, a couple of spinning outfits, and you are set for a fun fishing trip. You may also enjoy a great fish fry that evening.
By Eric Burnley
---
Want a great recipe for perch? Check out Bri's Perch Cakes.