Peg Ewancio and her entire family are involved in powerboat racing, many of them racing Jersey Speed Skiffs on the Chesapeake Bay.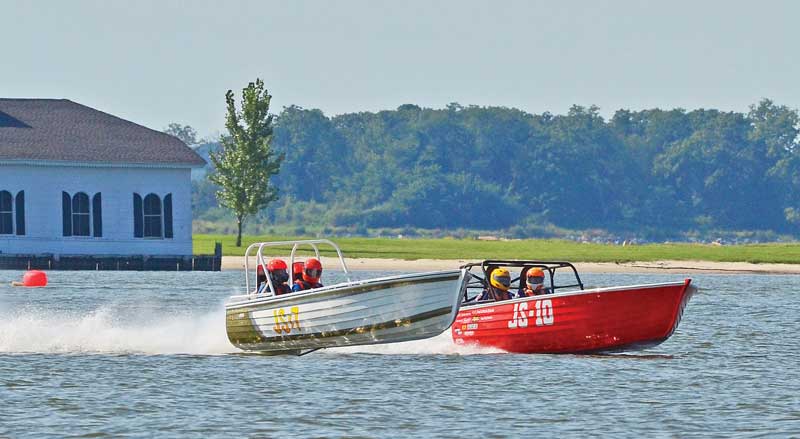 In our January issue (page 46) we ran an article on Peg's brother Jimmie Stewart, who she races with in the Canadian Hydroplane Racing League (HRL) in JS-10 Yumpin' Yiminy. Apart from Jimmie, Peg says: "Both of my kids, Sam (22) and Max (18), started racing in the junior class at age nine and now compete against us in the skiff class. My husband Jerry started driving a skiff with my niece Courtney, and she now drives the skiff we started out in. 
"Dad is no longer able to join us in our travels, but Mom would never miss a race! She's our biggest fan and is especially proud when all three of our skiffs are on the course at the same time; both of her kids and three of her grandkids. She also enjoys watching her granddaughters Sam and Courtney battle it out in the T class hydros. Some races our family brings five boats: the JS-45 In the Red (Raced by Max and Sam), T-314 Irrational (Sam), T-720 Hangin' Loose (Courtney), JS-721 Goin' Skiffn' Crazy (Courtney), and JS-10 Yumpin' Yiminy (Peg and Jimmie)."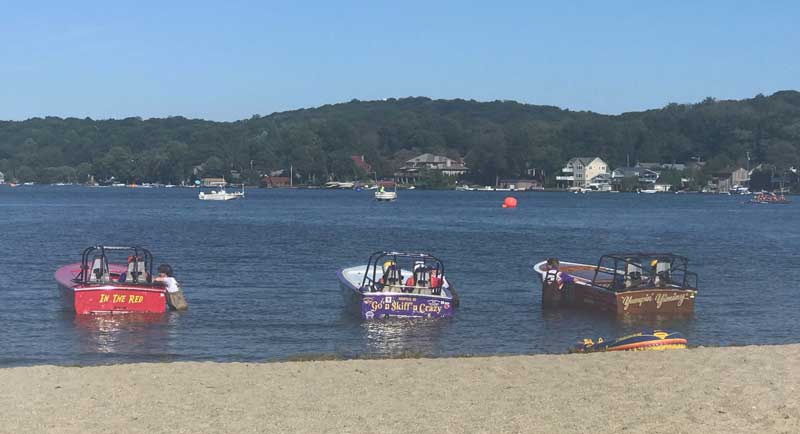 So how exactly did Peg get her start in racing? She says, "Our dad was a crew chief for a 280 hydroplane when my brother and I were kids. Jimmie and I used to go to the races when we were literally infants. We traveled the APBA circuit with them in the late 60s and early 70s. We loved to watch the 280s run, but the Jersey skiffs were always our favorite class. 
"We spent lots of time on the family pleasure boat skiing and fishing, but never dreamed we'd be on the racecourse one day. When my husband Jerry and I decided to get married right out of college, he said we couldn't afford both a ring and a boat, so I made the obvious choice and I got an engagement boat (an 18-foot Sea Ray bowrider). Later Jerry and I had a couple of go-fast boats, and almost immediately after I sold my first Fountain, my brother bought a Jersey skiff and we started racing in 2003, which filled the adrenaline void."
Any memorable wins, almost misses, or wrecks? "Our team has three National High Point wins in the skiff class, but we've had our fair share at the bottom... literally. Two years in a row at the very same race site we had a competitor lose control and hit us, and the boat sank twice. Our goal this year is to stay afloat there."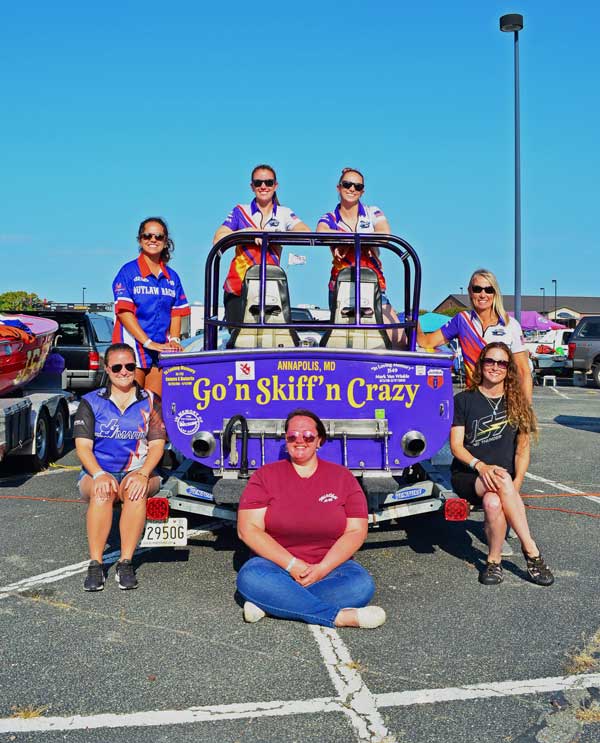 We also asked Peg what it was like to have so many of her family members share a passion for racing. She says, "It's amazing to have our entire family involved. How many moms can say that their teenage kids enjoy spending every weekend with their extended family? Now that the kids are older, they bring their friends and boyfriends, so our team has really grown. My kids have grown up with boat racing as a big part of their lives and have learned valuable life lessons from it. They have learned that it feels good to help others succeed, and that volunteering is critical to the future of our sport."
We always ask the racers we profile what advice they would give to someone who is looking to get into racing but perhaps does not have prior experience or a family connection. Here's what Peg had to say: "Come to a race and talk to the racers, and then get involved and volunteer at a race. That's the best way to get an inside, up close look at the action. It gives you the opportunity to learn about the different classes of boats, and you may make a friend who would let you go for a spin in their boat to see if it's something you might be interested in.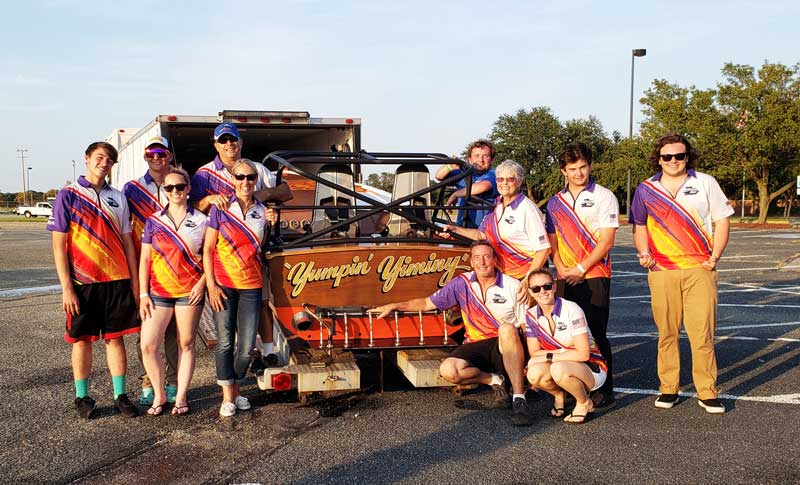 "As a volunteer, you will see one of the best parts of racing that spectators rarely see. When a competitor needs help of any kind—parts, tools, help fixing a motor, an extra hand to hold their boat, other teams come out of the woodwork to help; that is what I am most proud of our sport for. We are eager to welcome newcomers to the sport, and I have never met a racer who didn't like to talk about boats. Kids can get a chance at some races to try out a J-stock hydro owned by our racing organization, without having to purchase a boat. It's great because the parents can meet and network with current racers and see if their kids are interested in racing before they make a financial commitment.
"There is such a family aspect to this sport," adds Peg. "Winning is fun but that's really my favorite part. Without our sponsor, Jesel Valvetrain Innovation and our crew chief, Tommy Kling, none of this would be possible. (Tommy) is our engine guru, close friend, and the one who keeps us focused on what's really important in racing and in life."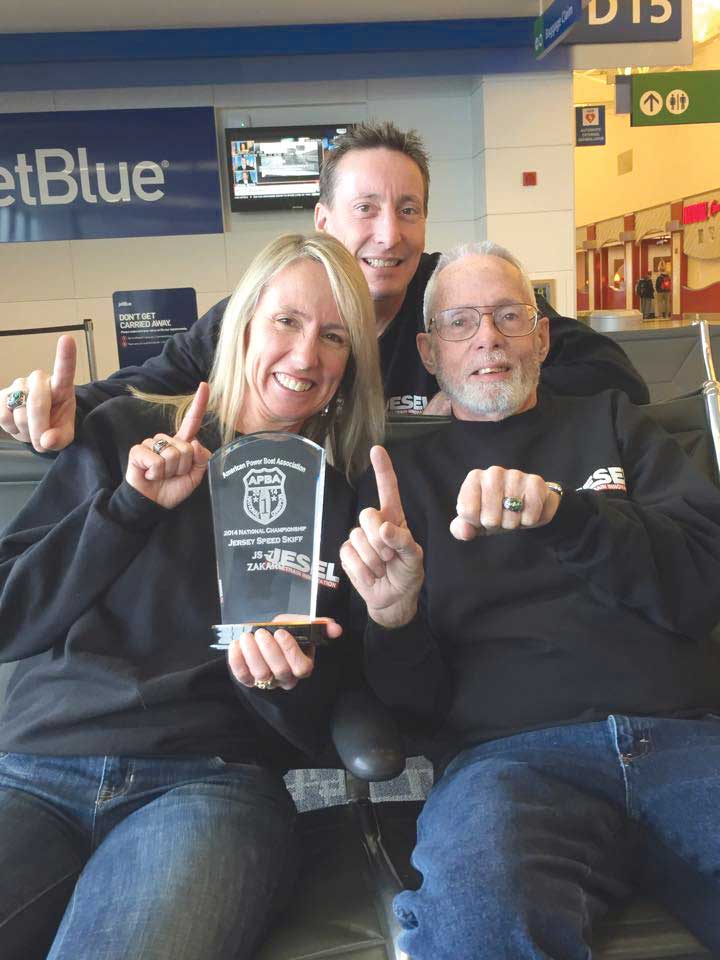 With so much of the family involved in racing and so much time spent traveling to and from race venues, do the Ewancios get out on the water in a capacity other than racing? You betcha! Peg says, "I recently bought a 35-foot Fountain (last spring), and I spend every chance I can get to be out in the ocean with it. And we still have the little bow rider I bought when the kids were little which is perfect for quick runs up the Bay, water skiing, and checking the inlet for dolphins. My brother and I own nine boats between us, so time on the water is always a top priority."