Summer on the Chesapeake Bay is off to a good start, with oysters planted in Eastern Bay and a reef ball deployment in Tangier Sound occurring last month.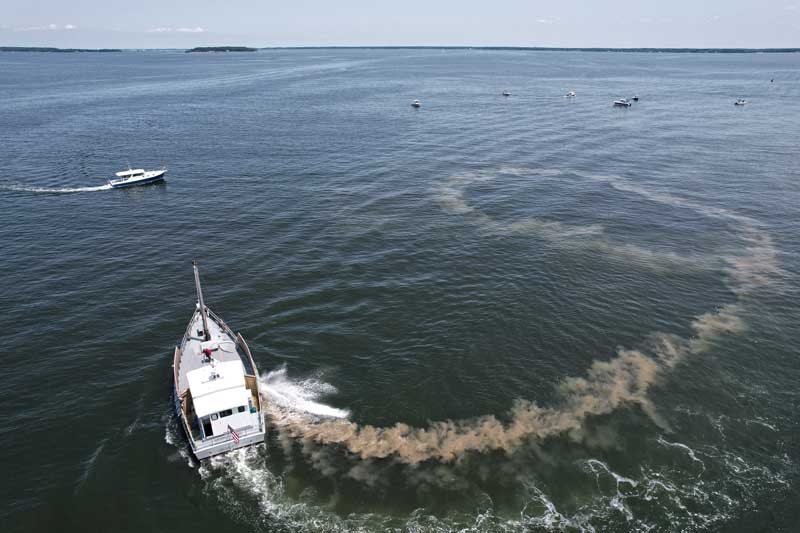 Eastern Bay
Eighteen million oysters were planted on a sanctuary near Tilghman Point in Eastern Bay in mid-June as part of Operation Build-a-Reef: Eastern Bay. The planting was the culmination of a two-year fundraising effort by ShoreRivers, in partnership with Oyster Recovery Partnership (ORP), and other key supporters. Oysters provide valuable ecosystem services by filtering water and creating vital habitats for other marine species, including Maryland's iconic blue crab and rockfish.
Operation Build-a-Reef: Eastern Bay's goal was to support oyster restoration efforts by planting millions of these beneficial bivalves in the local watershed. An initial planting of 70 million oysters was completed by ORP in 2022, with funding provided by the Maryland Department of Natural Resources. This planting was also conducted by ORP and was fully funded by ShoreRivers' network of supporters who raised the stakes—and the impact—by donating nearly $80,000 for the newest residents of Eastern Bay. Oyster larvae were supplied by the University of Maryland Center for Environmental Science Horn Point Lab in Cambridge.
"The waterways of Eastern Bay, including the Miles and Wye rivers, suffer from excess nitrogen and sediment pollution," says Miles-Wye Riverkeeper Ben Ford. "Thanks to generous support from many individuals, businesses, and foundations, we're proud that we're able to support direct oyster restoration work here on the Shore."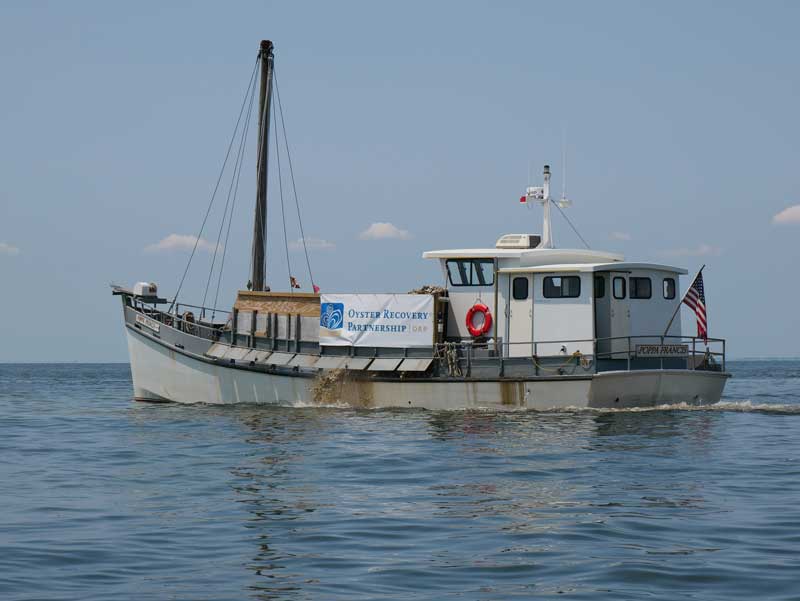 Oyster Recovery Partnership, the nonprofit expert in Chesapeake Bay oyster restoration, has planted more than 10 billion oysters and recycled more than 280,000 bushels of oyster shell since its founding in 1994. ORP began the Build-a-Reef program to encourage community-supported reef building efforts Bay-wide. To date, the Build-a-Reef program has resulted in more than 130 million oysters planted in three Bay tributaries.
"We're pleased to be working again with our partners at ShoreRivers to rebuild oyster populations here in Eastern Bay. A lot of our work is focused on large-scale restoration projects in remote areas of the Eastern Shore and we're happy to be working closer to home and sharing our work with our neighbors. We're grateful for all the support we've received," said Ward Slacum, executive director of the Oyster Recovery Partnership.
Operation Build-a-Reef: Eastern Bay benefitted from the support of corporate partners including Bosun's Marine, who offered to match gifts made by its customers in support of the effort, and Smyth Jewelers who donated 1000 oysters for every engagement ring sold. Many donors, and staff from Bosun's, ShoreRivers, and the Oyster Recovery Partnership were on-hand to watch the planting. 
Tangier Sound
Coastal Conservation Association Maryland (CCA Maryland) continued its focus of improving fish habitat in the Chesapeake Bay by deploying more than 220 reef balls and 550 reef pyramids at the Janes Island artificial reef site in Tangier Sound.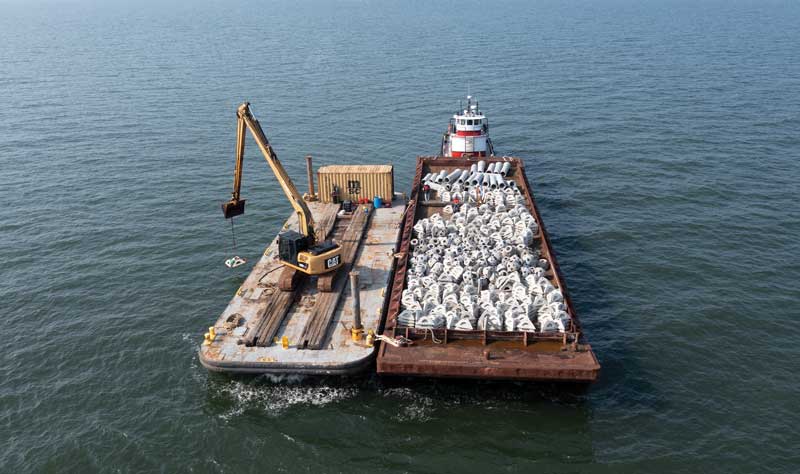 CCA's Living Reef Action Campaign (LRAC) is the organization's flagship habitat and education program. It has engaged thousands of students and community members across Maryland and Virginia in hands-on, educational experiences since 2015. This volunteer driven initiative helps rebuild the Bay's habitat while inspiring stewardship of our marine resources. 
"We are honored to work with Maryland's Department of Natural Resources, the Ocean City Reef Foundation, Murtech Marine, Idealease of Baltimore, and education and community partners from throughout the region to build this important reef habitat," said David Sikorski, executive director of CCA Maryland. "This Janes Island reef enhancement is yet another example of CCA Maryland's commitment to rebuilding marine habitat in the Chesapeake Bay and connecting communities to what is often out of sight beneath the waters of the Bay."
The Maryland Artificial Reef Initiative (MARI) includes more than 60 private, state, and federal partners, and acts as a funding mechanism (using private and corporate donations) for reef development in Maryland waters. CCA Maryland serves as the fiscal agent, working directly with staff at Maryland DNR to coordinate reef deployments.