The Outer Banks (OBX). Just saying the name fosters visions of wide beaches, sand dunes, huge beach homes, world-class fishing, and the well-earned nickname "Graveyard of the Atlantic."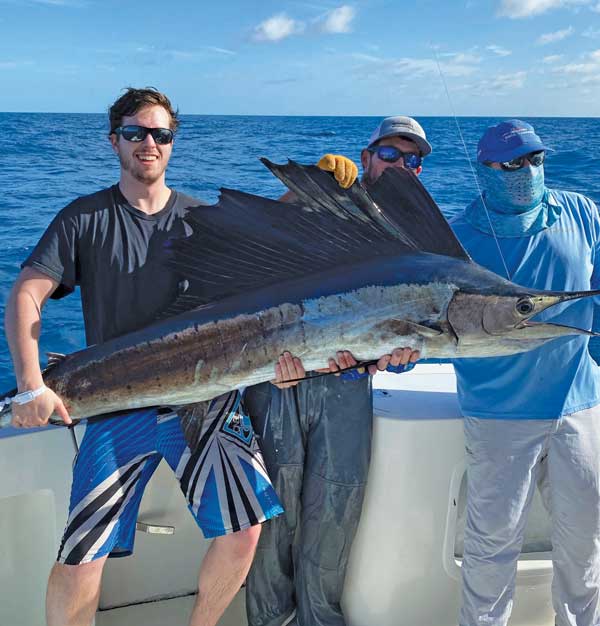 Ron, my buddy, and I started fishing the Outer Banks back in the late 1980s on our 28-foot center console. It was a different world back then as we were one of only a handful of small boats that would venture out of Hatteras Inlet during the cold and windy winter months.
Inexperienced in both deep-sea fishing and running the Hatteras Inlet, we would ask questions of anyone who would listen, trying to expand our knowledge (and come back alive). It was on our very first trip we heard some wise advice from a group of commercial fishermen who were sitting around the table (at a now defunct bait store) sipping coffee, that stuck with us the rest of our fishing days. 
As the wind was howling that morning, we asked if it was too rough to take our little boat out to the fishing grounds. After a few more sips of coffee, while eyeing us up, they told us to watch the charter fleet of 50- to 60-foot sportfishermen heading out the inlet. If those boats, with their flying bridges, disappeared in the wave troughs, it might be a day better spent in port. Listening further they shared their contempt for accurate weather predictions, as in their words, "the weathermen live in Raleigh!" Seems incredulous that a 50-footer would disappear from sight due to waves? Fish the OBX in January and you will become a believer. We followed their advice and only ran into serious difficulty less than a dozen times in the years to come.  
The Outer Banks truly is a spectacular year-round fishery, and if you heed the advice we learned years ago, you might enjoy some world class fishing without risking your life. A brief glance at the charts illustrates a long, fragile barrier island jutting far out into the Atlantic, home to strong currents and very large waves, the result of strong winds and two major ocean currents which collide at the cape. The warm Gulf Stream from the south meets the cold Labrador current from the north with the resulting currents bringing baitfish and attracting both large predator fish and fishermen from all over the world.  
Deep-Sea Outer Banks Fishing
Two navigable inlets provide access to the fishing grounds. Oregon Inlet is the northernmost inlet joining Pamlico Sound with the Atlantic Ocean and separating Bodie Island from Pea Island. Oregon inlet is the location of a U.S. Coast Guard station easily visible as you drive along Rt 12. It is also home to Oregon Inlet Fishing Center which features a large charter fleet and an excellent boat launch ramp. Private and charter boats head toward "the point" which is located about 40 miles from the inlet and where major upwelling occurs due to bottom structure.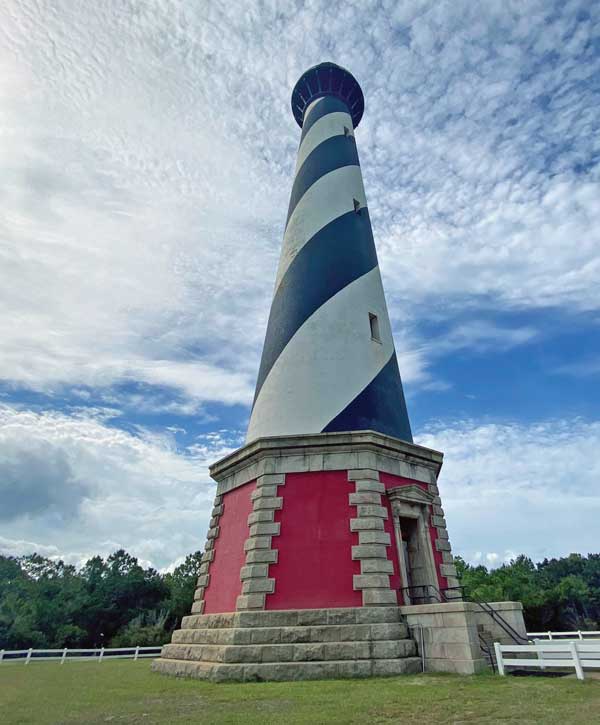 Traveling south along 12 you will pass the famous candy-striped lighthouse at Buxton before coming to the end of the road signaling your arrival at Hatteras Inlet. The road might end at the town of Hatteras but you can continue on by boarding the ferry which will take you, your vehicle, and even your trailerable boat to Ocracoke Island. 
Hatteras has multiple boat ramps and charter fleets with the two larger marinas being Teach's Lair at Hatteras Landing and Hatteras Harbor Marina. Hatteras Inlet is also the location of a U.S. Coast Guard station residing next to the ferry docks. We often begin our day by dropping our lines in at the "Rock Pile," a series of rock ledges less than 25 miles from the Inlet and located in the Gulf Stream.
 What is available? We would target yellowfin tuna all winter and infrequently giant bluefin tuna (a huge catch and release fishery in the 90s). Come April we would run ballyhoo on planers for multiple shots at Wahoo and King Mackerel. Late spring would bring dolphin along with the marlins and even blackfin tuna. If you can get through the inlet, there are fish to catch.
here are many charter boats, or you can take your own boat, but these waters are not as friendly as running off Ocean City. The inlets are home to strong currents and huge standing waves. Channel markers often disappear and reappear as you bounce through the inlet and local knowledge is not only helpful but sometimes critical. If you are heading out of Hatteras Inlet for the first time, I suggest following the charter fleet as they will follow a path not listed on the charts or suggested by the navigational aids. Lack of governmental funding for dredging projects coupled with ever shifting sands can make navigation challenging. The term "Carolina Flare" describes the huge overhang on the bow of a boat needed to deflect spray and guide the boat over (rather than under!) large waves and is often needed for the seas you might encounter.  
Surf Fishing 
Anyone who has vacationed in the Outer Banks has seen the beach dotted with surfcasters fishing at all hours of the day. They are there because the surf fishing, like the offshore fishing, is excellent—Drum, croaker, stripers, flounder, and more can all be found up and down the coast.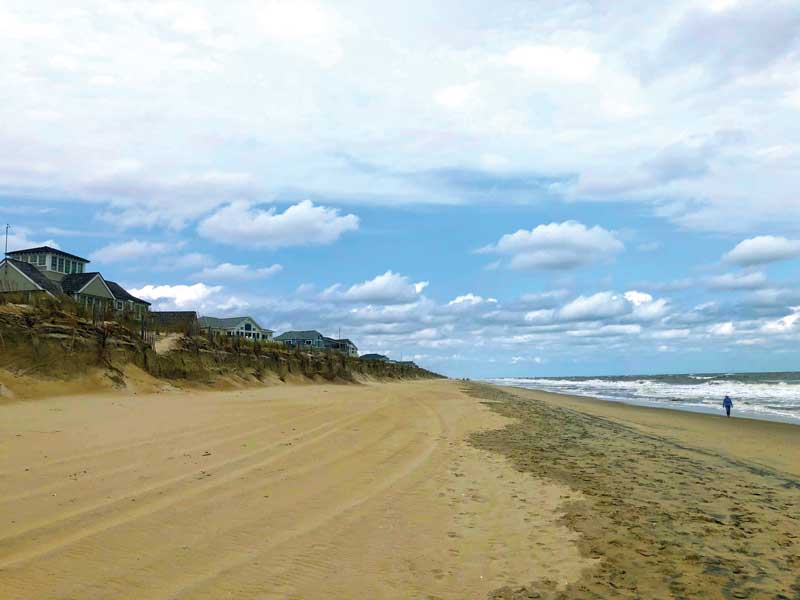 Check with the bait shops to find out what is hitting and where to fish. If you want to take your four-wheel drive out on the beach, you will need an OVR permit (visit the 'Permits and Reservations' page). Even if you don't plan on surf fishing, it is fun to travel along the beach and you can enter right where the road ends at Hatteras Village. Head towards the point and you will pass hundreds of vehicles parked close to the water with fishermen perched in folding chairs attentively watching their surf rods for that next bite.  
If you are like me and tend to "rest" while engaging in this type of activity, remember to park your vehicle above the high tide line…  
Pier Fishing 
Multiple fishing piers dot the coast and offer anglers shots at many different species. These piers are located on both ocean and sound sides which can be a lifesaver if winds or fish are not cooperating and you need a back-up plan. Many piers are seasonal so check the websites before heading out.   
Most of the ocean side piers have webcams which can provide you with a lot of information before you leave your house. Crowds, weather, waves, and even what they are catching might help you decide your day while sitting at the kitchen table. To view the pier at Rodanthe, visit their website.
A great benefit of fishing from a pier is you will not be required to have a fishing license. Check each pier website as not all fall under this exemption. Many piers offer rental rods, tackle, and bait, and some will even clean your fish. Don't forget the sunscreen!
Sound Fishing 
How would I describe fishing the sound at the Outer Banks? Fantastic! The sound provides deep holes, narrow channels, sand banks, oyster bottoms, and clear water unlike that of Assawoman Bay. Tidal forces create strong currents, and violent rips are easily visible throughout the entire sound. Check with the bait shop websites to see what is biting as it can change weekly.  
Teach's Lair at Hatteras Inlet has a unique charter fleet for sound fishing. These boats are in the 24- to 26-foot range with each sporting a tower for sight fishing. These towers are important to keep the boat off the sand bars and to spot the fish, and all captains offer whole or half-day charters making it easy to fish and not miss beach time with the family.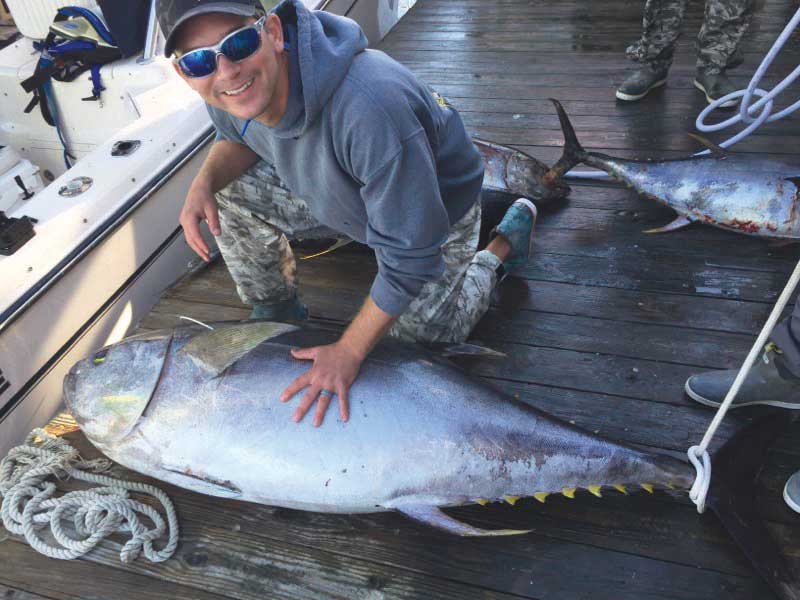 Taking Your Own Boat
Ron and I trailered our boat over 50 times to Hatteras. While I would like to say we never had any difficulty I cannot, but those adventures are for a future article. Leave early enough to miss the beltway and 95 traffic and it is an easy trip. The Norfolk tunnel is plenty wide for almost every rig, but make sure you are comfortable pulling a boat in the narrow confines as you pass under the river.
Charted Buoys   
The government marks may correlate to your chart, or they may not. Channels move, and not all the charts and chart plotters have been updated. Many years ago, we (Ron) forgot to enter the sea buoy in our waypoints as we passed it heading out from Ocracoke. It had been moved over a fourth of a mile from its charted position, and large waves that day made it extremely difficult to spot. It was one of those days the big charter boats would disappear from sight as they dropped down into the wave troughs reminding us it was a day better spent on the beach… It was the same type of windy and rough day when we (Ron) missed a bobbing mark routing all but us around a shallow sandbar.   
On your own boat, on a charter, in the sound, or offshore, make the Outer Banks a destination in the coming year. It is worth the drive!
Tight lines! 
By Joe Borrison