The right boat for some people isn't necessarily the right boat for you. Finding one that fits your needs is both a journey and a destination. The Sea Hunt Ultra 255 SE is our third boat.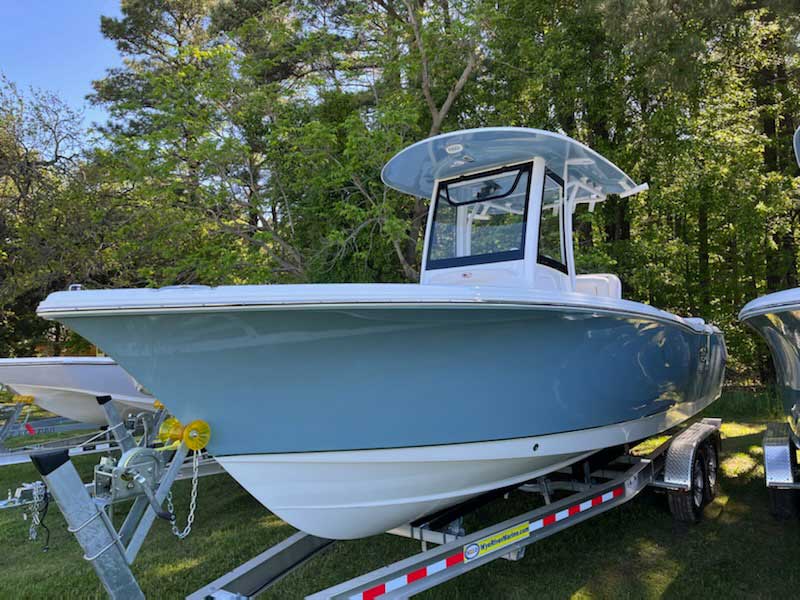 We purchased our first boat, a 1997 21-foot center console Trophy, around 2002. Our daughters were young kids and for 10 years, Maggie, Emma, and our border collie Skye enjoyed time with us on the boat exploring the ICW in North Carolina, ICW on the Gulf Coast of Florida, Lake Anna in Virginia, and the Potomac River. Sometimes launching at Sandy Point State Park or Truxton Park in Eastport, we would motor around Annapolis and the Severn River.
Both girls, young women now, are certified scuba divers and love the beach, boating, and all things sun and sand. Emma is completing a master's program in coral reef restoration at James Cook University in Australia. Our earlier years boating may have influenced their current interests. 
We named the Trophy Jesters Pearl. It was our first family boat, was a big part of the Martin summer vacations, and the family developed a heartfelt attachment to her. After 10 fantastic years playing with Jesters Pearl, our boating days were becoming progressively limited and our lives were changing with other priorities—our kids were going off to college, out of state. 
We decided to sell the boat in 2012. When I called to tell my wife that I had just sold Jesters Pearl, she and Emma cried. I felt a little guilty too; the Martin family was not quite done with this boating thing.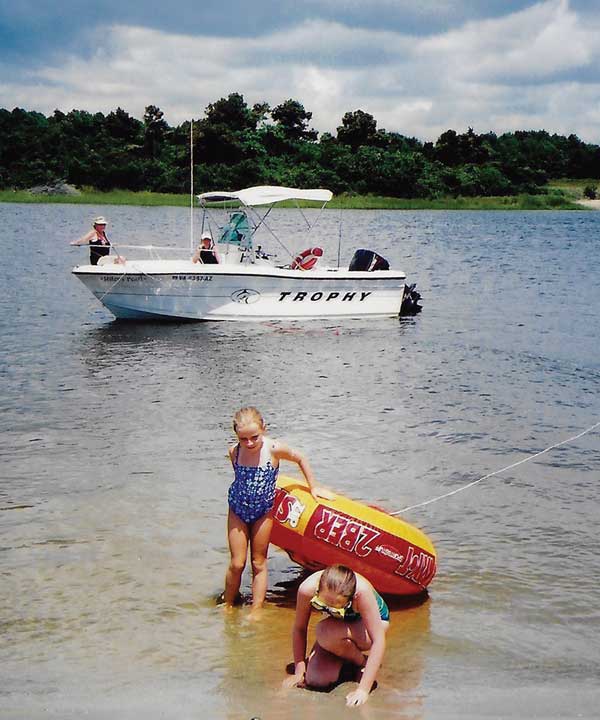 Later, as empty nesters, we thought a smaller boat would be a good fit for Neile, a dog, and me. I fell in love with old wooden boats when I lived in New England and in the 1980s spent a couple of summers crewing (scraping, painting, and varnishing) on an old 147-foot wooden Gloucester Pilot schooner named Pilot out of Boston, MA (see movie "Captains Courageous" for a similar ship). I wanted an old boat with some brightwork that I could tinker with.
In the summer of 2017, I purchased a 1968 17-foot Boston Whaler Eastport from a fella who lived just south of the Bay Bridge in Stevensville, MD. It had a mahogany center console, wooded pilot seat, and wooden aft bench. The boat was powered by a 2001 90-hp oil injected two-stroke Mercury motor. She had been well taken care of and overall, was in pretty good shape. I would need to put a new trailer under her before we left for Florida. 
We loved cruising around in that little boat. She was a bit of a head turner too, and the Whaler kept me busy maintaining the mahogany brightwork… it's therapeutic, as we all know! We made several trips trailering the Whaler to Florida, the Chesapeake Bay, Potomac River, Lake Anna, and Lake Norman in North Carolina. On most trips it was Neile, me, and our dog, Cap. However, when our family of four adults and two adult dogs with a couple of bags of gear would get together, we quickly realized that a bigger boat was needed.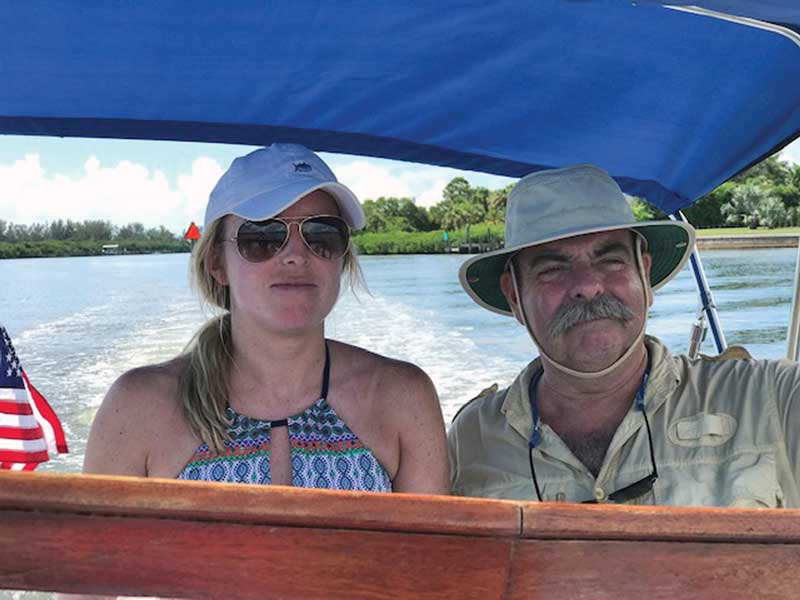 The Decision is Made
I had been tracking the Sea Hunt boats as far back as our Trophy days. Sea Hunt was producing good-looking, well-designed boats with high freeboards and that pretty Carolina flare bow. I came close to buying a used one once, but the reality of two college tuitions at the time squashed that idea… 
In 2021 we were very fortunate to sell some real estate, so I looked at my wife and almost jokingly asked, "Do you want a new kitchen? Or can we get a new boat?" Neile is a red-haired Irish lass, surprisingly even tempered, who loves to cook and has the skills of a chef. A new kitchen had been part of the discussion for years. With her short cut red hair and the whimsical smile of the wee fairy people, she looked at me with a twinkle in her eye and said, "Let's get a new boat!"
This family has never bought a new car and yet we made the leap to purchase a brand-new boat. The pandemic has made us all crazy. We also made the decision to sell the Whaler.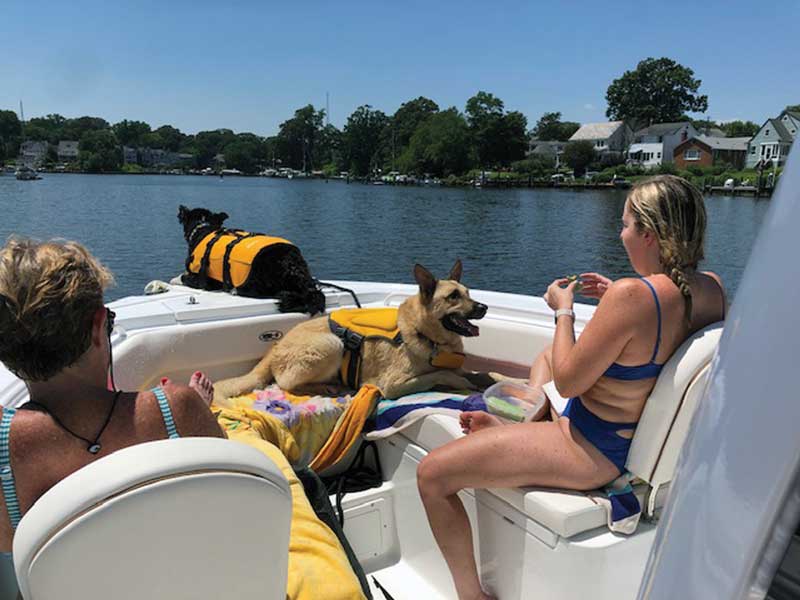 In December 2021 we ordered a 2022 Sea Hunt Ultra 239 SE with a slate blue hull and a 300-hp Yamaha four stroke. By the time Emma and I drove the two hours home to Winchester from Wye River Marine in Chester, MD, that day I already had buyer's remorse. I really wanted a 25-foot boat. I called AJ Bowden at Wye River and asked him to change my order spec to the 255 Ultra.
After a customary trial run on the Chester River, we took delivery of the Sea Hunt Ultra 255 SE on Monday July 18, 2022. The next day Maggie read our ceremonial boat christening and we christened the boat Blue Pearl. Then went for a boat ride! And took the boat out again on July 21 and July 22 as well (it rained on the 20th). 
Three weeks later we invited our friends and neighbors Meg and Frank (Sub) Sublett to join us for a boat ride on our new Sea Hunt Ultra 255. This would be our fifth day out on the boat since my wife Neile and I purchased it. We agreed to leave Winchester, VA, by 8:30 a.m. for the two-hour drive to Bert Jabin Yacht Yard in Eastport, MD.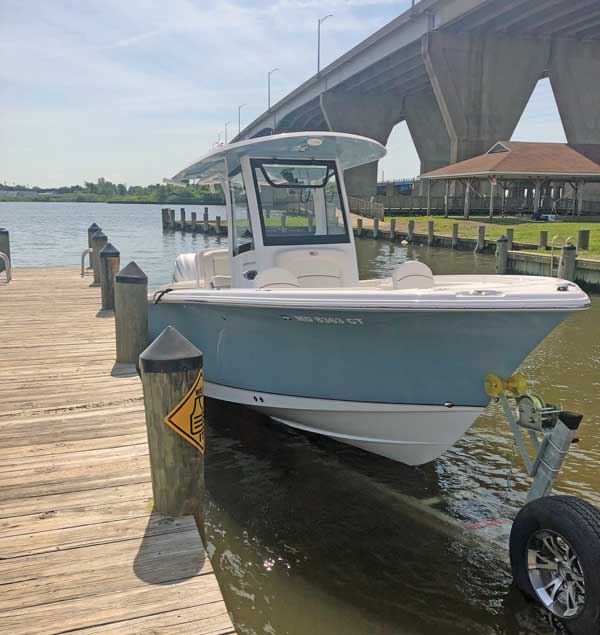 I scheduled the boat launch for 10:30 a.m. Saturday morning. These days we don't need to call the yacht yard because we have a launch app, Speedy Dock, on our cell phones. Yes, you simply pull up the app, select the date and time for the requested launch, and hit send.
Arriving around 11 a.m., we touched base with Ryan, who seems to be the crew leader and "Lift Master" for the guys who drive the boat lifts. Our new boat Blue Pearl was in the water waiting for us. After loading our gear on board, icing the cooler, and stocking it with sandwiches and drinks we pulled away from the dock around 11:45.
Shakedown Cruise With Friends
We didn't have a definitive destination for the day, but I had mentioned going to the South River to locate a protected anchorage, Harris Creek, and beach I had read about in William H. Shellenberger's "Cruising the Chesapeake" guide.
The forecast was clear and sunny, no rain, with the wind out of the north at 10 knots. High tide was around 7 a.m. and low tide about 1:30 p.m. Wave action was forecast to be one to two feet, less in the afternoon. Good day for a boat ride.
My friend Sub, a retired American Airlines pilot and avid boater, has boated around this area a number of times, so I was very happy he and his wife Meg could join us that day.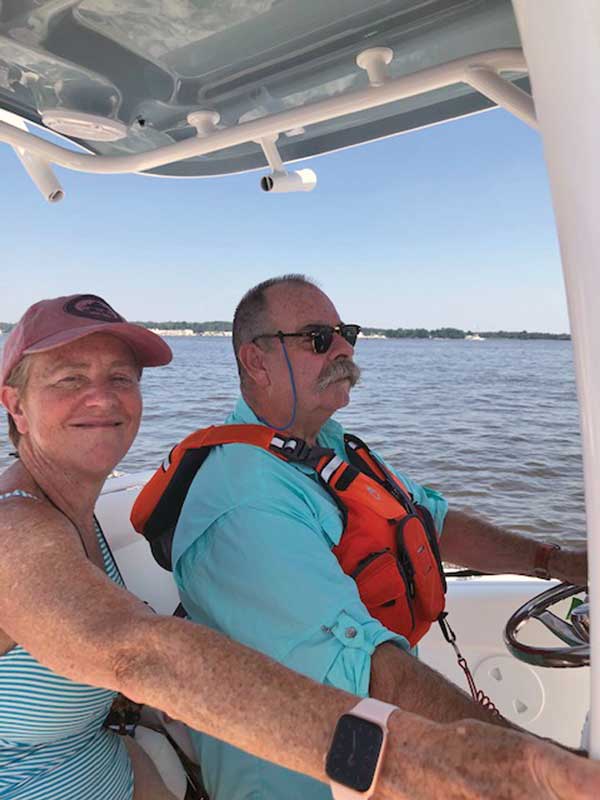 When I asked Ryan about the weather, he said things should flatten out by the afternoon. In my review of the weather, I figured that with the wind behind us and the incoming tide, the Bay would be a little lumpy on our outbound leg and that was indeed the case. The boat performed well but given the tide, 10-knot wind, and the weekend boat traffic, we had a few wet moments but cruised comfortably at 15-20 knots.
We cruised the five-plus miles to Thomas Point Light and took a hard righthand turn to enter the South River. My hard right was not quite hard enough though and put us on a course for the West River not the South River.
I was following an enlarged scale view on the 12-inch Garmin, and at a glance it looked right… Lesson learned. Sub caught the problem, and we made a course correction to the #2 and #4 buoys at the South River. My objective was to pass buoy #8 and find the entrance to Harris Creek a little further to starboard and then anchor for lunch and let the dog play. 
Exploring Idyllic Creeks 
As we entered Harris Creek, Sub took over the wheel and I went forward to prepare the anchor. Boats were already anchoring there, some for the day, and the sailboats were on mooring balls so I'm guessing they had been there longer. We motored a little further up the creek and found a spot to anchor about 25 yards off the north edge of the creek in six feet of water.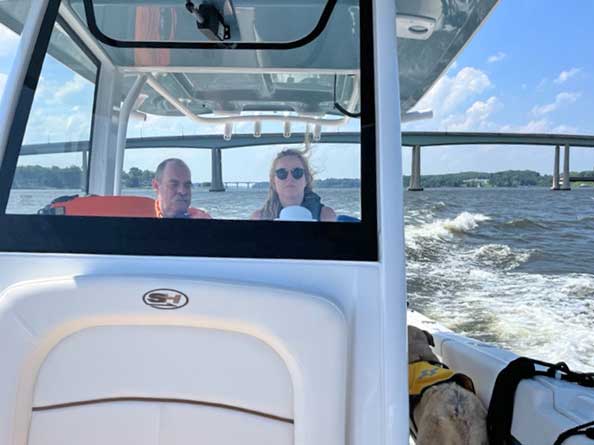 As I looked around at Harris Creek, I was somewhat amazed at how peaceful and pretty this creek is with nicely kept modest homes, and every home had a dock, a boat, and kayaks. It seemed so idyllic and except for a couple of trips up the Severn River, it was my first time exploring a creek off the Chesapeake Bay. I'm thinking that the Bay is peppered with these little hideaways, so this boating around the Bay is going to be a very long-time venture.
This is a great place to kayak and hang out for the day. After confirming that the anchor had set properly, we broke out the sandwiches, cold drinks (seltzers this trip), and sat back and relaxed watching the kayakers and paddleboarders and spent some time checking out our new boat. Harris Creek is narrow but shows about 10 feet of water in the middle. We could see larger boats further up the creek and watched a couple of 36-42-foot trawler design boats carefully inch their way past us.
From there we decided to head down to the West River and check on our friends' 55-foot Defever (docked there at the time and awaiting a haul out for some planned work).
Sub continued to drive the boat out of Harris Creek, the South River, and south to the West River. The Bay waters had flattened out some, as Ryan predicted, so we decided to "ring it out" experimenting with speed and trim tabs control. This was new for us because none of the boats we have owned in the past had trim control independent of the motor control.
Even though we were in a center console with a shallow draft, we stayed within the marked channel because the West River has shoals that extend out from both sides of the shores.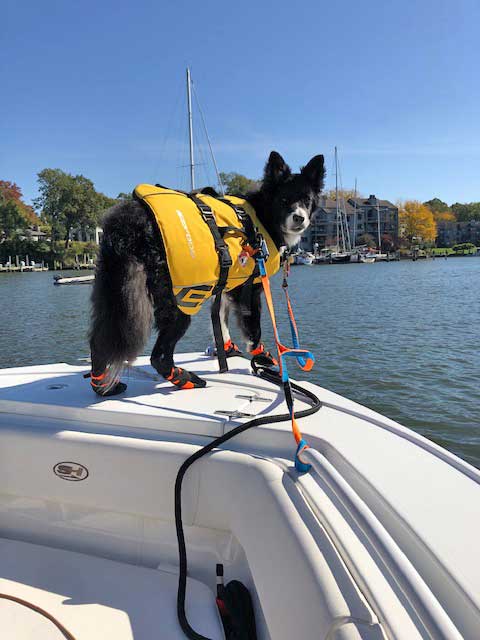 Another pretty harbor with nicely kept properties on both shores. The two restaurants, Pirates Cove and Stan and Joe's Riverside, were hopping on this beautiful sunny Saturday afternoon with boats docked at all the slips and the patio decks packed with sun-kissed patrons.
We continued motoring to Hartge Yacht Yard and discovered that our buddy's Defever was missing from the slip. We surmised that the boat was out of the water and inside getting painted. Probably a good guess because our friend was in Ocean City that weekend at the White Marlin Fishing Tournament and the Defever was not quite ready for an offshore trip.
As we turned to head back to Eastport, we briefly discussed stopping at one of the dockside bars for a beer. Sub knows me well enough that I could spend a few hours there sipping cold spirits and enjoying the view.
The time was 4:15 p.m. I reminded him that we still had a two hour-plus drive home after we returned to Back Creek, unloaded the boat, washed her down, and flushed the motor. The return trip offered up some calmer waters, so we continued to experiment with speed and trim tabs.
The Bay was rolling at about one foot, and the wind was lighter, still out of the north. We cruised with the incoming tide, comfortably getting the boat up to 35 knots, so it only took about 30 minutes to make the run from the West River to the entrance of Back Creek. After the washdown and flushing the motor, we headed inland and arrived in Winchester around 8 p.m.
Sub was impressed with the boat's performance, the control console, and overall design of the Sea Hunt 255 Ultra.
An enjoyable day on the water with good friends and a comfortable and stable boat! 
By G. Steven Martin
---
In the market for a boat? Check out the PropTalk Boats for Sale page!