In the fall of 2021, my husband Mark and I purchased a beautiful 2018 Jeanneau NC 895 in Portsmouth, RI. We had a hard time agreeing on the right boat for both of us; my husband likes to fish, and I like to lounge. We also favor a galley topside. This boat met all our criteria and more. We were finally able to bring her home by sea in May 2022.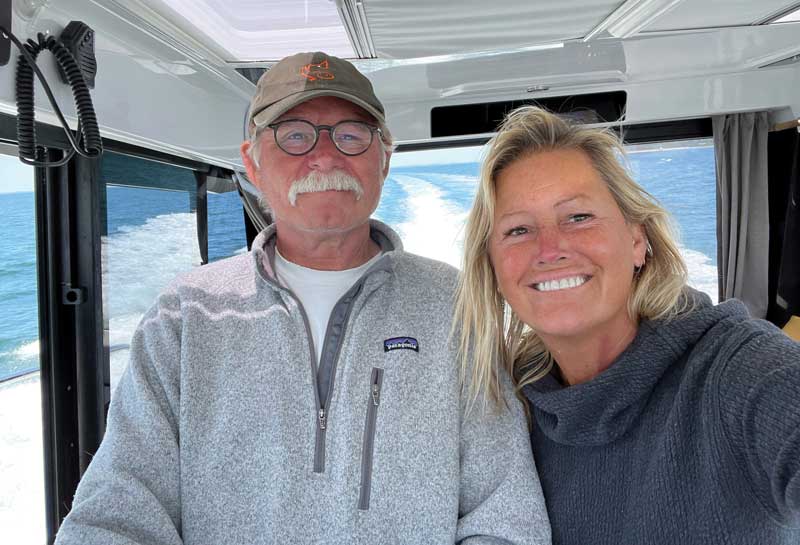 What We Love About our Boat
We love the bright, openness of the boat—two large skylights that open and built-in shades and screens, wrap around windows in the pilothouse, and sliding glass doors that exit to the stern making a 360-degree view of the water. Another sliding door at the helm makes for easy docking. This boat offers many cushions and seating/lounging combinations—a bench on the bow to sip cocktails or drink your morning coffee, another pad for lying flat on the bow for sun lovers, an adjustable stern bench so when the two twin 200 Yamaha engines are down, the bench adjusts giving you two extra feet of room to either lay out on a fully padded aft bed or erect the café table with a "U" shaped bench for entertaining. 
Inside the pilot house we have a café table that easily converts into a lounge chair, a double bed, or can be used as a skipper's seat. Our galley has a refrigerator, two burner stovetop, sink, microwave, and storage—perfect for simple meal preparation along with our portable grill we attach off the stern.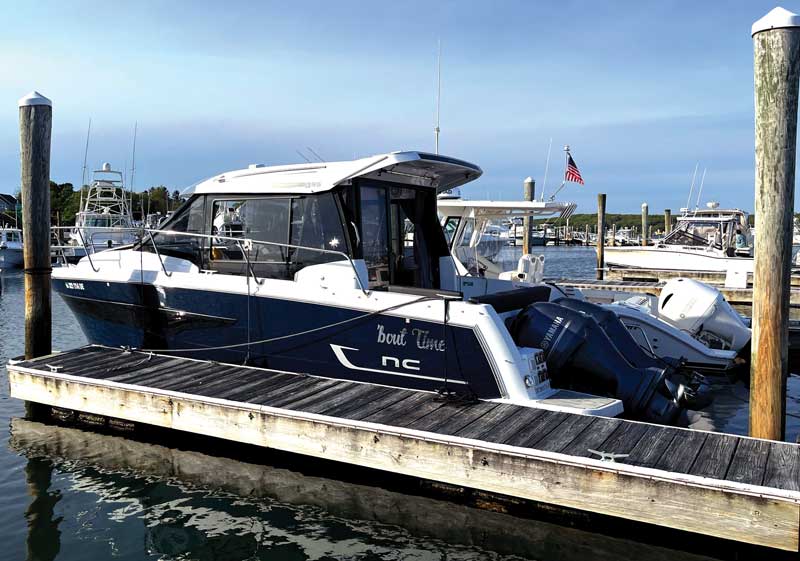 Below deck are two state rooms, one with a flat screen TV that we thought we'd never use but with a Wi-Fi hub we are able to watch our favorite Netflix shows and movies—making it a cozy little screening room. The second state room can fit two guests but on extended journeys alone we use it for storing our required provisions. 
The Journey Home
Our epic East Coast journey took us from Portsmouth, RI, down Narragansett Bay into Block Island Sound to Long Island Sound, down the full length of the Connecticut coast and into the East River. We passed under the Throgs Neck, Whitestone, and Brooklyn  Bridges, through Hell Gate, and into New York Harbor. We passed Lady Liberty and Ellis Island off to starboard and exited under the Verrazzano-Narrows Bridge into the open ocean.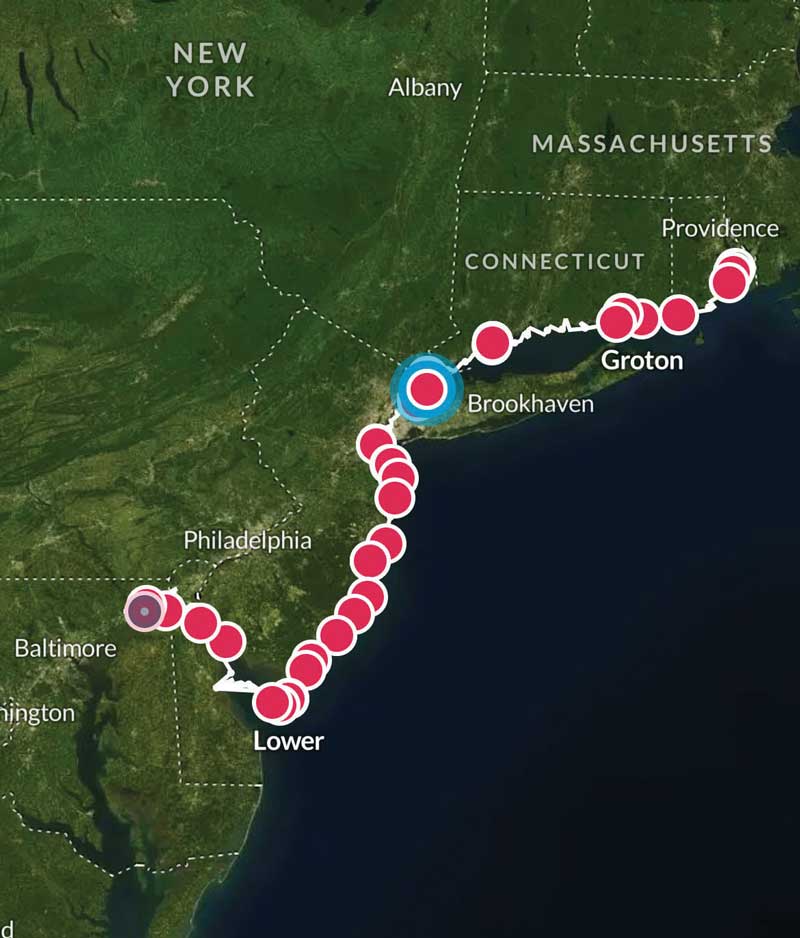 We slid down the East Coast of northern New Jersey just off the beaches and into the Barnegat Light Inlet. From there, we took the intercoastal waterway south to Cape May where we picked up the Cape May Canal which led us into the Delaware Bay. We headed north to the C&D Canal and into the Elk River where it converges into the northern tip of the Chesapeake Bay. We rounded Turkey Point to starboard, and headed up the North East River to our home port in North East, MD. We keep our boat in a little marina called Bay Boat Works where we've kept our boat(s) for years. It's family owned and operated since 1928. Mary and Donny have been running the marina since we moved there and have had a waiting list as long as I can remember—everyone wants in!
Our favorite destinations along the route were all the quaint New England coastal ports. There were too many places we missed this trip and were hoping to get to but were unable due to our time restraints. The ports we were able to visit were Niantic, CT; Bridgeport, CT; Mamaroneck, NY; Atlantic Highlands, NJ; Forked River, NJ; Wildwood, NJ; and to our home port of North East, MD. Of those we visited, we were surprised at how nice Atlantic Highlands municipal marinas facilities were. We would love to have explored each of these ports more. Unfortunately, the need to travel an average of 75 miles a day to stay on schedule doesn't leave much time to explore these destinations or add to them. I clearly need more PTO!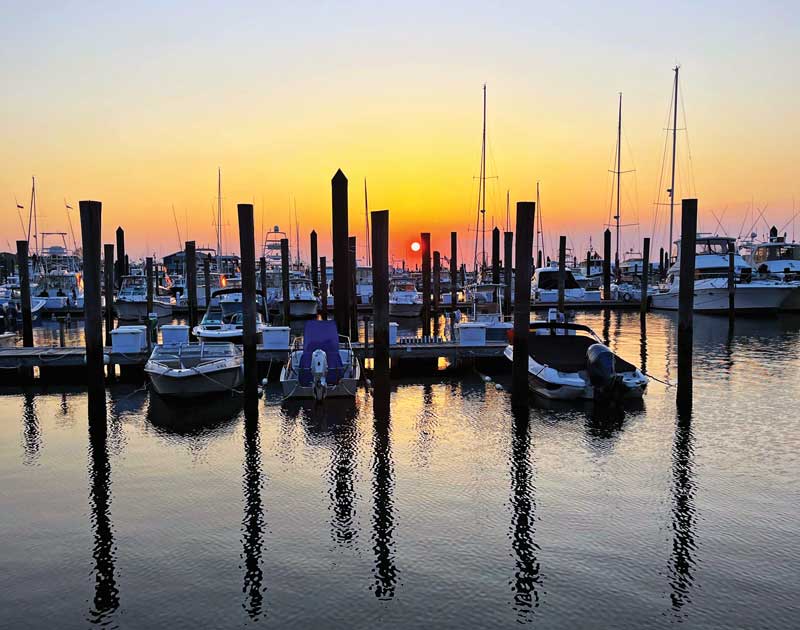 The NYC passage was our favorite adventure—passing Rikers Island where we were surrounded by a gang of more than 50 jet skiers wearing pirate costumes playing in our wake, seeing inmates playing basketball on top of one of their facilities built on a barge (the world's largest prison barge nicknamed "the boat"), traversing Hell Gate with all its rumored dangers, (we made it through unscathed), through the East River around Manhattan under some of NYC's famous bridges emptying out to Ellis Island and the Statue of Liberty—priceless! I work in the city and have been fortunate to sail some of the East and Hudson rivers on one of my vendors cruises, but seeing it from my own boat coming down from the north passage was really special for me. 
Our journey took us seven days with varying weather conditions. We had everything from bright sunshine to dense fog to rain and winds ranging from five to 20 knots with four-to-six-foot waves. In short, we had it all!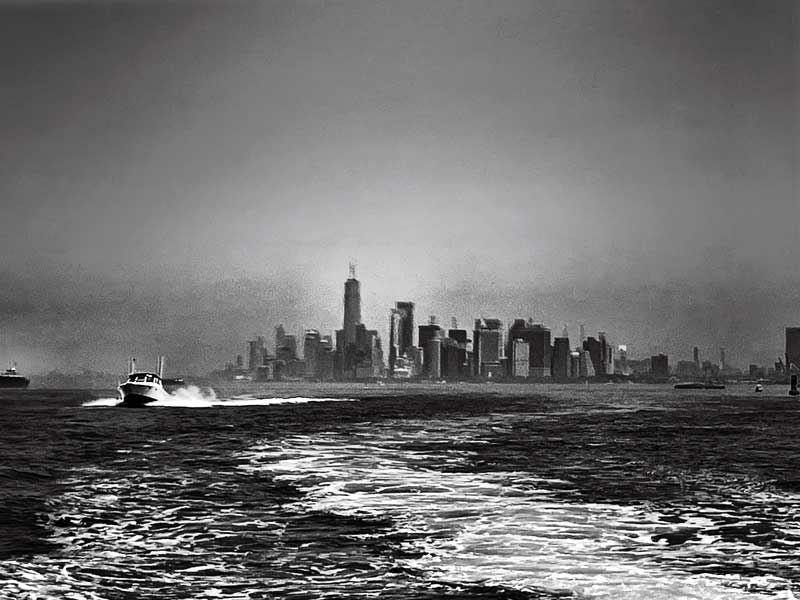 We spent a total of six overnights along the way; transient slips were a challenge to find as well as open gas docks that time of year. Altogether, we traveled 530 miles and passed over 40 lighthouses!
Never having taken such a large journey on the open seas, we thought it best to upgrade some of our safety equipment. We installed an East Coast chip into our GPS chartplotter, and we also replaced the factory bilge pumps and reinstalled the thru-hull transducer which had become detached from the hull. Along our journey, our trim tab cylinder unknowingly became detached from the trim tab plate making it a challenge to dock in reverse but was an easy fix to install the two missing bolts from the swim platform.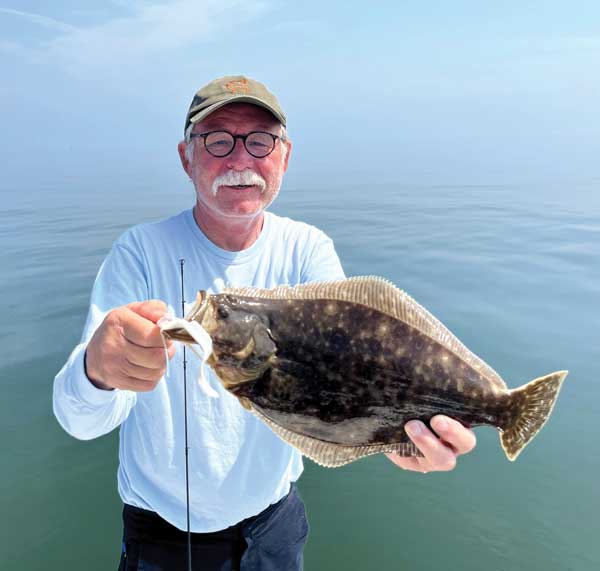 Our only real mishap during our journey was running aground in the New Jersey intercoastal waterway. Thankfully, BoatUS and our insurance covered our tow out of the clam beds. Locals like to fish for fluke directly in the channels which aren't very wide in the Intercoastal. Even a slight correction to avoid them can put you in the clam beds. Fortunately, we did not have any damage as we tried to work our way out. It was mostly sand, but not knowing what we were dealing with created stressful moments as we waited for our tow boat. Even our tow boat got stuck! Our tow boat captain was a great partner and once he got us free from the clam beds, towed us a pretty long way past the channel fishermen into deeper water. Lesson learned—don't venture out of the channel to avoid channel fishermen; ask them to move!
Over the course of our seven-day journey, we really got to know the boat well and absolutely love it! The only minor complaint is a lack of storage, but that's the main complaint on all boats. The aft cabin is mainly used for provisions and cushions—we need some creativity to maximize and organize for long trips. We plan to add shelves to all the closets, install hooks, plus create a trash can that is mounted under the café table in the pilot house that slides out for easy access.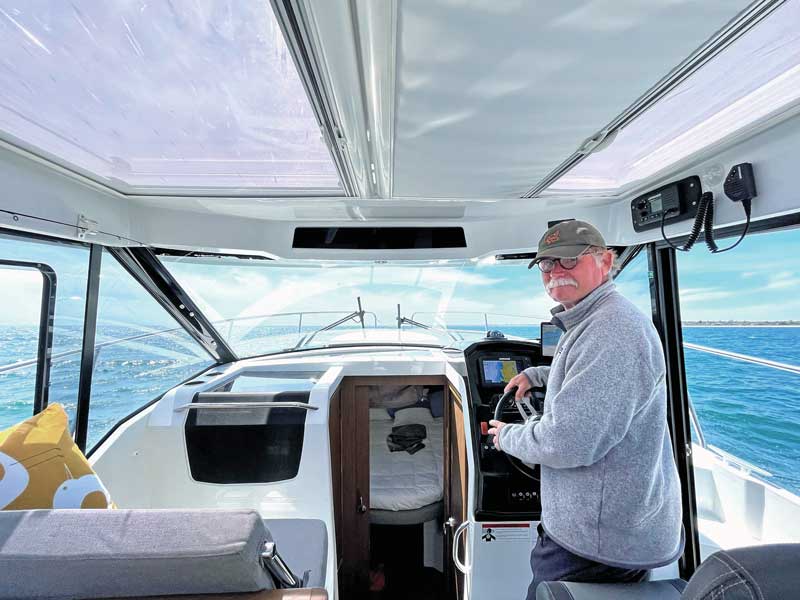 It really was one of the top adventures for us. We had never traveled that far, let alone in a new-to-us boat. We learned something new every day! It was an incredible immersive experience that helped us get to know the boat. Looking forward to the next adventure!
Since our return in May, we've been living and working from the boat which has worked out well. We have two Airbnb's, including our full-time residence, and decided to rent them out this summer to spend as much time on the water as we could. Every chance we get, we try to spend weeks at other ports enjoying other areas and marinas. It takes working remotely to another level—my backgrounds on my Teams meetings attract a lot of attention and envy. Our next upcoming adventures are a Chesapeake Bay Loop to ports we could never get to with our smaller boat and heading up to NYC, so I can commute to my office from Chelsea Piers this fall. The boat is perfect for exploring. We could not be any happier with our boat choice and look forward to endless adventures to come! 
By Sue Redmond