As summer slips away into fall, it takes some time to get used to the "New Normal." While the busiest season in recent memory continues and area shops can look forward to a busy winter lay-up season, the industry is still reeling from the cancellation of the fall Annapolis Boat Shows. We will all probably survive, but we will certainly miss the traditional end-of-season celebrations in Annapolis. October definitely does not seem normal without them.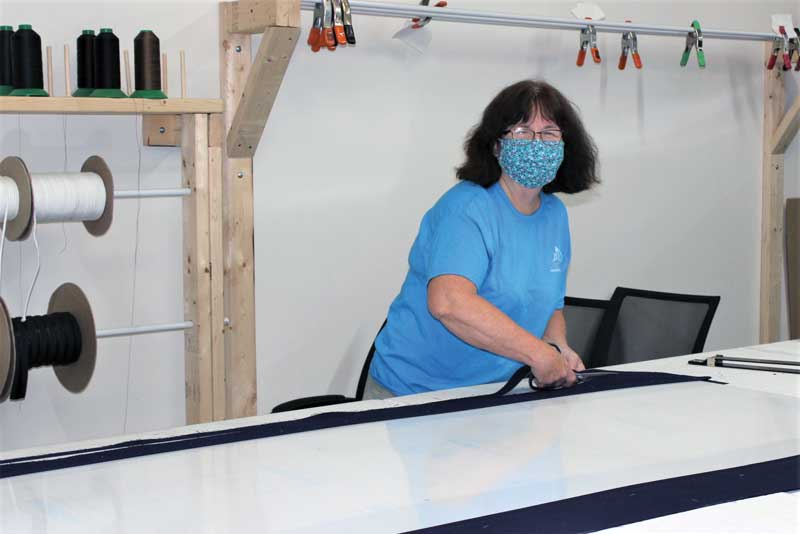 Susan Campbell of Campbell's Boat Yards in Oxford, MD, kicks off this month's reports with a busy fall schedule.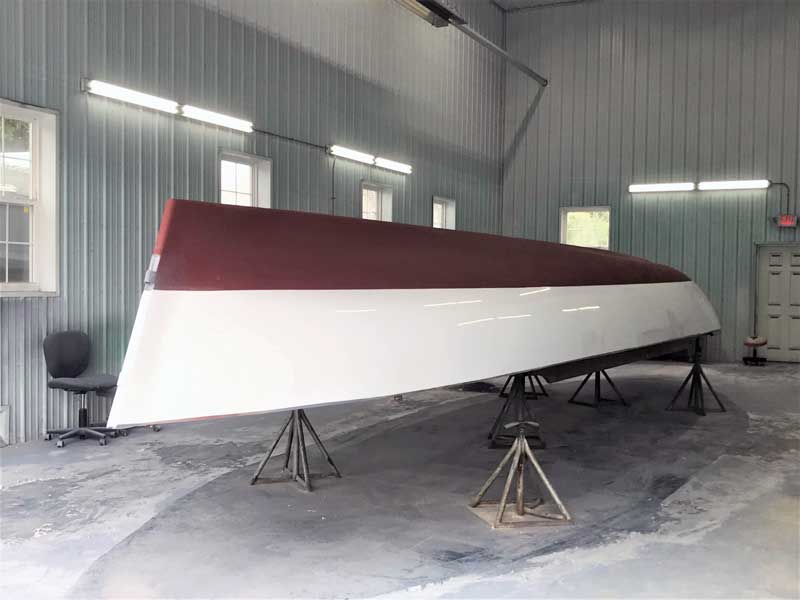 "Campbell's Boatyards has been busy! We acquired the Yamaha dealership last fall, and work has picked up considerably on service and re-powers at our Jack's Point location. Work is finishing up on the restoration of the log canoe Flying Cloud, and she has a shiny new Awlgrip paint job. Slip rentals and the use of the boats at the docks has picked up this summer, as people are comfortable 'social distancing' on the water. We have some generator installation projects, plus lots of service work throughout the summer at Bachelor Point. This winter Campbell's is installing another floating dock at Bachelor Pt. and has plans to remodel the restrooms at Jack's Point—it will be a busy winter!"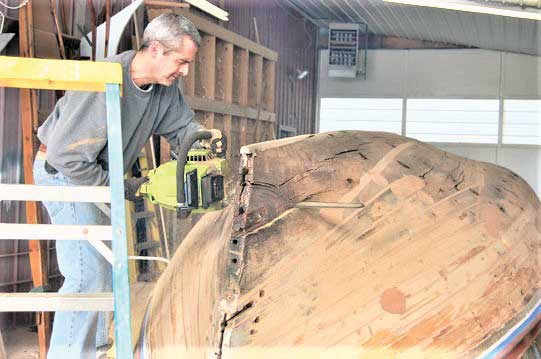 Alex Schlegel is back this month with a newsy update from a very busy Hartge Yacht Yard in Galesville, MD. "We are not seeing the normal late-summer slowdown. As always, our carpenters are booked up for months as well as our fine brush painters. The Trumpy Manatee is back. This is the 1950 cruising houseboat we did so much work on for three years. First up is a repair from a long ago very small cabin top leak over the walnut panel and frame bulkhead between the galley and salon. To do a proper repair much of the galley had to be removed. This worked out well because a new galley was in the owner's plans. 
"The old house-style refrigerator was removed, and in its place, there will be a freezer in the forward cabin and an under-counter refrigerator and icemaker in the galley. The oven gets replaced by a convection oven microwave and a stove top. To match the original, a one piece stainless sink-countertop-backsplash will be built. The smoke stack is off for repair, repainting, re-bedding, a new wood base, and cabin top repair. Also, the stack will get a new decoration, an olive wreath around crossed flags, one with the Trumpy scroll and one with a civil engineering flag, all designed by the owner's father…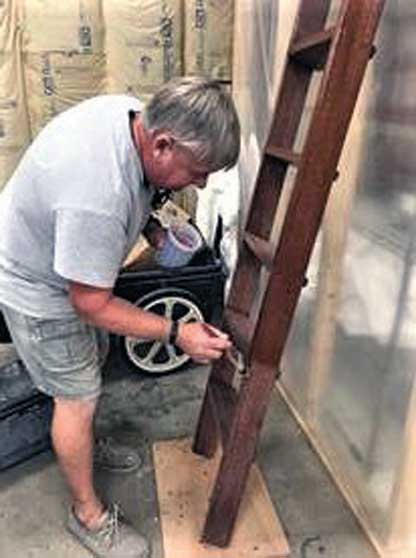 "Also continuing is a big repair job to a 48-foot Egg Harbor. Awlgrip paint brushed on to hull and superstructure is in progress by Peany and Dan. Most of the varnish has been refinished, and Dan is doing the last of it by refinishing the ladder to the fly bridge…
"Bill Scerbo, one of our waterman friends, is here redoing a strip planked 47-foot Deltaville deadrise built by the Walden brothers in 1989. There is lots of deterioration. In the rebuilding, he is adding flare and more sheer forward to make her drier. His present boat, Elfie, is a 1969 Hugh Norris 35 foot round stern Deltaville. He says it is getting small. Both of Bill's boats are uncommonly good looking, like every Deltaville deadrise I have seen."
A continuing concern, even with the current boom in boating, is the scarcity of new workers coming into the field. The Marine Trades Association of Maryland (MTAM) has been working with the Maryland Department of Labor since 2014 to conduct a series of paid internships for young people interested in a career in the Marine Industry. We recently received the following announcement: "MTAM would like to congratulate Andrew Piatek on the completion of his six-week on-the-job training practicum at Osprey Marine Composites in Tracy's Landing, MD. Piatek entered the Center of Applied Technology (CAT) South's Marine Technology Program at the suggestion of his father who is an instructor at Calhoon MEBA Engineering School. After completing the program, Piatek thought he would prefer working on smaller boats to merchant marine ships and began looking for opportunities in the recreational boating industry. Through MTAM's close relationship with the program at CAT South, he was able to express his particular interest in the field of marine composites and secure a placement in their On-the-job Training Program with Osprey Marine Composites."
Fall in the Chesapeake Bay Maritime Museum's working Shipyard in St. Michaels, MD, is marked by the annual ritual of winterizing its historic floating fleet. Each vessel has its own set of requirements to prepare for a winter, including removing sails, winterizing engines, pulling running rigging, and moving the fleet to its inner harbor winter storage. Shipyard manager Christian Cabral reports that with the fleet safely put away for the winter, CBMM's shipwrights and shipwright apprentices will turn their attention back to larger scale projects, chief among them the restoration of 1912 river tug Delaware.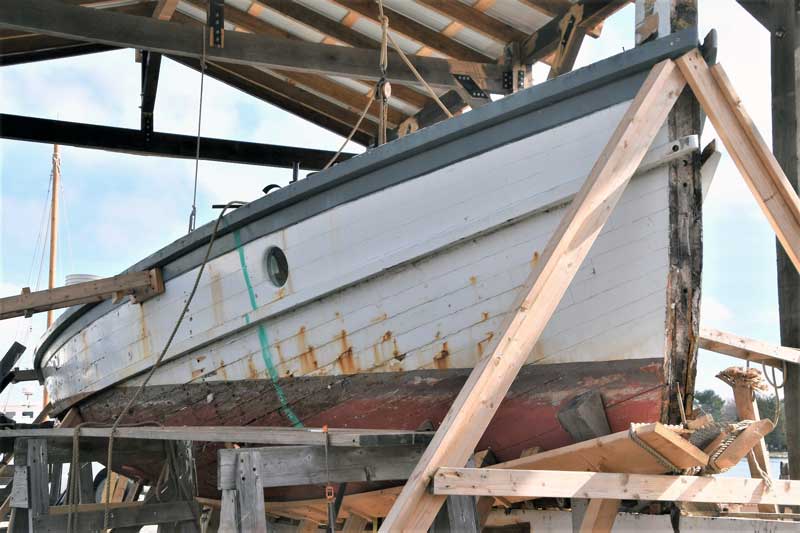 "Delaware, resting on her newly installed backbone, is being fitted with a new worm shoe, new floors, a new stem, and a combination of sawn and bent framing. The floors will be replaced in kind, one at a time, to provide lateral strength for framing. The replacement of the stem requires the unfastening of each hood end in order to spring the planks and gain access to the old stem. Once the stem is replaced, shipwrights complete the remaining frame notches on the keel and begin to replace each set of frames. Sixty-eight of the frames will be steamed and bent into position, while 16 will be sawn, or cut, to their final shape before installation. With new framing in place, shipwrights will begin the exciting process of replacing all of Delaware's planking, two at a time." 
George Hazzard of Wooden Boat Restoration in Millington, MD, checks in with the following update. "We have completed work on the 1958 Elgin with the restored 1958 Johnson. They were built by Wagemaker and featured a ply lap bottom over the molded plywood hull. We are also working on a 13-foot Lyman that has had the hull faired and painted. Now we are working on painting and varnish on the inside of the hull. We are also starting on the installation of a new bottom on an 18-foot 1940 Chris Craft Sportsman."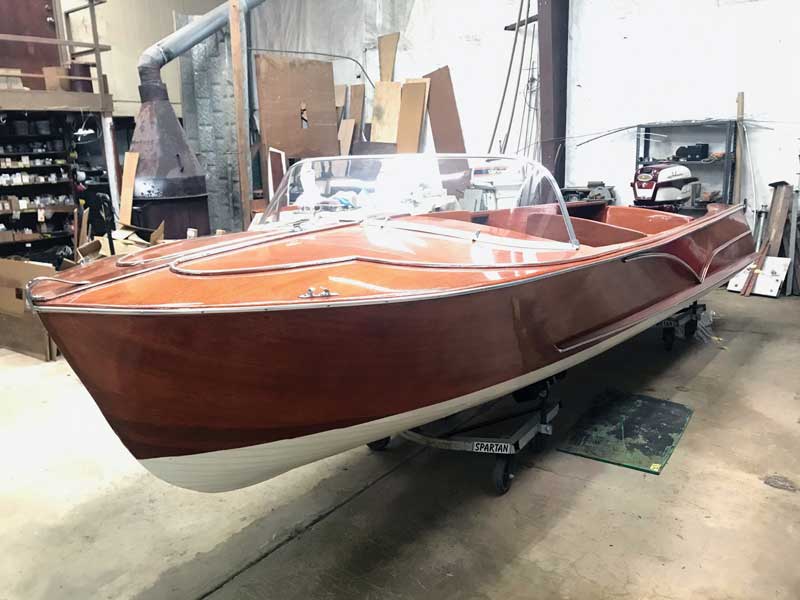 Glenn Roudebush of Rodebush Yacht and Engine Works in Dundalk, MD, has an interesting project underway in his shop. Glen's crew is building an 80-foot long replica of a C&O canal boat. The boat is a replacement for the 30-year-old wooden replica Georgetown which was operated as a tourist attraction on the Georgetown, DC, portion of the canal by the U.S. Park Service. Unfortunately, Georgetown's age and dry rot as well as maintenance budget cuts led to her retirement from active service in 2011. The new boat was ordered by Georgetown Historical group and designed by the Tridentis Group in Alexandria, VA. The boat, constructed entirely of modern composite materials, hopefully will have a much longer working life that her predecessor. Since her full 80-foot length presents multiple challenges to getting her from Baltimore to Georgetown, she is being built in two 40-foot sections, each in its own shop. After being trucked to the park site she will be off loaded and bolted together and launched. Plans call for completion of the canal boat in spring of 2021.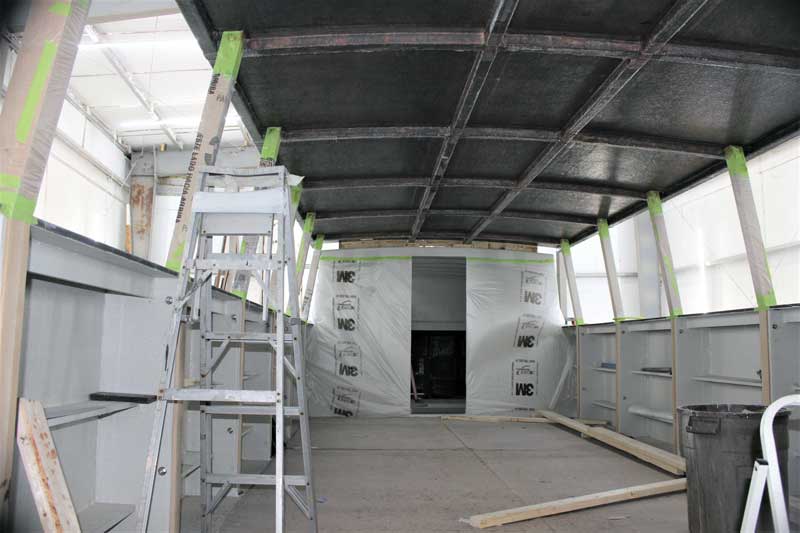 Sonny Norris has his workboat Miss Ashley on the hard at Markley's Marina in Essex, MD. Sonny's replacing some bad wood in the boat's after cockpit floor. Miss Ashley has an interesting history according to Sonny. Originally built in 1975 as an Egg Harbor motor yacht, she suffered a serious fire around 1990 and was declared a total loss. Sonny saw her as a wreck and bought her as salvage in 1992. He ripped out the burnt-out interior and deck mold, stripped the hull down to the bare fiberglass, and rebuilt her as a work boat. Sonny junked the burned-up Chrysler twins and replaced them with a single 3407 caterpillar diesel, workboat style. She looks like a Chesapeake workboat now, but her hull is not the typical deadrise. According to Sonny. "I love this Egg Harbor hull. When I crank up this Cat she'll do 29 knots. Load her down with crab pots and gear and she'll still do 29 knots."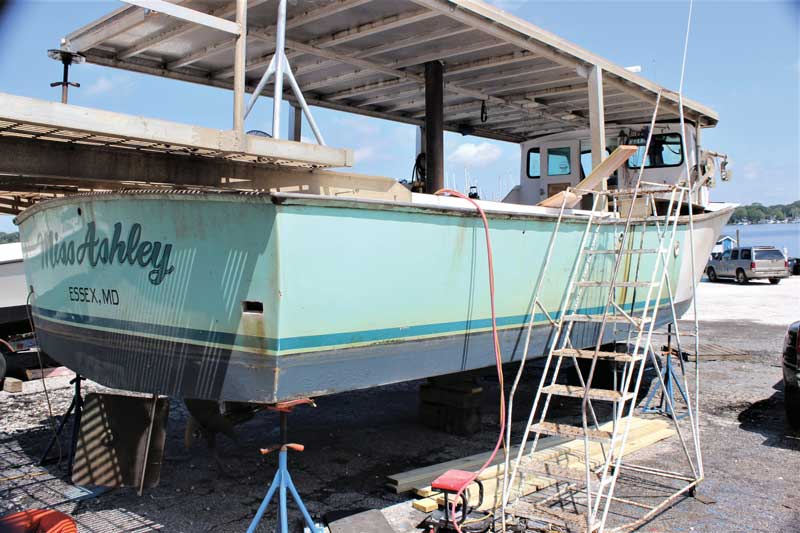 Many boaters consider the fall to be the best season on the Bay. There are lots of good cruising and fishing days left as the temperature and the humidity go down and the crabs get fat. Enjoy the rest of the fall boating and stay safe and healthy.   
By Captain Rick Franke