Summer has, as usual, flown by. Labor Day is behind us, and the fall boat show season is almost upon us. If I could use one word to sum up this season for area boatshops, the word would be busy!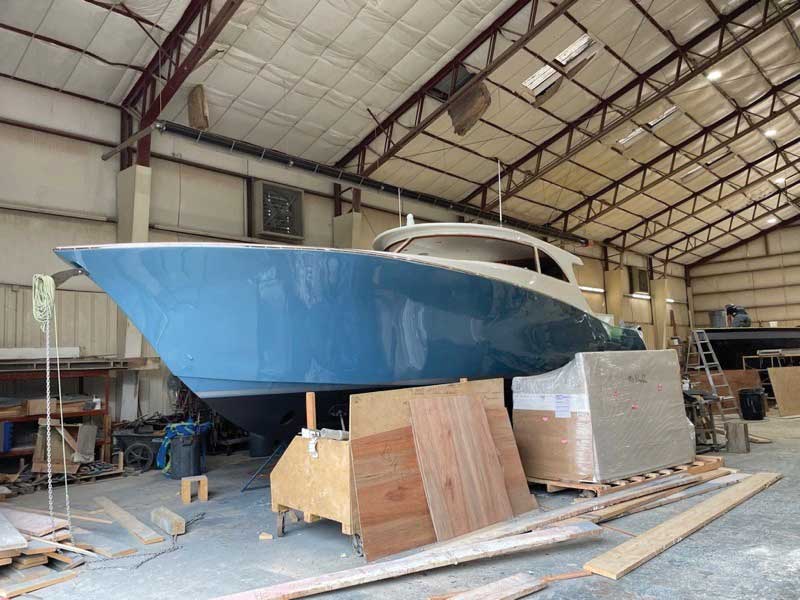 Kyle Fennell from Chesapeake Marine in Essex, MD, sends us this quick update. "We just repowered and painted a 390 Intrepid with triple 350 Suzuki's and a Bahama Blue Awlcraft paint job. It was done by Middle River Landing Marina in Essex MD.  If you have any questions or need more info, call any time."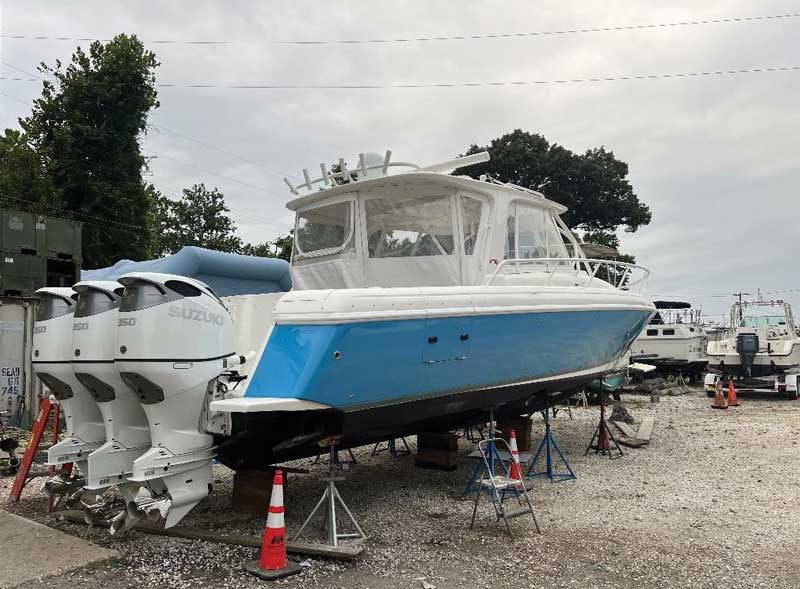 Long time contributor Smokey Glover with Lake Assault Boats in Portsmouth, VA, usually reports on military or law enforcement boats, but his contribution this month is a private recreational boat. "Here are a few pictures of a center console with freshly painted hull sides and fresh bottom paint. (It) shows that we can do work other than government and commercial work."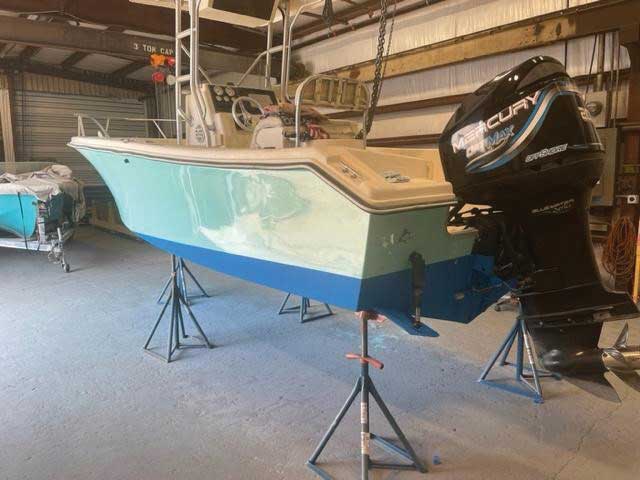 Andy Dize sends us this newsy update. "Roudebush Yacht and Engine Works, located in Dundalk, MD, is quickly closing in on the completion of a seven-month rehab of a 1988 vintage Tom Fexas Midnight Lace 44. Once completed, she will travel to the Devon Yacht Club (eastern Long Island) with her owner, Richard Halloran. Rosebud is a unique one-off interior and exterior configuration for the Midnight Lace series as she is the only factory-built Midnight Lace with a dedicated owner's stateroom. Work performed for the rehab effort included a new canopy and frame provided by Miller Marine Fabrication of North East, MD. Also, installation of a bow thruster; a compete hull and topside reconditioning with paint and teak varnish work; full interior electrical, electronics, and mechanical system upgrades including air conditioning, batteries, and charger, 12-volt refrigerator, a GARMIN electronics suite, and a new 6 kw generator. The engines were fitted with reconditioned velvet drive transmissions. Miller Island Propeller provided new shaft seals, bearings, and reconditioned the propellers. The interior was completely stripped and varnished. Repairs and replacements were made to damaged teak trim and varnished. New teak and holly flooring was installed and varnished. Roudebush Yacht and Engine Works is a full-service facility, which provides new construction, fiberglass/mechanical system repair and rehab services. Reach out to Andy Dize to discuss your future project needs."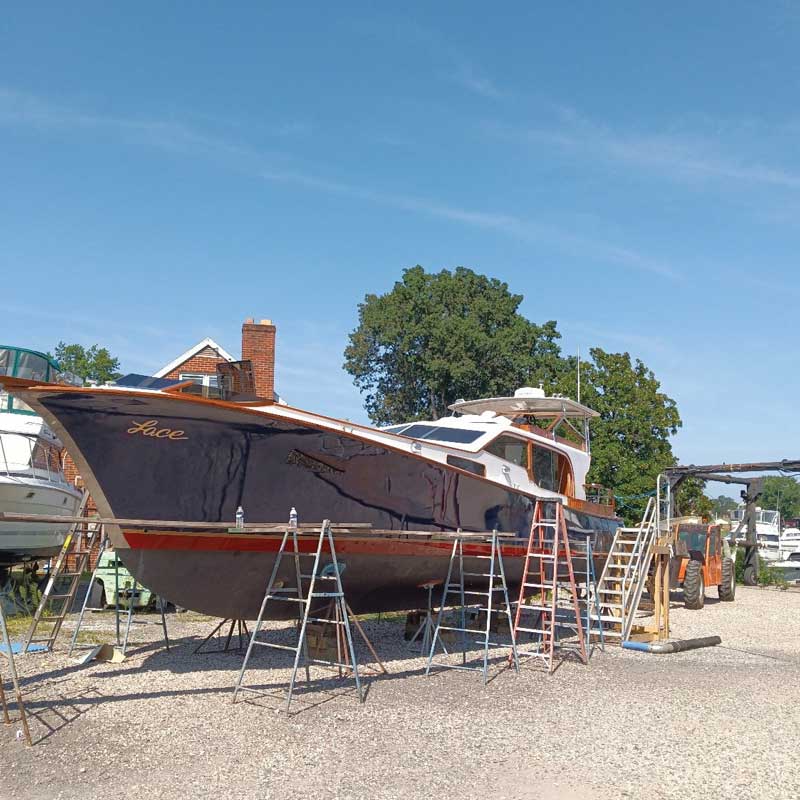 Owner Quentin Borges-Silva shares the climactic moments of a very long restoration with us. "We made passage from Deale, MD, to Port Tobacco, MD, in Libertarian, our 1969 Chris-Craft Roamer 46, on July 1, 2023, after 4994 days with the boat in a white plastic skinned tent while getting refitted. The twin 420-hp Cummins 6CTAs performed extremely well. The 108-mile trip took seven hours and 45 minutes, from cast off to first tie-off at our new home port. The gorgeous OEM tachometers are wildly inaccurate, so I can't say for sure what RPM they were turning. The gorgeous OEM temp and oil pressure gauges, likewise, are obviously not reading accurately, but they were stable for the entire trip. There were no mechanical breakdowns or major issues.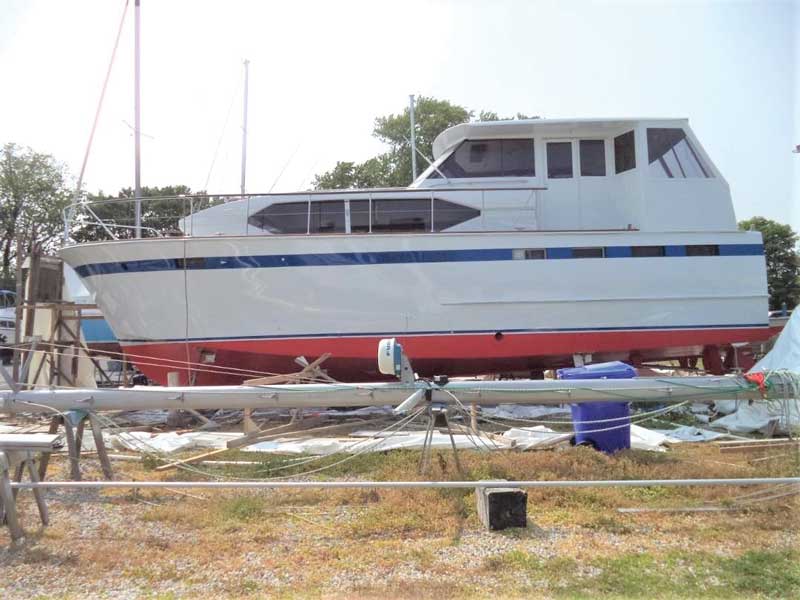 "The Chesapeake Bay was snotty as it can be; we were running south on a rising tide with a southerly breeze, so we saw one- to two-foot swells, then white caps, then two- to three-foot cresting waves, and then it got particularly nasty while transiting the confluence of the Patuxent River, forcing us to drop to idle at six knots. After two hours bobbing through the snot, we were back to two-foot chop with white caps, so I put the sticks forward, got that Roamer hull up on plane, and smoothed out the ride by getting on top of the snot.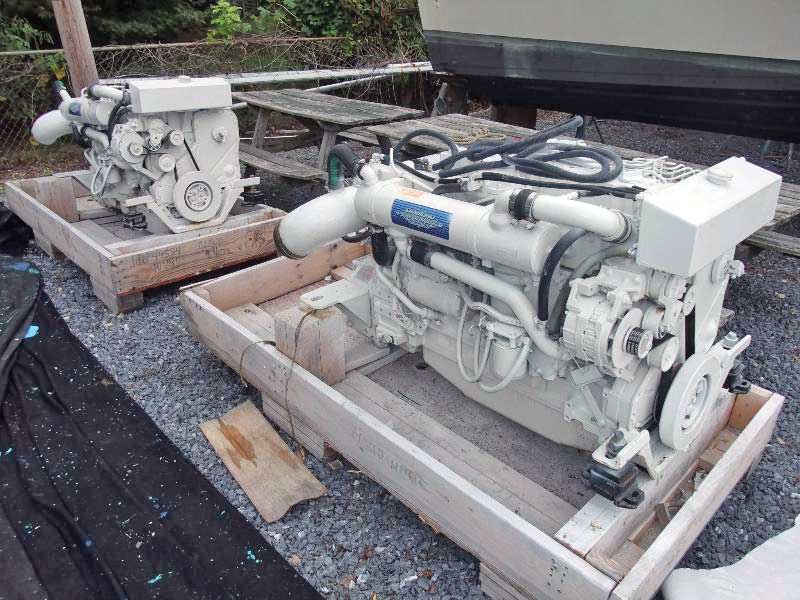 "The turn onto the Potomac River was fun. Suddenly, the swells we'd been pushing through while heading south turned to beam and then following seas. We'd surf down a swell and stuff the nose gently into the next one, then plow through it and repeat for an hour. The entire boat was very thoroughly leak-tested with saltwater coming over the bow… and passed the test. The V-berth portholes saw lots of action but kept it all on the outside. By the time we passed Colton's Point, where we found the Roamer on Purgatory Row of Colton's Point Marina in December 2007, the Chesapeake's influence had waned to the point that we were just cruising along on the calm Potomac. It's hard to tell for sure with the inaccurate tachometers, but I believe our comfortable cruising speed was about 1850 rpm at 15.5 knots for the majority of the trip."
Alex Schlegel is a regular contributor, but we haven't heard from him recently; he's been busy. "It is hard to believe that a year ago we started moving Hartge Yacht Yard back to Hartge Yacht Harbor in Galesville, MD. Due to the press of business we hired professional movers to do most of the moving. Organizing the shops and yard when business permits is an ongoing process.
"We finished replanking, caulking, and painting the starboard side of the buyboat Muriel Eileen and launched her in late spring. With the boat in the water, after seven months out, we held her in the Travelift slings for several days as the planks swelled. With the boat in the water and working from floats, we sanded, primed, and painted the bulwark frames, cap rails, and installed the bulwark planking. The port hull sides, transom, and rub rail were painted next. We are working on the deck paint now and will have her ready for the owner in September.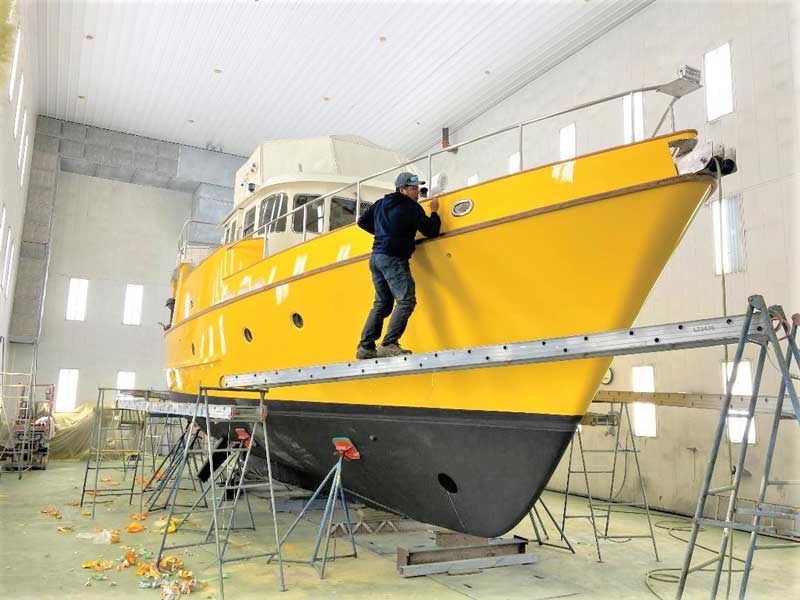 "A Dyer Glamour Girl 16 is in our shop for some work. When she arrived, she had had cosmetic work done on the hull and deck which looks great with a dark blue hull, gold name, bright red boot top, and golden varnished oak coaming. Her new engine is an older but in good condition Yanmar 2GM20F with a Kanzaki KM2P 2.62:1 gear. We built a custom instrument panel with gauges, lights, and switches mounted on a carbon fiber board that, rumor has it, came from an America's Cup boat. A few new parts and paint make the engine look new. As a contrast, we have E.A. and J.O. Crandell's steel custom tugboat hauled out for bottom painting. Big C Too is 42 tons, 45 feet long, has a five-foot draft, and is propelled by two variable pitch four blade props in half tunnels. She is getting normal maintenance done to the bottom and sides.
"Sometimes things in life keep owners away from their boat. We are just (now) doing spring commissioning to a 1969 33-foot Trojan. She is powered by a pair of engines called Trojan Interceptor 210s. We removed the starboard transmission to see what caused a rattling noise. As suspected, it was the damper plate. The transmission was painted while off. Other work included varnishing the mast and painting the cabin top. This is a good looking boat, well maintained by its owner, the yard, and the protection of a covered slip.
"A 2002 Sabreline 36 Express has been in our yard for lots of work: new PYI shaft seals requiring shafts to be pulled, new cutless bearings in the struts requiring props to be off, all thru-hulls re-bedded. The bottom paint was stripped by blasting with glass beads; Interlux InterProtect barrier coat and antifouling were applied.
"The eye-catching Bebop Tango was hauled in our yard recently for normal bottom maintenance. She is a one off Franzen 56 Pilot Cruiser, a distinctive looking and performing yacht with the wheelhouse well aft and a long foredeck. Interestingly, the designer, Iver Franzen, worked with Thomas Gillmer on a number of projects including the USS Constitution, Pride of Baltimore II, and Kalmar Nyckel. We have had a good year back at Hartge Yacht Harbor getting to know new customers and renewing friendships with old customers. The next year will be even better."
Caitlin Sims of North Point Yacht Services in Annapolis, MD, reports, "North Point is proud to be the area's newest Seakeeper Gyro Dealer and Seakeeper Ride Dealer and has completed installations on a Pursuit 245 and Scout 255. The Seakeeper Ride is the first-of-its-kind Vessel Attitude Control System (VACS) that eliminates up to 70 percent of pitch and roll underway. Seakeeper Ride controllers are mounted to your boat's transom, below the waterline. Using custom, proprietary inertial sensing hardware and software, the system understands how the boat is behaving in all three axes and commands deployment of the rotary blades to counteract pitch, roll, and yaw. As the blades are deployed, they create lift at the transom, managing the vessel's motion instantaneously.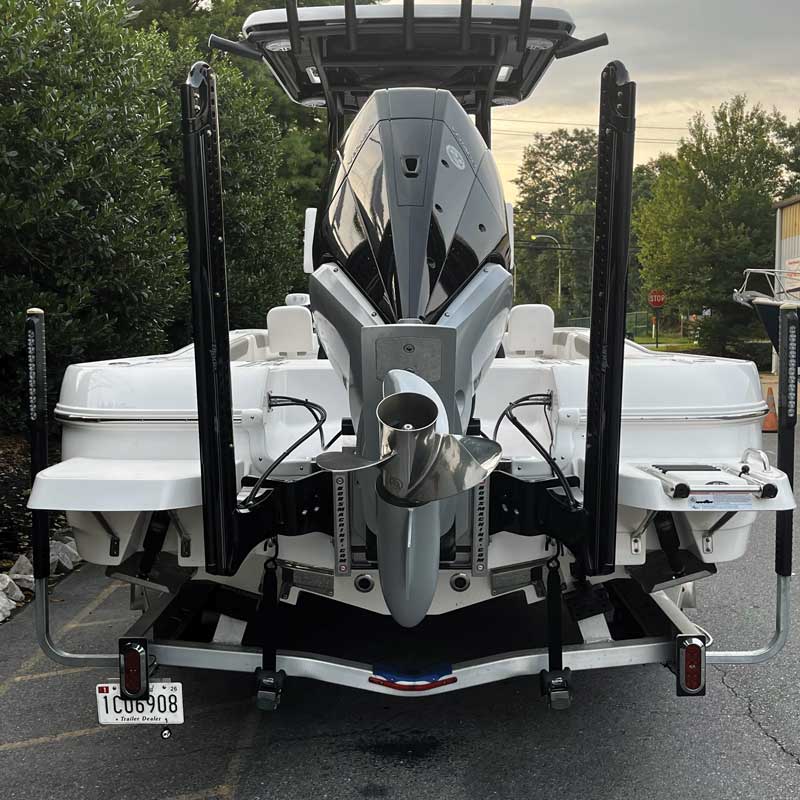 "In addition to Seakeeper, we are also officially authorized dealers for SIONYX and Nightwave products. SIONYX is focused on developing the best technology in the world to provide accessible, unmatched nocturnal, optical clarity with digital color night vision solutions. The Nightwave is the first-of-its-kind marine camera system that allows mariners to navigate safely by easily spotting hazards and debris. With flexible mounting options, Nightwave seamlessly integrates to any vessel and connects to major brand multi-function displays via the analog video output. We have recently installed Nightwave on a Tiara 34 LS and Caymas 26 HB. Lastly, we recently installed Power Poles on a Caymas 26HB. These hydraulic stick anchors allow anglers who like to fish in shallow water to quickly slide them into place, keep the boat steady, and pull it out once they are ready to move."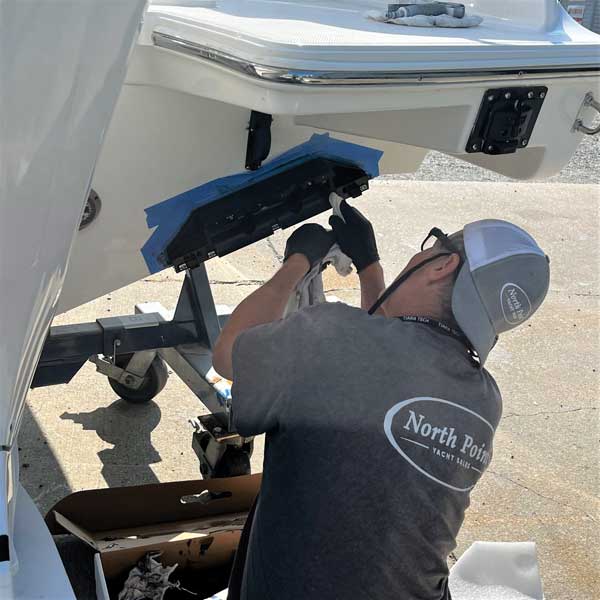 Christian Cabral, vice president of shipyard operations at the Chesapeake Bay Maritime Museum in St. Michaels, MD, reports that late summer and fall in CBMM's shipyard is always a busy time, and this year is no exception. "CBMM's shipyard team is progressing toward milestones on a variety of projects. First on the list is the scheduled launch of the latest new construction, the 36-foot buyboat Mr. Dickie, in mid-October. As the deadline approaches, CBMM shipwrights are working on the superstructure, mechanical/systems installation, and finish work. Not to be left behind, shipwrights working onboard Winnie Estelle, CBMM's 65-foot passenger-carrying buyboat, are constructing interior bracing and molds designed to reinforce the structural integrity and shape of the boat for the upcoming deconstruction of the vessel's bottom and ultimate keel replacement.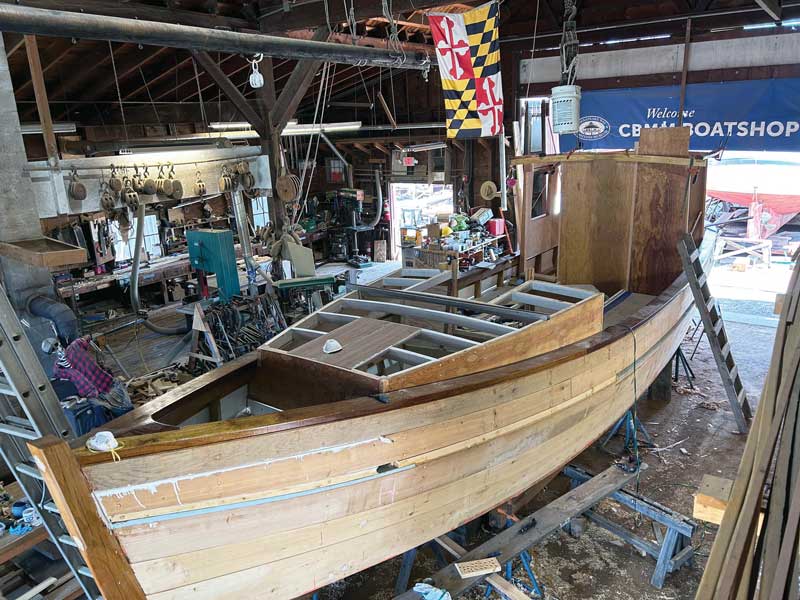 On the railway, floating fleet shipwright Alex Bell and his team have begun an extended rail period for CBMM's skipjack Rosie Parks. On the list this year are annual care, topside plank repair, bulwark repair, and deck maintenance. For those interested in Chesapeake vessel construction and the oyster industry, the work being performed on Rosie is a rare opportunity to get a firsthand look at the vessel's unique construction and learn more about its interesting history. Now returned to the water after a multitude of maintenance projects, CBMM's newest buyboat, Choptank, has taken up residence in our service slip, where shipwrights are outfitting the vessel with a winter cover and continuing work on the vessel's new interior. Choptank's new accommodations include a main saloon, state rooms, crew quarters, and all necessary systems."
That's all for this month. See you at the shows.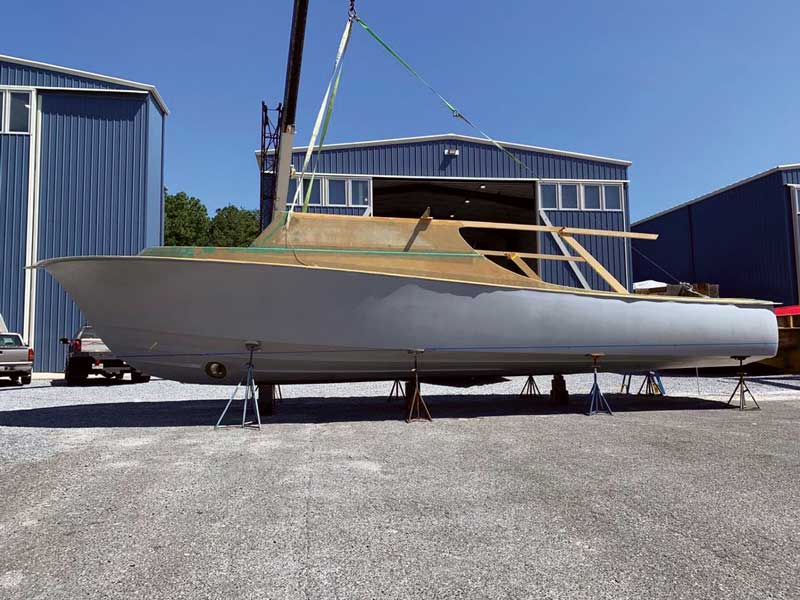 By Capt. Rick Franke