It always seems as if summer flies by way too fast. Most boatshops report a busy summer season this year and a promising start to winter work. The only cloud on that horizon continues to be the scarcity of workers to do all the work.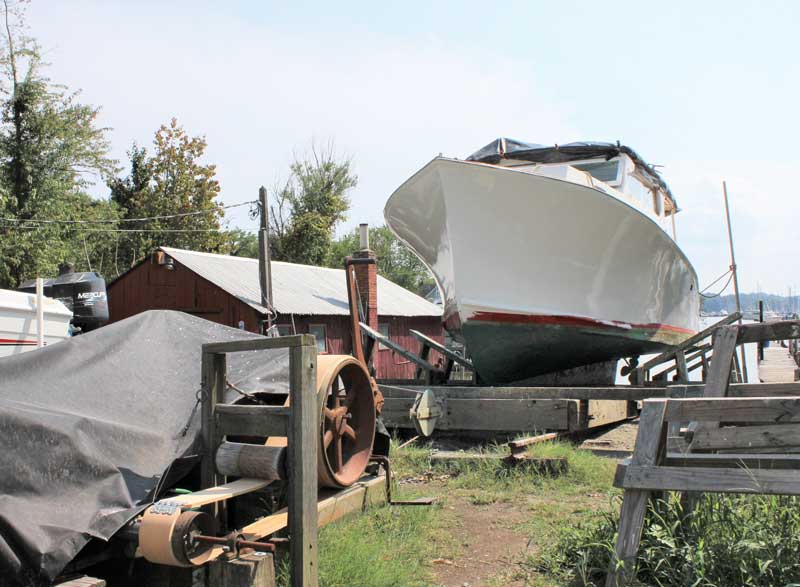 J.J. Williams of Osprey Marine Composites in Herrington Harbour North reports that his shops are busy and the winter schedule is starting to fill up. "We haven't had a slow summer for three or four years," he commented. "We've done a lot of painting and collision repairs recently. We also had the Chesapeake Bay Foundation's Evans 50 in for repairs to her transom and some delamination issues. Our biggest problem continues to be the search for good help," he concluded.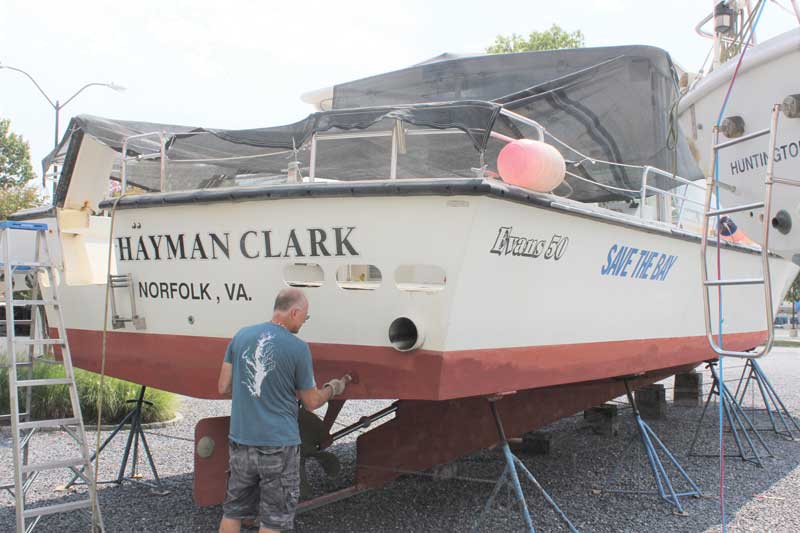 We haven't heard from Reid Bandy for a while, but it sounds as if he's been working hard at his shop at Casa Rio Marina in Mayo, MD. "Bandy Boats has been busy with several rebuilds, a new carbon-fiber center-console prototype, and ongoing restorations of three historic Rybovich sportfish boats. We are focused on modern materials and the benefit that can be applied to classic boat restoration, as well as new design and build projects. Many of our restoration subjects could not be economically saved in a conventional manner, and the use of foam and glass not only saves them for another day but creates a more stable, maintenance free, high performance package while still maintaining the lines and grace of a bygone era. 
"We are also evolving boats for the future with epoxy and carbon composite in center-console, bay-cruiser, and sportfish designs. We have designed a commercial charter boat at 50 feet that can carry 20 passengers, cruise at 25 knots, and weighs 20,000 pounds. Our Mayo location has several projects underway and several boats for sale. We will start a large center-console build in the near future with multiple outboard power. At 40 feet overall and 8500 pounds total displacement she should be a pillar of efficiency and speed unmatched in the marketplace.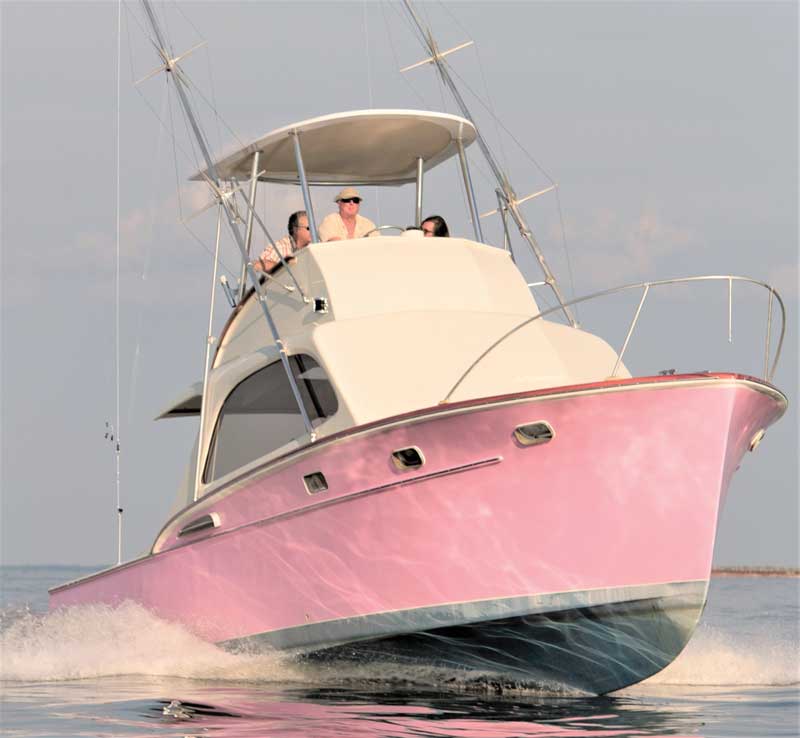 "The hard work of restoring the 1955 Rybovich Timid Tuna has paid off. Initial sea trials gave impressive results, and the Tuna can easily cruise at 25 knots and two miles per gallon. We haven't found her wide open speed yet, but she goes 34 knots at 60 percent load WOT. As we complete her fit out, the wheel will be tuned to match her weight, and we predict top speed to be 35 knots. She weighs 13,000 pounds half full compared to her 18,000 pounds dry build weight in 1955. Hopefully she sees another 50 years."     
Zimmerman Marine at Tracys Landing, MD, has a 2005 Lazzara 75 in the shop for some cosmetic upgrades including new accent striping, boot stripe, and panels. There are also many gel coat repairs on the top deck. The new owner is changing her name, so new letters are being fabricated. Inspection revealed a small area of core delamination on the cabin side which will be removed and replaced. Refitting and repairing some interior doors and panels is also required. The boat was struck by lightning, so all the electronics are being replaced and much of the wiring as well.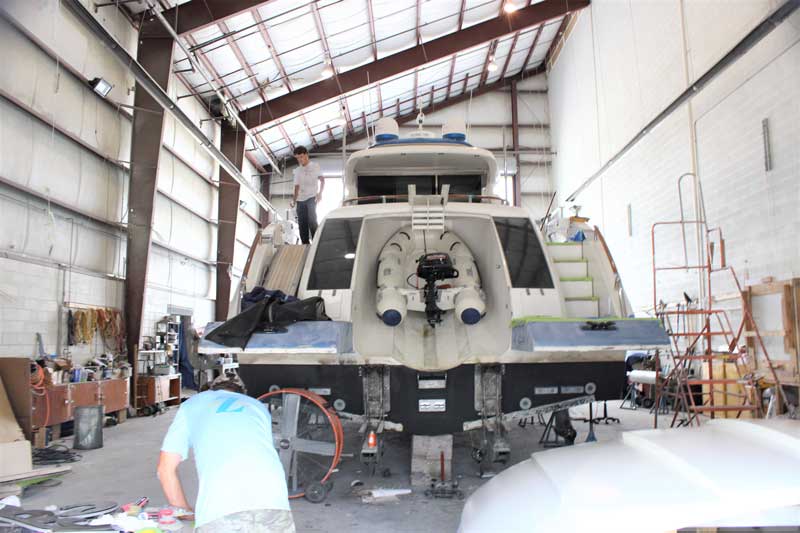 Another shop we haven't heard from for a few months is Composite Yacht in Trappe, MD. Rob Hardy checks in with a busy update. "The CY 55 is going well. We have been thermo-forming the core, bonding it in. At that point we have to block out locations for struts and sea chest and things like that. We just got the carbon and the Kevlar for the inner skin of the hull, so we can pop the hull. The deck mold is here, so once we get the hull out, we can get started on the deck. We're inching along. It's a slow process... The hull came out really well, and the resin content is going well; it's a slow process, but we're getting there.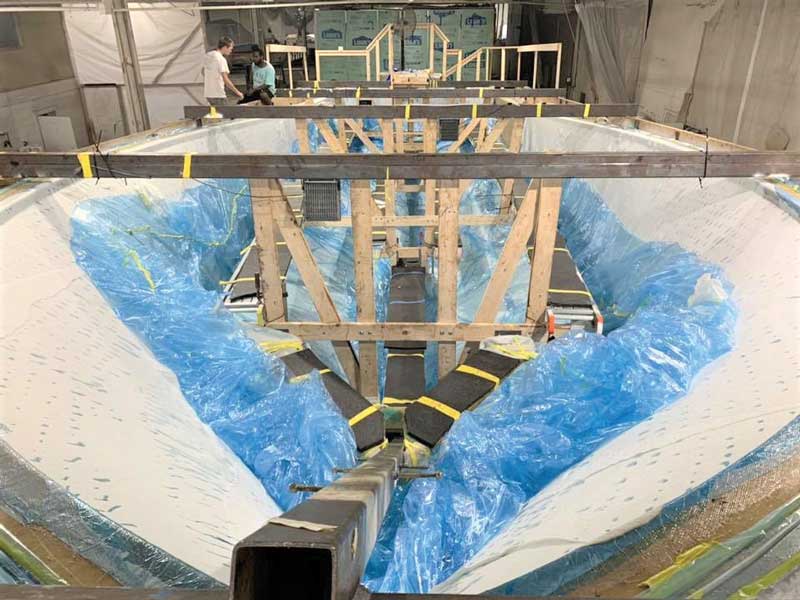 "We just set the console and are putting down hardware on the CY 26 we're building for the same owner as the 55. We are getting close on that. We are getting near the end, installing hardware and wrapping things up on our 46, the inspected charter boat that we're building. We've got a deposit on another 46. The outboard powered Markley 35 is moving right along. We've set the deck and are starting to do interior fairing and things of that nature. On top of all that we have an excavator out back doing site work for our new building, so we are cruising along." 
Rob also echoed what we've been hearing from other shops. "We have gotten so busy that we don't have a summer slow period. We'll be busy this winter as well. We are still trying to hire, so if you know anyone, send them my way" 
Phipps Boat Works in Deale, MD, has a newly painted 1973 Pearson 43 Trawler in the shop for new windows and doors and replacement of interior paneling. Phipps has had a busy summer and the winter schedule is filling in fast.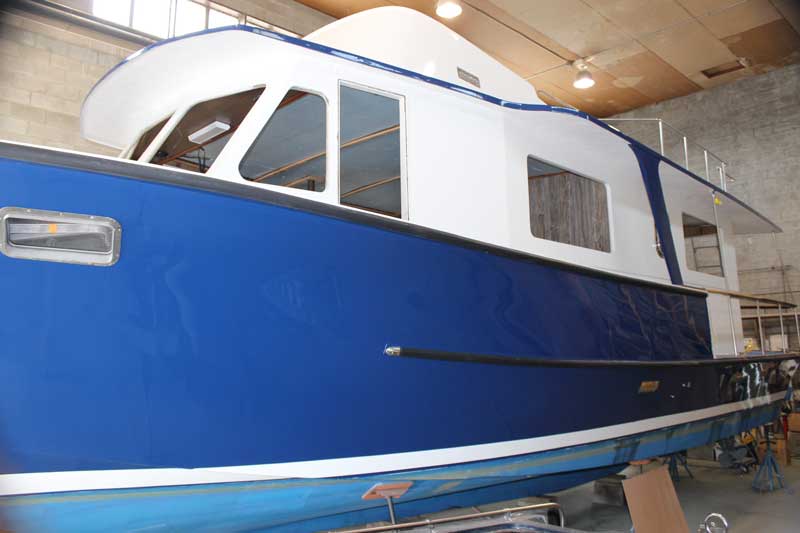 Jim Weaver of Weaver Boatworks in Deale, MD, reports that they have three boats under construction and have just begun a fourth. "We just started a Weaver 38. It's a new concept for us, a center console to be powered by triple Suzuki 350 outboards. It's a different market place. This is the first boat we've designed to accommodate the fast developing outboard market. It is a new design just for outboard power. When you get into the outboard market, it's pretty technical to make them run right. You can't take a boat that was designed for inboard power and just stick three outboards on the back of it," Weaver explained.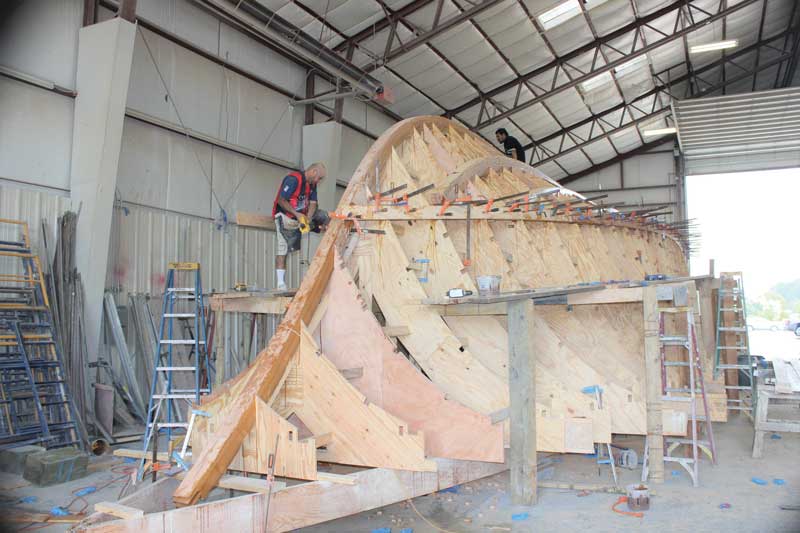 "In addition, we have three boats in various stages of construction: a 58, a 70, and a 75. I think that boat sales are very good. As long as the economy continues to be good, people will be buying boats. I do think the sizes are coming down a bit. It seemed like for a while everyone wanted 80 feet, 90 feet, or bigger. Now the interest is more in the 70- to 75-foot range," he stated. Jim is optimistic about the future. "We will be very busy this winter. We have at least two years' worth of work right now." 
Jason Corsini of Marine Services at Pocahontas Marina in Edgewater, MD, reports that all the work on the 1951 Chris-Craft Commander below the sheer line is nearly complete. "Once we finish re-caulking the hull seams and install the through hulls, we'll be ready to splash her and start on the deck and cabin. We hope to do that this fall before it gets too cold."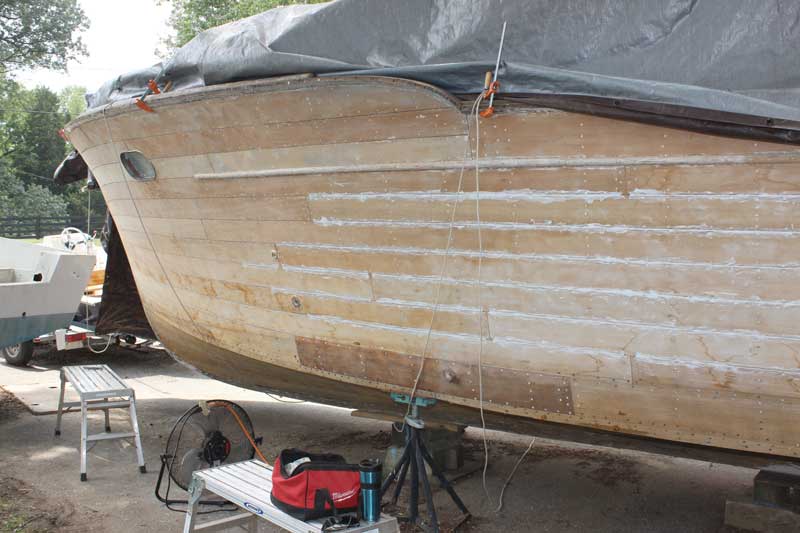 From Worton Creek Marina in Chestertown, MD, we get this update from the marina newsletter. "Yard activity continues at a very busy pace, and everyone here is working hard. A sampling of what's going on includes a 50-foot Burgher Trawler in for topside paint and a long list of maintenance items, work on the Spencer propeller tunnels to reduce noise, three boats in for insurance work, and of course, the general summer maintenance and repair on commissioned boats. We've also started work on the 72-foot Princess fire damage. We had the salon soda blasted to remove soot, and it turned out pretty well. Next step is to do some fiberglass work inside and then a coat of resin to encapsulate the soot that remains."
Joe Reid of Mast and Mallet in Edgewater, MD, builds the Thomas Point line of bay-built-inspired boats. He's built so many he decided to see if he could get them all together. "On the weekend of July 20-21, Mast and Mallet hosted its first rendezvous for Thomas Point boats. A great turnout: 10 boats attended the meet held at the Chesapeake Bay Maritime Museum in St. Michaels. Boat lengths were from 32 feet to 44 feet. A happy hour was held Saturday evening in the Steamboat Building for present and past owners. Lots of fun, good times meeting everyone. I'm presently putting together a directory of boats built by Mast and Mallet to be made available to all owners. Sunday ended the festivities with a parade of boats leaving St. Michaels Harbor."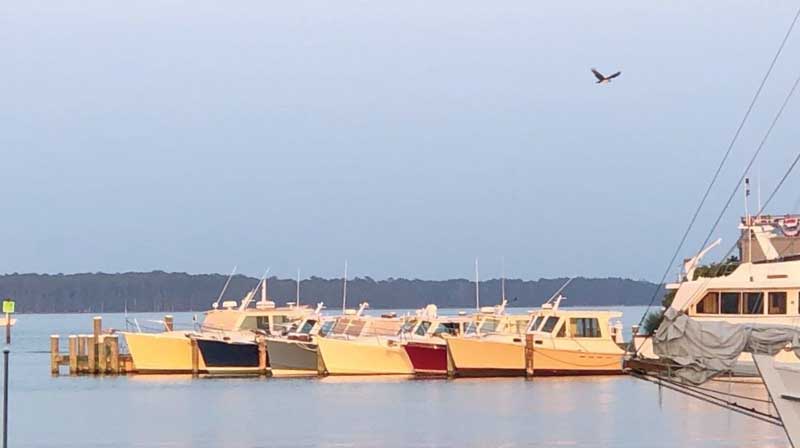 By Captain Rick Franke