Tired of circling the Bay Bridge pilings looking for an open spot among the "fleet" to jig up some undersize striper? Think you might switch gears and chum up some "tasty" catfish as the crowds make chunking impossible? If this is your normal weekend schedule, fire up the Chevy and haul that center console over the bridge toward the ocean! There is a whole new world to be explored, and it is only three hours away.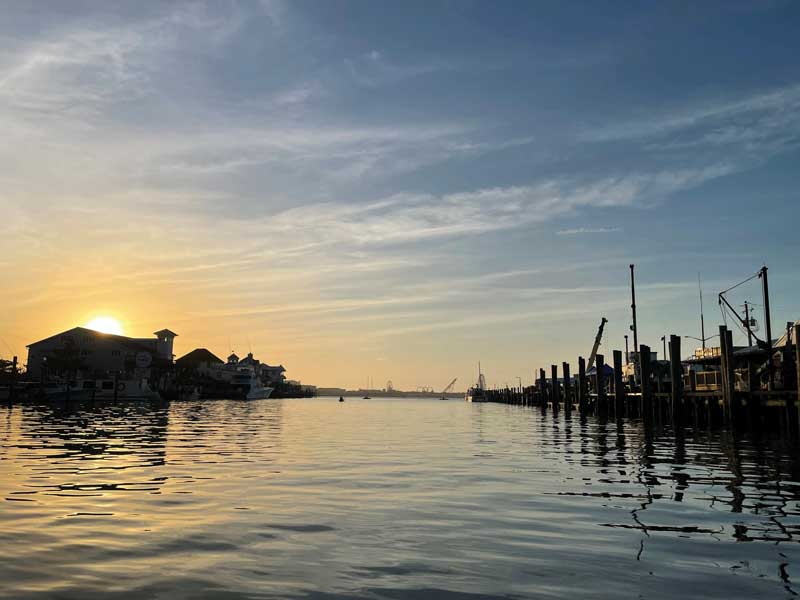 When can we go?  
Fishing can begin as early as January for Tautog and keep you busy wreck fishing until early April when flounder arrive on the scene. Shortly after the flounder make their appearance, you can switch to bluefish and stripers, both arriving in early May. As the waters warm, the diversity increases daily with the northerly migration of both Mako sharks and bluefin tuna followed by yellowfin tuna, Spanish mackerel, white and blue marlin, trigger fish, and dolphin. Species come and go, but many hang around through late fall until temperatures drop and fish head offshore to the canyons or south to warmer waters. Almost all species are regulated, so be sure to check the latest regs and requirements at Atlantic Seasons, Sizes, and Limits on the Maryland eRegulations page.
When you can go is also weather-dependent. While a great forecast may make fishing behind the barrier islands more enjoyable, it becomes a safety factor when traveling offshore. A great resource is windy.com, as it will allow you to place a pin on where you want to check the local weather. You can learn swell height and directions along with wind and wave speed, direction, and height.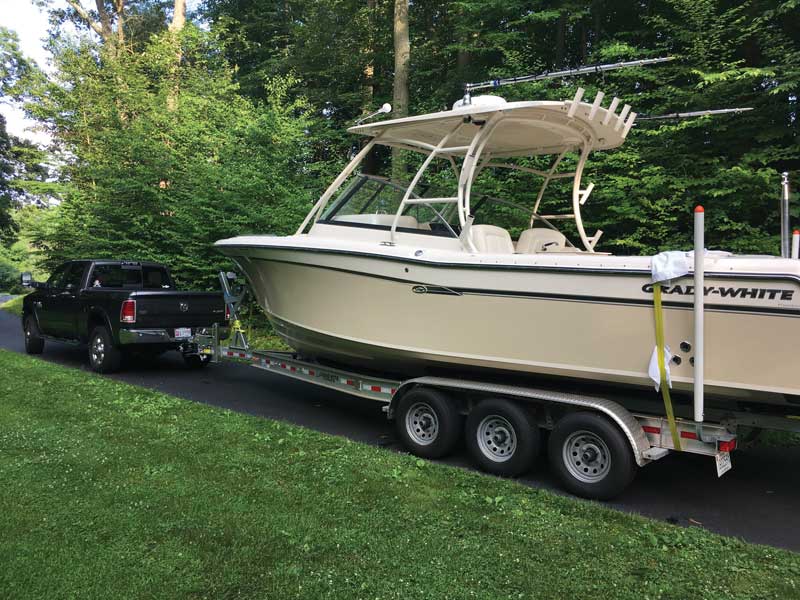 Ocean City, Virginia Beach, and all the coastal towns are popular destinations during the summer months and not all vacationers are content to sit on the beach resulting in crowded boat ramps and fishing grounds. If possible, schedule your trip on a weekday with September and October being the best months. A 10 a.m. arrival on a summer weekend will guarantee frustration trying to find a parking spot for your trailer.
Where can we launch? 
You'll find public Ocean City-area boat ramps at:
Assateague Island Park (Rt. 611 at Assateague Island Bridge).
Gum Point Road (off Route 589).
Ocean City Commercial Harbor (Sunset Avenue in West Ocean City)—great ramp and parking, but extremely busy.
There is also a great ramp at 64th St and Seabay Drive. This area is a pay-to-park facility with a maximum rig length of 50 feet. Pay at the kiosk.
Each of the coastal towns can provide a list of ramps along with hours and parking regulations. A stop at the local bait store can steer you to the most appropriate for the size boat you are launching. All coastal towns have tight regulations on where you can park your trailer and will not hesitate to ticket/tow if you do not obey.
Small Boat?
We're going to need a bigger boat! Not!! Hook up that skiff as you are not to be left out. Flounder, weakfish, seatrout, bluefish, and striped bass are among the species available to you in the back bays and near the inlet. Your boat's construction and stability will determine where you fish as some areas can become dangerous to smaller craft from passing boat waves as well as currents and obstructions. The inlet is home to all of the above and can quickly swamp a small craft, but fishing a few hundred yards away can result in a safe and enjoyable day. A tip is to avoid the crowds at the commercial harbor facility and head to the ramp at Assateague Island reducing frustration levels.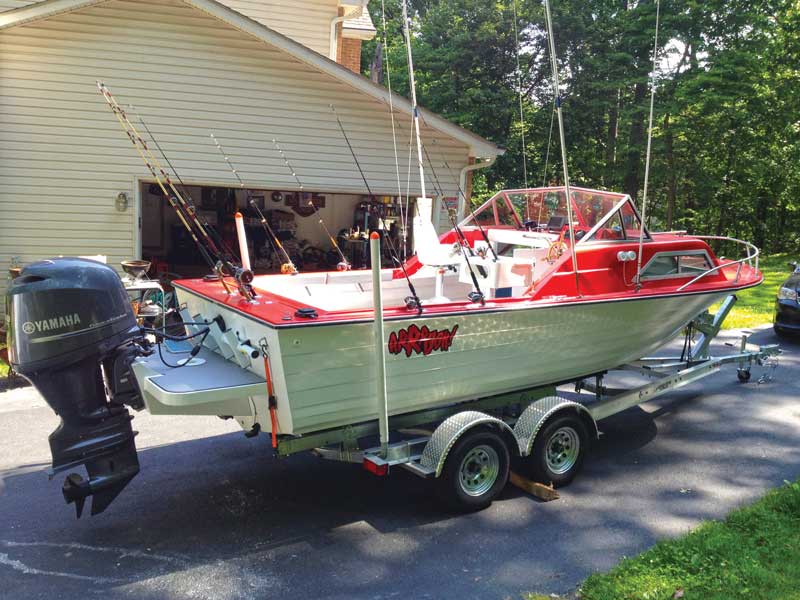 Medium Size Boat?
Scratching your head deciding what is a medium-size boat? Great question, but let's assume the boat and the captain are both capable of running the inlet and heading offshore 20 miles. Modern electronics, dependable four-stroke engines, and well-built hulls allow many to venture outside the breakers, opening up a whole new world of fishing. We could devote entire issues to what constitutes an outfit and crew capable of fishing outside the inlet, but we will assume you have the range, knowledge, and boat to not only get you there but also bring you home. 
The inshore waters of Ocean City are some of the most overlooked fisheries in the tri-state area. While most anglers want to run offshore in search of tuna, there is great fishing in sight of the beach high-rises. A short run to the Gull banks can produce Spanish and king mackerel. The Bass Grounds have become a fantastic fishing zone with tons of reef building materials being dumped by the Reef Foundation. For a chart, stop by the local tackle shops or visit Ocean City Reef Foundation.
The variety of fish that can be caught only 10 miles from land is astounding! Or, if the waters are flat, head a little further out to the Jackspot which lies 21 miles from the inlet and is home to some monster bluefish, trigger fish, and possibly Mako sharks and dolphin. Back in the 1950s, it was even possible to hook a white marlin here, but now a bluefin tuna would be your most exotic catch. But what a catch it is! These areas are not heavily fished, since the head boats target the wrecks while the larger boats head offshore leaving these prime fishing grounds to the few.
Larger Boat?
Your boat is capable of running to the canyons! Exciting times ahead; as you make the jump from fishing the Chesapeake to running offshore, there are a few items you might want to address. The first is safety as the sea is not forgiving. Before trailering across the peninsula, I change my fuel filters both on the engine and my hull-mounted units. I carry extra filters and wrenches to change both. I also carry an EPIRB and a hand-held floating VHF radio. My life jackets and throwable all have reflective tape glued to all sides and attached to each are a whistle and strobe light. I keep a knife and wire cutters at the ready for any emergencies requiring cutting of fishing lines (this can save a life). I also inform each crew member of our course to the fishing grounds and check to make sure they all know the reciprocal course to get them safely home: Pencil this number below your compass just in case.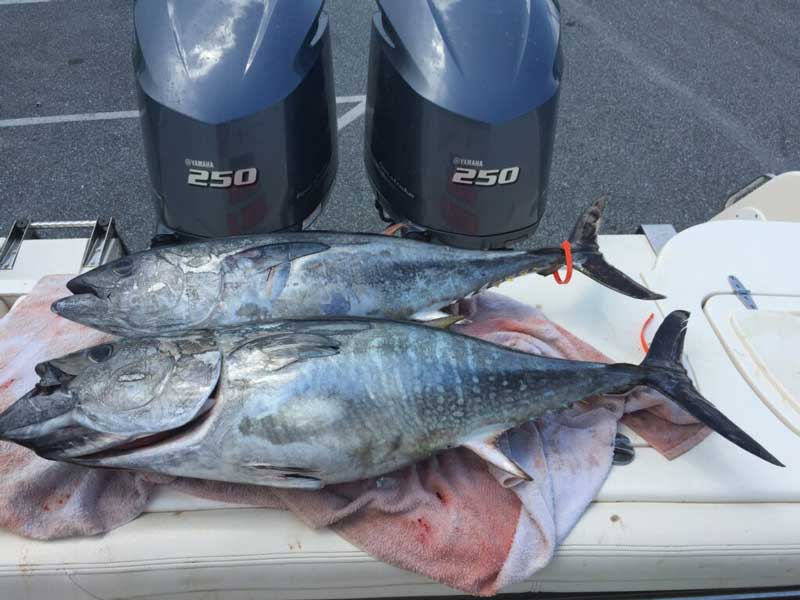 What gear do you need? This depends on your quarry. I will refer you to FishTalk Magazine which will direct you to the current hotspots, as well as what the fish are eating, which will determine your terminal tackle. A stop at the Ocean City tackle shops will supply you with everything needed and can provide the latest info on where to head. Your Bay rods may surprise you and be usable for most species. If you are sporting reels with 40- or 50-pound test that you trolled last spring during trophy striper season, you are halfway there. If you don't have this heavy of a rig, I suggest asking your fishing buddies if they know of anyone who might have heavy equipment. I know dozens (including me), who have upgraded their rods and reels and still have the old star drag models collecting dust in the basement that might only need a line swap to be perfectly serviceable. Add a gaff or two along with a hundred pounds of ice with some ballyhoo, and you are ready to go!
Well, almost ready. Is your boat legal to be towed without a permit? If your rig is larger than your state allows, buy a permit to be legal and know the regulations. Side-stepping this requirement could result in a hefty fine and find you uninsured should any accidents occur. I use Mercury Permits, which offers a discount to BoatUS members and can provide permitting for every location. I purchased a blanket permit allowing 24/7 towing year-round and have also purchased permits for towing from Maryland to Florida with one quick phone call.
Too much trouble? You can always charter a boat that has a captain, mate, equipment, and expertise to put you on the fish. But if you want to use your own boat, load up and head east for a new adventure. Tight lines! 
By Joe Borrison