The fall boat shows have come and gone. The boating season is coming to a close, and it's been a good one by all reports. Some lingering supply issues and the constant search for qualified workers still linger, but it looks like the winter season is going to be a busy one for area boatshops.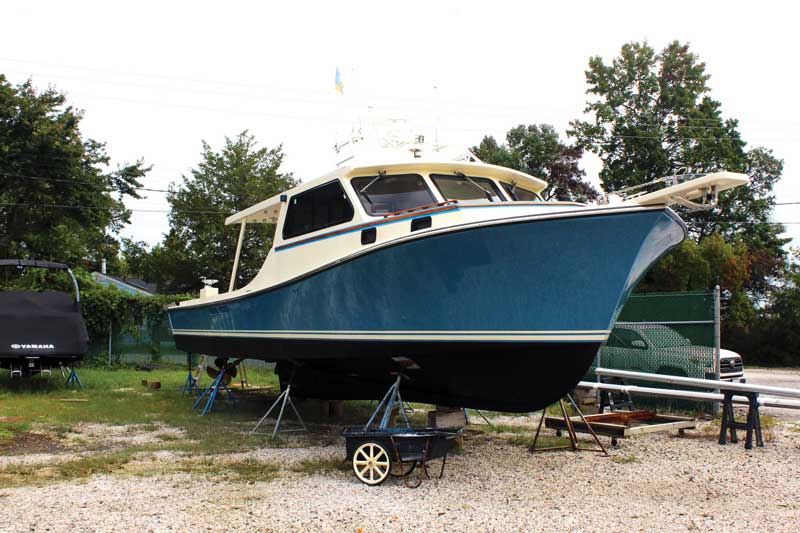 Allen Flinchum of Cypress Marine in Severna Park, MD, reports on a very interesting project that his shop just completed. "Coastal Resources Inc. of Annapolis, MD, commissioned us to design and build a davit and a stabilizing ring for the bottom sampling device on their research vessel." Since the research boat was on a trailer in the shop, Allen demonstrated the davit and also demonstrated how the stabilizer, or guard, kept the bottom sampling scoop upright to allow it to pick up bottom samples.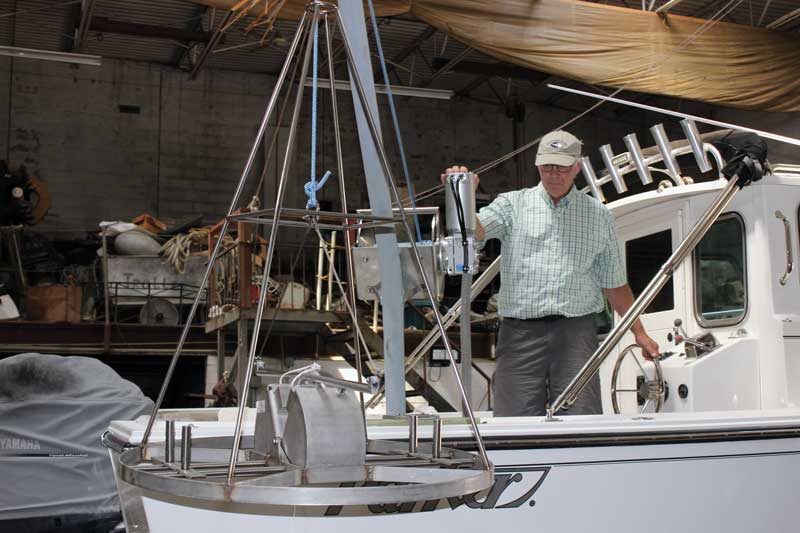 Self-taught builder and designer Mike Lohr is building a 26-foot custom Carolina style center console boat in the shop at Cypress Marine. "I designed the boat myself with some help from some CAD applications from one of the local designers," Mike explained. "It's being built for a previous customer who I built a 36-foot Carolina style sportfishing boat for in Norfolk, VA. The boat's currently being chartered out of Rudee Inlet.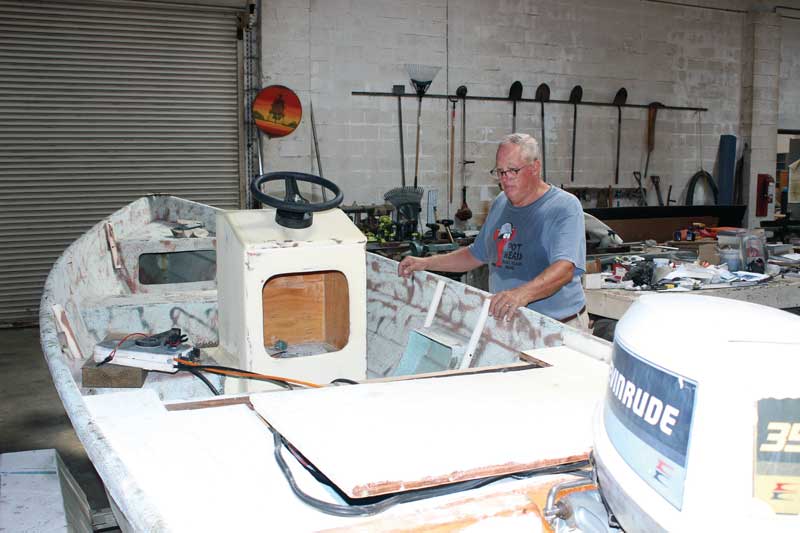 The gentleman called me pre-Covid and told me that the boat next to his in the marina at Rudee Inlet had caught fire and scorched the side of his boat. He called me to get advice about repairs. Toward the end of the conversation, he asked if I knew anyone who could build a center console boat for him and his son to fish in the Chesapeake. He told me what he was looking for. He wanted a custom Carolina style boat with the flare and some of the amenities that production center console boats have. So, I told him I know a guy who can do that. He asked who and I told him, 'You're talking to him. I built you a boat almost 20 years ago, so let's do it,' Mike laughed.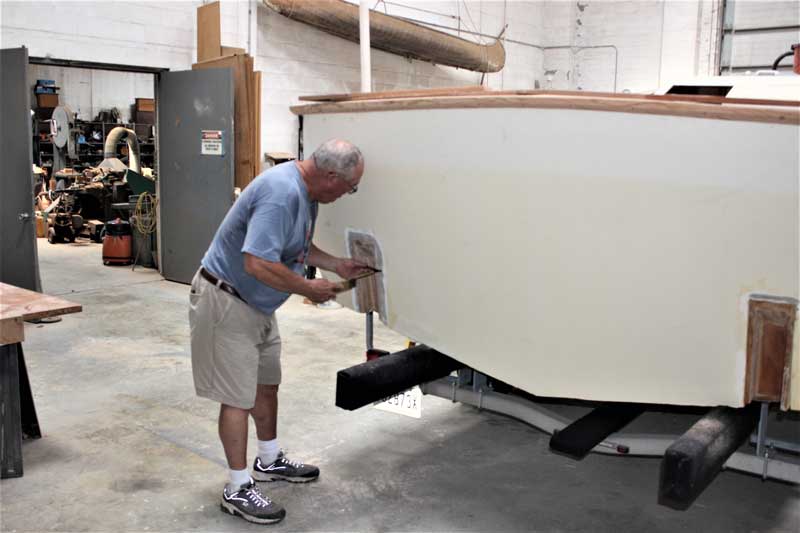 I asked what he would use for power, and he said, "We're putting a fabricated outboard bracket on the transom and hanging a 400R Mercury motor on it." Mike has also been rebuilding a 16-foot skiff that he saved from the dumpster at Cypress Marine. "Allen was going to get rid of it; it was an abandoned orphan, and I asked him if I could have it." Mike and his wife will be moving to Tidewater Virgina soon, and he wants to use the skiff for shallow water fishing.
Andy Dize of Roudebush Yacht and Engine Works in Dundalk, MD, reports on the completion of a seven-month restoration of Rosebud, a 1988 Tom Fexas Midnight Lace express cruiser. The boat was launched and sea trialed on the Patapsco River near Baltimore, MD. "We were able to get Rosebud out on the water for about two hours yesterday; spooled her up to about 20 knots. We also tested systems, engine ops, and calibrated the autopilot."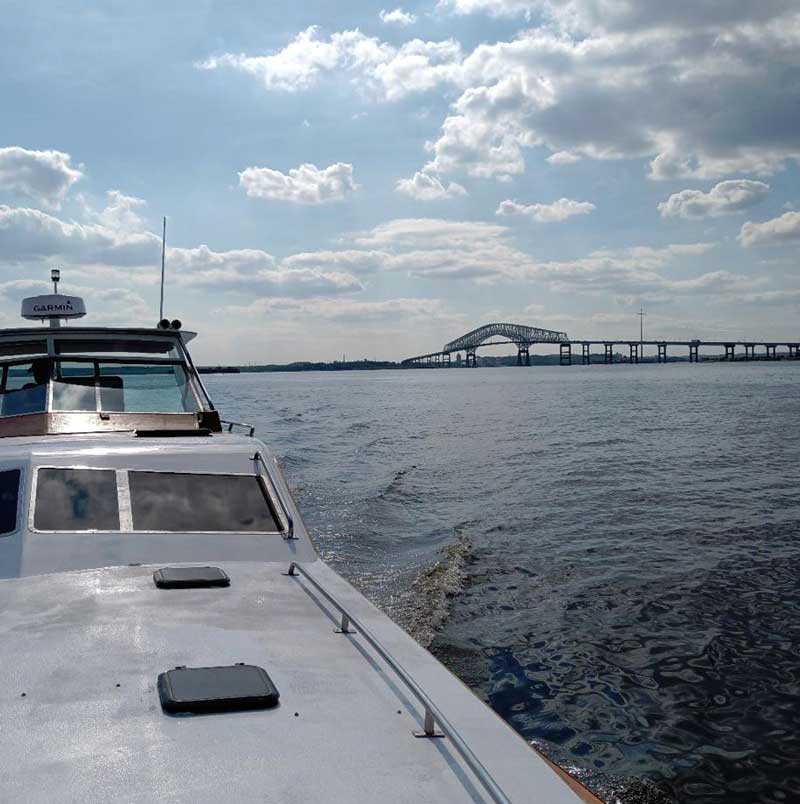 On the subject of sea trials, we wanted to pass on this online report from Chesapeake Shipbuilding in Salisbury, MD, about the on-time delivery of the first of 12 'Coastal Cats,' as these small catamaran cruise ships are called. "One of the last steps in the construction and positioning of a vessel is the sea trial or shakedown cruise. Approximately a month before a ship is scheduled to travel with our guests, representatives from Chesapeake Shipbuilding, where all our vessels are built, and American Cruise Lines come onboard to measure a new vessel's performance and general seaworthiness. During this time, which typically runs between 12 and 24 hours, the new ship's speed, maneuverability, equipment, and safety features are tested. Checks are made on propulsion and navigational systems, as well as on fuel flow and exhaust. Though this is called a sea trial, our fleet is vetted on the Intracoastal waterways and rivers in which we travel.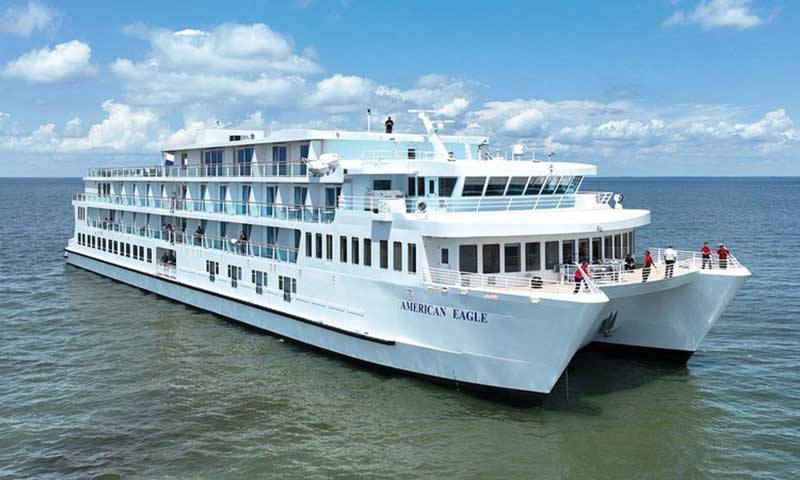 "Most recently, American Eagle passed an extensive sea trial and is now sailing her inaugural season in New England. American Eagle, the first ship from our brand-new Coastal Cats fleet, was officially christened on August 16 while docked at the prestigious Massachusetts Maritime Academy. For the remainder of the 2023 season, American Eagle will sail our Cape Codder itinerary, round-trip from Boston, as well as our Maine Coast and Harbors cruises, round-trip from Portland, ME, and our Historic South and Golden Isles cruises operating between Charleston, SC, and Amelia Island, FL. In 2024, American Eagle, along with a series of sister ships, will operate numerous new US itineraries exploring the East Coast, from Maine to Florida, including a new Florida Gulf Coast and Keys cruise round-trip from St. Petersburg, FL, and a new Yankee Seaports cruise between New York City and Boston, MA. 
"Accommodating just 100 guests, American Eagle features four decks and showcases a unique bow as well as an activity platform at the stern, equipped with a large tender for local exploration. The new ship showcases elegant interior design and private balcony accommodations, including spacious single and double-occupancy staterooms, as well as suites. American Eagle also offers a beautiful top deck for amazing views, comfortable lounges both inside and out, a main restaurant, a casual outdoor café, and a fitness center." There are two more Coastal Cats under construction at Chesapeake Shipbuilding and scheduled for completion by the end of the year. They will be delivered on time, no doubt.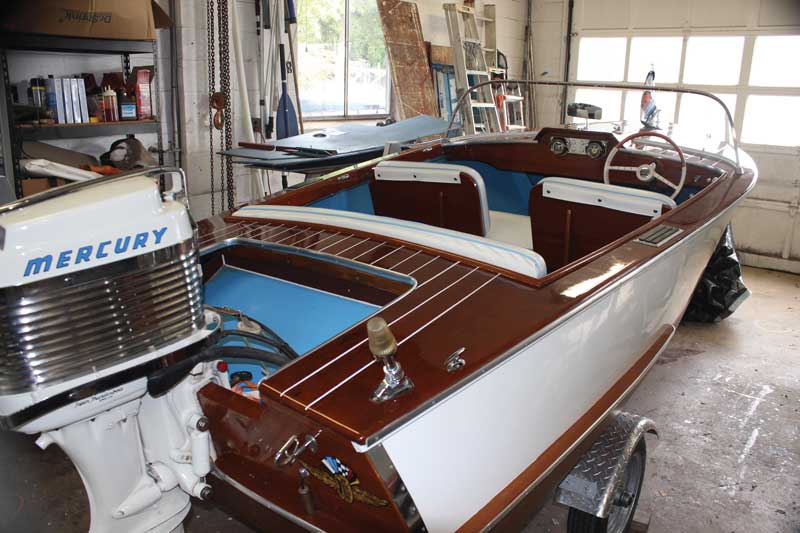 Brittney Parrish from Higgins Yacht Yard in downtown St Michaels, MD, reports a very busy summer and early fall and reminds us all that storage and service space is booking up quickly for the winter. "The only and oldest operating full-service boatyard in St. Michaels, MD, Higgins Yacht Yard ensures that the upmost care is taken when handling your vessel. Our equipment on-site includes a 30-ton travel lift, a 10-ton crane, and a hydraulic trailer. We have a 10,000 square foot main building, where we can work on vessels inside without weather causing a delay or issue. We also have a separate 2500 square foot carpentry building for specialty woodworking. Customers also have the option to have their boat hauled-out and blocked, where they can work on their own boats. For this service, we give first priority to watermen for use of our yard space."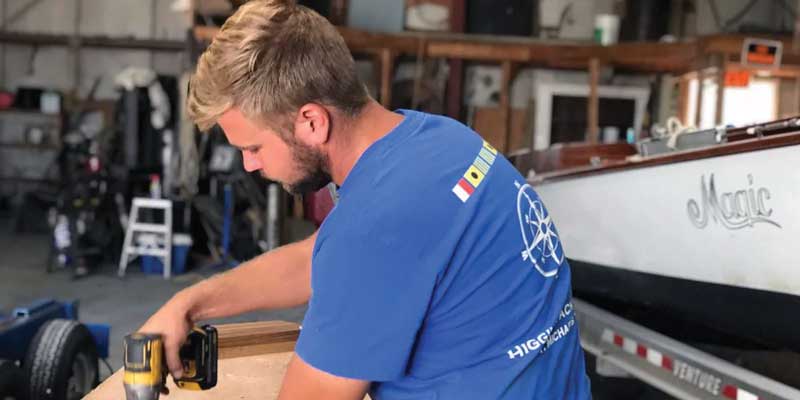 From Richard Hawse's backyard in Pasadena, MD, we have an update on his progress on My Way. "The cover boards have been installed, the fuel tank has been installed, the mezzanine has been built and is going into fairing, and the lazarette is going into paint. The engines have been assembled. They are going into the boat in the next couple of months. That's not the priority. Right now, I'm concentrating on getting the aft deck all sealed up and ready for paint. That's a huge project. I'm focused on the outside of the boat. In the winter I'll focus on the engine installation." 
Asked when he expected her to be in the water, Richard replied, "Same as before, next summer. I'm not going to rush it. When she's ready she'll let me know. I've never rushed a boat as I built it. I've only got one shot to do this. Anything I can do to make it better, if it takes a couple of extra weeks, I don't care. It's not about the deadline, it's about the end result. My old friend Mike Lohr told me at the very beginning of this project, 'No one is telling you have to have this done by a specific date. So don't rush it, do it the way you want. If you don't, you won't be happy with the result when you're done,' and you know, he's right about that."
Hawes is also the proprietor of Maryland Marine Electronics. His outlook for the winter season is upbeat and optimistic. "Business is great, I can't complain. I've got a few big projects to keep me busy during the winter: two big ones down in Ocean City, and I'm going to install one of these big Omni systems down in Gingerville. That's a pretty neat project, installing one of those retractable sonar systems on a 57-foot Island Boatworks.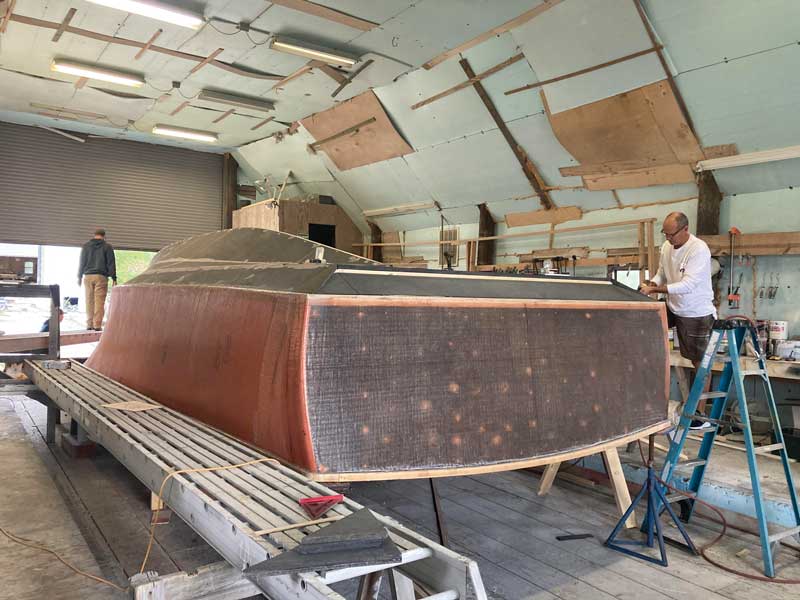 Experienced Bay boaters know we still have a lot of good boating weather until winter really arrives, so enjoy. But remember that our Bay is shallow and with short days and cool nights the water temperature goes down quickly. So, enjoy it but be careful and we'll see you next month.
By Capt. Rick Franke