Fall is really upon us. The powerboat show has come and gone, the geese are flying south, and shrinkwrap for sale signs have replaced the live crab signs on country roads. The winter lay-up season appears to be a good one for local shops. Builders are reporting lots of interest and order books are filling up. Supply issues do persist, mostly in overly long wait times, but that does seem to be slowly improving. The most intractable problem continues to be the shortage of labor, especially the skilled labor needed in boatshops. But, despite these challenges, the general mood is optimistic and the return to "normal" seems to be continuing into the winter season.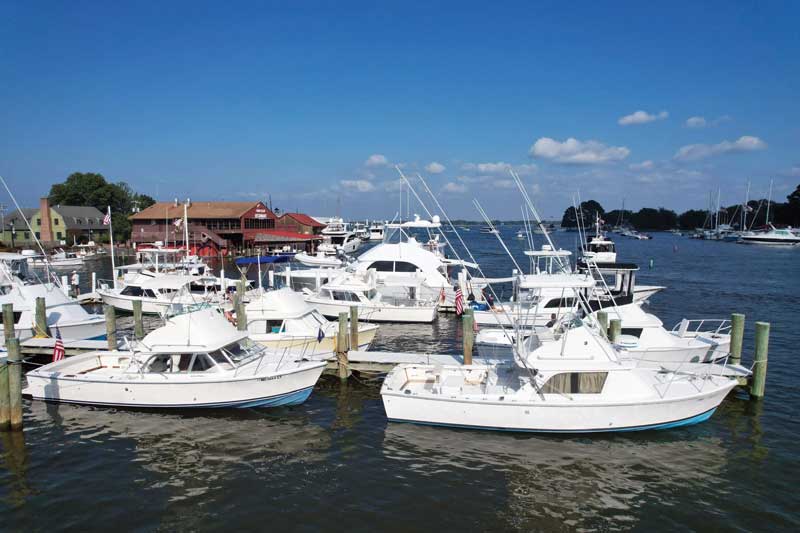 Jake Glover at Ferry Point Marina in Trappe, MD, starts us off with this update. "We've completed an all over AwlCraft/Interlux application on a Composite Yacht 46CB. Her bottom was blasted and new InterProtect barrier applied with a couple coats of Interlux antifouling. The entire exterior received a fresh AwlCraft application and boy does she shine again! A Sabre was in for an extensive work list after finding a rock pile. The entire driveline required attention as well as some fiberglass and gelcoat repairs. We're taking orders for fall/winter services. We will be offering indoor storage again this year."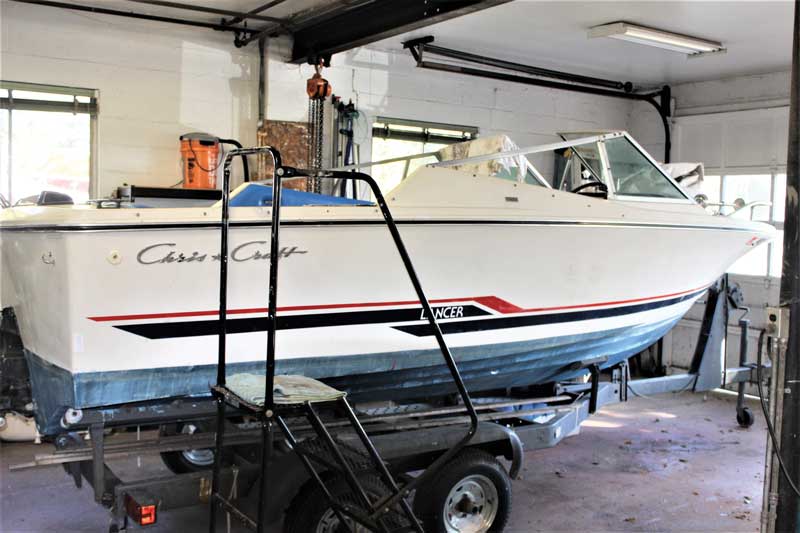 This following report is an excerpt from a recent Soundings Magazine article by John Wooldrige featuring a 1998 Thomas Point 34 built by our own Joe Reid of Mast and Mallet. 
"David Godwin and Carol Buchman have been on the water for many years. They first raced Cal 25 sailboats around Annapolis, MD. When they were ready to leave racing behind, they purchased a fast cruiser, the C&C 37. Later—after buying a house on Cockrell Creek in Reedville, VA, in 2002—they bought their first powerboat: a Mako 26 center console with twin 200-hp outboards. On the Mako, they explored the many creeks and river destinations in their locale. 'Still, we always knew that at some point we would get a coastal cruising powerboat,' Buchman says. In 2020 they bought a 1998 Thomas Point 34 and named her Katana.
"Katana is a 1998 Thomas Point 34 designed by the naval architect Mike Kaufman and built by Joe Reid at Mast & Mallet Boatworks in Edgewater, MD. Reid and his craftsmen build five versions of this design, ranging in size from 30 to 44 feet in length. The wooden hull of Katana is cold-molded with two overlapped layers of western red cedar laid fore-and-aft. West System epoxy seals every component. The hull is further strengthened and sealed with two layers of 10-ounce fiberglass cloth. The construction is stout, and proven.
"Katana was in good shape when the couple took ownership, but it needed updates. Because the existing electronics were older, the couple replaced them with an integrated suite of new Garmin electronics, including a chart plotter with AIS, radar, and autopilot. Attention then turned to the hull. 'Before we could cruise efficiently, the bottom needed work. It was blasted clean of its original 23-year-old bottom paint, removing layers to the bare hull,' Godwin says. 'We started with three coats of Interlux barrier coat, then a single layer of black guide coat, and finished with three coats of Sea Hawk water-based ablative antifouling. As for the boat's running surface, it starts with a sharp 60-degree V and finishes with nine degrees at the transom. A splash rail forward develops into hard chines that run the full length of the boat. The couple says their boat runs very dry. 'Top speed is about 22 knots, which we seldom do. Katana's sweet spot is closer to 16 knots, turning 2200 rpm at 80 percent throttle,' Godwin says. 'We're getting 8.6 gallons per hour with a full load.' The boat's 330-hp Cummins has less than 2000 hours. For air conditioning and reverse-cycle heating, there's a Next Gen 5.5-kW genset."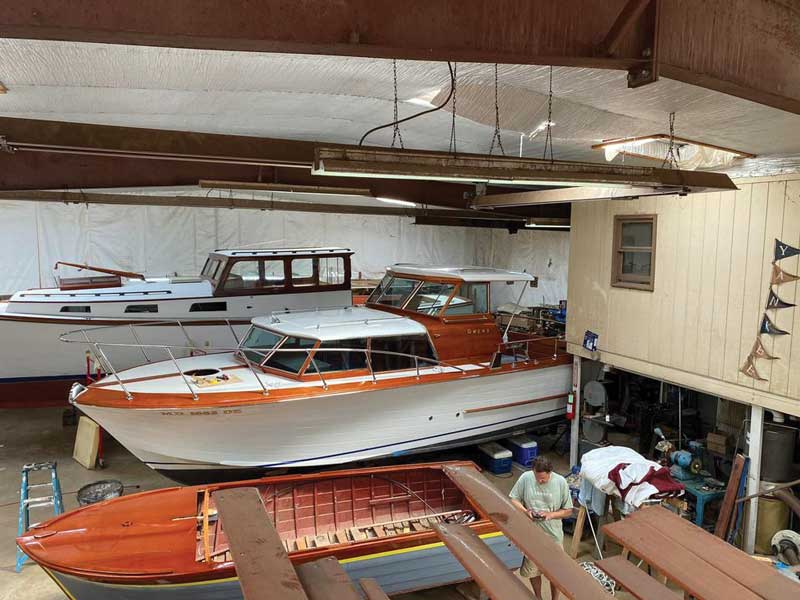 Brittney Parish from Higgins Yacht Yard in St. Michaels, MD, sends us the following.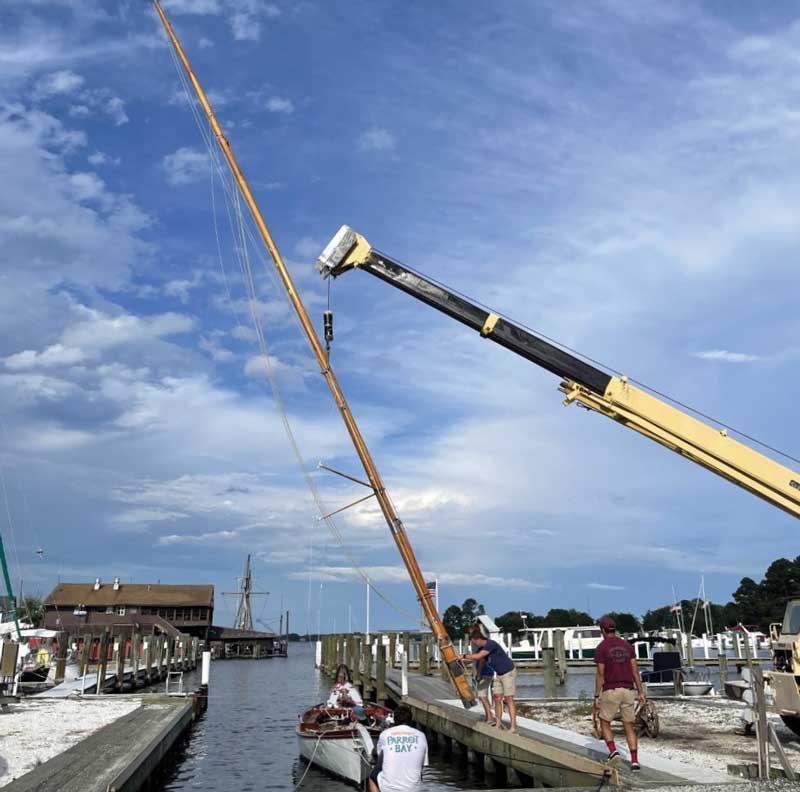 "We haven't had any major projects going on at the boat yard the past two months, just busy with repairs/emergencies with the transient boaters in the harbor. We will start winterizing soon, and begin our big winter projects around the beginning of December." What Brittany didn't mention was that a lot of the time this summer their shop was refinishing and preparing their log canoe Magic for this summer's race series. The final weekend of the series was the September 17-18, and Magic finished a respectable fourth overall for the weekend.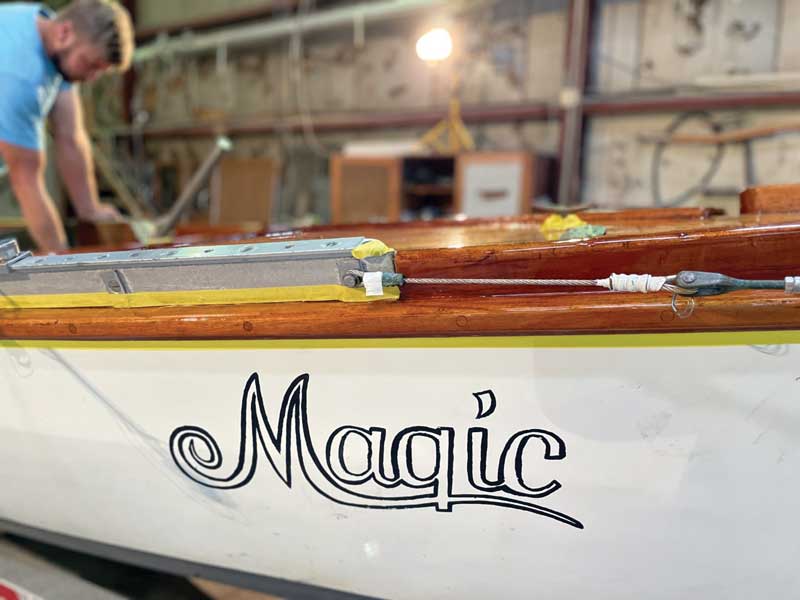 Rob Hardy of Composite yacht in Trappe, MD, reports that the supply problems are easing somewhat but lead times are still not what they used to be. Skilled labor is still very hard to come by, but things are slowly getting back to normal. Rob details what's going on in his shop. "The CY55 went home this spring, but she has come back for some minor cosmetic touches for the boat show. We are also sent a CY46 to Annapolis for the show. We have another 46 that is about halfway finished. I'm excited about this one because she's going to be a little more fishing oriented, with a single C-18 Caterpillar in her. We've got a 34 walkaround that is getting close; we're fitting pipework and fitting a hardtop, things like that. We have another 34 to build as a center console. We've been getting a lot of inquiries. I think we're about to start on a Chesapeake 26 for light tackle stuff down the Bay. That design is perfect for that because it draws nothing.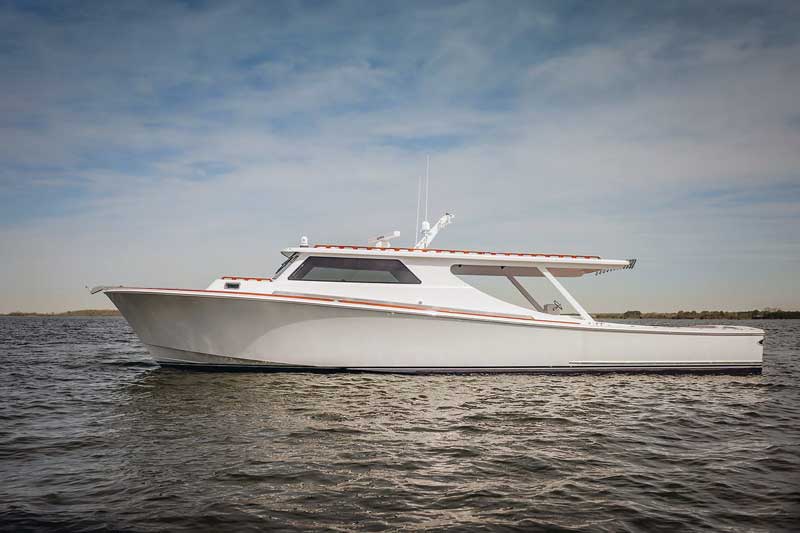 "We also have a lot of the routine stuff. We've got a big Buddy Davis here for paint and some rot repair. We just did a full rehab on a mid-eighties Mako 286. It's got a dual console and forward seating, it's a really neat rig. These boats came with big block Chevys. We pulled them out and put a pair of 250 Yanmars in it. We included new tankage and basically a complete refit. The paint shop's been very busy as well. We have an Albemarle 28 that had twin gassers to I/Os. We are going to pull those gas engines out and reinforce the stern and mount twin outboards on it. A lot of those Albemarles and Carolina Classics came through with big block Chevys and you can't buy them anymore. So we hope we can do some more outboard conversions. We're also working in conjunction with Metalshark down in Louisiana. They have a lot of government contracts and we make fiberglass masts for them that are articulated so they can get under bridges and such. We are really busy now and it looks like a busy winter," Rob concluded.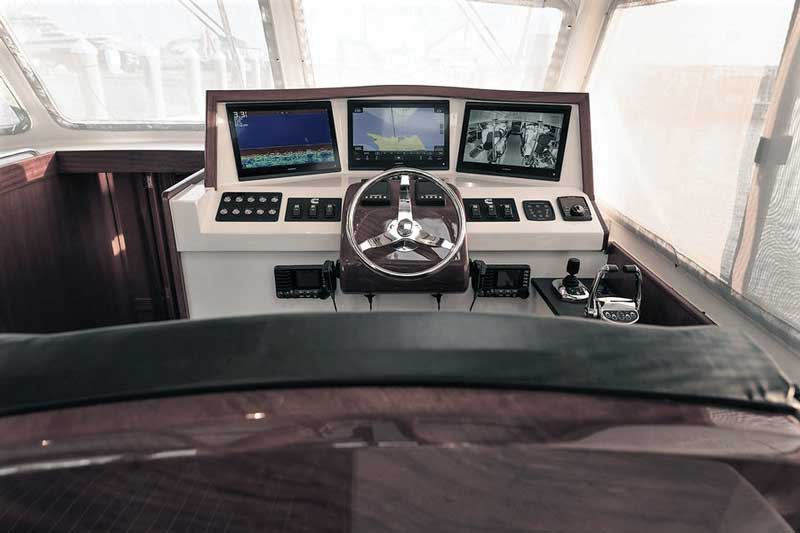 Ronnie Haddaway at Broad Creek Marine in Bozman, MD, describes a project in his shop. "We are building a custom 29-foot center console. Our customer was looking at what was available in center consoles, but he was looking for something that was a little wider than was out there. So, we wound up making her ten and a half foot wide. That's what he wanted, at least ten foot. She's a little different than anything else. We built her with devinecell, sandwiched with fiberglass on both sides. We are putting a single 250 outboard on her and will mount it on a bracket. She's got a huge center console. We're in the later stages. We are designing the hardtop to go on it, and the seats are in. The console is in and we're down to the fairing and painting, so we are pretty close."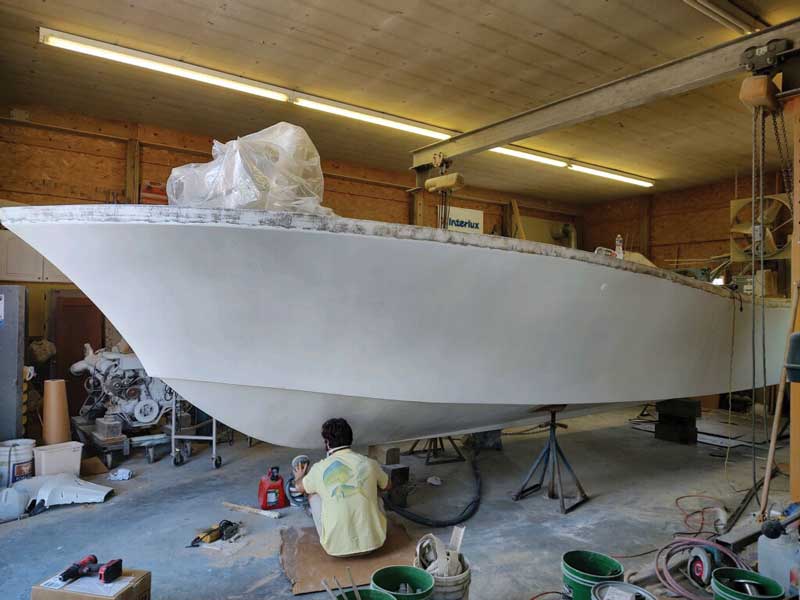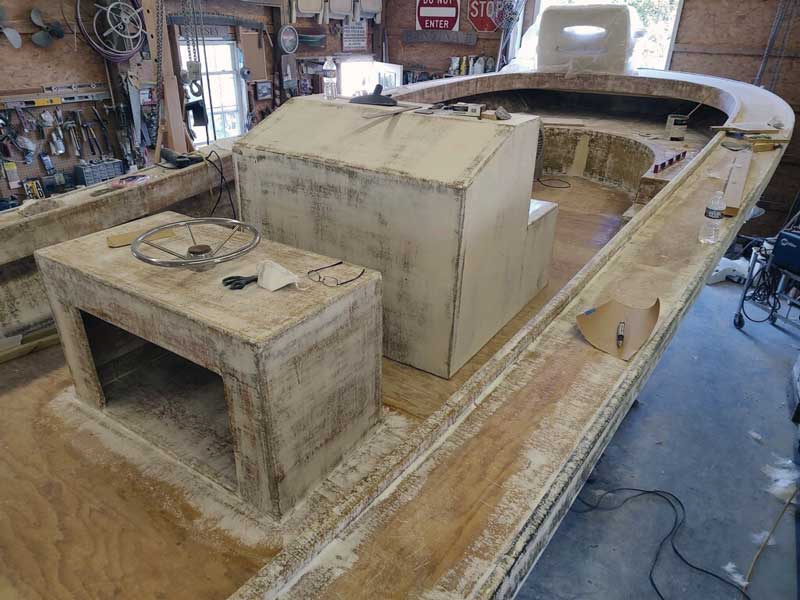 So, as the boating season winds down and winter begins, we are all planning and looking forward to another good year come spring. It will be here before you know it. Enjoy the holidays and stay safe and warm, and we'll see you next month.  
By Capt. Rick Franke