It is hard to believe that the fall is here without the Annapolis Boat Shows to mark the end of the boating season. The boating boom that was created by the Covid-19 restrictions on travel has continued unabated and seems to be leading to a very busy fall and winter for area boatshops. In all of the reports that follow and in the conversations leading to them two major problems continue to challenge area boatshops. An ongoing one, obvious before the pandemic, is the scarcity of trained workers in the field. The other problem is more directly related to the pandemic, and that is the difficulty in obtaining supplies and parts. Supply chains are slowly getting back to normal but have a long way to go.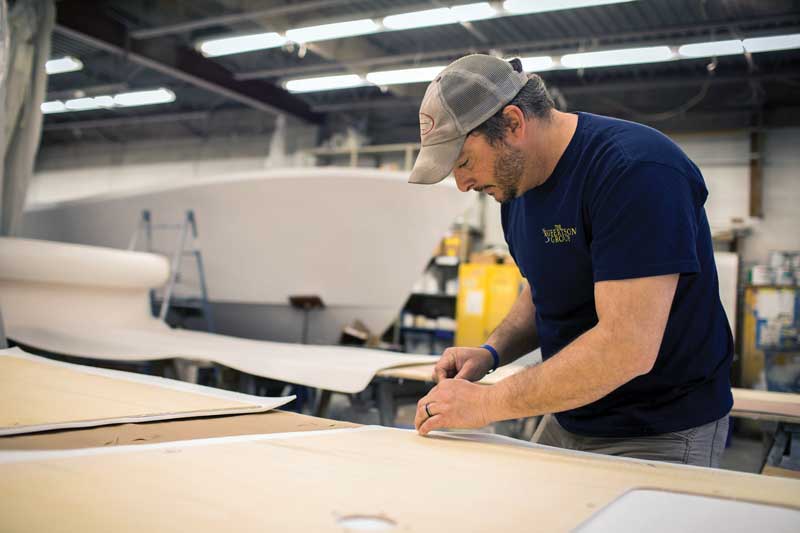 David Evans, Jr from Evans Boat Repair in Crisfield, MD, starts off the month with this report: "Things in our yard in Crisfield are... unique. While some of our normal clientele have laid low due to the Covid situation, others have flocked in their places. At the time of this writing it is nearing the end of September, and we are starting to see watermen prepare for oystering slowly. While the railway is working for those customers, we are busy working on some new deck replacements and repower jobs in the shop. In addition, we are wrapping up on a new custom 38-foot Evans, progressing on a new custom 43-foot Evans, and beginning a new custom 50-foot Evans that will be a sister vessel to a previously built 50-foot Evans. We are thankful for our customers for providing us the opportunity to serve them, and we are thankful to God that in such an unprecedented year, we have remained as busy as ever!"
Rob Hardy from Composite Yacht in Trappe, MD, says, "As far as major projects such as big paint jobs and repowers, we are already backed up well into next summer… The CY 55 is coming along. We have the decks laminated, the engines are here, and we are going to be fitting the deck, which includes the trunk cabin and the washboards in the next couple of weeks. I think once we get the deck on, things are going to start moving pretty quickly. All the tanks and stuff are built in; the driveline geometry has all been set, and the motor mounts are about to be sent out for polishing."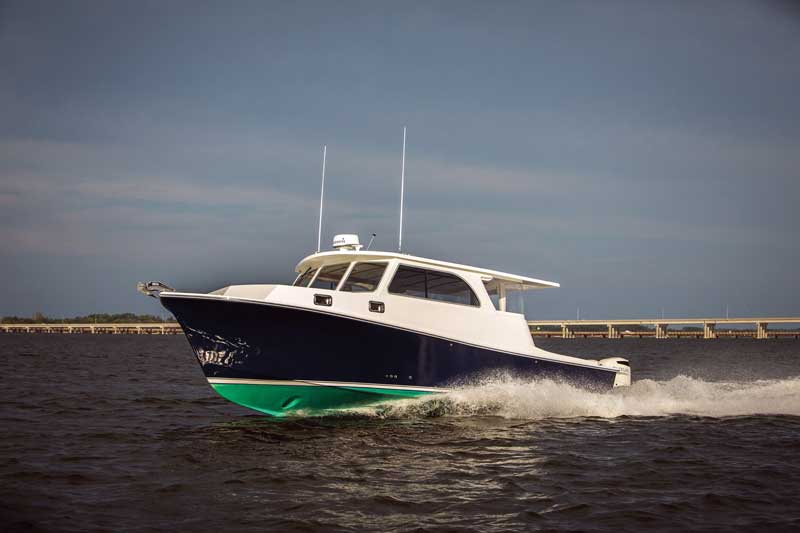 The summer was challenging in many ways. As Rob explained, "It's been insane. The brokerage business has been tough. I've had a really difficult time getting inventory. Anything and everything that is desirable sells in short order. We have a whole bunch of builds going on, lots of engine and paint work, and we have the end-of-season work in the marina as well. We are going to be busy for a while," he concluded.
Pete Mathews of Mathews Brothers Boat Works in Denton, MD, reports a similar story: "Once we reopened after the initial lockdown in March, the brokerage side of the business just went crazy. We sold out of our inventory almost immediately and are having a hard time finding new inventory. Orders for new boats started flowing in, and we have three boats under construction in the shop now. The fall lay-up rush is just beginning." 
Jim Weaver of Weaver Boat Works in Deale, MD, has three boats in the shop in various stages of construction: a Weaver 75 powered by twin 2000-hp MTU 16V 2000 M96 diesels; a Weaver 58 and a 60, both powered by twin 1300-hp MAN 8V Common Rail diesels; and they just started construction of a custom Weaver 64 driven by twin 1945-hp MTU 12V 2000 M99 diesels.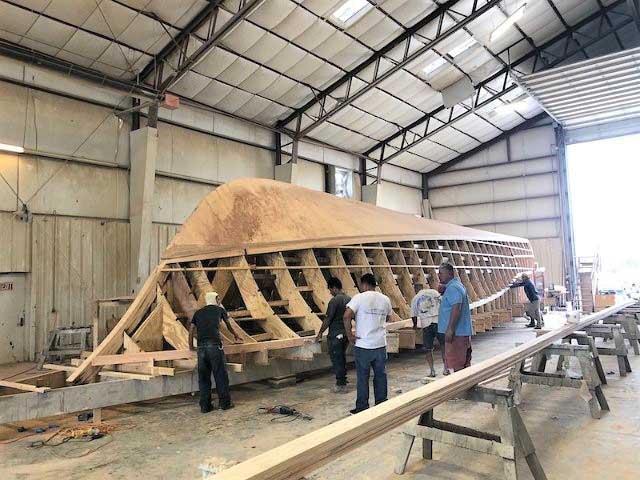 Joe Reid of Mast and Mallet in Edgewater, MD, still has the Bertram 20 Sportsman in his shop. All the hull repairs and the replacement of engine stringers and floor supports are complete, and Joe's waiting for her new engine to arrive. In the meantime, he has tackled the restoration of an early 60s Chris-Craft Utility. He's removed a lot of the bad wood and is ready to turn it over and work on the bottom. Other projects include a rub rail and minor skeg repairs on his brother's Thomas Point 26 that he built in 1998 as well as some woodwork repairs on a pre-1963 wooden Chris-Craft Sea Skiff.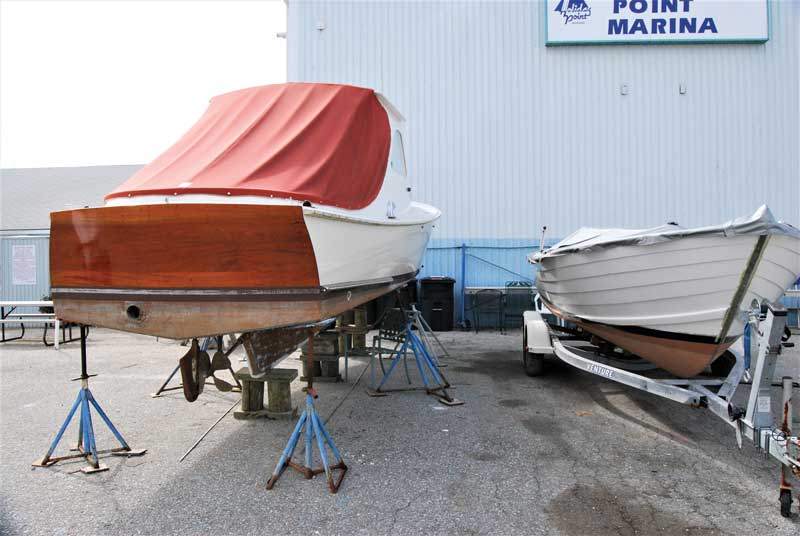 Hank Rieser of Marine Service at Pocahontas Marina in Edgewater, MD, told me with a wry grin, "It's the last week in September, and we've finally finished our spring work list. We have been going full tilt all summer. Now the fall haul out season is upon us." It is no wonder that Hank's two major restoration projects have not had much attention. His 1960 Lyman 23 has an all-new interior, new engine mounts, a 1992 Mercruiser V6, and lots of varnish on the engine box and trim. The 1952 Chris-Craft Commander project is making some progress. The hull rebuild is complete, and the crew has started on the interior. The twin Chris-Craft MLR in-line six-cylinder gas engines for the boat are still in their shipping crates, but Hank is hoping for a test run in early November.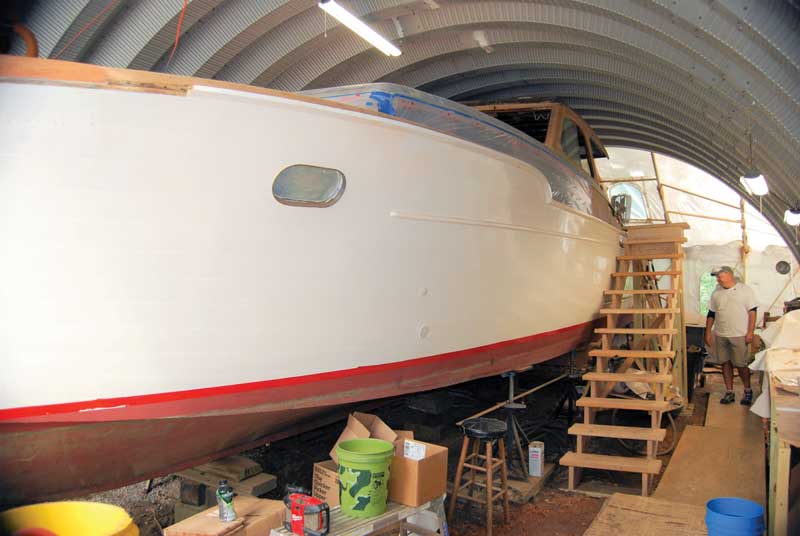 J.J. Williams at Osprey Marine Composites in Tracys Landing, MD, has a full house of the usual paint and gel coat repairs. He did show me an interesting project that he had assigned to J.P, his shop foreman. The owner of an Oceans Alexander 60 wanted new boarding gates installed in the boat's midship bulwarks. The original gates open into the after deck and often are not usable on short docks. J.P. had finished the starboard side gate and was well along on the port side. His comment on the job was, "It sounds simple, but it's not like hanging a new kitchen door. This is a boat after all, and nothing is square." But he solved the problems. The new gates work smooth as silk.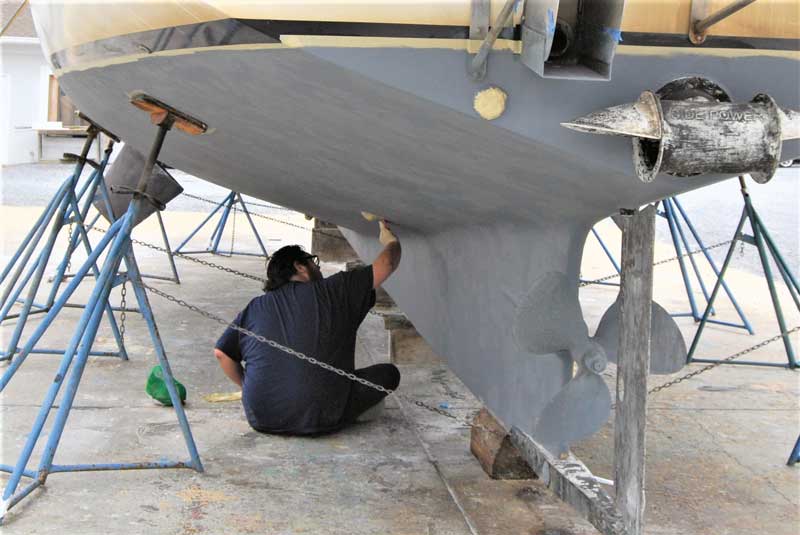 Zimmerman Marine in Tracys Landing, MD, has a major project in the shop: a 1986 Jersey Dawn Sport Fish that suffered significant damage from a generator fire. According to Ian Zimmerman, the boat had to be completely rewired, and the entire interior gutted and replaced. Several internal bulkheads needed to be removed and replaced, and the floors and much of the deck had to be replaced.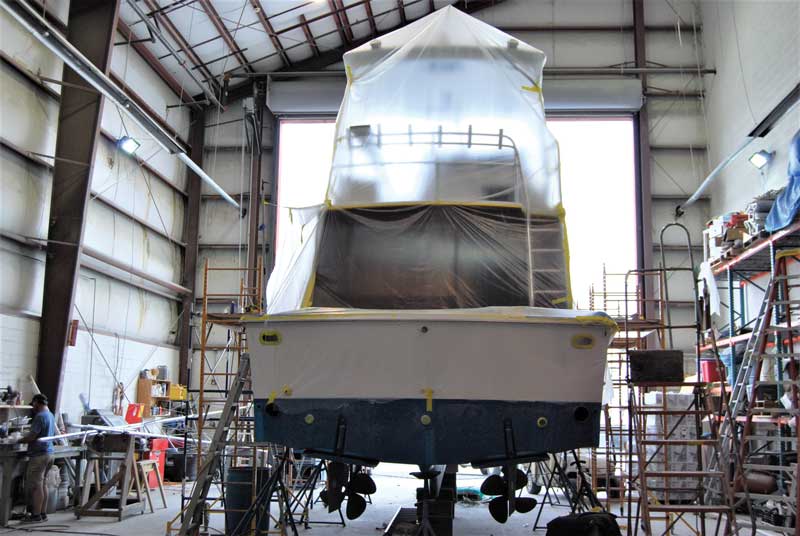 Joe Connor, the Chesapeake Bay Maritime Museum's (CBMM) lead shipwright and construction manager on the Maryland Dove build, reports that with the hull of the new ship fully framed, work has begun on the interior ceiling plank strakes. Specifically, Connor says the stringer and beam shelf will help tie the frames together fore and aft for the crew to begin planking. In addition to planking the exterior of the hull, this fall CBMM's shipwrights will be installing deck beams and carlins to frame out the deck structure. The ship's planking is made up of Angelique below the waterline and white oak above it, while her deck beams and deck planking are Douglas fir.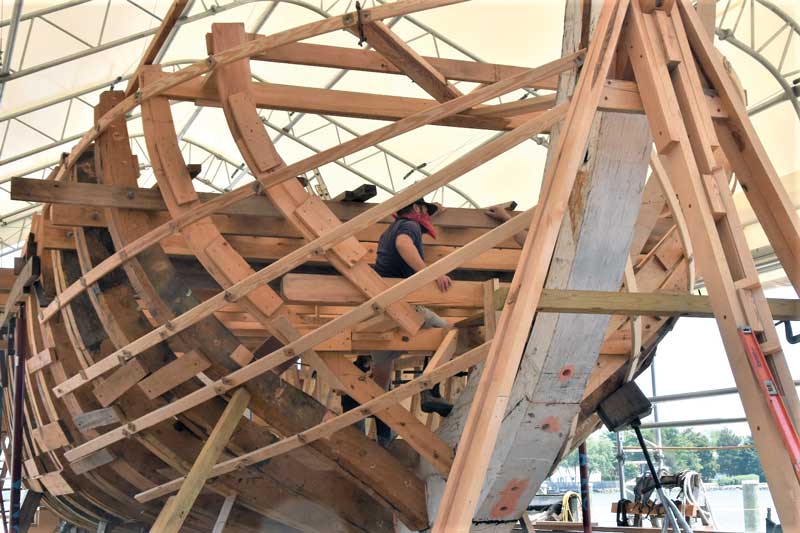 A final member of the CBMM build crew, Bob Downes, joined the team in September as a full-time rigger who will assist Sam Hilgartner in building the rigging for the ship, starting with her solid wood spars. The sails for the new Maryland Dove, one of the few components not being fabricated in St. Michaels, MD, are currently under construction in the loft of Traditional Rigging Co. in Maine. To keep up with CBMM's efforts to construct a new Maryland Dove, a reproduction of the vessel that accompanied the first European settlers to Maryland in 1634, visit marylanddove.org. Maryland Dove is owned by the state of Maryland and operated and maintained by Historic St. Mary's City.
During this unusual time, CBMM's St. Michaels Shipyard can be viewed from designated areas on campus while it remains closed to the public. CBMM itself is now reopen to the public seven days a week. Find information on CBMM's enhanced health and comfort measures and operational changes at welcome.cbmm.org.
That's it for this month. Let's hope that this winter is the first and last of the New Normal and next spring we will be back to the Old Normal.
By Captain Rick Franke