The boat shows have come and gone, and the boating season is drawing to a close. By all reports the summer season was a good one for Chesapeake boatshops. The dry weather this summer and fall encouraged a lot of boaters to get out and use their boats. Most shops report a high level of operation this season, and in addition to getting ready for the haul out season, many report the completion of long-term projects. The record number of boats on display at the U.S. Powerboat Show in Annapolis confirms the healthy state of the industry.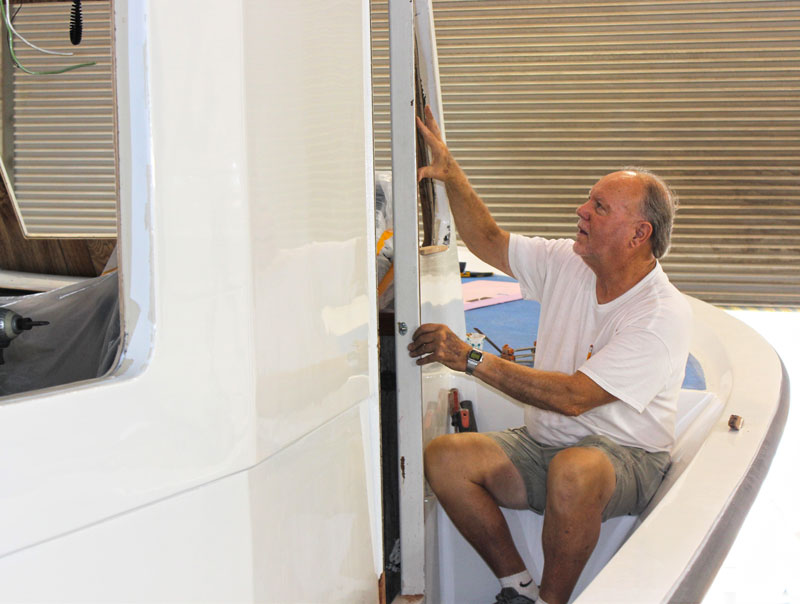 Charlie Petosa, general manager of Hinckley Yacht Services in Annapolis, MD, reports that the year-long process of re-establishing their presence at Whitehall Marina has been a challenging, but fun project. When they moved back to the marina in October of last year, Charlie recalls, "We had no plan for the 'fall haul.' We had at least 10 abandoned boats in the way and had to put boats wherever we could fit them in. This year we have cleaned up the marina. The abandoned boats are gone, and we have an organized storage plan for the winter."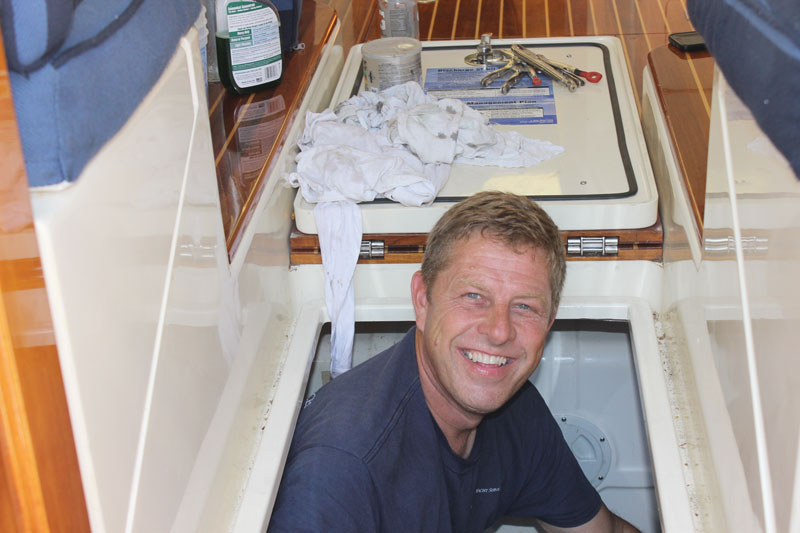 Charlie also reports that their service business, including commissioning and delivering new Hinckleys, as well as serving the general boating public is increasing. "There are a lot of Hinckleys on the Upper Bay, and we are much more convenient for them than our service center in Oxford. To serve the exploding market in modern outboards we became a certified Yamaha and Mercury sales and service center. Our service business has grown so rapidly that I'm proud to announce we just hired Marcia Goldstein-Nathans as our full time service manager," he concluded.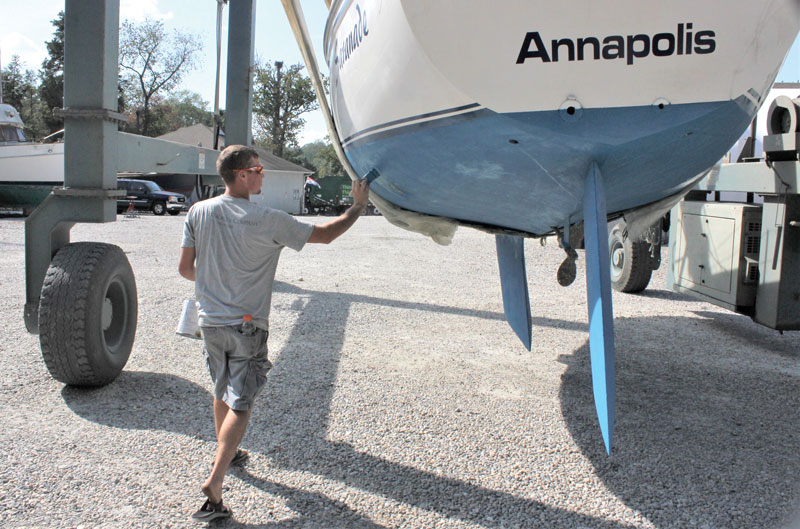 Speaking of long term projects, we have reported now and then on the rebuilding of a salvaged Spencer 74 at John Patnovic's Worton Creek Marina in Chestertown, MD. That project is now complete. I borrowed the following summary from The Yacht World website. "Afunday, a 2016 brand new 74-foot Spencer, suffered a grounding and partial submersion while being delivered to her original owner. She is in the final stage of an extensive refit with uncompromising attention to detail. All structural repairs were performed under the direction of Robert Schofield, naval architect and naval engineer, and have been scrupulously documented. In addition, two marine surveyors have been involved, inspecting the repairs as the refit has progressed. Afunday is for all practical purposes, a brand new boat with full warranties on new engines, generators, Seakeepers, appliances, systems, wiring, and substantially more. This yacht will easily pass the most exhaustive survey, and she represents an opportunity to have a virtually new boat at a substantial discount with immediate delivery.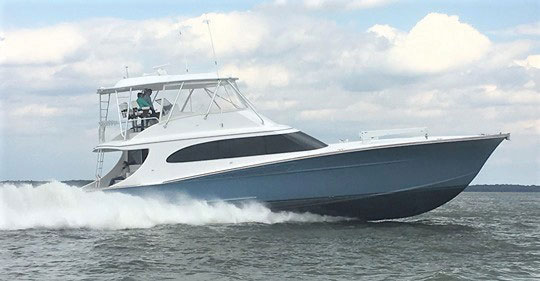 Afunday has new 2600-hp MTU M96L engines, two new 29KW ONAN generators with sound shields, and two new M9 Seakeepers. She has four staterooms, three heads, tackle storage/laundry room, three Release helm chairs on the fly bridge, and a Release fighting chair. She runs in excess of 40 knots."
In 2017 we reported on the start of a custom design and build process for a CY55 at Composite Yacht in Trappe, MD. While not yet complete, Rob Hardy reports that the project is progressing well. "After many long and tedious hours put in by our talented and dedicated laminate crew, the carbon fiber inner laminate on the CY55 is complete! Next up, stringers and bulkheads. In addition, we are float testing the CY26 Bay with a Yamaha 300."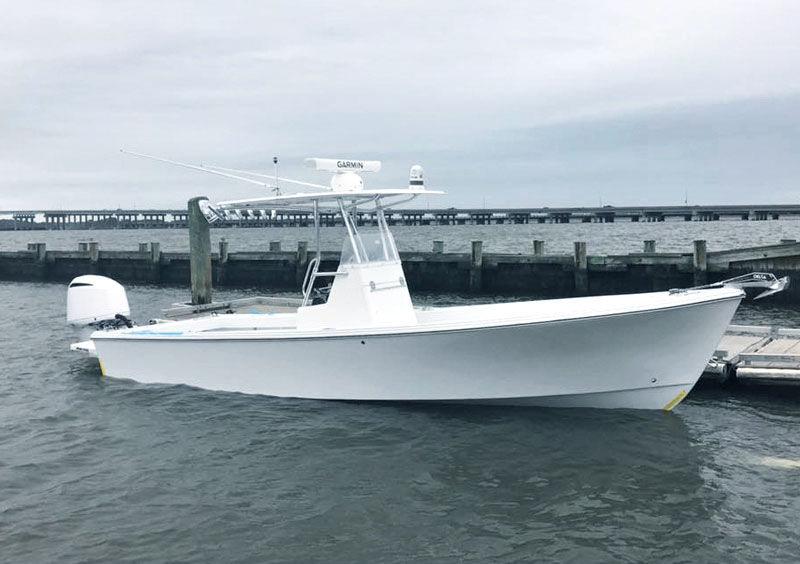 Another long-term project we have been following is the work of Alex Schlegel and his crew at Hartge Yacht Yard in Galesville, MD. "After almost three years, the rebuilding of the 55-foot Trumpy Manatee is finished. Unless you knew her well, you wouldn't think this yacht needed all this work, and now you would not notice any work had been done, as she was always well maintained with shiny bright work, good looking paint, fresh looking teak decks, and polished chrome. But the underwater wood was at the end of its life. You do not see the new double planks, the frames, and structural wood work done over two years by three men working full time and many Saturdays. The interior was apart for the hull work and is now together with new paint and varnish; the new Seakeeper Gyro Stabilizers that keep her from rolling are under bunks, and the plumbing and electric systems are up to date but out of sight.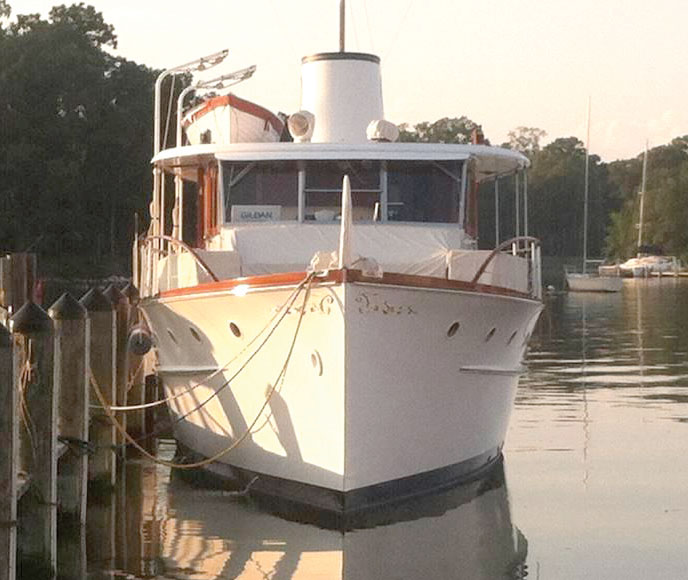 "The aluminum ports have been redone to look like new, but most all observers would not notice all the work this took. The cast frames that fit in the hull, opening glass frames and rings to secure the glass, were sand blasted, welded, faired, primed, and painted. Hinge pins and dog pins were renewed, dog bolts and wing nuts cleaned up, new glass fitted and secured by rings and caulk, new gaskets shimmed and re-secured where the cast aluminum ports were not precise. Also renewed was the hardware to slide the opening ports behind woodwork and sliding louvers to cover the ports for privacy. Most thru hulls below the waterline have been eliminated, and a number of things have been done to make Manatee easier and safer to use. Every employee helped make this rebuild happen. 
"Of special note is Peter Bell, the project supervisor, master of all trades, who was the owner's contact, coordinating and overseeing the entire project. Also essential were Ernie Stuermer, master carpenter, super knowledgeable guy whose woodwork always fits the first time; Mark Haritan, dependable even-tempered carpenter; Guy Dorval who did the phenomenal job of rewiring; Linford "Peany" Matthews who painted and varnished both inside and out; and Mike Sharpe who redid the plumbing and rewired the engines and engine instrument panels. With normal maintenance Manatee should be good for several more generations. The next major job is a 48-foot Egg Harbor..."
The Chesapeake Bay Maritime Museum (CBMM) in St. Michaels, MD, is involved in several long-term projects, according to museum spokesperson Bethany Ziegler. "CBMM shipyard manager Christian Cabral reports that CBMM's working Shipyard is poised to have an incredibly busy fall and winter. With an expanded work force of 17 men and women, the Shipyard is focusing on three major projects: the construction of a new Maryland Dove, the refit and service of members of CBMM's floating fleet of historic vessels, and the restoration of the 1912 river tug Delaware. To meet these goals, the Shipyard team has erected two new timber-frame buildings, a workshop, and a pavilion.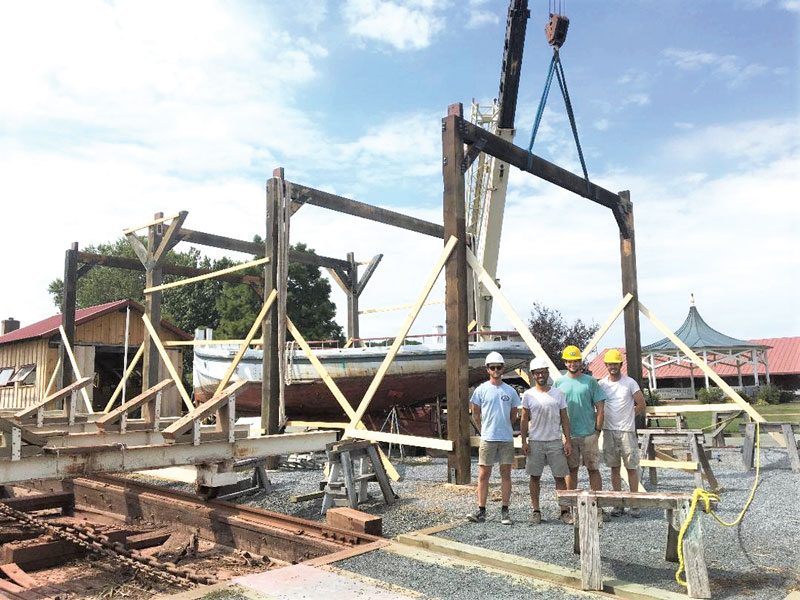 "Throughout the fall and winter, CBMM shipwrights and apprentices will be focused on the laying and construction of Delaware's keel, backbone, framing, and planking. CBMM's marine railway will remain as busy as ever while hauling and maintaining two larger members of our historic fleet: the 1955 skipjack Rosie Parks and 1909 crab dredger Old Point. On the other side of CBMM's shipyard, the Maryland Dove team will continue the patterning, construction, and installation of the live oak sawn frames. To learn more, visit cbmmshipyard.org."
Hank Rieser of Marine Service at Pocahontas Marina in Edgewater, MD, says, "We recently had a beautiful 1957 Chris-Craft Continental, top of the line model for the year, powered by the original Chris-Craft MCL 185-hp, straight-six engine in our shop. The boat was here for engine service and ran at 35 mph after a day of swelling in the slings. The owner plans to keep the boat here at Pocahontas Marine Service."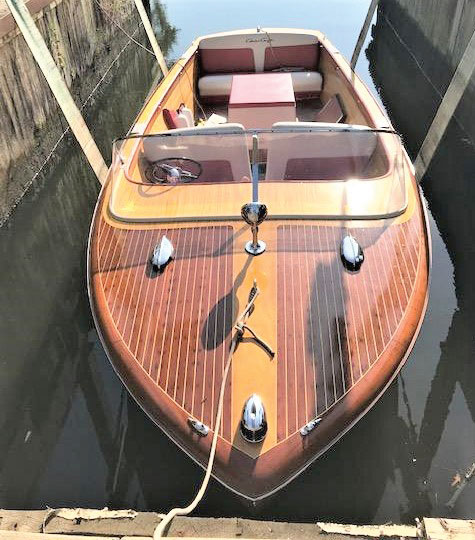 Nancy Noyes of Chesapeake Light Craft (CLC) in Annapolis, MD, has a thought for how to spend your fall and winter. "At CLC, our building season runs year-round. Most months of the year, we're also building something other than boats: We're turning out boat builders. Our classroom workshop, where fledgling boat builders put together kayaks, canoes, sailboats, and rowing craft in just five and a half days, is busiest in spring and fall. After a busy summer at sites from Maine to Seattle, we're back in business in Annapolis into November, as students have been building Annapolis Wherries, Jimmy Skiffs, Northeaster Dories, stitch-and-glue kayaks, and even Teardrop Campers. A CLC build-your-own-boat class is a great way to spend a week's vacation or staycation—with a take-home souvenir much better than a fading tan and a phone full of photos: a completed boat (or Teardrop Camper) ready for finishing. See the complete schedule at clcboats.com/classes. Our 2020 calendar listings will start to appear around December 1. See all of our Annapolis classes—along with whatever else is going on in our busy workshop—live on our shopcam: clcboats.com/shopcam."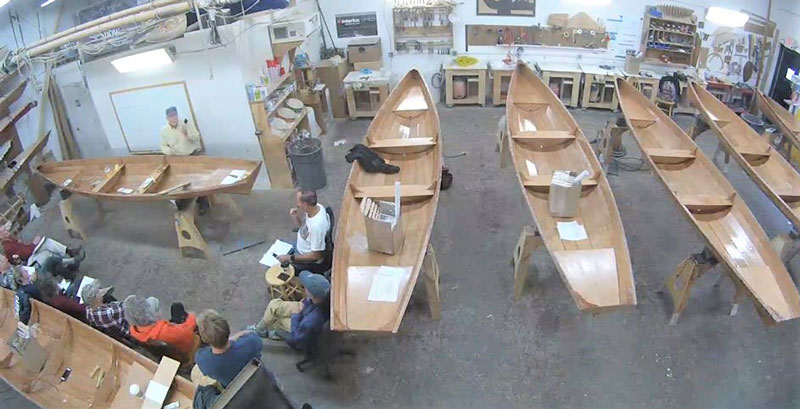 That's it for this month. Enjoy the beautiful fall weather. 
By Captain Rick Franke